A few months ago, we raised concerns over elevated external vulnerabilities in Tunisia and argued that a credible IMF-backed reform programme was necessary to avoid default in the years ahead. However, we reasoned that an ongoing political stalemate and opposition to genuine reforms made this sort of major policy shift unlikely.
On this basis, we downgraded our recommendation on the BTUN 5 ¾ 01/30/2025 US$-denominated eurobond to Sell from Hold on 16 September, with a target price of US$74 versus the prevailing mid-price of US$87.65 (10.2% mid-YTM). In the nearly 3 months since, the BTUN 5 ¾ 01/30/2025s have fallen by c14.5% and now trade at US$75.1 (16.2% mid-YTM), just above our target price from September.
However, since then we have also become more pessimistic about Tunisia's external imbalances and reform prospects. In this note we highlight pertinent developments on these fronts and dissect what they mean for bond prices. Due to diminishing chances for an IMF programme and a rising probability of default, we update our target price to US$66 for the BTUN 5 ¾ 01/30/2025s and maintain our Sell recommendation at a mid-price of US$75.1 (mid-yield of 16.2%) at cob on 10 December on Bloomberg.
Reserves propped up by short-term financing
From a low of US$4.2bn in November 2018, net reserves doubled to US$8.5bn at the end of 2020 before declining gradually to US$7bn by November 2021 (4 months of import). However, while the increase was driven in part by a narrowing current account deficit, we highlighted in September how it has also been fueled by bilateral and multilateral borrowing, with Tunisia's net international investment position (NIIP) ballooning to -170% of GDP in 2020 (of which over 100% of GDP comes from "other" liabilities).
The annual report of the Central Bank of Tunisia (BCT) provides an even more worrying look into Tunisia's external accounts. While gross reserves rose by US$4bn from the end of 2018 to the end of 2020, this was mirrored by a US$4.8bn rise in trade credits to over US$8.3bn by the end of 2020, accounting for the entire increase in short-term liabilities and reserves over that period. Of this, we know that US$3.9bn of the increase came from SOEs between December 2018 and September 2020.
While trade credits are generally easy to roll over, and can be seen as a "sticky" source of financing, this is not likely to be the case in Tunisia. An estimated US$3.9bn of trade credits can be attributed to Tunisia's struggling SOEs, many of which are on the verge of bankruptcy and racking up large payment arrears. Further, Moody's downgrade of Tunisia's sovereign credit rating to Caa1 from B3 in October could impact the ability of many of those SOEs to roll over their trade credits.
Failure to roll over trade credits could have one of two impacts: 1) the BCT is forced to fund essential imports from reserves; and/or 2) shortages of imported goods arise and push up inflation. In practice, there is likely to be some combination of the two, accompanied eventually by exchange rate depreciation once more flexibility is allowed. And indeed, we have seen a steady increase in shortages of essential imports in recent months and global suppliers are reportedly requiring upfront payment for imports, which we take as a sign that SOEs are indeed having difficulties rolling over their trade credits.
Shortages of medicine and wheat are the two most prominent examples, with the Syndicate of International Pharmaceutical Companies saying that the accumulation of debts (est. TND750mn, or cUS$250mn) by the central pharmacy to foreign medicine suppliers over the past 15 months has created a shortage in the strategic stockpile of medicines. There are also reportedly three foreign ships loaded with wheat and other grains that have been anchored off the coast for weeks due to non-payment for the shipments by the Grain Office, which holds a monopoly on wheat imports.
Taking the issue of trade credits into consideration, Tunisia's external position looks a great deal weaker than the headline numbers imply. Indeed, in the IMF's Article IV report in February, these obligations were reported below the line when external financing needs were calculated. With the current account deficit projected to widen to US$3.8bn (8.4% of GDP) in 2022 and external amortizations of US$3.2bn (7% of GDP), Tunisia has an external financing requirement of US$7bn (15.4% of GDP), equal to reported net reserves.
Assuming net FDI stays constant at the rolling 12-month total of US$500mn (1.7% of GDP) and adding in the nearly US$4bn of SOE trade credits leaves Tunisia with a hefty US$10.5bn gap that needs to be funded next year if the trade credits are not rolled over, which will need to be funded largely with multilateral and bilateral sources given the lack of market access for the government and likely limited to no recourse to the new trade credits that they have relied on to fund the import bill in recent years.
Politics weighs on financing and reform
To make matters worse, Tunisia's political crisis is likely to weigh on its bilateral and multilateral funding pipeline and delay critical reforms. Domestic and international resistance has been growing to President Saied's power grab amid his continued failure to announce a political roadmap since seizing control in July, and rising unemployment (which reached a 10-year high of 18.4% in Q3) and inflation (which rose from 5% yoy in May to 6.5% in November) is contributing to public dissatisfaction.
Domestically, discontent with his concentration of power is reportedly growing in the military ranks, formerly stalwart supports of the political transition. Meanwhile, a march in Tunis in mid-November organised by a group of opposition parties drew 3,000 protestors demanding, among other things, to announce a roadmap ending with early elections in H2 22, a call that has been echoed with increasing force by the powerful Tunisian General Labor Union (UGTT).
Externally, Amnesty International has condemned the growing trend of civilians being tried in military courts for criticising President Saied, adding to concerns of other international commentators that Saied will use his admittedly necessary plans to reform the judiciary to purge dissidents and consolidate power. Meanwhile, US Secretary of State Antony Blinken has continued to encourage "a transparent and inclusive reform process…to respond to the Tunisian people's aspirations for continued democratic progress," a tepid response but one that could become more forceful if Saied continues to resist reform.
Saied's power grab could lead to the withdrawal of financial support from strategic partners like the US and France, forcing Tunisia to turn towards the GCC to plug the gap, an exercise that will be fraught with its own strategic obstacles. Indeed, local headlines last week that Saied could announce new measures on 17 December, including the dissolution of parliament and several key opposition parties and a more forceful pursuit of his anti-corruption drive (with a presumably political tinge), could be a potential trigger for Western powers to withhold funding or, in the extreme, even apply sanctions.
Saied's policy plans have also failed to inspire confidence, and make a potential IMF programme an extremely unlikely proposition. The UGTT has continued to flex its muscles, vocally rejecting any plans to cut subsidies, reduce the wage bill, or privatise SOEs, the three key pillars of any potential IMF-backed reform programme. It also claims that Prime Minister Najla Bouden's government is a temporary one and lacks the legitimacy to carry out reforms.
The government has thus far acceded to the UGTT's demands, informally agreeing to hire 6,000 new employees (this will be legalised on 15 December) and revise the minimum wage and vetoing a regulatory decision to raise fuel prices (leading to increased subsidies). The one positive decision has been Saied's refusal to implement a 2020 law that facilitates public employment for university graduates who have been unemployed for more than 10 years, but this has been met with fierce opposition.
While Economy and Planning Minister Samir Saied announced that the government would soon announce an economic recovery plan for 2023-25, any other meaningful reforms will be similarly opposed by the UGTT and watered down, if not reversed. Further, Saied's rhetoric on austerity has continued to emphasise the need to clamp down on luxury imports while expanding the social role of the state, seemingly ignoring the contribution of fiscal spending to Tunisia's external vulnerabilities.
The result of Saied's complacent policy stance will be further fiscal slippage, with a recent amendment to the 2021 finance law revising the budget deficit target from 6.6% to 8.1% of GDP. The IMF projects gradual consolidation to 6% of GDP by 2026, pushing public debt to 99% of GDP, but these projections could prove overly optimistic if the government continues on its current policy trajectory without adjusting its stance on wages, subsidies, and SOEs.
Against this backdrop, calls are increasing from local pundits, politicians, and the UGTT for an audit of Tunisia's debt stock and potentially even debt relief or restructuring. And with increasing evidence of financial troubles at key SOEs (above), there is a risk that Tunisia's large contingent liabilities (SOE debt is 40% of GDP excluding circular arrears, of which 16% of GDP is guaranteed) are brought onto the government balance sheet, raising the risk of default even further and lowering recovery values.
Prime Minister Bouden tried to downplay these concerns in statements last Friday, saying that Tunisia would maintain sufficient FX reserves to pay foreign creditors and that the government would hasten to prepare a draft agreement with the IMF on a new programme, which BCT Governor Abbasi added he hopes to reach by Q1 22. However, without a more credible policy shift (which we see as unlikely – see above), we think these statements ring hollow.
Cutting our target price, retain Sell
Given the bleak external picture and poor prospects for reform, we think the probability of default has increased markedly for Tunisia. To arrive at a new target price, we update the exit yields and probabilities from our scenario analyses in August and September. We outline four scenarios (below) and maintain our "bullish" and "bearish" restructuring assumptions from the previous analyses:
Scenario 1: Default is avoided through credible IMF-backed reform efforts.

Scenario 2: Default is avoided through less credible and less ambitious homegrown reforms.

Scenario 3: "Bullish" restructuring accompanied by credible reform efforts.

Scenario 4: "Bearish" restructuring with less credible reform efforts.
We assume Tunisia will manage to muddle through for the next year before defaulting in the restructuring scenarios, with a 70% probability of default beyond 2022 (up from 40% in September). We assume an equal probability of a bullish and bearish restructuring, with an average recovery value of US$53.5 (or US$64 in the bullish restructuring and US$43 in the bearish restructuring). The probability-weighted target price that results is US$66, down from US$74 in September and c12.5% below the current price.
While markets have increasingly priced in the risk of default in Tunisia, we think that its external imbalances are still underappreciated. While it is true that Tunisia has a relatively light external commercial maturity profile, bilateral and multilateral debt service obligations are still large in the coming years, even before the below-the-line issue of short-term trade credits owed by SOEs is taken into account, which itself is an issue that has been largely ignored in mainstream discussions.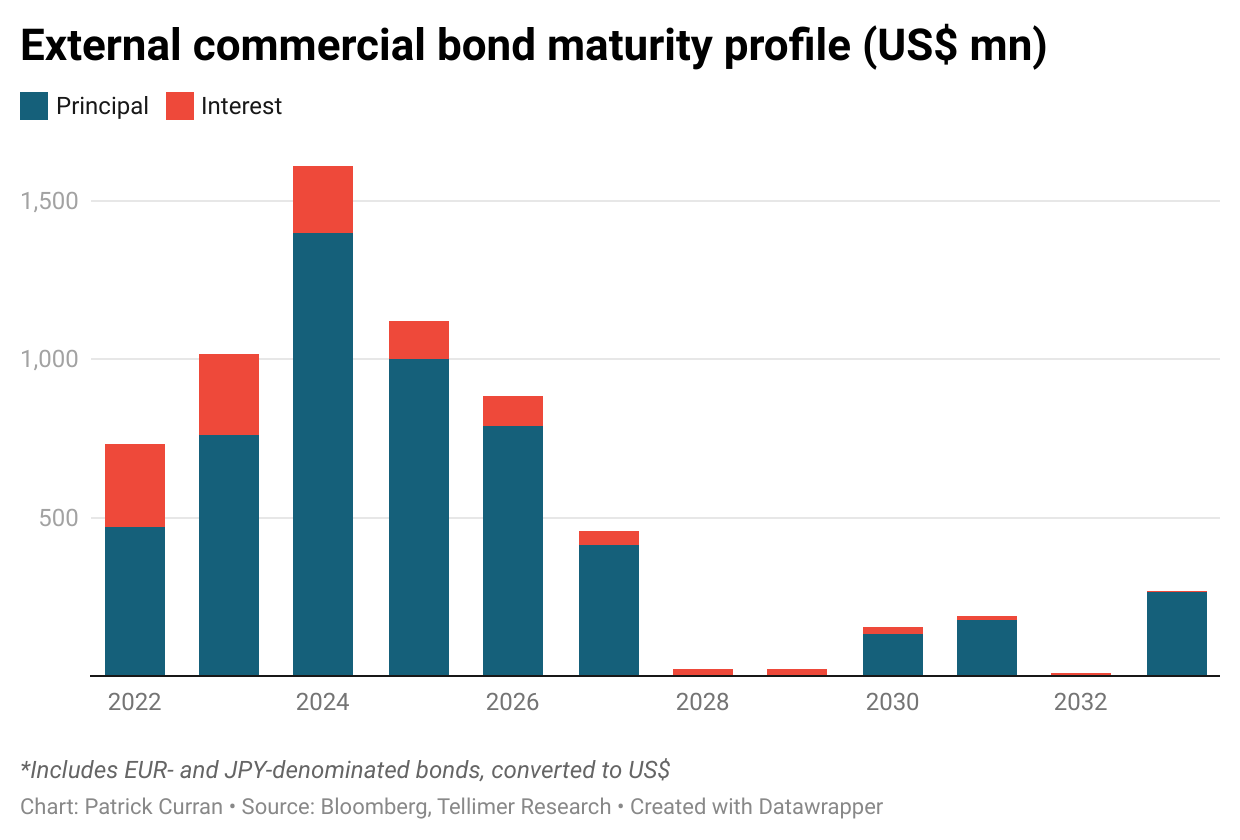 As markets gain an appreciation of the extent of Tunisia's economic crisis, and its political stalemate and broader leftist ideology among key stakeholders (President Saied included) continues to get in the way of meaningful reforms, external liquidity concerns will only continue to rise. While it is true that restructuring can be delayed by securing bilateral support from the GCC or West, this will only kick the can down the road absent a meaningful policy shift (see here for an outline of what is required).
As such, we maintain our Sell recommendation on the BTUN 5 ¾ 01/30/2025s at a price of US$75.1 at cob on Bloomberg on 10 December, and will consider reviewing our recommendation when it reaches our target price of US$66.
Related reading
Tunisia: Downgrade to Sell with reforms and IMF on backburner, September 2021
Tunisia: Eurobond risks to downside as political standoff delays IMF talks, August 2021