In a hair salon, a Brazilian blowout means a temporary treatment for smoother and stronger hair. The frizziness and dullness soon returns though. In an emerging market equity portfolio, a Brazilian blowout means the temporary hopes that this time is different, structural reform will come through and Brazil will be more than a commodity export story. Repeatedly these hopes are dashed. Ten charts below illustrate where we are in this latest iteration of the cycle of euphoria and despair in Brazil, and why now might be the time to get greedy when most others are filling up with fear.
The most recent peak of this euphoria as to what President Bolsonaro, Finance Minister Guedes, and, initially, Chamber of Deputies Leader Maia might achieve on reform of pensions, taxes, privatisation, sub-national budgets was in December 2019, at the end of Bolsonaro's first year in office. There has been some progress, eg on pensions, and Guedes continues to project the right messages to those still listening to him. The current despair is driven by a range of now well understood factors and recent events:
Covid-19 Trauma – Following Bolsonaro's dismissal, for much of 2020, of the dangers of Covid-19, Brazil's number of cases has, cumulatively, reached 13mn, with close to 350,000 deaths (out of a population of 210mn) and daily deaths are currently hitting new peaks (over 4,000). After a boost from fiscal stimulus measures in H2 20, the president's approval rating is now at its worst. Numerous changes in cabinet personnel have taken place, the military leadership has been changed, and legal challenges to local governments blocking (belated) lockdown measures have been initiated, ostensibly in response to the pandemic. But, perhaps, this is more accurately explained as the installation of Bolsonaro loyalists and the creation of crisis conditions in which it might be easier to use emergency powers not merely to deal with the pandemic, but also to shape the political process (potentially, an impeachment trial and social unrest, in addition to the October 2022 election).

Stalled Reform – While Finance Minister Guedes continues to project the right messages on the reforms he was brought in to implement, it is clear that Bolsonaro's priorities are now re-election (evidenced by the replacement of management at, for example, Petrobras after truckers protested retail fuel price hikes) and that the highly fragmented Congress is even less inclined to support unpopular reforms. The end of lower house of Congress leader Maia's term (and his replacement by Lira, whose own party controls a similar 7% of the lower house compared to Maia's 8%, but who has less of a track record of building broader coalitions behind new legislation), the economic hit from Covid-19 (negative 4% decline in real GDP in 2020), and the legal resurrection of the most credible leftist presidential candidate, Luiz Inacio Lula da Silva, has consigned structural reform to the lowest drawer of priorities. The fragmented Congress, the five-year election cycle (with the recurring swing from leftist to rightist leadership), is arguably the root cause of Brazil's perpetually dashed hopes on structural reform.
While Bolsonaro evokes the same sort of emotional response as his kindred spirit, Trump, and may similarly push Brazil's political institutions to their limit to secure re-election in October 2022, on the assumption that he similarly will not ultimately be able to break those institutions, this may be an opportune moment to revisit Brazil equities. Valuation (trailing price/book) of the equity index appears at an unjustifiable 20% premium to history given the anaemic outlook for Brazil GDP growth (merely 2% 2021-26 real GDP CAGR) and gross government debt of about 100% of GDP. However, three factors balance this:
Commodity prices are in Brazil's favour; close to half of its exports are in Soybean, Iron, and Petroleum related products.

One of the reasons why the equity index is on a premium is that its biggest constituent, Vale with weights of 14% in Ibovespa and 18% in MSCI Brazil, is on an 80% premium precisely because of the outlook for the price of the iron ore it exports globally.

While there is a severe domestic fiscal and debt problem, the same is not true on the external side: FX-linked government debt is under 5% of GDP, the current account deficit is below 15, and FX reserves equate to 25 months of import cover.
Perhaps one of the biggest challenges for the Brazil equity story is that not as many portfolio managers need to care about it as before. Two decades ago, Brazil was almost double the MSCI EM index weight of China-HK, a decade ago it was about the same size, but now it is about one-tenth. Global EM equity managers do not need to fear missing out on the next wave of euphoria in Brazil.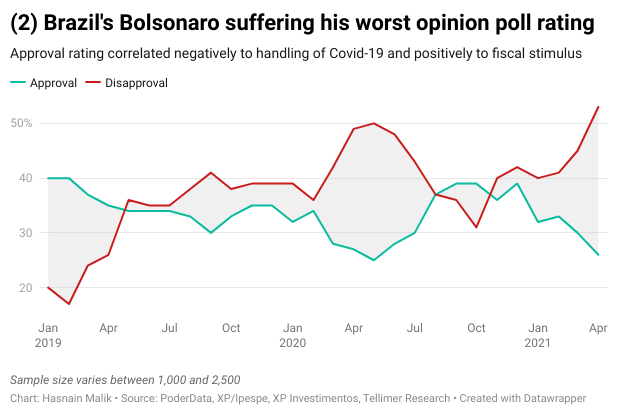 Related reading
Brazil's Lula returns; 5 reasons why this should not be feared, March 2021
Petrobras-induced sell-off makes Brazil valuations appealing, February 2021
Brazil: Congress leaders save Bolsonaro from impeachment but may not help reform, February 2021
Commodities rally benefits EMs like Chile, Indonesia, Russia, December 2020
Brazil deserves risk-on rally less than India, Russia or Turkey, November 2020