Most investors focus on crude oil. But for the food industry and for consumers, there is a vegetable oil that is equally vital.
Palm oil is the world's most traded edible oil. The industry produces 73mn tonnes a year, which amounts to a value of over US$110bn at today's prices.
Palm oil prices have surged to an all-time high of US$1,700 per tonne. This represents a rise of 24% ytd and an increase of 266% from its 10-year low.
Crude oil correlation suggests that palm oil could rise further
Palm oil is highly correlated to crude oil prices, partly because palm oil is viewed as a proxy for crude due to biodiesel. Since the global financial crisis (GFC), palm oil prices have shown a 77% correlation coefficient with Brent crude oil prices.
Crude oil prices are at US$115/bbl and may rise further, as the EU has instituted a phased ban on Russian oil, while China is easing its pandemic restrictions.
Soybean oil is in tight supply due to the war in Ukraine
Soybean oil and palm oil are close substitutes. Both are used as inputs for edible oil and as a result they tend to trade in tandem.
The correlation coefficient for the two commodities is 73% over the past twenty years.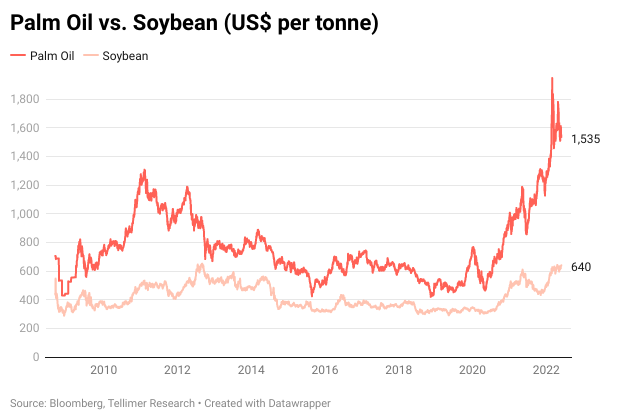 The worst drought in the past 20 years has affected soybean production in South America. At the same time, the war in Ukraine has indirectly driven up soybean oil prices.
This is because Ukraine produces about half of the world's sunflower oil, supply of which has been severely disrupted by the war, leading to a shortage that has increased demand for alternative vegetable oils such as soybean, and hence caused prices to rise.
As a result of drought and war, the US Department of Agriculture expects the stock-usage ratio for soybean oil to tighten by almost 20% between 2020/21 and 2021/22, ie. inventory will be much lower.
Palm oil stocks have underperformed the commodity but could rise further
Palm oil prices are up 24% ytd, but most palm oil stocks are up far less. The underperformance may be due to the perception that the ESG standards in the industry are weak. However, many palm oil producers have made great strides in improving their ESG standards.
Palm oil producers are ripe for a rally, in our view. The market seems to have ignored three features of their valuation:
The average FY22 FCF yield is 11%, according to consensus forecasts. This is more than three times the average for ASEAN. It suggests that at the current price and planting cycle, the industry is generating over a tenth of its market capitalisation in FCF.

The average FY22 dividend yield is 5%, according to consensus. This is more than 40% higher than the ASEAN average.

At an average forward PE of 11x, the industry is trading at a 30% discount to the regional average. It is also at half the 2010 peak for palm oil stocks.
Palm oil stocks are also trading at the low end of the EV/mature hectare range. Palm oil producers such as Golden Agri (GGR SP), Indofood Agri (IFAR SP), First Resources (FR SP), IOI (IOI MK) and Kuala Lumpur Kepong (KLK MK) are trading close to their lowest EV/mature hectare multiples since the global financial crisis of 2008.
The current EV/mature hectare average for the Indonesian planters is US$6,000/hectare to US$8,000/hectare, which is below the replacement cost.
Given all these factors, the strength of palm oil prices could yet provide a major boost to these value stocks.