Focus on the minutes, particularly on changes to the forward guidance
Banxico's Minutes (December 15th). In its last decision, the Board increased the reference rate by 50bps to 10.50%, ending the streak of four 75bps hikes. In our opinion, the tone was less hawkish given: (1) A new dissent from Deputy Governor Esquivel, this time favoring +25bps; (2) changes to the forward guidance, signaling a hike in the next meeting, but opening the possibility that this could be the last one; and (3) a favorable outlook for headline inflation, albeit still with some caution on the core component. Considering these adjustments, our focus will center on comments about inflation dynamics (both present and future), the relative monetary stance, the likely magnitude of the next adjustment, and the possible level of the terminal reference rate –noting mixed comments on the latter in the previous minutes

Inflation (1H-December). We expect headline inflation at 0.38% 2w/2w, in line with its five-year average (0.36%). The period tends to have an adverse seasonality, considering the payback in many of El Buen Fin discounts (Mexico's Black Friday). As such, we anticipate a 0.56% 2w/2w increase in the core (contribution: +42bps), also affected by increases in some processed foods. Meanwhile, the non-core would come in at -0.18% (-5bps), noting declines in some energy items and with agricultural goods contained. If our forecast materializes, headline inflation would go from 7.46% in the second half of November to 7.76%, noting a more challenging base effect. Inside, the core would moderate to 8.34% (previous: 8.37%), with the non-core climbing to 6.04% (previous: 4.86%)
Proceeding in chronological order...
October's Timely Indicator of Economic Activity lower, albeit with November likely positive. We recall that September's mid-point forecast stood at 4.8% y/y (using sa figures), lower than the 5.1% in the GDP-proxy (IGAE). October will probably be revised higher, with industrial production above the initial estimate (in monthly terms), along with signs of services' strength. As such, we believe, the print could also be higher in annual terms (see section below). For the eleventh month of the year, some dynamism could prevail, considering: (1) A moderation in inflationary pressures, mainly at the non-core; (2) key dates, such as the Day of the Dead and Revolution holidays; and (3) the boost from El Buen Fin and the 2022 FIFA World Cup, among others. As such, IMEF's PMIs improved at the margin, albeit with ANTAD sales weaker.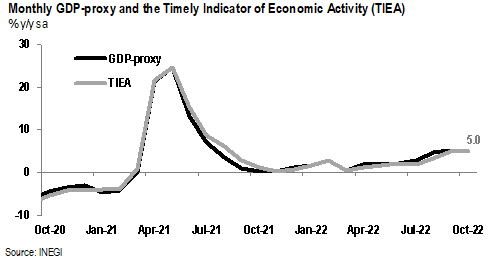 Retail sales to rebound in October ahead of the holiday period. We forecast sales at 3.6% y/y, higher than the 3.3% in September despite a more adverse base effect. In sequential terms, sales would rise 0.6% m/m, erasing the decline of the two previous months. Overall, we think the backdrop is more favorable, with a moderation in annual inflation –decreasing to 8.41%–, albeit still with pressures at the core, but with fundamentals strengthening. On the contrary, some consumers may have put off certain purchases to take advantage of discounts.
Available data improved. ANTAD sales recovered, with the print for same stores back in positive territory at 1.5% y/y in real terms (previous: -0.5%). All-stores were also stronger at 3.7% (previous: 1.7%). Although part of the progress is due to the moderation in inflation, it also seems to be because of higher dynamism. According to AMIA, auto sales rebounded marginally by 0.7% m/m (using our in-house seasonal adjustment model). On a more negative note, gasoline sales inched lower again, reaching 648kbpd (previous: 675kbpd) despite stability in mobility. Lastly, non-oil consumption goods imports fell 2.2% m/m, not ruling out an effect due to lower prices. Fundamentals were more favorable. Remittances strengthened again, reaching a new high. Meanwhile, employment rebounded significantly with 925.6 thousand new positions, on top of an acceleration in wages in annual terms. Finally, consumer loans kept rising, which could represent an additional boost for sales.
This result would be positive and likely reaffirmed with even more favorable data in November. Specifically, we have already seen higher dynamism in IMEF's non-manufacturing PMI, in our view helped by El Buen Fin sales (Mexico's Black Friday) and the positive spillover from the 2022 FIFA World Cup.
Weekly international reserves report. Last week, net international reserves increased by US$319 million, closing at US$199.2 billion. This was mainly due to a positive valuation effect in institutional assets. Year-to-date, the central bank's reserves have fallen by US$3.2 billion.
Aggregate demand to accelerate in 3Q22 on better-than-expected domestic conditions. We expect both aggregate supply and demand at 5.6% y/y. From the supply side, we already know that GDP grew 4.3% y/y, extending the recovery trend for a fourth consecutive quarter. Dynamism was broad, noting the outperformance in services and manufacturing. We expect these to translate favorably into consumption and exports, respectively.
We anticipate imports at 8.9%, decelerating from 12.4% in the previous quarter. Converting trade balance data to MXN at current prices, inbound shipments of goods came in at 22.8% y/y, with the current account –also including services– in line at 22.9%. This is slightly above figures expressed in USD as the Mexican peso fell 1.1% y/y on average. However, most of the hit to the final print would come from inflationary pressures, which remained high throughout the period.
On demand, private consumption would remain quite strong at 6.1%, with a boost from services and the imported component. The monthly indicator grew 6.4%, with imported goods leading gains (+17.3%), but with services (+7.0%) also benefitting from an additional normalization in activity. As such, fundamentals remained as the main driver, with overall employment gains –despite a slowdown in nominal wages– and remittances maintaining speed. In addition, payments from social programs resumed early in the quarter as the electoral ban ended. Investment took more of a hit, standing at 3.8%. Weakness centered in construction (-4.3%), in our view heavily affected by high prices. On the contrary, machinery and equipment maintained some momentum (14.2%), boosted by the imported component. We expect government spending at +1.1%. While current government expenditures rose 17.3% y/y, we anticipate a heavy drag from inflation and a continuation of the trend of a lower effect on value added. Lastly, we anticipate exports at 11.1%, accelerating at the margin. Similar to shipments abroad, differences between the trade balance and the balance of payments were tight (standing in MXN at +22.6% y/y and +22.4%, respectively), suggesting that services broadly grew at the same pace as goods, as shown in the current account.
Annual inflation to increase on a more challenging base. We expect headline inflation at 0.38% 2w/2w, in line with its five-year average (0.36%). The period tends to have an adverse seasonality, considering the payback in many of El Buen Fin discounts (Mexico's Black Friday) –particularly impacting 'other goods' and tourism categories. As such, we anticipate a 0.56% 2w/2w increase in the core (contribution: +42bps), also affected by some processed foods. The non-core would come in at -0.18% (-5bps), noting declines in some energy items and with agricultural goods contained.
If our forecast materializes, headline inflation would go from 7.46% in the second half of November to 7.76%, highlighting a more challenging base effect. Inside, the core would moderate to 8.34% (previous: 8.37%), with the non-core climbing to 6.04% (previous: 4.86%).
In bi-weekly terms, core goods would climb 0.5% (+21bps). As mentioned, other goods would concentrate the expansion at 0.6% (+12bps), more than offsetting for the decline in the previous fortnight due to the discounts. Although it seems that some sales extended to December, we believe most ended, explaining the increase. In processed foods (+0.4%; +10bps) new increases in key items such as soda, milk, juice (by Coca-Cola FEMSA), and beer (by Grupo Modelo) were announced, which will push the category further. Services would also be somewhat pressured by rising 0.6% (+21bps), mostly explained by 'others' (1.2%; +19bps). Reversals would mostly be in tourism-related categories (e.g. air fares, tourism packages), impacted by the end of discounts and the holiday period. Others could remain to the upside, such as dining away from home. Lastly, housing would stay low at 0.1% (+2bps).
On the non-core, the drop would center in energy at -0.9% (-9bps), largely driven by more favorable dynamics in international markets. We note LP gas again, at -2.7% (-5bps). Despite increasing in the previous fortnight, it has maintained a downward trajectory since late July. Gasoline would also fall, with the low-grade type at -0.9% (-4bps). While international references have corrected more strongly, the effect from the shrinking subsidy has limited a more substantial decline domestically, indeed acting as a shock absorber. Agricultural goods would remain low at 0.3% (+4bps), with both fresh fruits and vegetables (0.3%; +2bps) and meat and egg (0.4%; +3bps) contained. For the former, our monitoring shows additional pressures in chilies and lemons, although partly offset by tomatoes, potatoes, and avocadoes. In the latter, some seasonal patterns could be influencing prices ahead of holiday gatherings.
A modest trade deficit in November. We estimate a US$1,781.7 million deficit (previous: -US$2,011.8 million). The result will be driven by: (1) A further moderation in commodity prices; and (2) increased uncertainty about global activity, affecting flows. The downward extension in energy and transport prices has continued, contributing to the first driver. In addition, we see a moderation in US and China's production, more related to the second factor. However, local conditions remain resilient, providing some stability. Thus, exports and imports would grow 10.5% and 14.3% y/y, respectively.
We forecast a US$2,589.1 million deficit in the oil balance, relatively in line vs. October, but more modest than in the previous five months. Exports (4.6% y/y) would reflect the decline to 77.58 US$/bbl from 81.18 US$/bbl in the Mexican oil mix, with volumes –at least to the US– also weaker. In imports (18.8%), prices also adjusted in the same direction –with gasoline futures falling, but gas more mixed–, while flows appear to be recovering at the margin. We highlight that the previous month showed a deep slowdown in consumption, which we expect to be more normal in November.
We expect mixed results in the non-oil balance, with a US$807.4 million surplus. Exports would increase 10.9% and imports 13.8%. In the former, agricultural goods would rise 1.6%, with signs of lower prices but more favorable weather conditions. Non-oil mining would fall 7.1%, also affected by prices and a more challenging base effect. In manufacturing, autos (7.9%) likely moderated, with negative signs in AMIA exports and a drop in US production.
The result for 'others' (13.6%) would be favored by a seasonal effect. However, other factors imply a slowdown, such as a marginal decrease in US industrial production. In imports, flows from China decelerated (at least until October). Hence, goods inflows could have decreased vs. the previous month, although positive seasonal factors persist. Therefore, we expect consumer goods at 18.0%, driven by domestic resilience. Intermediate goods could remain stable at 13.1%. Finally, capital goods would slow to 14.8%, likely reflecting higher uncertainty, although partially compensated by recent MXN strength.
Activity kept growing in October. We expect 4.9% y/y growth, an inch lower than the 5.2% in September. With seasonally adjusted figures it would stand at +5.3% y/y, even with no differences in working days. This would be higher than the mid-point of the first estimate from INEGI's Timely Indicator of Economic Activity at 5.0% –which we expect to be revised higher. More relevant, this would imply +0.3% m/m, in our view positive considering an accumulated expansion of 1.6% in the last three months. As already published, industrial production rose 0.4% m/m (+3.1% y/y). This was driven by mining (+1.6%) –with a strong expansion in related services– and construction (+1.0%) –highlighting edification and specialized works. Manufacturing was mixed (+0.1%), with 12 of 21 categories up, albeit noting a decline in transportation. Meanwhile, we see primary activities at 0.0% (9.1% y/y), with favorable signs from exports and prices. However, dynamism would be limited by a challenging base effect.
Data in services has been mostly positive, anticipating +0.2% m/m (+5.6% y/y) after 1.0% in September. We see several tailwinds, including: (1) Lower non-core inflation; and (2) continued strength in fundamentals, noting both employment and remittances. However, room for more improvement might be running out, with the last mobility figures consolidating and not ruling out that some consumers restrained from purchases for the discounts in November. In broad terms, IMEF's non-manufacturing PMI rose to 51.7pts (+0.6pts), with increases in all categories.
We expect some dynamism to continue in retail sales, with favorable timely data (see section above). On tourism, both air passenger data and hotel occupancy rates moderated in annual terms, suggesting that while the sector remains to the upside, additional increases may be harder. We stay cautious on wholesales as they have increased significantly lately.
Turning to more essential categories, education could consolidate as classes got to full steam, while professional and support services will likely remain subdued.
Job creation continued in November, mostly pushed by a seasonal effect. We expect the unemployment rate at 3.21% (original figures), down from 3.30% previously. The adjustment would be driven by seasonality as more jobs are required in services due to the holidays. Using seasonally adjusted figures we anticipate 3.29% (previous: 3.22%). While the increase would be modest, there are some signs suggesting a deceleration, as explained ahead.
Back to original data, we expect job creation to have continued despite a relevant uptick in October. However, the pace could be slower on: (1) Signs of a tight labor market, with several metrics already better than before the pandemic; and (2) some mounting concerns about economic activity, especially as recession fears increase for 2023. On complementary indicators, another improvement in the part-time rate would be welcome, but as it stands below its long-term average, an increase can't be ruled out. A similar thing could happen to informality, with levels also consistent with long-term trends. We remain focused on wages, which improved in annual terms despite decelerating sequentially in the previous month. Something to note is that figures would not be skewed by the minimum wage announcement for 2023, as it was released on December 1st.
Timely data has been mixed. IMSS reported 101.3 thousand new jobs. Nevertheless, this translates into a loss of 6.5 thousand positions with seasonally adjusted figures (using our in-house model). Within the aggregate trend indicators, employment components improved in all sectors (construction, manufacturing, commerce, and non-financial services). Meanwhile, employment in IMEF indicators diverged again, with manufacturing up just +0.2pts, but with non-manufacturing lower by 1.7pts. Signals from the S&P Global manufacturing PMI suggest caution, considering that "…most companies that reported higher headcounts mentioning the hiring of short-term staff…".
All in all, the report would show a slight setback. Nevertheless, the labor market would remain solid, contributing to dynamism in domestic demand. However, given further headwinds ahead, it would not be surprising to see a deceleration in the pace of improvement.
Banking credit higher in November. We anticipate a 4.7% y/y expansion, stringing eight months in positive territory. We think the recovery extended, with fundamentals as a key support. In addition, the arithmetic effect from inflation is positive by 61bps, with the annual print moderating to 7.80% in the month. Given the persistence of price pressures, we believe families will continue turning to loans to try and smooth their consumption patterns. On the other hand, corporate credit could still be benefited by nearshoring efforts, albeit possibly limited by higher financing costs. In the detail, consumer loans would stand at 8.5% (previous: 8.3%), corporates at 3.6% (previous: 3.4%) and mortgages at 3.3% (previous: 3.2%).
MoF's public finance report (November). Attention will center on the Public Balance and Public Sector Borrowing Requirements (PSBR), which accumulated a year-to-date deficit of $596.3 billion (until October). Focus will be on progress relative to the estimates outlined in the General Economic Policy Criteria. In revenues, oil-related will probably remain high due to prices, awaiting data on income taxes and VAT collection. We will pay attention to excise taxes, considering that the complementary stimulus to fuel was implemented through part of the period. On spending, we will follow financial costs and programmable spending –especially in autonomous and administrative branches–, along with progress in Pemex and CFE outlays. Lastly, we will analyze public debt, which amounted to $13.5 trillion in October (as measured by the Historical Balance of the PSBR).
Remittances to slow down marginally on an adverse seasonality. We expect remittances at US$5,072.4 million in November, below the US$5,359.8 million of the previous month. Most of this would be driven by more adverse seasonality, in our view related to Thanksgiving and Black Friday, with migrants spending more locally. Consistent with the latter, this would imply an 8.8% y/y expansion vs the +11.2% in the previous month. In our view, employment conditions in US were mixed. In this sense, non-farm payrolls showed a net creation of 263k positions, similar to the 284k in October, with the unemployment rate unchanged at 3.7%.
The latter metric improved for Hispanics and Latinos, to 3.9% from 4.2%. Meanwhile, we estimate it declined by 31bps –to 3.7%– among Mexicans. The working age population –including 'natives', 'non-native citizens', and 'non-citizens' (legal or illegal)– increased by 31k.
However, there were 104k fewer employees. Although these figures are subject to seasonality, the trend of employment has been to the downside, partly attributed to the fallout of the monetary tightening by the Fed. Regarding activity, early PMI data –especially from S&P Global– suggests an additional moderation, albeit more mixed when considering ISM surveys. Challenges on prices seem to have eased further, with CPI moderating to 7.1% y/y from 7.7%. At the margin, the result of the mid-term election resulting in a divided Congress could dampen expectations of an improvement in the migratory front, albeit we don't expect a material change in results because of this.
All in all, risks for flows are tilted to the downside, even when considering outright strength in some of the latest prints and migrants' extraordinary efforts to support their families back home. Considering this, the possibility of the full-year figure coming in below our US$59-US$60 billion estimate has increased.
Moderate setbacks in IMEF's PMIs. The manufacturing indicator would reverse November's gains, while the non-manufacturing would have a more marginal adjustment. We believe these results continue to be in line with our view of activity towards the end of the year. We continue seeing signs of resilience in consumption, with a mild relief from inflation, while some headwinds for industry persist, especially from abroad.
We expect manufacturing to fall into contraction territory at 49.8pts (from 50.5pts). This would be justified by at least three factors: (1) The performance of US industry, with manufacturing producers facing weak domestic demand and the main timely indicators in negative territory during November (S&P Global's PMI at 47.7pts and the ISM at 49.0pts) despite stronger expectations for activity during 4Q22; (2) a slowdown in global manufacturing activity; and (3) a deterioration in international trade conditions –with Bloomberg's Trade Tracker for December reporting all of its four sentiment indicators below average. Domestically, the sector will continue to benefit from the downward trend in the price of LP gas, although we remain attentive to the evolution of natural gas prices due to the arrival of winter. Given this scenario, we expect this indicator to fluctuate around the 50pts threshold, with direct effects from lower US demand and fears of a global slowdown limiting dynamism. As such, we could see falls in 'production', 'new orders' and 'deliveries'.
Non-manufacturing would fall marginally to 53.0pts from 53.4pts, with some payback after the sharp increase in the previous month. Signals so far have been mixed. Based on our inflation forecast for the 1st half of December (see section above) 'other goods' would have had strong increases (noting that adjustments would happen in the aftermath of the discounts related to El Buen Fin). On a positive note, fundamentals (e.g. employment and remittances) could have been more stable, remaining as a driver for consumption, especially ahead of year-end holidays. This would back our view of resilience in this sector, if not outright strength. In this context, we anticipate the index to be supported by slight growth in 'employment' with likely declines in 'production' and 'new orders'.
Consumer confidence to improve marginally in December. For the last month of the year, we anticipate a slight increase. The improvement would be driven by several factors, including: (1) A moderation in prices of some basic products, especially in energy –key for households; (2) higher mobility relative to the previous year; and (3) an extension in year-end sales, with some small and medium-sized companies furthering El Buen Fin discounts (Mexico's Black Friday), at least during the first half of December. Finally, a negative note could come from a deterioration in the epidemiological conditions towards the end of the period, with an increase in contagions from COVID-19 and seasonal flu.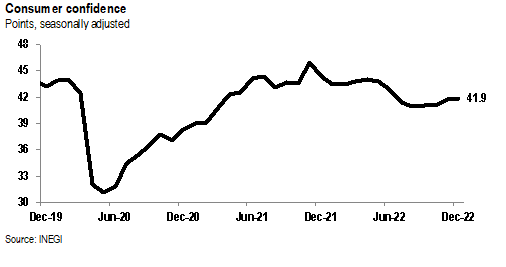 Banxico's minutes to shed light on changes to the forward guidance and inflation. In its last decision, the Board increased the reference rate by 50bps to 10.50%, ending the streak of four 75bps hikes. In our opinion, the tone was less hawkish given: (1) A new dissent from Deputy Governor Esquivel, this time favoring +25bps; (2) changes to the forward guidance, signaling a hike in the next meeting, but opening the possibility that this could be the last one; and (3) a favorable outlook for headline inflation, albeit still with some caution on the core component. Considering these adjustments, our focus will center on comments about inflation dynamics (both present and future), the relative monetary stance, the likely magnitude of the next adjustment, and the possible level of the terminal rate –noting mixed comments on the latter in the previous minutes.
We think the most relevant point in the statement was on the forward guidance, both for the next increase, as well as possible adjustments ahead. Although it is quite clear that we will have another hike in February, its magnitude is not so sure. In this sense, it will be important to focus on: (1) Opinions on the relative monetary stance with the Fed, in particular if the degree of synchronization seems to be diminishing or not, considering that we expect +50bps in their next move; (2) the perception about accumulated hikes, their effect on the price formation process and the anchoring of expectations; and (3) the performance of financial assets and liquidity in local markets. About upcoming moves, the statement seems to open the door to an end (or at least pause) of the cycle, arguing that they "…will assess if the reference rate needs to be further adjusted…". On this, we believe the main factor will be inflation conditions at said moment. Particularly if a downward trend for the headline is clear, but likely more important, for the core (see following paragraph for more details). Similarly, the evolution of medium- and long-term expectations. Another will be the views about the adequate ex-ante real rate and if it is at a sufficiently restrictive level to ensure the convergence of inflation to its target. On the latter, we already have some opinions. Governor Rodríguez likely considers that it is not a point we should center too much on. Deputy Governors Esquivel and Heath have talked about specific levels of 4.5%-5.0% and 6.0%, respectively. As such, we will see if we have an update, on top if Deputy Governors Borja and Espinosa getting also on board in this discussion.
On inflation, our attention is on factors that would have explained adjustments in both estimated trajectories. Although the revision for the headline likely obeys to better non-core dynamics in the last fortnights –both energy and some food items, it will be important to the see the risks foreseen in this category, especially ahead of the winter. For the core, the outlook remains challenging, explaining the adjustment to the upside. We believe it would be important to have more details about this, considering adverse factors that could be in play such as second-round effects and adjustments to expectations.
In our opinion, the document will validate the less hawkish stance we perceived in the statement, setting the stage for the tightening cycle to end soon. As such, we expect +50bps in February's meeting for the rate to reach 11.00%, our estimate of the terminal level for this cycle.