At the market close on 29 June, MSCI DM was down 7% month to date, EM fared better at down 4%, and less liquid FM was down 5%. This compares with US Mega Tech down another 7% after drops of 5% and 15% in the months of May and April, respectively. The oil-exporting GCC gave back more of its ytd outperformance, down 9%, after an 11% drop in May.
Hard commodities were down amid continuing fears of recession, with Brent down 3%, Iron Ore down 8%, Copper down 11% and Ethylene down 11%. Soft commodities were also down sharply, eg Wheat down 14%, Sugar down 17% and Palm Oil down 23%, as well as Urea down 12%.
US recession fear, China economic activity picks up
Two factors pulled almost all equity markets down this month in global DM and EM.
Developed markets recession worries and US dollar strength (up 1.7%), as the US Fed seeks to re-establish its anti-inflation credibility.

Indications from government officials that China's zero-Covid policy will be in place for another five years.
Over the course of June, consensus investor fears on the US appear to have shifted from stagflation (rising long-term bond yields, falling equities, stronger US dollar) to recession (falling long-term bond yields, falling equities, flat US dollar).
On the brighter side, China's near-term outlook improved as strict lockdowns were eased and economic indicators picked up, eg the purchasing managers index for manufacturing improved mom from 49.6 to 50.2.
China's re-opening, for now at least, benefits the global manufacturing supply chain. Vietnam – with China imports accounting for over 35% of its total imports – and others in Asia are particularly integrated with China.
Opportunity or harbinger of worse to come?
The key question is whether this weakness in EM equities is an opportunity or a harbinger of much worse to come?
Positives
On the positive side, for example:
The largest EM by far, China, has the rare capacity for stimulus.

There are pockets of EM, Saudi Arabia and the GCC that have the crude oil exports and FX reserves to provide perhaps as much downside protection as any DM after the US.

Covid should dissipate globally and that is positive for EM manufacturers (Vietnam, Bangladesh, Mexico, etc.) and EM tourism economies (Thailand, the Philippines, Dubai, Iceland, Mauritius, etc.) as demand recovers.

Some of the EMs with external account stress are seeking the stamp of policy credibility from the IMF and help from geopolitical allies (Argentina, Egypt, Pakistan and, albeit very belatedly, Sri Lanka).

Valuation across most of the EM and FM spectrum appears to reflect a lot of distress already; both indices are on c20% discounts to their respective five-year median PE.
Negatives
On the negative side, for example:
Russia-Ukraine can escalate economically (more gas supply suspensions from Russia), militarily (eg a spread to separatist parts of Georgia and Moldova, provocation on the Finland border or in the Baltics) and geopolitically (a more forceful 'Western' response to the 'neutral' stance of China and India).

China's regulatory crackdown has still not ended, its zero-Covid strategy appears increasingly inappropriate, with the advent of the less-lethal Omicron variant, its property debt crisis has not been resolved, and the continued emphasis on public infrastructure spend may risk more capital misallocation.

Political protest movements against a backdrop of rocketing food prices or acute inequality pose a threat to the smooth working, and in some cases survival, of any incumbent government, whether autocratic or democratic, poor (Africa, South Asia) or relatively affluent (LatAm, East Europe).

Brazil, India and South Africa are not structurally reforming, with re-election the priority in all three. Reform efforts in the likes of Egypt, Indonesia, Pakistan, the Philippines and Vietnam have also been derailed by the economic stress resulting from Covid and food and fuel inflation.
The only guides for us remain a combination of equity market valuation and liquidity, short and long-term macroeconomic growth prospects, economic policy credibility and currency risk.
These are all key components of the customisable Tellimer EM Country Index launched last month, which also incorporates sanctions exposure, as well as longer-term ESG and climate risk factors. Contact Tellimer Insights Sales to learn more.
Our top-down strategy view remains one grounded in active country selection over passive index-tracking, and exposure to a mix of manufacturing, tourism and tech where this exposure is cheap relative to history. That is because we try to strike a balance between short and long term, with a value bias.
That is not everyone's approach and the EM Country Index can be flexed to reflect different approaches (eg more risk-averse, less valuation-centric).
Our monthly review of EM and FM equities is laid out as follows:
The month's performance in Emerging and Frontier in one chart.

Technology valuation chart: Cheapest tech in EM is in China and Small EM.

Commodities valuation chart: Peru in Copper, and Colombia, Oman, Qatar in Oil are cheaper than Saudi Arabia and the rest of the GCC.

Tourism valuation chart: Cheaper in Egypt, Georgia, Mauritius, the Philippines, Thailand. 

Low-Cost Manufacturing valuation chart: Cheaper in China, Egypt, the Philippines, Vietnam.

Global performance, valuation, liquidity summary table: Equities, commodities, currencies.

EM global equity strategy overview in under 1,000 words.

EM Country scores updated.

Links to recent reports on strategy and economics in EM.
1) The month in one chart
EM performance highlights this month
Large EM
China (up 9%) outperformed on the easing of strict Covid lockdowns, stimulus measures (tax cuts and infrastructure spend), and the resulting pick up in economic activity, as well as by hopes that the regulatory crackdown on large Tech companies is finally easing (eg the end of the probe on Didi and its re-installation on app stores, the grant of publishing licences to 60 locally developed games, albeit none from Tencent or NetEase.

Brazil (down 17%) underperformed due to US Dollar strength (FX rate down 10%), Iron Ore price decline (down 8%, dragging down Vale, 16% local index weight, down 17%), concerns over fiscal indiscipline as President Bolsonaro scrambles to narrow the almost 20pp gap versus Lula in the opinion polls (eg in the June 22-23 Datafolha poll, Bolsonaro scored 28% versus Lula's 47%) and the potential for the government cap to be scrapped under a Lula administration, and another change of CEO at Petrobras by Bolsonaro.
Small EM
Chile (down 15%, with FX rate down 10%) was hit by the combination of US dollar strength and a plunge in Copper prices (down 11%), as well opinion poll indications that a political deadlock is looming over the rewrite of the 1980 Pinochet-era constitution when the referendum to approve the final text takes place on 4 September (the Centre for Public Studies poll showed support at 25% and rejection at 27%). Peru (down 14%) also fell on copper price weakness.

Colombia (down 22%, with FX rate down 9%) was the worst performer in all of EM (ex-Ukraine) on fears over economic policy after the presidential election victory of leftist Gustavo Petro. Of course, US dollar strength and oil price weakness were unhelpful headwinds too.
2) Technology: Higher interest rates hurt the valuation of long-duration cashflows
3) Commodities: Recession fear bites
4) Tourism: Post-Covid recovery, excluding Russians
5) Manufacturing: China-Covid disruption but long-term shift to Bangladesh, Mexico, Vietnam et al.
6) Performance and valuation summary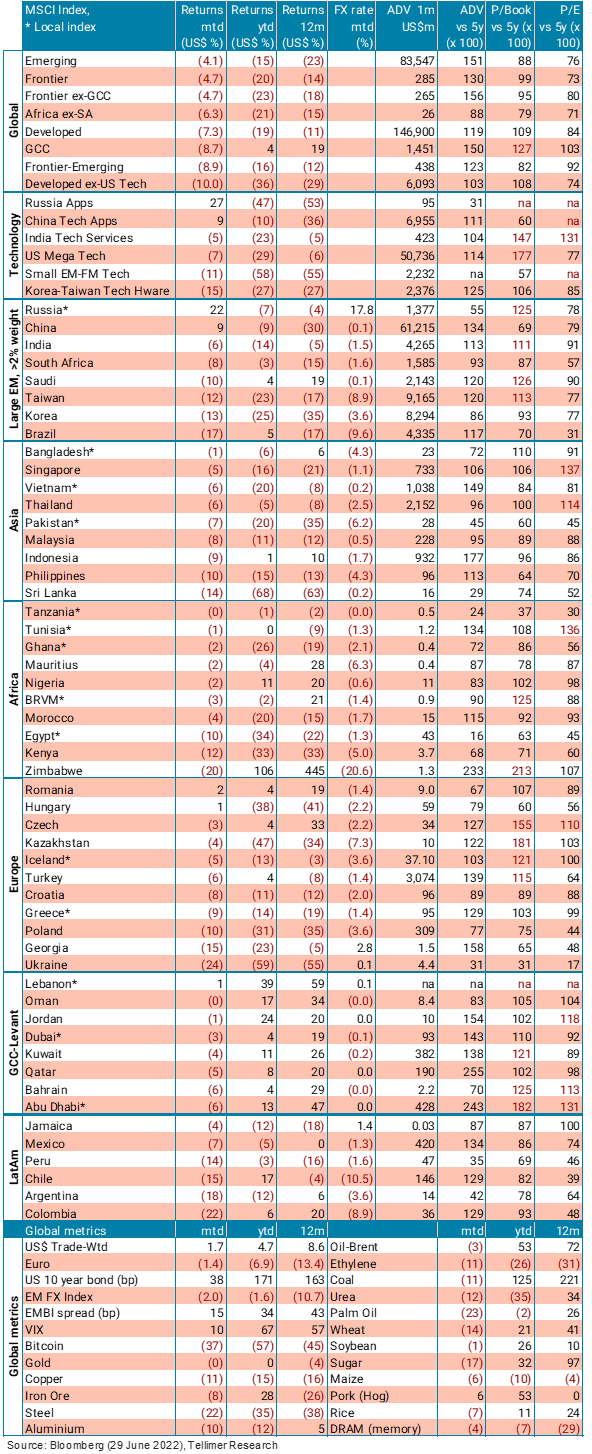 7) EM equity strategy update: Cheap tech, commodities, tourism, manufacturing and reform
The 2022 global backdrop features the following.
Higher oil and food commodity prices (as global growth remains positive, the legacy of under-investment in commodity extraction persists, and the Russia-Ukraine war disrupts two major suppliers).

Dissipating global Covid disruption (higher levels of vaccination and prior infection, prior deaths of the most vulnerable, less fatal variants and intolerance of further lockdowns) but lingering lockdowns in China, which remains wedded to a zero-Covid strategy.

Strengthening US dollar (as the US Fed embarks on a rate hiking cycle and US yields move up, a prolonged Russia-Ukraine war raises European stagflation risk and drags down the euro).

Except for China, much less room for policy stimulus in emerging markets (as Covid-era fiscal deficits are narrowed and interest rates are hiked to cope with higher inflation).

Pressure on local investor flows in those EMs where local interest rates and bond yields are moving up.
All of this adds up to a continuation of uneven, stuttering growth across EM, and a greater emphasis on country, sector and stock selection.
A mix of cheap tech, commodities, tourism, manufacturing and reform
India less appealing in 2022, Kenya risks now priced in
India offers exposure to many of these traits (particularly leap-frogging technology, alternative manufacturing location to China and pro-business reform), but it is no longer as cheap relative to history, particularly should monetary policy tighten at any point this year, or as committed to reform as a year ago (with Prime Minister Modi's priority now on impending state elections this year, particularly in Uttar Pradesh).
Kenya, in small EM, similarly offers exposure to some of these traits (particularly leap-frogging technology and tourism revival), but the focus on the election this year continues to distract from structural reform and external liquidity is likely to come under pressure. But the valuations of both the largest stock, Safaricom, and the banks may be sufficiently discounted relative to the historical average to reflect these risks.
Off-limits markets: Argentina, Nigeria, Turkey, Sri Lanka, Russia
A poor, foreign-investor-unfriendly policy environment rules out the following markets: Argentina, Lebanon, Nigeria, Turkey, Sri Lanka and Zimbabwe. There is sufficient opportunity at appealing valuations elsewhere in EM to avoid these.
Sanctions and capital controls, driven by geopolitics as opposed to populism or unorthodox monetary policy, take Russia off limits.
Non-country strategy market: Abu Dhabi
Abu Dhabi, which is increasingly dominated by related party companies – International Holding Company, Alpha Dhabi and Aldar – has also become something of a special situation, with the interplay between these companies already more important than, for example, oil prices or regional geopolitics, for trading volume and country index performance.
8) EM Country Index scores
Our index weights c30 factors on growth (short and long term), policy credibility, politics, sanctions, ESG, equity valuation and liquidity.
The weights in the index can be changed in order to model different global themes and portfolio styles.
China, Saudi Arabia and Vietnam are among the highest-ranked out of c50 emerging equity markets in our new Tellimer EM Country Index.
Brazil, South Africa and Russia among large EM equities and Egypt, Nigeria, Pakistan and Turkey among small EM equities are among the lowly ranked.
Around 85% of the index's weight covers factors relevant for all asset classes, with the remaining 15% specific to equities. For foreign direct investors wishing to assess a wide range of country risk factors, this model can be adjusted by simply applying zero weight to the equity market factors.
Because trading liquidity is a part of the equity component, and China is much more deeply traded than all other EM, this has a major bearing on China's score. If China and the US were only as liquid as Taiwan, for example, then their scores would drop from 139 and 122 to 67 and 19, respectively.
Contact Tellimer Insights Sales to learn more.
9) Recently published reports
Global
Commodity exposure in EM: Stick or twist
US inflation will force EM central banks to hike more
OPEC+ decision suits Saudi, US, Russia but no oil price relief for importers
Food prices off the boil for now, down 0.6% mom in May, still up 73% from trough
The countries most vulnerable to tight global financial conditions (Curran)
EM credit sell-off unlocks pockets of value, but more pain could be in store (Curran)
US economy: IMF warns over inflation risks but economy to avoid recession (Culverhouse)
The shadow economy in EM: Bad for sovereign risk, good for consumer spend
What investors are thinking: Takeaways from our UK roadshow (Curran)
ESG
Sportswashing and LIV Golf a warning for EM funds in the ESG era
World Ocean Day and the ESG plastic waste offenders in emerging markets
Asia
India youth unemployment, fiscal deficit and Agnipath protests
Thailand: Shinawatra scion tops opinion poll, election likely before May 2023
Pakistan 'super-tax' hits narrow tax base but brings IMF closer
Pakistan: DSA and restructuring analysis shows bonds are near recovery value (Curran)
Europe
ECB needs to address fragmentation risk for Greece equities to perform
Kazakhstan votes to end Nazarbayev-style rule; adds reform to commodity tailwind
Russia wakes up to sovereign default (Culverhouse)
Ukraine's government seeks more aid as Q1 GDP falls by one-fifth (Culverhouse)
Turkey's inflation and balance of payments crisis (Curran)
LatAm
Colombia turns left as Petro wins presidency in anti-establishment run-off vote (with Culverhouse)
Argentina's IMF staff level agreement is positive, but still a long way to go (Culverhouse)
Ecuador protests overshadow IMF programme review (Culverhouse)
Middle East
UAE's arrest of South Africa's Gupta brothers, the FATF, and property prices
Tunisia eurobond: Upgrade to Hold with bonds near recovery value (Curran)
Africa
Nigeria ejection from MSCI FM looms
Nigeria's oil recovery target sounds too good to be true (Ogunkoya)
Nigeria eurobond: Upgrade to Buy after excessive sell-off (Curran)
Kenya: Debt restructuring and debt ceiling comments spark concern (Curran)
Ghana: Bond collapse opens value opportunity amid risks (Culverhouse)