On Sunday, the IMF announced that it had reached Staff-Level Agreement on a 39-month, US$6bn Extended Fund Facility (EFF). While the Staff-Level Agreement should be seen as a positive, and ends an 8-month back and forth between the Fund and the authorities, the program size that has been announced by the IMF is slightly smaller than both what the market was expecting as well as the country's likely 3-year external financing gap, which we previously calculated to be cUS$12.5bn US$. It is important to note, however, that the press release specifically mentions that the current agreement remains contingent upon the "timely implementation of prior actions and confirmation of international partners' financial commitments" – likely indicating additional bilateral support in coming months prior to the final approval by the Fund's Executive Board, which should be expected within the next 6-8 weeks. 
The press release from the IMF remains vague on the details of the program, which is to be expected at this point, as the program will still need to be approved at management level as well as by the Executive Board. However, the release does lay out a few broad goals, many of which we have seen in prior IMF programs, those being: to foster inclusive growth, improving public finances, energy sector reform (including tackling the revolving debt issue), and although the term privatisation is notably absent from the press release, we think it is likely that the Fund will continue to push for both variations of privatisations and reforms of various state-owned enterprises. 
Beyond these programme goals, we highlight that the program takes direct aim at attempting to correct the country's chronic budget deficits, including a reduction of the primary deficit to 0.6% of GDP for the FY 2019/20 budget, a reduction of 1.15% over the current WEO forecast that was released in April. While this target should be achievable, we do have two immediate concerns: 1) the spread between the overall and primary deficits, which despite primary improvements, will remain quite large at c6% of GDP (and is unlikely to reduce over the near term); and 2) the effect that fiscal consolidation will have on growth figures, which have already been slashed to 2.9% for 2019 vs 5.2% for 2018. The press release, as well as our meeting with the Fund team during the Spring Meetings in April, highlights that the budget improvement will come almost entirely from improving revenue generation and attempting to maintain current levels of expenditure, especially in regards to longer-term capital expenditure and social spending, of which we are broadly supportive.
There has been a lot of attention placed on whether the IMF would require the Pakistan authorities to adopt a floating exchange rate regime as a prior action to reaching SLA. However, we have always been of the impression that the Fund is likely more focused on achieving the right level of valuation. The news that the State Bank of Pakistan is now committed to adopting a "market-determined exchange rate" therefore comes as welcome news, albeit with a degree of uncertainty surrounding what exactly this will mean in practice, i.e. a truly free-floating rupee or simply a reduction in SBP intervention. While we believe that it is likely that there will be additional devaluation/depreciation of the rupee, we think the magnitude of any nominal movements are likely to be limited to 5-10% on the basis that we have already seen a 25% nominal devaluation in the rupee since December 2017 (from 105 USD:PKR to 140 USD:PKR). Additionally, we currently calculate the rupee to be roughly 2% overvalued on a real-effective exchange rate basis, a far cry from the 26% overvaluation in November 2017. Ultimately, nominal weakening of the currency should lend itself to further reducing the current account deficit, which the IMF forecasts at 5.2% of GDP in 2019 (prior to additional reform measures included as part of the EFF), and thus further reducing the country's gross external financing requirements. 
REER vs fair value of the PKR
Source: Bruegel, Bloomberg
Furthermore, the press release mentions the SBP's focus on further reducing inflation, suggesting a strong likelihood that we will see additional rate hikes in coming months. However, given that the target monetary policy rate has already been raised by 500bps since December 2017 (from 5.75% to 10.75%), we believe that additional hikes are likely to be in the 100-200bps range.
SBP target rate has kept pace with increased inflation
Source: Haver Analytics 
The recent appointment of Mr Reza Baqir, an IMF staff member for the past 18 years and most recently serving as the Resident Representative in Cairo as part of the Fund's Egypt team, should assuage any concerns about the body's commitment to both orthodox policy reform as well as potential disagreements with the IMF, and should therefore be seen a strong market-positive development.
Sovereign bond recommendations
Despite the challenges that Pakistan is likely to face over the medium term, we believe that the announcement of a Staff Level Agreement is a positive outcome for the country, largely because it removes the significant tail-risk that would otherwise be associated with Pakistan. Unfortunately, given the smaller than desired program size, growth figures that have been continually slashed over previous WEO releases, and sovereign bond prices that have been, in our view, unjustifiably resilient over the past 18 months, we are unlikely to see the type of upside potential that we typically expect on the back of a Fund programme. On this basis, we maintain our Hold recommendation across Pakistan's US dollar curve.
Table 1: Tellimer Pakistan sovereign US$ credit ratings
| Instrument | O/S issuance (US$mn) | Duration | Z-spread | Mid yield | Mid price | Tellimer recommendation |
| --- | --- | --- | --- | --- | --- | --- |
| 8.25% APR 15, 2024 | 1,000 | 4 | 396 | 6.2 | 108.5 | Hold |
| 6.88% DEC 5, 2027 | 1,500 | 6.2 | 458 | 6.9 | 99.7 | Hold |
| 7.88% MAR 31, 2036 | 300 | 9.1 | 548 | 8 | 99.2 | Hold |
Source: Bloomberg, Tellimer
We are unequivocally more positive on Pakistan equities as a result of the IMF deal
The IMF deal makes us more positive on equities, but locals will not see it that way just yet. Equities are on their lowest trailing PB for a decade, and foreign investors re-entering Pakistan should focus on larger Banks (UBL, HBL, MCB) and a strong balance sheet cyclical (e.g. LUCK, PSMC).
Foreign investors generally place greater emphasis on the long-term benefits of IMF programs (policy credibility is re-established and medium-term risks on FX rate, inflation and fiscal deficit are reduced), whereas local investors place greater emphasis on the short-term negative impact (slower growth, higher inflation, higher rates, potential further FX devaluation). With c90% of traded value in Pakistan equities driven by local investors, the IMF deal may be viewed as a negative catalyst. Furthermore, with Pakistan occupying a very small weight in the MSCI EM index (less than 5bp) it is not a market that the average global emerging market investor needs to consider immediately.
However, there is no doubt that the conditions for a more sustainable economic policy contained in this deal significantly de-risk the long-term investment case. Although the size of the loan does not plug all external funding requirements (i.e. this IMF deal needs to open the door to the US$ sovereign bond market and prompt foreign portfolio and foreign direct investment inflows) and there will be lingering risk over the government's political will to stay the course on the loan's conditions, we are unequivocally more positive on Pakistan equities as a result of the IMF deal.
Pakistan equities, measured by the KSE100 index, are down 8% ytd, compared to up 8-9% for MSCI EM, Asia ex-Japan and FM indices. This is in complete contrast to the z-spread on the 6.875% 2027 sovereign US$ bond, which has narrowed ytd (from 577bp to 456bp) causing the spread over EMBI to narrow ytd (from 141bp to 83bp). Equity investors are clearly more pessimistic than their fixed income brethren; after this IMF deal that is no longer warranted in our view.
Trailing PB of 1.2x (14% ROE) is a 33% discount to the 5-year median. Trailing PE of 8.5x (6% dividend yield) is a 20% discount to the 5-year median. Forward PE is 6.6x with consensus earnings growth of 29%. These bottom-up analyst forecasts look too aggressive alongside the IMF forecast for nominal GDP growth in 2019f of 11% (2.9% real growth, 8.4% inflation by the end of the year). 
If we make the draconian assumptions of zero earnings growth in 2019 and another 10% FX rate devaluation, the implied forward PE is about 10x, which compares very attractively with MSCI EM forward PE of 12.4 (with 5% earnings growth) or with MSCI FM forward PE of 10.3x (5% earnings growth).
For those with little or no exposure we see no reason to look beyond the larger Banks (UBL, HBL, MCB) at this stage (benefit of increasing policy rates, low non-performing loan turbulence given recent history of low loan growth, long-term credit penetration and digital banking potential, and relatively more liquidly traded shares). But we would also point out that in equity rallies driven by macroeconomic stabilisation and, over time, the revisit of a forgotten market by foreign investors, cyclical stocks (where, ironically, earnings are subject to the greatest risk) tend to do well also (i.e. they exhibit high beta). In this group we see the combination of low balance sheet risk (i.e. low debt) and relatively liquidly traded shares in LUCK (in Cement) and PSMC (Autos).
Growth and Inflation of 2.9% and 8.4%, respectively, in 2019
Source: IMF
Fiscal and Current Account twin deficit of 12.4% in 2019
Source: IMF
FX rate close to REER, import cover currently 3 months
Source: Bloomberg


Local equity index on its lowest trailing PB for a decade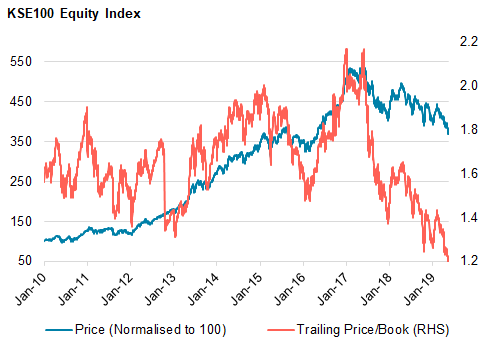 Source: Bloomberg

Sovereign US$ bond spreads have tightened substantially ytd
Source: Bloomberg