Those who are stuck in in the recent past (2017-19) will still fret about FX rate risk even though the IMF loan has been agreed, other multilateral and bilateral assurances of support have been received and access to the eurobond market should now open up. 
Others who are stuck in the era of chronic law and order disruption (2007-14) will still consider Karachi a riskier place to travel to, as a foreigner, than Cairo, Dhaka, Manila, Nairobi or Tunis (cities where more attacks have explicitly targeted foreigners in recent years). 
For everyone else, this note presents 11 graphics: one to demonstrate how cheap Pakistan equities are and the other ten to suggest why you should be brave enough to buy them. 
Of course, as with every country in our coverage, there are risks, short term and structural, and we also illustrate six key ones at the end of the report. These risks should be taken seriously but the more appropriate time for this is when Pakistan has returned to at least its average valuation of the past five years (which requires about a 50% increase in the index from current levels; i.e. a re-rating on trailing price/book from 1.1x to 1.7x).
Cheap equities
At 1.1x price/book, the local index is cheapest for a decade
Source: Bloomberg
Draw courage from these 10 charts
(1) Cheap FX rate
Real effective exchange rate was last below 100 over five years ago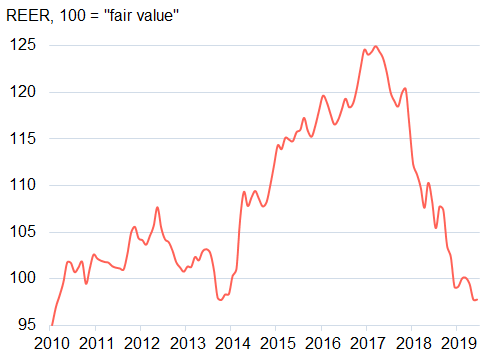 Source: IMF, Bloomberg
(2) Sovereign US$ bonds providing a signal to buy
Spreads over the EM index have narrowed c65bp since June 2019
Source: Bloomberg
(3) Strong corporate balance sheets
Macro slowdown implies earnings estimate cuts, not balance sheet distress
Source: Company reports, Bloomberg
(4) Orthodox policy framework (reinforced by IMF loan): inflation control, fiscal management
New technocrats running finance, central bank, tax empowered to make structural adjustments
Source: Bloomberg, SBP, IMF, Ministry of Finance
(5) Infrastructure upgrade: roads, rail, port and power improving
Long-standing power deficit being addressed, CPEC building off a very low base for logistics
Source: Nepra, WB, Tellimer Research
(6) Supportive domestic politics - a new and stable military-civilian equilibrium for the next decade
Stable military-civilian equilibrium after three decades of turmoil
Source: ECP, press reports, Tellimer Research
(7) Security dramatically improved - civilian deaths related to terror lowest for 16 years
Violence at its lowest level for 16 years
Source: SATP
(8) Supportive geopolitics: US (IMF), GCC, China balance of payments support
US interests, at least for now, again overlap with Pakistan: negotiations with Afghan Taliban
Source: US DOD, NYT, WSJ, WP, Fox
(9) Stalemate India geopolitics (full-blown military conflict is very unlikely)
Nuclear capability and mutually assured destruction limits extent of friction with India
Source: SIPRI
(10) Tourism potential
Tourism could ultimately double its contribution to GDP as perceptions of security improve
Source: WTTC
Risks
(1) Low FX reserves
FX reserves are critically low at the start of the new IMF programme
Source: Bloomberg, Tellimer Research
(2) Decelerating growth, high debt (crowding out) as economy undergoes structural adjustment
Forecast cuts by the IMF (prior to new loan programme)
Source: IMF
(3) Low exports, particularly in job-creating manufacturing
Export decline while peers have grown (although value mix in textiles improving)
Source: Bloomberg, OEC,PBS
(4) Military expenditure remains very high relative to size of economy
Military still occupies an out-sized share of the economy
Source: SIPRI, WB
(5) Poor health and education levels
Surplus, cheap labour but low productivity (poor health, education)
Source: WB, Unesco
(6) Water-supply vulnerability (Indus Water treaty)
Pakistan's water flows from Tibet-China and via India
Source: WB, Water Politics