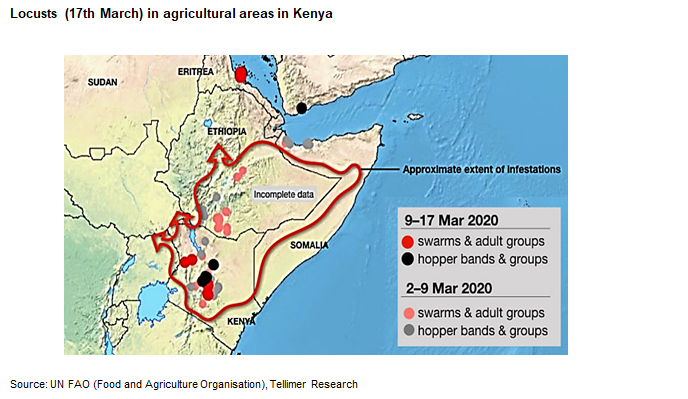 According to the UN FAO, "the situation remains extremely alarming in the Horn of Africa, specifically Kenya, Ethiopia and Somalia where widespread breeding is in progress and new swarms are starting to form, representing an unprecedented threat to food security and livelihoods at the beginning of the upcoming cropping season".
Kenya equities screen cheaply like most FM peers
Kenya equities, measured by the Nairobi All Share local equity index, are down 21% year to date, less than the 26% of MSCI EM and the 28% of MSCI FM. 
Kenya is down 14% in the last year, less than the 20% fall seen in both EM and FM. 
Trailing price/book is 1.4x (with 16% ROE), a 26% discount to the 5-year median, trailing price/earnings is 9.3x, a 27% discount to the 5-year median, and trailing dividend yield is over 7%. 
Those PE and PB discounts to history are in line with the FM index but wider than seen in EM (20%).
Almost every stock in Kenya currently screens well on trailing value metrics (as in most frontier peer markets).
Related reading on locusts and top-down risks in Kenya
Kenya: More coronavirus cases confirmed; policy changes loom, 16 March 2020
Kenya: Locusts nearing agriculture, not a crisis yet, 13 February 2020
Kenya: Locusts, another risk, 30 January 2020