GLOBAL
Bond yields continued their declines yesterday, with Treasury yields giving back all of Tuesday's gains as declining oil prices are alleviating some inflationary pressures, while the economic outlook continues to deteriorate. The curve bull steepened through the day, with all tenors gaining on the session. Nevertheless, the curve remains exceptionally inverted, with the 2v10 spread at more than -30bp. The gains for USTs did, however, help to end a run of 18 straight weeks of cash outflows from the high-grade US corporate market, which has seen fund inflows this week for the first time since March.
Meanwhile, UK front-end yields climbed marginally yesterday on the back of the BoE meeting, which saw  50bp rate hike and quite a hawkish tone with regards to the outlook for interest rates. However, the growth outlook from the BoE has weakened significantly. As a result, the curve briefly inverted yesterday before some of the gains at the long end were pared. The spread is still at its narrowest since mid-February and is pointing to looming recessionary conditions in the UK.
AFRICA
Nigeria: A spokesman for Dangote Industries Limited yesterday reported that the firm has completed more than half of a planned NGN 300bn ($720.82mn) bond issue to fund its mega-refinery on the outskirts of Lagos. The spokesman said that the company had raised NGN 187.5bn in the series one issuance, completed last month, and would announce a date for a second series as soon as possible. The proceeds will go towards the $1.1bn that the firm needs for the project, which many view as the solution to years of sclerotic fuel supply in the country. The planned 650,000 barrels per day (bdp) oil refinery will transform Nigeria into a fuel exporter. Despite being Africa's largest crude oil exporter, Nigeria buys nearly all of its fuel from abroad, straining government finances and sapping the availability of foreign exchange.
Uganda: Uganda's Finance Ministry is seeking to change borrowing terms to curb rising debt. According to an official from the ministry, the government will re-examine ratios of interest payments to tax, interest payments to exports, and debt to economic growth balances. The official added that "future borrowing will be biased towards concessional loans and the domestic debt market for purposes of budget support and commercial loans will not be acquired for project implementation." Debt has surged in Uganda, with the government in June saying it was not sustainable. Uganda's debt to GDP ratio at 54% is now above the government's threshold of 50%.
Morocco: Data from Morocco's Foreign Exchange Office showed that remittances from Morocco's diaspora reached MAD 47.04bn, or $4.56bn, during the first half of 2022. The reading represents an increase of 6.1% compared to the same period in 2021 when remittances amounted to MAD 44.33bn. The increase in remittances will be welcomed, given that they are a key source of foreign exchange earnings in the country.
Zambia: China's ambassador to Zambia Du Xiaohui, yesterday said that China has invited Zambia's private creditors to discuss the country's debt later this month. The invite comes after Zambia's official creditors agreed to a restructuring of its debt last weekend. According to Du Xiaohui, "if the official creditors from China agree with the restructuring process, then the private sector from China will follow comparable terms to deal with the debt issue for Zambia." The talks will be another step in the right direction for Zambia, given the Paris club has emphasized that the country will need to "seek from private creditors and other official bilateral creditors debt treatments on terms at least as favourable as those being considered by the creditor committee, in line with the comparability of treatment principle."
Zambia: Zambia's Markit/Stanbic PMI moved back above the 50-point neutral mark in July, coming in at 50.5 from 49.9 in June. The reading signalled a modest improvement in the health of the private sector for the first time in three months. Survey results show that the private sector returned to growth amid signs of improving demand which led to rises in new orders and activity. In turn, firms expanded their employment and purchasing activity. Rates of growth were only slight, however, as rising living costs and money shortages limited demand. That said, rates of inflation in input costs and output prices eased over the month. Finally, although companies remained optimistic that activity will rise over the coming year, linked to hopes of improved economic conditions, business sentiment dropped to the lowest level in 18 months.
Oil: Oil prices look set for a weekly drop of almost 15% for Brent and 10% for WTI as the demand outlook continues to deteriorate and global stockpiles are rebuilt. The front-month Brent contract is trading just below $95 per barrel this morning, just off yesterday's intraday lows which were the weakest since February. Widely watched differentials across the futures curve are also narrowing sharply now, with the prompt spread back down to around $1.65 per barrel in backwardation, down from over $6 per barrel last week. The 24v1m spread has also narrowed sharply to around $13 per barrel from levels over $40 per barrel when it was at its widest.
Forex: Devaluation risks for the Egyptian pound have increased
The latest data from the Central Bank of Egypt showed that Egypt's current account recorded a deficit of $13.6bn in the period from July 2021-March 2022, remaining "almost unchanged" compared to the same period a year ago. Meanwhile, net foreign direct inflows in the same period reached $7.3bn and remittances from workers abroad reached $23.6bn. While the current account deficit remained almost unchanged, it remains sizeable, and risks for it to widen exist amid still high import costs due to the war in Ukraine. Moreover, China has been Egypt's biggest trading partner for the last eight years, and if economic conditions in China were to deteriorate further, the current account could take another big hit this year.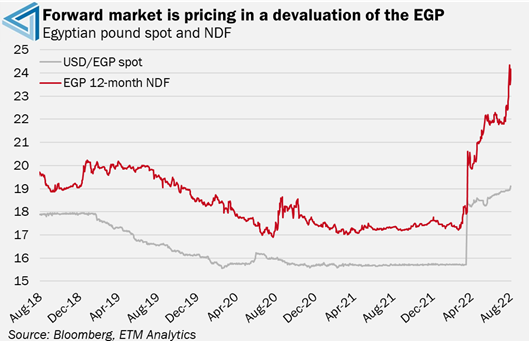 More than a decade of entrenched current account deficits has left Egypt vulnerable to unfavourable shocks, as witnessed by the Ukraine war. While the CBE devalued the Egyptian pound in response to boost the competitiveness of its exports and position itself for a loan from the International Monetary Fund (IMF), it has not been enough to offset high commodity prices and the flight of foreign direct investment. Given that Egypt needs to reduce its funding gap and make space for debt repayments, risks for another devaluation exist. The IMF has already called for greater exchange rate flexibility to avoid another build-up of external imbalances and to facilitate adjustments to shocks suggesting that exchange rate flexibility will be a priority during funding talks.
Against this backdrop, the forwards market is pricing in for a significant deprecation in the pound when looking at the 12-month tenor. The 12-month EGP non-deliverable forward is currently trading at around 24 per dollar, while USD/EGP spot is just above 19.00.   
Fixed Income: Zambian Eurobond yields continue to fall as more positive news trickles in  
Zambian Eurobonds look to close the first week of August stronger, marking the third successive week of gains. After peaking in the first half of June, Zambian Eurobond yields have fallen sharply. The recovery in Zambian Eurobonds has partly been driven by optimism that the heavily indebted country is on the verge of a debt restructuring and securing a deal with the International Monetary Fund, which would put the country back on a more sustainable fiscal path. Recall that Zambia was the first African country to default on its debt in the pandemic era and has since been in the watchful eye of fiscal hawks.
While Zambian Eurobond yields are trading at levels associated with a country in default, investor sentiment towards the country has improved considerably. Not only has sentiment been boosted by optimism surrounding the eventual debt restructuring, but the government is regaining the trust of investors after deploying several structural reforms aimed at driving economic growth, attracting investment back into the country and restoring fiscal stability.
The improvement in sentiment has provided Zambian assets with an improved degree of resilience. Most notable has been the Zambian kwacha which is now trading at a discount against the USD relative to the likes of the South African rand. Although Zambian bond yields remain elevated, reflecting the significant risks associated with the government's fiscal position and aggressive tightening in global monetary policy, Zambia's 2027 Eurobond yield is trading below Ghana's (which is not in default) comparable 2026 Eurobond.
With more positive news out yesterday, we expect the outperformance of Zambian assets to persist. In an official statement published on its website yesterday, the Finance Ministry said it sees the signing of a memorandum of understanding with the Official Creditors Committee and negotiations for bilateral deals to start by the end of 2022. The Finance Ministry added that it is also negotiating and implementing restructuring agreements with other commercial creditors, which will come as music to the ears of fiscal hawks.
Macroeconomic: Namibia is expecting a record white maize harvest
A record white maize harvest is expected for Namibian farmers this season. At the end of July, 95,000 tons had already been delivered. This is around 70-80% of the total harvest. To put this into perspective, just over 66,640 tons of white maize were produced in the previous production season. The majority of Namibia's maize is grown under irrigation, which suggests that they have the necessary infrastructure to continue producing more maize in the coming years. Currently, there is a lot of concern about grain supplies, which has pushed maize prices to record high levels. This has been a factor that has encouraged farmers to increase their production.
Such an improvement may mean that Namibia will be significantly less dependent on imports from neighbouring countries such as South Africa. Namibia has been running a negative trade balance in recent years. However, a decrease in imports could help the trade balance to recover. Trade is a major factor that drives currency movements. Therefore, an improved trade balance could provide some reprieve for the Namibian dollar.
Finally, there is currently a shortage of storage for the harvest. It is going to be essential for Namibia to improve the storage capacity and the logistic systems currently in place. Increasing investments into these systems will be hugely beneficial to Namibia in the coming years and could be a factor that contributes to improved economic growth.