Zambian eurobonds have dropped sharply in recent weeks against the backdrop of a severe EM credit rout, with the ZAMBIN 8 ½ 04/14/2024s falling from a post-election peak of US$82 last November and US$79.15 at the beginning of the year to a low of US$47.5 on 14 June (they have since rebounded to US$52.3 at cob on 21 July).
These movements were in line with our Sell recommendation last August, which we initiated at a price of US$75.6 after the sharp post-election rally based on a base case recovery value of US$60-65 at 10-12% exit yields, albeit not necessarily for the reasons we articulated.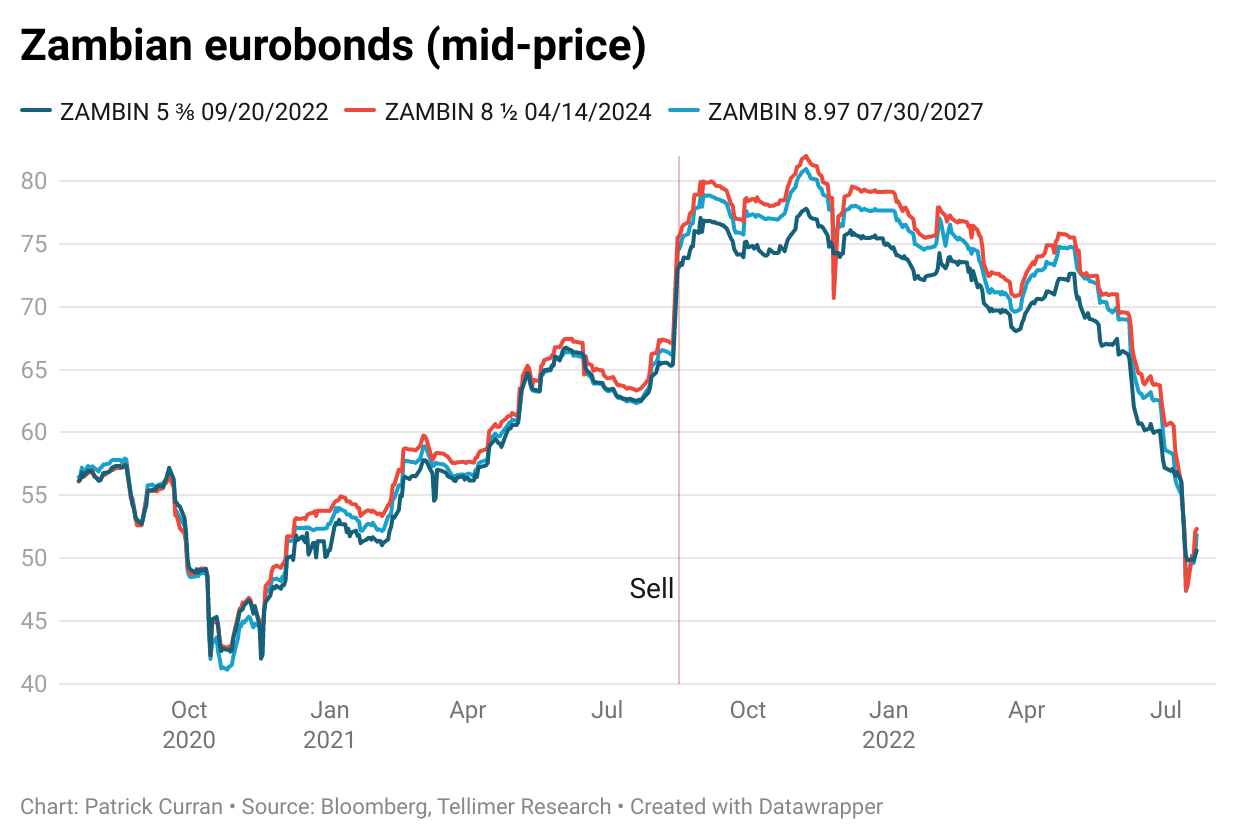 With bonds now reflecting a more realistic recovery scenario, it is an opportune time to revisit our recommendation. There are also some meaningful signs of progress on Zambia's debt restructuring after a painfully slow start to the process, with the official sector creditor committee meeting for a second time on 18 July after finally convening for the first time on 16 June. Notably, it is now 20 months after Zambia first defaulted, 11 months after the new administration took office and over 7 months after a staff-level agreement was reached with the IMF in December.
This is a welcome step given the delays we have seen thus far, with the IMF awaiting "financing assurances" from official creditors before it can grant Board approval (namely China, whose reticence is largely understood to have driven the delays) and private creditors waiting on the debt sustainability analysis (DSA – which has been finalised but not widely shared) to serve as the basis for restructuring talks. President Hichilema said Thursday he expected an agreement to be reached with Zambia's bilateral creditors, including China, "in another few days" after a successful meeting on Monday.  
In a press release last month at the conclusion of the latest mission, the IMF said "Zambia's implementation to date of its homegrown economic program is impressive" and said "We urge creditors to provide financing assurances as soon as possible." And, according to last week's detail-rich IMF press briefing, "if official creditors can succeed in providing the financing assurances…we can then take that to our Board for consideration of a program…probably around early September."
There has also been progress on the broader economic policy front, including the hiring of six companies to evaluate Zambia's arrears, consideration by parliament of a new debt management bill that will limit public borrowing and improve debt transparency (which includes a 65% of GDP debt ceiling and 10% of GDP limit on public guarantees, which will come into being five years after passage), and the recent cancellation of U$2bn of development projects to limit the accumulation of non-concessional debt.
Medium-term budget reveals macro framework
The Ministry of Finance also released its 2023-25 medium-term budget plan earlier this month, which has presumably been approved by the IMF and thus provides some useful insights into what Zambia's IMF-backed reform programme and DSA may look like when they are finally published. From a projected 9.9% of GDP in 2022 (well above the initial 6.7% target, in line with our initial concerns that the target may not be feasible), Zambia targets a reduction of the cash budget deficit to 5.5% of GDP in 2025.
In accrual terms, the consolidation is from 7.7% of GDP in 2022 to 4.6% in 2025, with the government to clear 2.2% of GDP of arrears in 2022 and an annual average of 1% of GDP from 2023-25. This means Zambia will clear ZMW29bn of arrears from 2022-26, which is nearly two-thirds of the as yet unverified ZMW47bn stock at the end of 2021. The cited arrears figure is far below the ZMW77bn reported in September 2021, which we had said might be erroneous, but it is encouraging to see that sentiment confirmed.
The 3.1% of GDP accrual deficit reduction from 2022 to 2025 will be driven by a 1.3% of GDP rise in revenue (mainly VAT) and a 1.8% of GDP reduction in spending (mainly interest payments and transfers/subsidies), with the primary balance improvement at a more modest 1.7% of GDP, indicating that some of the consolidation will likely be backloaded beyond the 2023-25 horizon.
The macro projections see growth rising from 3.1% in 2022 to 4.4% by 2025, with inflation moderating into the single digits from this year onward (continuing the current downward trend from 24.5%yoy last July to 9.7% yoy in June). Along with the budget targets, these numbers can be plugged into a DSA to see what Zambia's reform programme may accomplish in terms of debt reduction.
As a starting point, we take the reported end-2021 debt stock which, including interest arrears and domestic arrears, totalled 149% of GDP (well above the 121.5% figure reported by the IMF in April, possibly due to definitional differences, as this figure includes 16% of GDP of state-owned enterprise debt and nearly 4% of GDP of interest arrears).
Plugging in the medium-term macro and budget numbers, debt declines to 119% of GDP by 2025. Assuming further improvement in the primary surplus from 1.7% of GDP in 2025 to 3% of GDP by 2028 (which is 6pp above the 2010-19 average and 5.5pp above the pre-Covid 2019 balance) and a further growth boost from 4.4% of GDP in 2025 to 5% by 2028 (in line with the 2010-19 average), debt consolidates further to 80% of GDP by 2032.
This shows that debt can be significantly reduced with an ambitious and credible reform programme, leaving less heavy lifting to be done by creditors. That said, both nominal haircuts and cashflow relief will likely be needed as well to get debt below the relevant sustainability thresholds. For illustrative purposes, a 50% nominal haircut on commercial and bilateral external debt would bring the total public debt stock to 65% of GDP, in line with the potential new ceiling (although, in reality, haircuts will likely be less punitive than that).
Our latest recovery analysis from last August showed a base case recovery value of US$60 and bearish recovery of US$50 at 12% exit yields for the Zambia '24s, which informed our decision to assign a Sell recommendation based on prevailing prices above US$75. Now, with bonds in the low US$50s, they look to be more appropriately priced (especially when factoring in past-due interest, which is a substantial 10.75pts on the '22s, 17pts on the '24s, and c18pts on the '27s).
For illustrative purposes, with a five-year maturity extension and 50% coupon cut we find that the '24s break even at the current price of US$52.65 with a 33% nominal haircut and 12% exit yield or a 25% haircut and 14% exit yield (assuming PDI is capitalised). While these scenarios are merely illustrative (eg not our base case restructuring), we think they resemble a reasonable restructuring proposal for Zambia and imply that Zambia's eurobonds are now more or less appropriately priced (albeit with risks likely skewed to the upside, with the potential for a less severe nominal haircut and/or cashflow relief).
Against this backdrop, we upgrade our long-standing Sell recommendation on Zambia's eurobonds to Hold at US$50.6 for the ZAMBIN 5 ⅜ 09/20/2022, US$52.3 for the ZAMBIN 8 ½ 04/14/2024s, and US$51.9 for the ZAMBIN 8.97 07/30/2027s at cob on 20 July.
Related reading
Zambia: Restructuring timeline faces risk of delays, February 2022
Zambia: IMF agreement is crucial first step, December 2021
Zambia: Budget delivers on key reforms but targets will be hard to achieve, November 2021
Zambia provides more clarity on debt stock, October 2021
Zambia: Extent of hidden Chinese debt revealed, September 2021
Zambia: Local debt attractive but eurobonds are stretched, September 2021
Zambia: Opposition landslide boosts prospects, but upside now priced in, August 2021
Zambian election is a toss-up – result will dictate path for eurobonds, August 2021
Zambia: IMF negotiations progress, but still far from final, May 2021
IMF statement marginally positive; programme still unlikely pre-elections, March 2021
Zambia is treading down the wrong path, January 2021
Zambia likely to default today after creditors reject standstill, November 2020
Hard default appears imminent, October 2020