Since Hakainde Hichilema (HH) was elected President last month, Zambian assets have been on a tear. In the month since, the kwacha (ZMW) has rallied by 20% versus the US$ (bringing the rally to 40% since mid-July), the ZAMBIN 8½ 04/14/2024 eurobond has rallied 19% to nearly 80 cents on the dollar (bringing the rally to 49% ytd), and its 5-year Treasury bond has rallied by 22.5% (with the yield falling from 32% to 25%).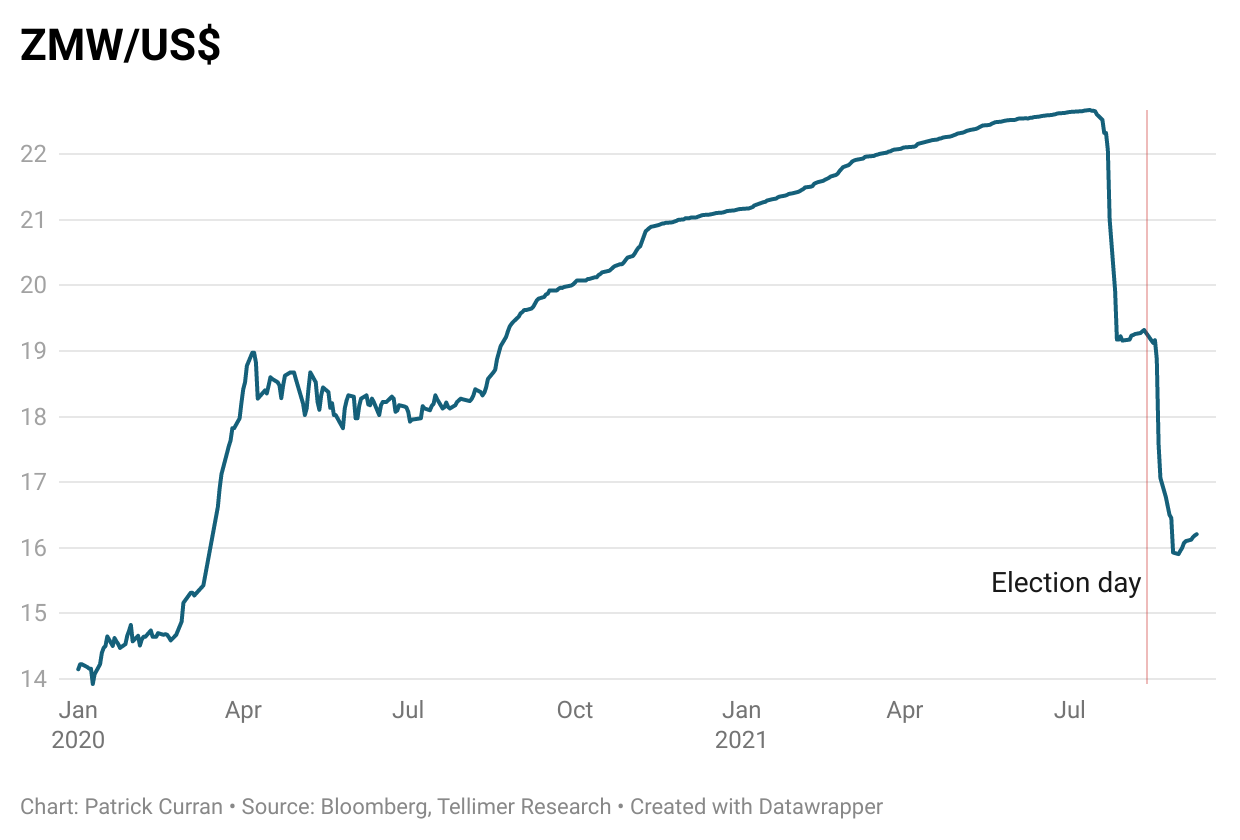 The central bank attributed the recent kwacha strength to higher copper prices and foreign portfolio inflows both leading up to and proceeding the election. Higher mining sector royalties allowed the Bank of Zambia (BoZ) to sell US$690mn of FX to the market in the year through 23 July versus just US$90mn over the same period last year, nearly wiping out the US$420mn FX demand backlog by the end of July.
Meanwhile, non-resident holdings of government securities more than doubled to ZMW45bn (25% of outstanding securities) through end-June. It has likely increased further in the months since, with the 27 August government bond auction oversubscribed by 5x amid sharp non-resident inflows, pushing the yield down by nearly 8ppts. 
After years of economic mismanagement under former President Lungu, we have previously said that the economic outlook would likely improve greatly under HH. And indeed, so far he has said all the right things, promising to restore macroeconomic stability, resolve Zambia's debt crisis, reach an agreement with the IMF, crack down on corruption, and reverse the erosion of political freedom seen under Lungu. He also named Situmbeko Musokotwane as finance minister for his first cabinet appointment, a signal of the high priority his administration places on solving Zambia's economic crisis. 
Musokotwane has a PhD in monetary economics from Konstanz University in Germany and served as finance minister from 2008-11 in the aftermath of the global financial crisis, a period in which Zambia maintained broadly balanced budgets. He has also served as deputy central bank governor, where he oversaw the reintroduction of local currency bond auctions, and has held positions at the IMF and World Bank. He will be seen as a relatively safe pair of hands by investors, and has hit the ground running with the stated goal of stabilising Zambia's finances and securing an IMF programme by this October.
Aside from Musokotwane, HH has initiated sweeping leadership changes across the board. The key appointments are below, with the National Assembly officially opening its first session today:
Secretary to the treasury Fredson Yamba was dismissed and replaced by Felix Nkulukusa. Nkulukusa studied development economics at Williams College in the US and has held roles at the ministry of finance and more recently as CEO of a Lusaka-based energy company.

Paul Kabuswe was named mining minister, and will have the important task of attracting investment in the sector after years of erratic policymaking. The Zambia Chamber of Mines says expansion projects worth US$2bn could start next year if an agreement is reached on royalties.

Central bank governor Christopher Mvunga quit this week just over a year after he was controversially appointed by Lungu. HH has named deputy governor Francis Chipimo as acting governor, and will hope to restore the perception of independence at the BoZ.

HH fired with immediate effect all provincial police commissioners and named Lemmy Kajoba as the new police inspector-general and Dennis Alibuzwi as army commander, an effort to reverse the perception of heavy-handedness and authoritarianism that developed under Lungu.
There has been a flurry of statements from the new administration, with HH going out of his way to reassure bondholders. In a tweet on 2 September, he said "Creditors to Zambia need not worry about our current financial position. We will arrive at an amicable and mutually beneficial solution to our debt. We will engage transparently and in good faith. As the youth of Zambia would say, 'Bally will pay.'" Other key statements include:
HH: "We will be obviously looking for support from the lenders, there's no question about that…We are going to make sure that we do not discriminate on lenders, we do not cross subsidise."

HH: "Our own checklist is longer than that of the IMF. So, the IMF will be very pleased to know that we'll not be hiding behind them to say to Zambians, these are IMF conditionalities. These are our minimum requirements as a government in order to deliver on the economy."

HH: "We have a new set of kids on the block in ourselves, who mean business, who bring credibility, who bring prudence to the table, who bring, if you like, prioritisation in the way resources are utilised."

Musokotwane: "Unless we do something to the budget, then the budget will be mainly for paying salaries and also servicing debt… The answer is to talk to the people we owe money so that we can pay at a slower pace stretched over a longer period."

Musokotwane: "Yes it makes sense to get credit from the IMF because financing will come in cheaper and we will be able to assure the creditors and investors who would like to invest in Zambia as the IMF will give them confidence."

Musokotwane: "We are going to push production of copper by creating a good environment for investment to be done… You will not know what to do with the dollars that this country is receiving."

Kabuswe: "We need to bring sanity in the mines. There's been so much confusion. There's been so many different policies… We are going to move in with vigor and make sure that Zambia benefits from the mineral resource."
The statements have encouraged investors and created the perception that the restructuring will be investor-friendly. The leadership changes have also created the perception that HH is wiping the slate clean ahead of negotiations with the IMF and bondholders and that a new leaf has been turned over for economic policymaking in Zambia.
However, it hasn't all been good news. Ahead of elections, we highlighted the risk that a new administration could find the fiscal books to be worse than previously disclosed, and that risk has materialised with HH telling the BBC that the "hole is much bigger than we expected" and the debt situation had not been "fully disclosed" by the former government, adding that he has inherited a treasury that was "literally empty" and that "horrifying" amounts of money had been stolen.
He said that his administration is now "seeking greater transparency on debt… We are beginning to see that the debt numbers that were being talked about officially are not really the comprehensive numbers… You have deals that were structured outside the normal channels [and] acquired without parliament approval." He also said the government's nationalisation of Konkola Copper Mines (KCM) could cause another US$1.5-2bn of liabilities to crystalise on the government balance sheet.
In an attempt to reassure investors, HH said, "We hope to come to the table with full disclosure on the numbers. We want to come to the table to discuss with debt stock holders in an amicable, respectful way, so that we can find solutions that are win-win." The lack of transparency on the debt stock will complicate restructuring negotiations, but is unlikely to materially alter the amount of relief required from bondholders, who will argue that the hidden debt is illicit and should be ringfenced in the restructuring (we saw this in regards to Mozambique's hidden debt in the bond restructuring terms that were presented in 2018-2019).
That said, the budget could turn out to be worse than anticipated due to as yet unreported pre-election spending. The official data through May already shows evidence of above-target non-interest recurrent spending and subsidy payments, while the recent surge in domestic debt issuance for FISP subsidies and fuel imports shows that spending has likely accelerated (see below). If pre-election spending pushes the deficit above target, then the starting point for HH's fiscal consolidation drive will be that much more difficult (and, as we have pointed out, it is not clear that he is committed to reducing FISP subsidies).
Eurobond rally is excessive
There is no doubt that a new leaf has been turned over in Zambia, greatly improving its economic outlook and the prospects of a swift resolution to IMF talks and amicable restructuring of its debt. However, despite statements from HH that bondholders will be treated fairly, we think it is naïve to think that bondholders will not have to accept haircuts.
For the IMF to agree on a programme with Zambia, it will need to be assured that debt is on a sustainable path. Even with ambitious fiscal consolidation, this will likely require both haircuts and cashflow relief, and the principle of comparability of treatment under the Common Framework also means that bondholders will likely have to participate on equal terms as other creditors.
These points have largely been affirmed by HH, who said earlier in the year that "There has to be a haircut. It has to be equitable. We don't want one group of creditors holding debt stock to cross-subsidise another." In that same interview, he cited a Barclays report that predicted a 20% haircut and said that this was a reasonable starting point for talks.
Public debt reached 118% of GDP at the end of 2020 (excluding contingent liabilities, estimated at nearly 9% of GDP before the nationalisation of KCM), two-thirds of which is external. While there have been no external debt updates since December's US$12.75bn figure, domestic public debt has increased markedly by ZMW50bn so far this year to finance increased petroleum imports and agricultural subsidies under FISP, pushing the total stock to ZMW180bn.
Valued at the mid-2021 exchange rate of 22.64/US$, public debt is therefore around 124% of rolling 12-month GDP (through Q1 21). However, Zambia's debt figures have improved markedly due to the sharp ZMW appreciation, reducing the debt stock to 102% of GDP when external debt is valued at the current exchange rate of 16.2/US$. However, this does not include the hidden debt, which is likely to push up the debt stock and budget deficit once disclosed (though this won't necessarily have a material impact on the restructuring terms – see above).
Of Zambia's US$12.75bn external debt stock, US$2.5bn is owed to multilaterals and is unlikely to be included in the restructuring. This leaves US$10.25bn eligible for restructuring (or 44% of GDP at the current exchange rate), assuming domestic debt will be excluded. Even factoring in an improved reform outlook under HH, material haircuts would likely be required to reduce debt to sustainable levels in the IMF's upcoming DSA. With the ZAMBIN 8½ 04/14/2024s currently priced at nearly 80 cents on the dollar, the market is pricing in just a c25% haircut at a 10% exit yield, assuming no further cashflow relief. This would reduce debt by just 11% of GDP, so we think haircuts may have to be higher than that.
In addition, the US$750mn ZAMBIN 5⅜ 09/20/2022s mature in almost exactly a years' time, which would fall due within the IMF programme period (assuming they have secured one by then). It is hard to imagine the IMF allowing this to be paid in full within the auspices of an IMF programme and Common Framework restructuring, so we think a maturity extension will likely be required as well. Assuming no haircut and unchanged coupons, bonds are currently pricing in a c9yr maturity extension and grace period (with an 8.5% coupon rate on the 24s, maturity extensions and grace periods alone have little impact on the bond price).
Overall, if the restructuring does not include any haircuts then there is clear upside for Zambia's eurobonds. And with a strong and well-organised bondholder committee and expectations already set quite high for an investor-friendly restructuring, bondholders may well be able to extract favourable terms (ie minimal nominal haircuts and a restructuring focused on relatively more NPV-neutral maturity extensions and grace periods). However, despite HH's reassuring statements, any IMF-backed restructuring will likely need to include some combination of nominal haircuts and cashflow relief to set debt on a sustainable path, and we think markets are underestimating the amount of relief that will be required from bondholders. As such, we reaffirm our Sell recommendation on Zambian eurobonds with a target price of c70 cents on the 24s, with the eye-watering rally this year providing a good opportunity to take profits.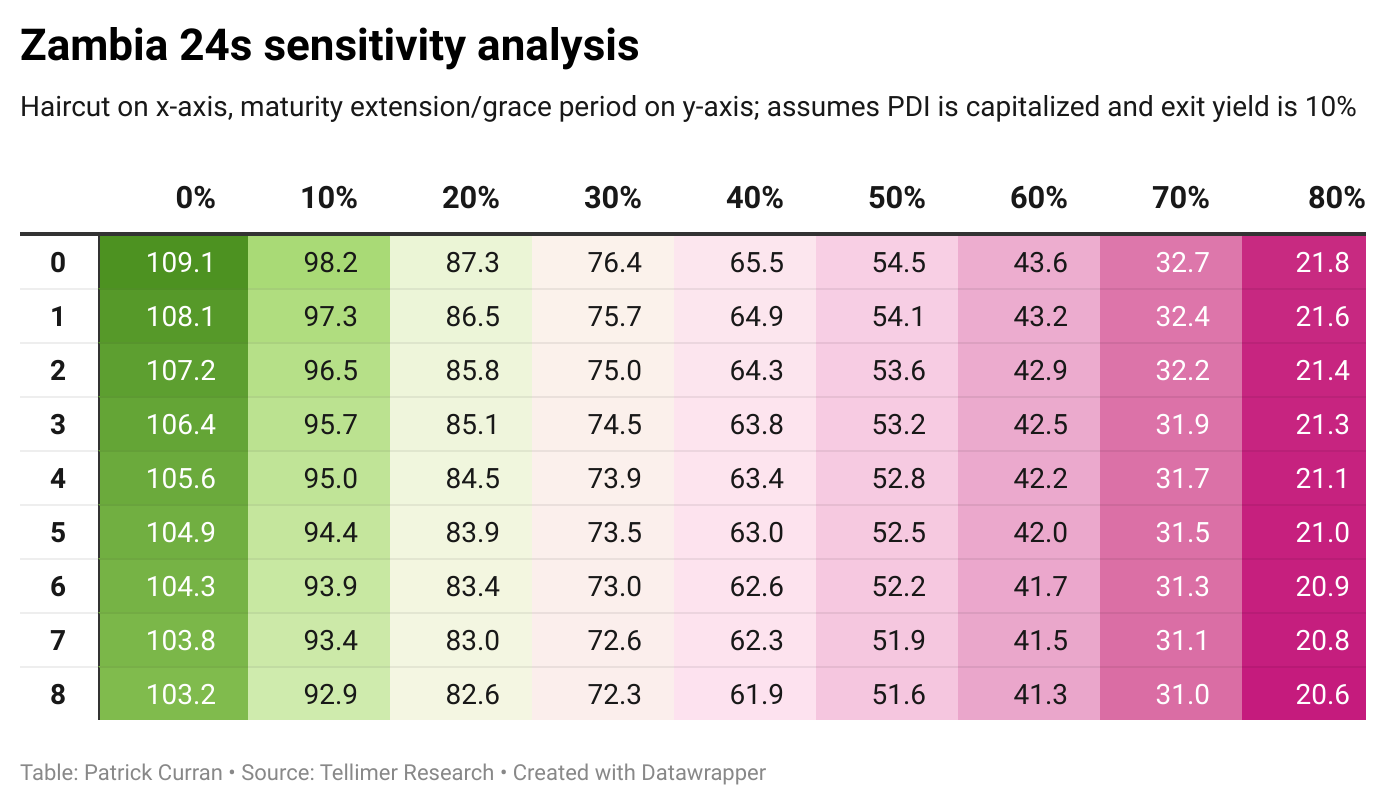 Local debt looks attractive
On the local currency front, we have clearly missed the boat with the ZMW rallying by 40% and 5yr yields already dropping from 32% to 25% (roughly in line with inflation, which slowed from 24.6% to 24.4%yoy in August). That said, if the ZMW holds steady, the nominal carry is still attractive, so there is still an argument for initiating a trade even if you, like us, are late to the game.
Even though real government bond yields are now just barely positive, BOP dynamics are still a major tailwind to the ZMW. Preliminary data indicate that the current account surplus narrowed to US$0.7bn (15.2% of GDP) in Q2 from US$0.8bn (16.8% of GDP) in Q1 as growth in imports outweighed exports, but high copper prices and foreign portfolio inflows have kept the BOP firmly in surplus territory and fiscal consolidation under HH will likely slow the rebound in imports.
From US$1.4bn (2.6 months of import) at the end of June, international reserves have risen to US$2.9bn (5.4 months of import) following the receipt of the IMF's US$1.33bn SDR allocation and net purchases of US$150mn by the BoZ in July and August. In addition, an extension of official bilateral debt service relief through end-2021 under the G20's DSSI was granted on 7 September, which could further reduce BOP pressures at the margin (but is unlikely to have a major impact, with Paris Club relief totalling only US$7mn in H1 21).
Aside from copper and foreign portfolio inflows, the recent ZMW appreciation also reflects a degree of catch-up after four years of steady REER depreciation which has, more recently, flown in the face of sharply rising copper prices. Even adjusting Zambia's REER by the c40% nominal appreciation seen since the last measurement in May, it is still c5% below its 10yr average. As such, the recent kwacha weakness seems to have returned the ZMW closer to its fair value, provided the BOP continues to be a tailwind.
That said, the risk of capital outflows has risen materially, with non-residents holding at least ZMW45bn of government bonds. At 24% of the total, this exceeds the simple average of 16% across 24 emerging and frontier markets. And at cUS$2.75bn, this represents nearly 100% of reserves. However, with IMF funding now likely to be forthcoming (potentially unlocking other sources of financing too) and a large current account surplus, Zambia is equipped to withstand a degree of outflows, and with bonds comprising 97.5% of non-resident holdings, the risk of a sudden rush to the exits is diminished.
The potential for rate hikes could also present some pricing risk for Zambian bonds. Before Christopher Mvungu left his post as governor, the BoZ saw price growth averaging 22.6% this year before dropping to 15.5% next year and 11.9% in the first half of 2023. But with the policy rate at just 8.5%, the new acting governor may hike rates at the next MPC meeting on 17 November to solidify the recent downtrend in inflation or if inflation appears stickier than initially projected. This could generate some losses for investors holding duration by pushing up yields, but will improve the BoZ's credibility and safeguard recent currency gains.
Overall, while the upside for the ZMW and local debt has diminished substantially in recent months and the trade has become relatively crowded, we think the high nominal yield and prospect for continued ZMW stability nonetheless makes local currency bonds attractive. We initiate a Buy recommendation on the ZAMGB 11 01/25/2026s at a price US$63.74 (yield of 25.1% as of cob on 9 September on Bloomberg, preferring the lower duration 5yr bonds over the 10yr (which are two of the largest and most liquid tenors) to guard against the risk of more persistent than expected inflation prompting rate hikes. 
Our opposing recommendations reconcile our views that Zambia is in the midst of a substantially positive policy shift, but that recovery value on the eurobonds will likely be below current levels. Since the local debt is likely to be excluded from the restructuring, it can capture the upside from the policy shift while avoiding the uncertainty over the restructuring terms, which are only partially within the government and investors' control.
Looking forward, a key milestone will be the budget presented by finance minister Musokotwane within 90 days of HH's inauguration (ie by 22 October), which will likely provide more clarity on the true size of the debt and deficit, lay out the fiscal policy plans of the new administration, and set the stage for IMF negotiations (which we expect will be concluded early next year if all goes well, instead of this year as the government hopes). Aside from the headline figures, it will be crucial to see the stance adopted on FISP subsidies and the mining tax regime.
Related reading
Zambia: Opposition landslide boosts prospects, but upside now priced in, August 2021
Zambian election is a toss-up – result will dictate path for eurobonds, August 2021
Zambia: IMF negotiations progress, but still far from final, May 2021
IMF statement marginally positive; programme still unlikely pre-elections, March 2021
Zambia is treading down the wrong path, January 2021
Zambia likely to default today after creditors reject standstill, November 2020
Hard default appears imminent, October 2020
Investor presentation kicks off ambitious restructuring timeline, September 2020
Botched budget a bad signal for bonds, September 2020
Interest deferral is first step to restructuring, September 2020
Bleak reform prospects but potential upside for Eurobonds,  August 2020