We assess Empower ahead of its forthcoming listing, given the doubling in offer size from 10% to 20% of the company and the announced IPO price range of AED1.31-1.33 per share. Our report looks at the business model, growth drivers, investment risks and valuation of this global industry leader. Empower benefits from strong secular growth trends in Dubai and the increasing global demand for energy-efficient cooling solutions.
We cover the following 12 topics:
Investment summary

Transaction overview

Company background

Market positioning

District cooling

Growth drivers

ESG credentials

Financial considerations

Peer analysis

Valuation

Risks

Corporate governance 
1) Investment summary – access to a Dubai-focused global leader at a discounted entry price
Attractive business profile: Market dominance and predictable growth
Empower provides district cooling services to customers in Dubai and is a global leader in this industry segment. District cooling has a c25% share of the building cooling market in Dubai and, within this segment, Empower is the dominant player, with c80% market share.
District cooling carries significant economic and environmental benefits, as it is roughly twice as efficient as traditional air conditioning. It can also smooth off-peak load factors by making use of thermal energy storage units, an important consideration given that air conditioning accounts for c70% of Dubai's electricity consumption needs. Further, district cooling is more space efficient, which is an important consideration for high-density areas, and is also more reliable than traditional air conditioning.
Empower typically enters into long-term (>25 years) contracts with master developers for the exclusive provision of district cooling services to owners and tenants. As such, its revenue streams are sticky and predictable.
The firm benefits from attractive margins, reflecting the superior energy efficiency of its technology, its large scale and its operational excellence.
Growth opportunities in Dubai will arise due to overall population growth and increases in the market share of district cooling services relative to traditional air conditioning, combined with acquisitions of less efficient competitors in the space.
Longer term, there is potential for Empower to expand beyond Dubai, with the company highlighting Saudi Arabia, Qatar and  Egypt as three markets of interest. The firm's medium-term revenue growth target is 6.5-7.5% per annum.
Tabreed is the closest valuation peer
The closest listed peer to Empower is Tabreed, the Abu Dhabi-headquartered district cooling company. Relative to this firm, Empower has superior net profit margins and a larger targeted dividend payout ratio but an inferior recent growth track record (although acquisitions will likely deliver strong top-line growth for Empower in 2022).
Other relevant peers include other listed district cooling and district cooling service providers, many of whom are listed in China. Similarly sized UAE-listed firms would also be relevant valuation benchmarks for investors. 
Risks hinge on the lack of breadth
The company has a very focused business model, concerning its scope (district cooling), geography (Dubai), suppliers (DEWA), customers (a small number of contracts) and the importance of the Government of Dubai across the whole value chain. The company has limited flexibility to pass on higher input costs to its customers. We highlight the lack of diversity on the Board and in the senior management team, which could affect the ability of the company to broaden its operations in the future or to understand the needs of its incoming minority shareholders. The company recently announced a sizeable pre-IPO dividend which roughly doubles balance sheet gearing. As with most IPOs, investors will have limited visibility regarding pricing and allocations. 
2) Transaction overview: Sellers lifted the offer size due to strong demand
Empower has announced its intention to float its shares on the Dubai Financial Market. Initially, the intention was to open up 10% of the company (ie 1bn shares) for subscription, but the transaction size has been increased to 20% due to strong demand.
Offer pricing has been clarified as being between AED1.31 and AED1.33 per share, which would put the firm's market capitalisation at cUS$3.6bn. This is an unusually narrow pricing range but follows the lead taken by the recent Salik IPO, when the pricing range was set at AED2 per share. Retail subscriptions are open to 7 November and institutional subscriptions run until 8 November. Allocations and pricing will be announced on 9 November, with trading commencing on 16 November. The offer size could be increased in the event of strong demand.
The selling shareholders are DEWA, which will see its ownership fall from 70% to 59.5%, and Emirates Power, whose stake would fall from 30% to 25.5%. Empower is not raising any fresh capital.
1% of the company is reserved for retail investors (with a minimum subscription size of AED5,000 and a minimum allocation of 1,000 shares). 1% will be allocated to Emirates Investment Authority and the Pensions & Social Security Fund of Local Military Personnel, meaning other institutions will have access to 800mn shares, or 13% of the offer. The minimum subscription size for institutions is AED5mn.
As is normal in such transactions, both selling shareholders will be subject to a 180-day lock-up period after listing, meaning no additional shares can be sold during this time.
Motivations for the sale
The Dubai government has previously indicated that it intends to privatise 10 companies. Empower would be the fourth such transaction, after DEWA, Tecom and Salik, sales that together raised AED27.8bn (USD7.6bn) for the Emirate. One of the key goals of these transactions is to help lift the size of the Dubai Financial Market to AED3tn (US$817mn).
The UAE stock markets have outperformed global peers so far this year; the DFM General index has risen 5% while the Abu Dhabi Securities Market has risen 23%. This compares with a year-to-date decline in the MSCI World index of 24% and a 30% decline in the MSCI Emerging Markets index.
Further adding to the opportune timing of this transaction for the selling shareholders is the environment of rising interest rates, which would be expected in the future to negatively impact dividend-yielding stocks. The prospect of a global slowdown also supports the transaction timing for the selling shareholders. 
3) Company background: An environmentally friendly leader with close government ties
Emirates Central Cooling Systems Corporation (Empower) was established in November 2003 and commenced operations in February 2004. It is now the largest district cooling services provider in the world and, at the end of this year, will have 1.4mn refrigerated tonnes of connected capacity, 1.5mn refrigerated tonnes of contracted capacity and 81 district cooling plants. It has captured an 80% market share of the district cooling market in Dubai, via the provision of services to 1,413 buildings and over 110,000 corporate and retail customers via a 369km-long network of insulated chilled water pipes. There are two current shareholders: DEWA and Emirates Power, who will both sell down their stakes when this secondary listing transaction takes place.
The key advantage district cooling has over self-contained air conditioning is cost; the firm claims c50% greater energy efficiency than conventional cooling systems. Empower's adjusted EBITDA margin in 2021 was 48.9% and the firm benefits from long-term contracts for its services (typically, over 25 years). Empower has grown both organically and via acquisitions, and is currently in the process of finalising the acquisition of Dubai Airport's district cooling business. 
4) Market positioning: A global leader that dominates in Dubai
According to the International District Energy Association, Empower is currently the world's largest district cooling services provider. In Dubai, it is the clear market leader and will have an 80% market share of connected capacity by year-end (post-completion of the Dubai Airports contract acquisition) and more than 110,000 retail and corporate customers.
At end-2021, the company had connected and contracted capacity of 1.4mn and 1.5mn refrigerated tonnes, respectively.
The firm will have 81 district cooling plants by end-2022, with sole and exclusive district colling services contracts to key landmarks such as Business Bay, Meydan, DIFC  and Palm Jumeirah.
At end-2021, Empower serviced 1,413 buildings: 64% were residential, 15% were commercial, 14% were hospitality, 3% health care-related and 4% were other. The group focuses on long-term service contracts, offering high-quality, recurring revenue streams.
5) District Cooling: A space and energy-efficient solution ideally suited to urban settings
District cooling is a system of cooling air that is produced by chilling water and distributing it through an underground network of insulated pipes to buildings or homes.
Empower produces chilled water at its 81 plants (including the Dubai Airports acquisition) and then distributes this via a 369km long network of underground, insulated pipes to 1,413 residential, commercial and industrial buildings. Specially designed units in these buildings use this chilled water to lower the temperature of the air passing through the building's air conditioning system. 
District cooling plants can run on electricity or natural gas, and can distribute regular or recycled water (such as treated sewage effluent).
District cooling uses approximately half the energy of traditional cooling for the same cooling output. It can also help reduce peak power loads through the use of thermal energy storage systems; Empower has nine such units. This is important given that the major use of electricity within the GCC is for air conditioning.
Moreover, district cooling uses up less space than traditional air conditioning units, which is an important consideration in high-density real estate developments. An additional advantage is the greater durability of capital equipment versus traditional air conditioning units (30-50 years versus 12-15 years). Further, district cooling enjoys a reliability advantage over traditional air conditioning units.
Empower typically enters into long-term (over 25 years), exclusive contracts, which makes for predictable revenue streams. It currently has 26 such contracts in force, and 23 of these are of 25 years or longer remaining duration. Empower purchases all its electricity and water from majority shareholder DEWA on an arms-length basis, at standard commercial terms and market rates.

6) Growth drivers centre on secular trends: Population growth, urbanisation, energy efficiency
The Dubai growth story: Population growth and the expansion of district cooling's share
The Dubai 2040 Urban Master Plan projects an increase in Dubai's resident population from 3.5mn to 5.8mn by 2040 (2.7%% CAGR), with its daytime population rising to 7.8mn over the same period (2.9% CAGR).
The volume of real estate in Dubai is projected by Knight Frank to grow at 4% CAGR from 2019-25. Much of this will be high-density projects, which are ideally suited to district cooling services.
Due to its greater energy efficiency, Empower is a key driver of Dubai's broader energy efficiency and environmental targets. 70% of electricity consumption in the Emirate is directed towards air conditioning. Empower estimates that it generated electricity savings of 1.7bn kWh in 2021, out of a total demand-side management target savings figure of 6.4bn kWh in 2021.
The penetration of district cooling is projected to rise from 25.6% in 2021 to 40% by 2030, according to the Dubai Integrated Energy Strategy 2030 document. This implies industry volume growth of c9% CAGR to 2030 and will contribute 13% to Dubai's goal of reducing annual electricity usage by 30% by 2030.
In 2020, Dubai had a total contracted capacity of 2.1mn refrigerated tonnes and a total installed capacity of 2.3mn refrigerated tonnes (according to DC Pro). Empower currently has an 80% market share of district cooling in Dubai. Further increases could be driven by organic and inorganic growth.
Empower is the preferred district cooling services supplier for master developers such as Dubai Holding and Nakheel, which will play a key role in the future growth and development of Dubai.
Between 2022 and 2027, Empower will add c370,000 RT of secured growth from its existing master service agreements
Retrofitting older buildings adjacent to its current areas of operation is another way that Empower could lift its domestic share of the cooling market. High-profile examples of where such activity has been taken include Emirates Towers (5,000 refrigerated tonnes capacity) and Madinat Jumeirah, Jumeirah Beach Hotel and the Burj Al Arab (2,000 refrigerated tonnes capacity).
International growth likely to be centred on Saudi Arabia, Qatar and Egypt
Empower's short to medium-term focus remains Dubai. However, over the longer term, the company could leverage its industry leadership and expertise to grow in other jurisdictions and has indicated that it could grow in other GCC markets such as Saudi Arabia and Qatar, as well as Egypt.
Over the medium term, Empower is targeting 6.5-7.5% revenue growth (incorporating inorganic and organic growth), which seems eminently achievable.
A track record of growth-enhancing acquisitions
Empower acquired Palm District Cooling in 2013 for US$500mn, adding connected capacity of 369,000 refrigerated tonners. In 2020, it acquired Meydan for AED100mn, adding 382,000 connected capacity. Pending acquisitions include 85% of Dubai International Airport District Cooling at a cost of AED1.1bn, which will add 70,000 refrigerated tonnes connected capacity.
These acquisitions have helped to enhance Empower's scale advantages, leverage its in-house operational expertise and support the roll-out of advanced digital services.
The Nakheel and Dubai International Airports acquisitions should drive 12-13% revenue growth in 2022.
7) Empower's ESG credentials flow from its superior energy efficiency
In Dubai, traditional air conditioning drives c70% of electricity consumption. Empower's cooling solutions are up to 50% more energy efficient than traditional cooling methods, (0.9-1.0 kW per refrigerated tonne, versus1.6-18kW), providing powerful economic and environmental arguments for the use of its services.
The firm's strategy is aligned with three of the UN's Sustainable Development Goals, namely affordable and clean energy (Goal 7), sustainable cities and communities (Goal 11) and climate action (Goal 13). The firm supports Dubai's carbon neutrality efforts.
Empower is introducing smart metering systems for end users, enabling more efficient monitoring of cooling services.
Empower is increasing the use of treated sewage effluent from 12% in 2021 to over 40% by 2025. Treated sewage effluent is 10x cheaper than potable water. The firm is also targeting greater recycling of water in its reverse osmosis system from 8.7x currently. This water recycling rate has increased by 41% versus 2018. Treated sewage effluent is c10x cheaper than potable water.
Water efficiency, at 1.6 imperial gallons per refrigeration tonne, is significantly better than the industry norm of 2-3 imperial gallons per refrigeration tonne,
Empower's Clean Development Mechanism has received approval from the UN Framework Classification and resulted in savings of 735,000 tonnes of CO2 in 2021 (a 17.7% improvement versus 2020).
The use of centralised district cooling facilities can help reduce peak electricity loads and, therefore, reduce the amount of power-generating capacity required in the economy. 
8) Financials: High margins and modest growth with scope to lift gearing
Empower generated AED2,464mn revenue in the year ending December 2021 and AED1,154mn in the six months to June 2022 and AED2073mn in 9M 2022.
Revenue growth averaged 6% from 2019-21 and was 16% in the year to June 2022. The firm is targeting 12-13% top-line growth for full-year 2022, reflecting the impact of the Nakheel and Dubai Airports acquisitions that will be completed before year-end.
Adjusted EBITDA has been close to 50% in recent years. The group is targeting an EBITDA margin of 48-50% over the medium term.
Capital expenditure in 2021 was AED1240mn, and, in the six months to June 2022, it was AED221mn. The group is targeting AED4mn-6mn annual capex per 1,000 refrigerated tonnes of additional capacity over the medium term; based on the current capacity of the business, this would translate to annual capex of cAED560mn.
The company has committed to paying a dividend of at least AED850mn per annum over the next two years (subject to market conditions/Board approval, etc.). Based on annualised 9M 2022 financials, this would equate to a payout ratio of 87%. Particularly for local retail investors, we know that dividends are an important investment consideration.
In our view, Empower has substantial debt servicing capacity. The current level of gearing has already doubled since end-2021 due to the payment of a substantial pre-IPO dividend; the equity/assets ratio in September 2022 was 28.9%. We think sustained high dividend payouts could be sustained for a long period, given that the firm's predictable cashflow profile and close government links would likely appeal to debt investors. A key constraint on gearing is likely to be the company's desire for the shares to be viewed as a Shariah-compliant investment instrument, but there is still headroom in this regard.
9) Peer analysis: Empower has superior margins with steady growth
 Relative to listed global industry peers (most of which are in China), Empower's financial metrics appear much stronger, likely reflecting a combination of the latter's scale advantages, strong market positioning, robust government support and operational excellence.
In the table below we compare Empower's latest available financials (ie either 9M 2022 or H1 2022) with the last full-year disclosures for listed district heating/cooling firms with market capitalisations above cUS$250mn and good data availability.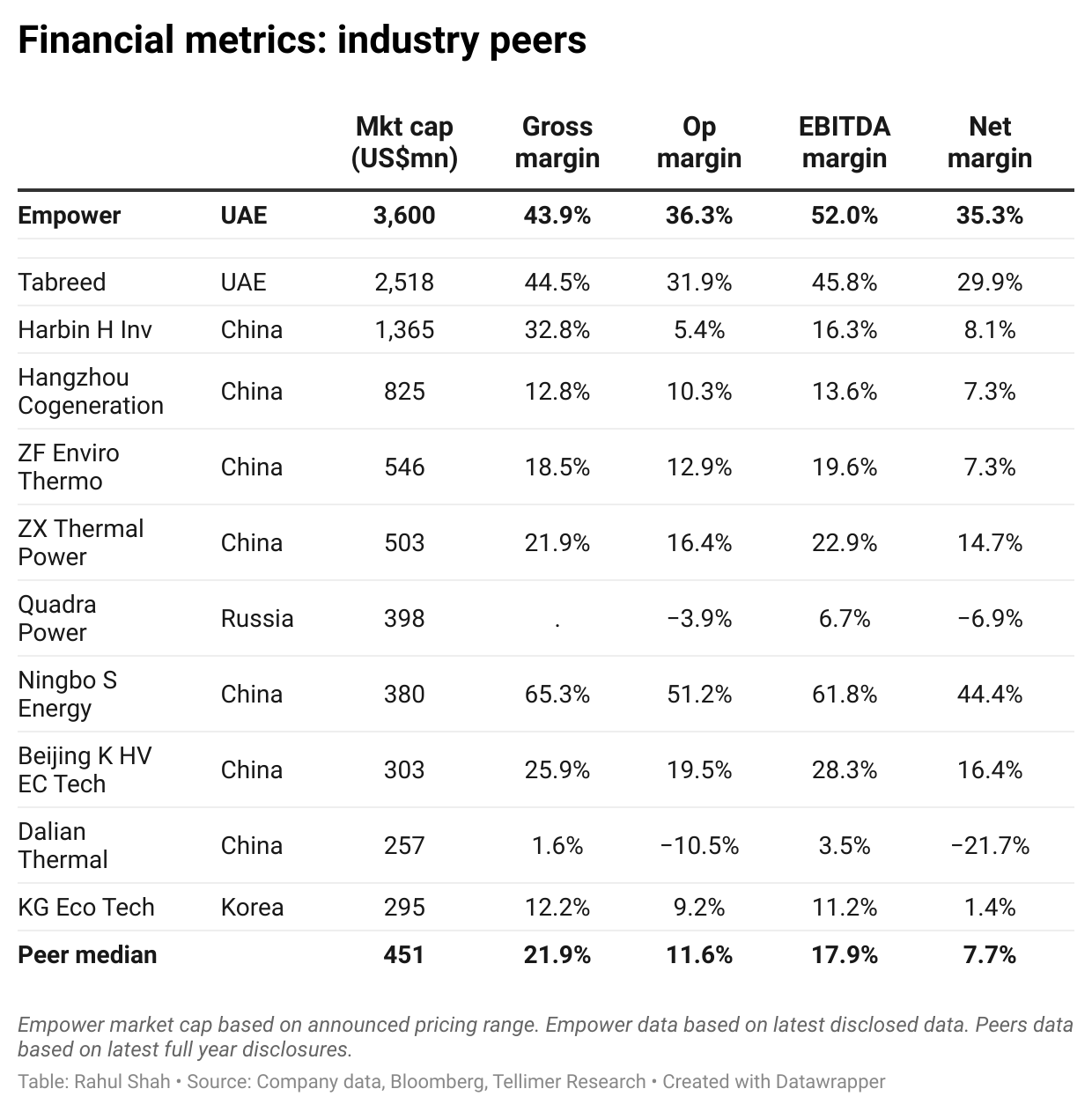 Empower's financial metrics also compare favourably with those of UAE-listed peers.
Here, we look at selected firms outside the financial and real estate sectors with market capitalisations above US$2.5bn and good data availability.
10) Valuation: Offer pricing looks attractive relative to listed peers
As well as lifting the size of the offering, the selling shareholders have also announced a tight pricing range for the transaction, with the shares offered between AED1.31and AED1.33, which is equivalent to 14.1x 2021 earnings and 13.5x 2022 earnings (based on annualised 9M 22 results). Other implied multiples are shown in the table below.
Based on the announced pricing, Empower's returns-focused multiplied (PE, DY and so on) are at a discount, while franchise-based metrics (eg P/ sales, P/ book) are at a premium. 
Tabreed seems to be the most appropriate listed peer to Empower, given close similarities in the business model, overall scale and operating location. It is more diversified than Empower, in terms of the composition of its Board and senior management team, and in relation to the geography of the business (present in more than one UAE Emirate, and also in Bahrain, Oman and Saudi Arabia).
While Empower is bigger and has a better net profit margin, Tabreed has delivered stronger top-line growth in recent years (although 2022 should be better for Empower post the completion of the Dubai Airports acquisition). 
We think there are also two relevant peer groups that investors should consider when assessing Empower's valuation. The first consists of listed emerging markets firms active in the district cooling or district heating services segments. Other than Tabreed, these are predominantly located in China, a market where overall equity valuations are currently depressed.
Another relevant peer group for valuation purposes are UAE-listed firms. Based on Empower's announced valuation range, we have considered as peers 10 firms outside the financials/real estate sectors with market capitalisations between US$2.5bn and US$15bn for whom we have good data.
Relative to both these groupings, key differentiators in Empower's favour include its superior financial performance (higher margins) and its relatively high dividend payout ratio (indicated to be 87%, based on annualised 9M 2022 profits and the communicated AED850mn target distribution). Historical top-line growth has been 6% over the 2019-21 period. It is indicated to be 12-13% in 2022 (helped by acquisitions such as Nakheel and Dubai Airports), with a medium-term annual growth target of 6.5-7.5%.
11) Investment risks centre on Empower's concentrated business model
We highlight below some of the issues investors should bear in mind before finalising their investment decision.
Sensitivity to higher input costs, whether for operations, direct costs or capital expenditure. By far the biggest cost categories for Empower are utilities (electricity and water) and the depreciation of capital equipment. This issue is particularly pertinent given that the company has limited flexibility to adjust prices for its own services.
Geographic concentration. 100% of the firm's revenues in H1 22 were generated in Dubai, with 27% of these arising from customers owned or controlled by the Government of Dubai. Any weakness in the local economy, or local sovereign finances, could negatively impact the firm's cashflows and profitability.
Enhanced competition, notably in other jurisdictions. Empower benefits from its close government links in Dubai and its superior scale, but these advantages are likely to be nullified in other markets (such as Saudi Arabia, Qatar and Egypt). This could negatively impact the firm's ability to grow in such markets, or such growth may only come with lower margins. We note that Abu Dhabi is not considered a key growth market for Empower, which may partly reflect the presence of a strong local competitor, Tabreed; Tabreed is also already active in Bahrain and Oman. Other such entities may emerge in Empower's target growth markets, limiting the long-term growth potential of the firm. In addition, Empower's ability to enforce its contractual rights in other jurisdictions may not match its ability to do so in Dubai.
Significant capital expenditure needs. Empower is targeting capex of AED4mn-6mn per 1,000 refrigerated tonnes of capacity, over the medium term, which would equate to cAED600mn-AED900mn based on the current capacity of the business. In the past 3.5 years, annual capex has averaged AED830mn. These costs could increase based on underlying inflation, or as a result of technological or legislative changes (for example, in relation to environmental protection).
Empower may not meet its ESG goals. These include having carbon-neutral cooling plants by 2050, and converting 40% of its water usage to treated sewage effluent by 2025. Failure to meet these targets could negatively impact the firm's profitability, or impair its attractiveness for certain classes of investors. Additionally, the ESG needs of customers could lead to reduced demand for Empower's services; for example, if improved building insulation and design resulted in reduced active cooling needs.
The business may struggle to service its debts. In June 2022, Empower had AED749mn net debt. Much of this debt is floating rate and, hence, becomes more expensive as interest rates rise. Any breach of debt covenants could place restrictions on Empower's ability to conduct its business. If the company were to increase its debt gearing further (for example, by maintaining a high dividend payout ratio), sensitivity to credit market conditions would likely increase. For example, we note that the equity/assets ratio has halved from 57% to 29% during 2022, largely due to AED3.4bn pre-IPO dividends that have been declared in this period. This is a substantial extraction of resources from the company.
Concentrated client base. Empower's revenues are generated through fewer than 30 contracts with master developers, with all its business located in Dubai. The three largest master developer relationships are with Dubai Properties (5.5% of revenues in 2021 and 5.7% in H1 22), Nakheel (3.7% and 6.4%) and Atlantis (3.5% and 3.3%). Any loss, or downward value adjustment, to these contracts could materially affect Empower's financial performance. Some of these entities are government-owned/-related, meaning it may be difficult for Empower to enforce its contractual terms.
Empower has limited control over the pricing of its services. The Supreme Council of Energy, a governmental body, is responsible for setting the pricing of water and energy service charges, including district cooling. The last tariff increase was approved in 2003. If operating costs rise faster than Empower's pricing then its financial performance may be compromised.
Empower is highly dependent on DEWA, its controlling shareholder, for both its electricity and water needs. DEWA is Empower's exclusive provider in both of these areas, which account for the bulk of the cooling firm's costs. There are no written supply agreements between both parties; contracts are prepared on an arm's length basis, at standard commercial rates. Empower is, therefore, vulnerable to any supply outages or disruptions faced by DEWA, which could result in lost revenue for Empower and lower margins. 
12) Corporate governance: Heavily Dubai-centric with limited minority shareholder protection
Ownership
Empower is currently 70% owned by DEWA, the listed exclusive provider of water and electricity utilities in Dubai, and 30% owned by Emirates Power, which is an indirectly wholly-owned subsidiary of Dubai Holding and is itself owned and controlled by the Government of Dubai.
Board of directors
The Board consists of seven directors, of whom six are independent, according to the company prospectus.
Note that Saeed Mohammed Al Tayer is also Managing Director of DEWA, Empower's controlling shareholder, while Amit Kaushal is also a member of the Board of Directors at TECOM, another Dubai-government-related entity that recently listed.
We believe prospective minority shareholders should lobby to ensure that they will have sufficient representation on the Board to protect their interests, which may differ from those of DEWA, Emirates Power and the Government of Dubai. We think additional steps can also be taken to improve the diversity of the Board, whose experience currently is heavily focused on Dubai government-linked entities.
Senior management
A brief summary of the management team is presented below. The team is experienced, with an average tenure at Empower in excess of 15 years. As is also the case with the Board of Directors, there is limited experience outside of Dubai government-related corporations, which may hamper efforts to execute longer-term strategic goals, such as international expansion.