Commodity prices have fallen 60% since 2014. But the tide may be about to turn. 
The trade war is ending
The US-China phase one pact could be cemented on 14 January. China will increase its purchase of farm goods such as soybeans and corn. Also, there is a high likelihood of restocking of raw materials. 
The US has cancelled new tariffs on US$156bn of Chinese imports. The Trump administration has also halved the tariff rate on a further US$120bn of Chinese goods. 
Value of tariffs since 2016 (US$bn)
Source: Bloomberg
We think an end to the trade war will be particularly positive for agricultural commodities such as corn, soybeans, and wheat. These have suffered sharply in the wake of the trade conflict. The S&P GSCI Agriculture index is down 37% since the trade war emerged in Q1 16.
S&P GSCI Agriculture
Source: Bloomberg
Backwardation is positive for commodities
Crude oil could be due for a rally in 2020. Three-month backwardation, which measures the price difference between one-month futures and four-month futures, is at a record high. The main reason for backwardation is the shortage of oil in the spot market. Investors in the commodity can benefit from the increase in future prices as the futures price and the spot price move towards convergence. 
One-month brent vs three-month spread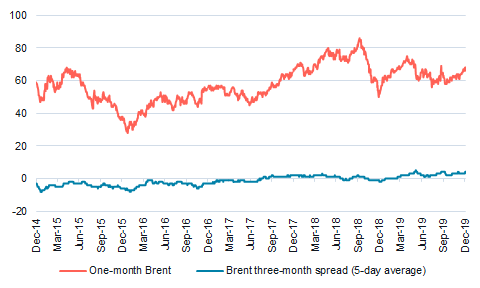 Source: Bloomberg
Weaker US Dollar as the Fed loosens
A weaker dollar is positive for commodities, as most are traded in US dollars. There is a strong inverse relationship between commodities and the dollar.
The bear case for the dollar is the US desire to make exports cheaper in the election year. A lower dollar will drive jobs back to the US, according to the Trump administration's rhetoric.
Dollar Index (red) v Bloomberg Commodity Index (blue)
Source: Bloomberg
Which commodities could outperform?
The commodity rally could be widespread. Industrials, agriculture and rare earth elements could all benefit. But palm oil, the world's most traded edible oil, stands out among commodities that have a direct bearing on Asia consumer stocks.
The palm oil price is highly linked to crude prices, showing a 77% correlation coefficient with Brent since the global financial crisis. In fact, the 'other oil' is viewed as a proxy for crude due to its use in biodiesel fuel. Its price has halved in the past five years on accusations that its cultivation is responsible for the destruction of rainforests, as well as the fallout of the trade war. 
Indonesia, the world's largest palm oil producer, is looking to promote palm-based biodiesel. The mandatory palm oil quotient in biodiesel is currently 20% (B20) and President Joko Widodo wants to increase this to 30% (B30) by January and 50% (B50) by end-20. The change in the biodiesel incentive structure could create a further 15mn tonnes of palm oil demand by 2021. This would deplete current global inventory levels, as it represents over a fifth of world supply. 
The supply crunch could worsen if El Nino – a complex global climatic phenomenon associated with dry weather in southeast Asia – appears and disrupts palm oil production in 2020. El Nino years typically see palm oil production reduced by at least one standard deviation from the 30-year average. The 2015 El Nino event had the effect of driving palm oil prices up by 15%. Moreover, Malaysia and Indonesia have experienced a debilitating haze in recent months, which could hit the planting of palm oil, due to logistical constraints. There is a 60-70% chance of an intense El Nino in 2020, according to the World Meteorological Organisation.
Palm oil stocks are trading at the low end of the EV/mature hectare range. Golden Agri [GGR SP], Indofood Agri [IFAR SP], First Resources [FR SP], IOI [IOI MK], and Kuala Lumpur Kepong [KLK MK] (all Not Rated by Tellimer), are trading close to their lowest ratios since 2008. The current EV/mature hectare average for the Indonesian planters is in the range of US$6,000/hectare to US$8,000/hectare, which is below the replacement cost. A surge in prices could create value for these deep value stocks, in spite of their recent rally.
CPO v Brent Crude (US$/t)
Source: Bloomberg
2020 could be the year for palm oil.