According to recent news reports, the State Bank of Pakistan (SBP) and the government have submitted a report in the Sindh High Court with a recommendation to declare cryptocurrencies illegal. The court has asked for the report to be shared with the finance and law ministries before taking a final decision on banning cryptocurrencies. The reason cited for this move is cryptocurrency use in illicit activities, but we think dollar outflow through undocumented channels amid a worsening current account deficit and currency pressure could also have encouraged the move.
A potential crackdown might discourage crypto investors in the short term, but there are three reasons why we think this development is unlikely to stop the growing popularity of the asset class.
1. Restriction on cryptocurrency is not new in Pakistan. The SBP, on various occasions, has advised against using and facilitating cryptocurrency. In April 2018, it issued a circular advising financial institutions to refrain from processing, using, trading, promoting and investing in virtual currencies. It also asked them to report any suspicious transactions to the Financial Monitoring Unit. More recently, the Federal Investigation Agency (FIA) initiated a crackdown against crypto transactors and seized over 1,000 bank accounts and credit cards linked to cryptocurrency transactions.
2. Cryptocurrency ban in other countries have not yielded the desired results. Pakistan is not alone in its efforts to stop the use of cryptocurrencies with various other countries having also tried to do so in the past. At least 5 out of the top 10 countries (in the Chainalysis global crypto adoption index) have some restrictions, ranging from increased supervision to a complete ban. However, crypto adoption in these countries has still managed to increase sharply. One reason for this is that P2P transactions are difficult to control as anonymity in a blockchain transaction makes it challenging for regulators to track cryptocurrency-linked transactions.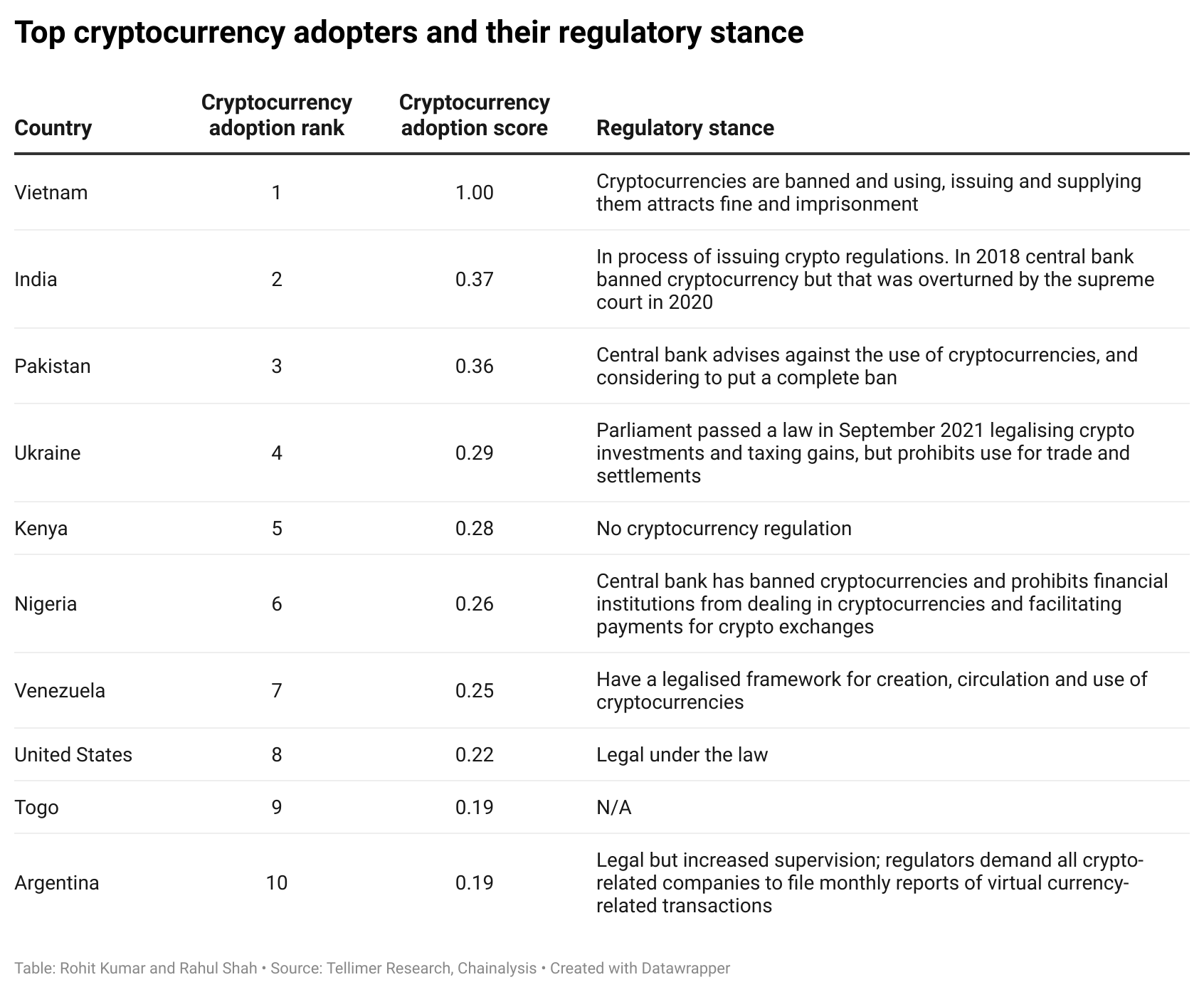 3. Lack of attractive investment avenues to continue drawing crypto interest. Retail investors in Pakistan have limited investment avenues: i) real interest rates are negative and religious beliefs restrain individuals from investing in fixed income securities; ii) the stock market has only about 250k investors and mutual funds have about 450k investors – the lack of education and trust in markets along with high KYC requirements hinder investments in these asset classes; iii) the real estate sector typically has large ticket-size investments so it's not viable for many individuals.