The pick-up in inflation in Mauritius in February, to a series high of 9% yoy, according to its official CPI data released yesterday, could portend an acceleration in inflation across SSA more generally (ie inflation is already in the system). But this is backward looking.
Looking forward, and while we should not place too much weight on one month's data, it might only get worse for the region due to the impact that Russia's war with Ukraine is having on global commodity prices – food prices still have a big weight in the CPI index for many African countries (and frontier markets more generally).
If so, and the food and commodity price shock proves to be more than temporary, the consequences of higher inflation will begin to have important implications for African policymakers and their populations, especially as their economies begin to emerge from Covid. For some countries, particularly those with weaker institutions and limited policy space, it could be a possible source of unrest.
But why is Mauritius so special? It isn't, and as a small-island, import-dependent economy, its experience may not be typical of the mainland. However, it is a well-run economy (rated investment grade Baa2 by Moody's), better than say Nigeria and Ghana which already have double-digit inflation, and if it isn't immune, then that might be a warning to others.
Mauritius inflation
Mauritius CPI rose 2.3% mom last month, compared to 1.4% in January, making it the highest monthly rate since January 2020. It was also the fourth highest mom reading under this series since it began in January 2013.
On an annual basis, Mauritius CPI rose 9.0% yoy, compared to 7.4% in January, its highest rate since 2006 according to Bloomberg. It compares to a pre-Covid average of 2.1%. However, core inflation measures remained better contained.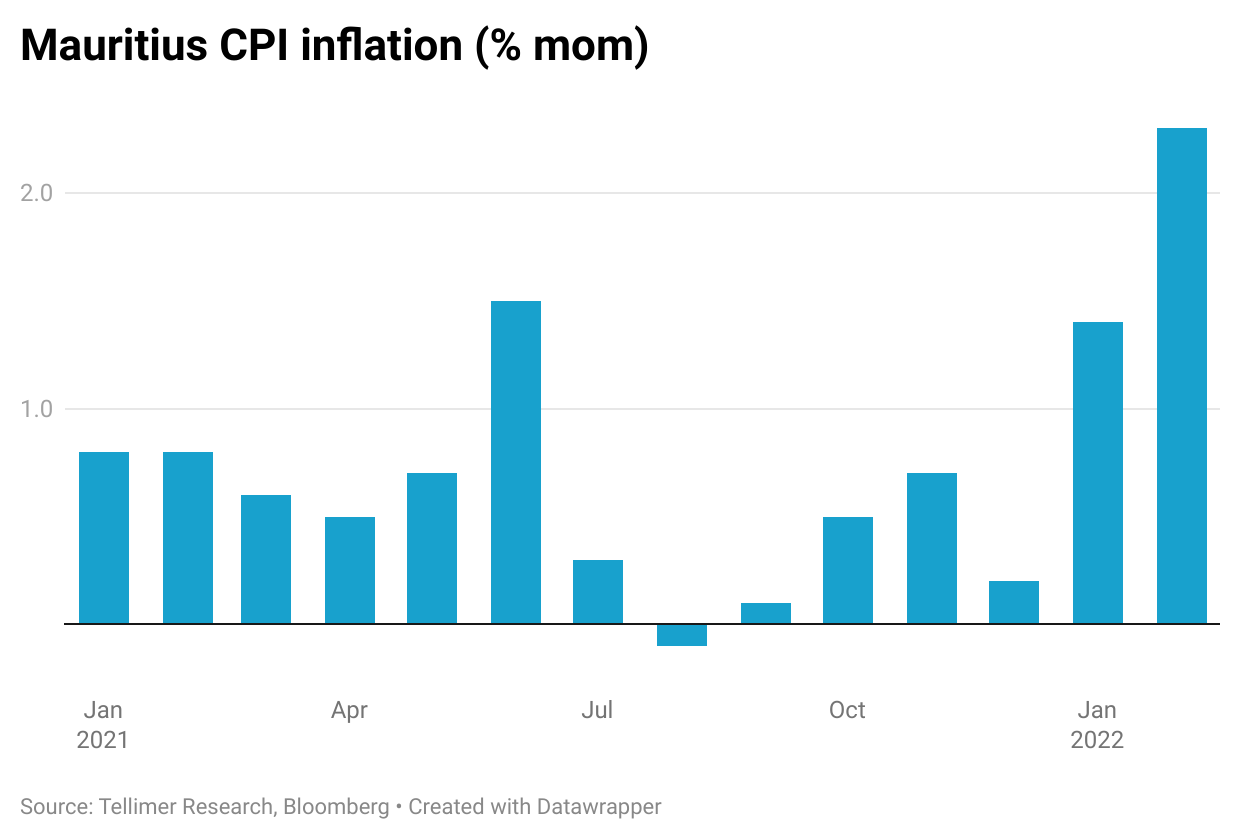 The main driver of the monthly increase was food and non-alcoholic beverages (+7.5%), and in particular vegetable prices, followed by miscellaneous goods and services (+1.4%), restaurants and hotels (+1.1%), transport (+0.7%), and education (also +0.7%). Utility and fuel prices fared better, surprisingly (+0.2%).
The higher CPI print comes ahead of the Bank of Mauritius' interest rate decision today. The policy rate is currently 1.85%, unchanged since a 100bp cut in April 2020. However, inflation is now 220bp higher than it was at the time of the bank's last MPC decision in December and any prior expectations of stable or gradually rising inflation may have diminished.
Central bankers elsewhere will be taking note and of course, many have moved already.
Sub-Saharan Africa inflation
The concern of course is that inflation everywhere will accelerate further due to the impact on global fuel and commodity prices, including food, of Putin's invasion of Ukraine.
Oil is at US$130/bbl (Brent) this morning, a 65% increase ytd. Food prices already hit an all-time high in January, according to the UN FAO World Food Price Index, and this is before higher prices prompted by the war have fed into the index.
Still, so far, inflation has not risen uniformly across Sub-Saharan Africa (SSA) and that may provide some comfort to policymakers, although most countries have still to release their February data. And there is likely to be a stark difference in impact between fuel exporters and fuel importers, and depending on commodity dependence and the types of commodities that a country produces.
In West Africa, inflation has picked up in Ghana (13.9% in Jan), but in Nigeria, high and sticky inflation is not new (in fact, at 15.6% in January, it has eased a bit since last year), while it had also already picked up in January in some of the Francophone West Africa states (notably Benin at 7.9%).
In East Africa, inflation in Mozambique rose to 7.8% in January, but we also have some February CPI prints – inflation still remains well contained at 5.1% in Kenya and 3.2% in Uganda on their latest readings.
Other countries however already had high (double-digit) inflation as a result of crises (Ethiopia 34%, Zambia 14%) or legacies of past problems (Angola 28%), and for them, it might only get worse.
But Africa isn't unusual in this regard. OECD consumer price inflation hit another 30-year high in January (7.2% yoy), after recording a previous high in December (6.6%), although this is partly due to Turkey. Ex Turkey, OECD inflation was more moderate at 5.8%. And of course, US inflation hit a 40-year high of 7.5% in January.