Vietnam has been our top strategy pick for many years now and, in all honesty, this has been a consensus view among frontier-focused investors for only a fractionally shorter time. Much more recently, the few mainstream emerging market investors willing to venture into smaller markets have joined in.
This is partly reflected in and partly helped by the explosion of average daily value traded to about US$850mn so far this year, which is 3x higher than H2 20 and 6.5x higher than in H2 19.
Vietnam equities are performing well and remain reasonably attractively valued, relative to history. The Ho Chi Minh index is up 60% in US$ total return terms over the last year and up 25% year to date. Forward PB of 2.7x and PE of 16.4x are at 8% and 3% premiums to respective 5-year medians. (But note that, from an absolute valuation perspective, not a single one of the main MSCI Vietnam constituents exhibits any two of the following trailing metrics on our stock screen; PB below 1.5x, PE below 15x, DY above 3%).
The investment case has everything: growth driven by manufacturing and commodity exports, domestic consumption and infrastructure, as well as low risk on both the currency and political fronts.
However, the problem of restrictive foreign ownership limits in listed equities reduces this high conviction country view into a rather watered-down and unsatisfactory equity strategy view to merely hold on to existing holdings in the better quality companies (defined as those with relatively understandable business models and ultimate ownership, and transparent communication) and to wait for new listings that are attractively priced.
The catalyst for the last round of reform, including more liberal foreign ownership, the establishment of free zones for manufacturing and the clean up of the banking system, was the global financial crisis in 2007-08, which ultimately exposed a chronic level of debt in state-owned enterprises and banks (with underlying non-performing loans peaking near 20%) and unsustainably high fiscal deficits (in the range of 6-7% over 2012-14 while real GDP growth was 5-6%).
Ironically, Vietnam's highly effective management of the Covid crisis and its pole position in taking advantage of US-China friction (ie the move to "China plus one" in manufacturing) has meant that there has been no repeat of the pressure to accelerate reforms this time round (fiscal deficits are about 4%, growth is about 7%, and underlying banking NPLs are below 5%).
Investment positives
The Vietnam investment case has pretty much everything (apart from democracy and press freedom for those driven by sovereign ESG):
High macroeconomic growth (real GDP CAGR of 7% over 2021-26, with annual inflation of about 4%, according to IMF forecasts).

Low FX rate risk: the current account surplus is c2% in 2021 and 2022, according to IMF forecasts, the real effective exchange rate close to the 10-year median, and short-term external debt is merely 9% of GDP.

Low-cost manufacturing exports (based on wages roughly 1/3 of those in China) with low-tariff trade access to the US and EU.

Buoyant consumption, driven by high urban density, job creation, and low inflation (c4%).

Infrastructure upgrade, remittances growth, tourism (albeit domestic tourism rather than foreign arrivals in the Covid era).

US geopolitical support (which offsets the risk of Chinese territorial incursion in areas with potential for oil and gas exploration).

Insulation from oil price and commodity price increases (net fuel exports are 3% of GDP and total commodity exports are 20%).

Tourism potential (as more resorts are developed the direct contribution of 6% of GDP should grow to match Thailand's benchmark of about double that figure).

Low domestic political risk under the one-party state and the recently confirmed succession (albeit for the position of President, with the April 2021 appointment 66-year-old Nguyen Xuan Phuc, the former Prime Minister, rather than that of the more senior Communist Party Secretary General, which remains 77-year-old Nguyen Phu Trong).
Risks
The investment risks are the following:
Power struggles within the Communist party which are not publicly visible but have occasionally resulted in unforeseen corruption investigations of corporate executives or delays in, for example, real estate development permitting.

Ageing population (the median age has troughed at lower GDP per capita than successful Asian development stories).

Loss of momentum behind economic liberalisation (privatisation, foreign ownership limit increases).
Foreign limits still the spoiler
However, the key problems with translating this top-down nirvana into an equity strategy all stem from low free floats and low foreign ownership limits – we estimate merely 23% of MSCI Vietnam is accessible for fresh capital from foreign investors (on the basis of free float left before foreign ownership limit is reached in the individual constituents of the index).
Highly restrictive foreign ownership limits mean that mainstream EM funds cannot allocate meaningfully sized capital (this inhibits the avalanche of foreign capital inflow should Vietnam capture the attention of those funds).

The best quality stocks (which are not owned or closely related to the government, have relatively open disclosure, in terms of transparency of business model and ownership, and a track record for execution of stated strategy) are often already at foreign ownership limit and do not get handed to the marginal portfolio buyer to take their share price higher (those foreign funds lucky enough to have got in before the foreign ownership limit was reached often simply sit on their positions unless there is a redemption of their fund).

When foreign institutional investors build sizeable stakes in locally-listed companies they run an even greater risk than normal of being front-run both because the process of securing sufficient stock can be lengthy, there is no competition from an entirely foreign broker managed transaction (local brokers must be used) and negotiated premia to secure a block of stock from an existing foreign holder within the overall foreign ownership limit can extend to tens of percentage points (implying a negative hit to a fund's net asset value from day one).
Screen of stocks for liquidity, performance, valuation
An excel version of the stock screen below can be downloaded via this link.
Download .xlsx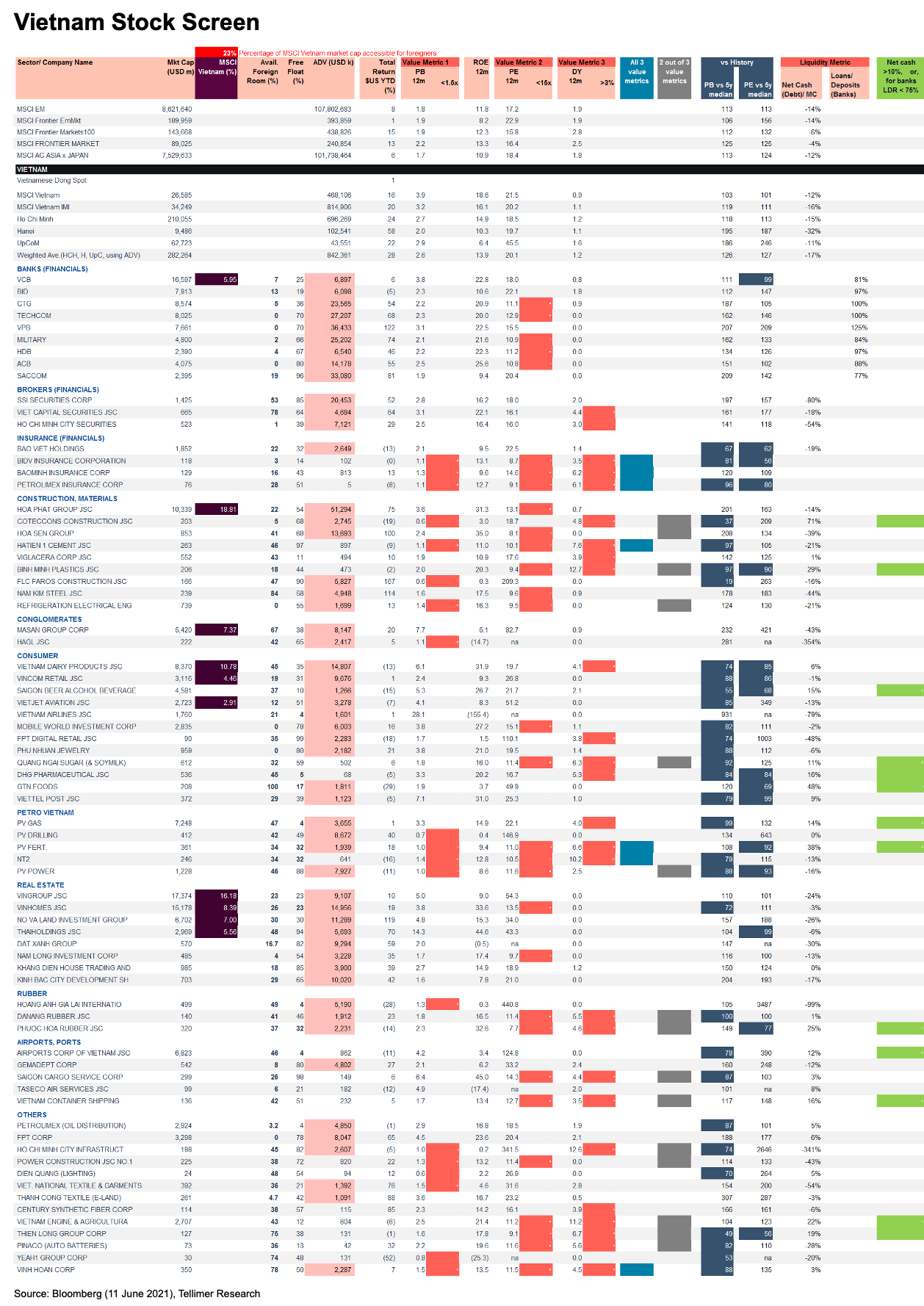 Related reading
Vietnam avoids tricky succession, likely retains oldest leader in Asia EM
Vietnam: Let's talk about sex (and population aging)
Vietnam lockdown eases, now for the next test
Vietnam: Succession soon, faster reform unlikely
Asia equity strategy: Vietnam tops a strong group
Vietnam: Still high growth, low accessibility
Vietnam: Flows and fundamentals invalidate our caution
ESG
Press freedom a black ESG mark for China and Vietnam
Corruption: The ugly truth for EM and ESG investors
Military spend is immune from Covid
US and China policy risks
China tries to rein in Renminbi again
China Nine-Dash Line, US, Taiwan and Asia
China manufacturing is irreplaceable but India and other Asians can win share 
Vietnam: No punitive US tariffs despite currency manipulator label
Biden's US foreign policy would be positive for Emerging Markets