GLOBAL
Into the final trading session of the week and the USD is set for another week of losses despite concerns that the Fed will taper at its November meeting. It seems that investors are well-positioned for this reality and that while the Fed is tapering, so too are other central banks, with some even tightening. While the USD did have a better day yesterday with some strong economic data supporting it, the underlying backdrop is still one of large budget and trade deficits. These deficits will always impose some depreciative pressure on the USD, especially if improving risk appetite does not encourage rotation to safety.
 In the commodities space. Volatility is almost a given for base metals as investors look to position themselves in relation to the growth dynamics of the bigger economies. China being a major consumer of these metals is certainly either number one or two in terms of influence on prices from a demand side depending on who you speak to. Yesterday was a particularly bad day for base metals as concerns about the Chinese economic recovery held focus, copper shed 3.54%, nickel fell 5.05%, zinc 3.83% and aluminium finished the day 5.32% lower. Equally investors are concerned that the higher energy costs are sapping global economic dynamism. Granted oil prices are trading slightly lower but they remain massively elevated more broadly which has ramped up costs across the globe.
AFRICA
Zambia: Moody's will today provide a credit rating status update on Zambia. In April 2020, Moody's downgraded Zambia's long-term issuer to Ca from Caa2 and changed the outlook to stable from negative. According to Moody's, the rating reflected the view that Zambia's capacity to service its debt had further weakened as weak governance had prevented rapid and decisive policy actions, leading to a substantial deterioration of fiscal metrics. There have been many developments since the last rating review. Given the leadership change in Zambia that brought optimism of a swift resolution to its debt challenges, risks exist that Moody's may adopt a wait and see approach. Moody's in April 2020 said that smaller losses for private-sector creditors than implied by the Ca rating as part of a debt restructuring could lead to a higher rating.
 Africa: Fitch solutions yesterday forecast economic growth to accelerate to 3.7% in 2022, largely due to wider access to coronavirus vaccines. The forecast was an upgrade from the earlier estimate of 2.9% in April. That said, output is seen as staying below-trend growth as fiscal policy tightens and structural constraints in major economies come to bear. Meanwhile, regional politics are expected to remain volatile through 2022, with risks of further protests as coronavirus restrictions are eased with tensions in Mozambique and Ethiopia persisting.
 Angola: In its regional economic outlook for Sub-Saharan Africa, the International Monetary Fund (IMF) said that Angola is expected to persist with economic reforms in spite of the economy likely contracting for a sixth straight year in 2021. The IMF projects Angola's economy to shrink 0.7% this year before expanding in 2022. The growth forecast for 2021 was a downgrade from the earlier estimate of 0.4%, with the IMF attributing it to "falling investments and recurring technical problems in the oil sector." Recall Angola's economy depends on oil for more than 90% of export revenue, and its crude output dropped to the lowest level in at least 14 years in February.
 Egypt: Bloomberg calculations using official data showed that Egypt had sold $167.3bn worth of bonds this year as of October 20. This issuance was up 19% compared to the same period a year earlier. Meanwhile, the US dollar value of pound bond sales reached $156.4bn, up 20% versus the same period last year. Local currency issuance was the highest since 2010, while foreign currency issuance was up 4.7% to $11bn versus the same period last year.
 Morocco: In a budget bill published on the upper house of parliament's website, the Moroccan government sees foreign debt at MAD 40bn ($4.4bn) in 2022. New domestic debt is set to rise to MAD 65.4bn while debt servicing costs in 2022 are forecast to rise to MAD 61.14bn driven by the nearly 200% projected rise in servicing of external debt to MAD 19.3bn. The Kingdom's most expansionary budget also proposes spending MAD 519.2bn for 2022 while revenues are projected to rise MAD 460.7bn. Meanwhile, the government forecasts the economy will grow 3.2% in 2022 based on a 8m tons grain harvest and gas price of $450 per ton.
Malawi: In a boost for an economy that has been battered by the coronavirus pandemic, the IMF said that it expects to finalize a support package for Malawi within months. Abebe Aemro Selassie, director of the IMF's Africa department, said that "we are working with them as urgently as we possibly can, so I would hope that early in the new year or so, we can move toward a program." The IMF comments follow on from  President Chakwera, who last week said that he is looking to secure a credit facility from the lender in about four to six months. A loan from the IMF is crucial to help Malawi manage debt that's surged to about $6bn, with much of its budget going toward servicing those liabilities.
 Uganda: Data published by the Uganda Revenue Authority (URA) showed that Uganda's Q1 2021/22 revenue rose 10% y/y as economic activity picked up. Specifically, revenue collection from July through September climbed to UGX 4.46trn, which is UGX 389.5bn higher than a year earlier as the economy recovered from the impact of the coronavirus pandemic. That said, it is worth pointing out that the amount is below the UGX 4.96trn target for the quarter. Note, the URA aims to collect UGX 22.4trn in this fiscal year.
Forex: Ethiopian Birr weakens further as Moody's rating downgrade sours sentiment
The Ethiopian Birr remained on the defensive yesterday as sentiment soured following on from Wednesday's rating downgrade. Recall Moody's cut Ethiopia's sovereign credit rating for a second time since May, citing a delay in the nation's planned debt restructuring and an escalating civil war. Moody's added the outlook is negative. The ETB, therefore, closed at a record low of 47.2016, according to Bloomberg data going back to June 1993, and was the second worst-performing African currency against the dollar on the session, down by 1.51%.
Pulling back the lens, a broader bearish bias in the Ethiopian birr remains entrenched. The ETB has been a clear laggard in the East African currency space as well as the broader Africa currency complex. For context, out of 20 Africa currencies tracked by Bloomberg in terms of performance on a year-to-date basis against the dollar, the ETB is ranked dead last, down by 18.0% in 2021. A combination of heightened fiscal risks, geopolitical uncertainty, risk of US sanctions, and a fragile recovery has dented domestic sentiment. Also adding further downside pressure to the ETB has been a continued rise in inflation, leading to a deeper negative real rate. With inflation topping 30% in August, Ethiopia's real interest rate (Policy- CPI) now sits at 23.4% and is one of the lowest in the world.
Given the factors mentioned above, the outlook for the ETB remains decidedly bearish in the near term. Risks, therefore, exist that the local unit could surpass its 2020 losses of around 20.95% against the dollar before 2021 closes out
Fixed Income: Zambia's Eurobond curve inversion widens as near term fiscal and inflation risks intensify
Zambian bonds have come back into the spotlight in recent days following a notable deepening in the degree of inversion in the curve. Typically, long term bonds have higher yields than short term bonds, meaning that the yield curve slopes upward. However, in Zambia's case, the curve is inverted with short term bond yields trading at a premium to long term bond yields. Note that an inverted yield curve is often an indicator of an impending recession, however in this case it also represents a combination of soaring inflation and the significant fiscal challenge that the country is faced with. Recall that Zambia defaulted on a debt payment at the back end of last year.
To provide some context of just how severe Zambia's fiscal problems are, the Finance Ministry revealed on Wednesday that Zambia's debt pile stood at almost $27bn at the end of June. This is equal to around 115% of GDP. The figure includes $16.86bn in foreign holdings, of which $520mn is interest arrears. The remaining $10.1bn was local currency debt. The Ministry said in  its statement released on Wednesday that "in line with its commitment for greater transparency, the Ministry of National Planning and Finance of Zambia has published a detailed summary of debt figures as of end-June 2021."
Going forward, while Zambian bonds remain a risky investment, we believe that there is value to be found in Zambian bonds over the medium term. However, this is contingent on the government bringing the debts accumulated under the former administration to light so that Zambia can firm up a much-needed program with the International Monetary Fund. That said, there are still some significant risks facing Zambian bonds and this is reflected by the inversion in the Eurobond curve. For context, the spread between Zambia's longer-dated 2027 Eurobond yield and the 2022 Eurobond yield is currently trading at around -2500bps versus -1850bps in mid-September.
Macroeconomic: Bank of Botswana leaves rates on hold, flags topside inflation risks
Given the sensitivity of financial markets to inflation and monetary policy dynamics at the moment, the focus this morning is on the Bank of Botswana's verdict on interest rates. As expected, the bank left the benchmark rate unchanged at 3.75% on Thursday. The message delivered during the accompanying statement was largely the same as the previous one citing inflationary risks being skewed to the upside despite the decrease in inflation to 8.4% y/y in the month of September.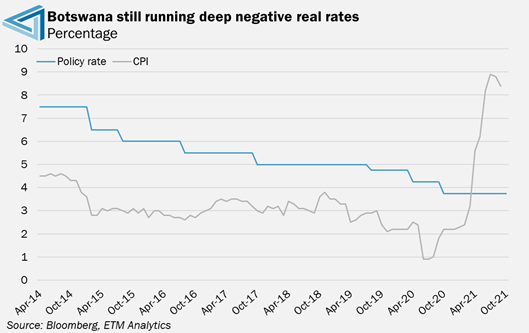 The factors mentioned as risks for inflation in the press release include a potential increase in international commodity prices beyond current forecasts; persistence of supply and logistical constraints due to lags in production; possible maintenance of travel restrictions and lockdowns due to the COVID-19 pandemic; domestic risk factors relating to regular annual price adjustments; as well as second-round effects of the recent increases in administered prices and inflation expectations that could lead to generalised higher price adjustments.
These risks are however offset potentially by the weaker demand domestically, including risks of periodic lockdowns as new variants of COVID-19 make landfall. Going forward, the central bank faces a dichotomy of mounting inflation risks and lingering COVID-19 growth concerns. The central bank will need to strike a delicate balance between containing inflation while at the same time supporting the economic recovery. From a currency perspective, Botswana's deep negative real interest rate will be detracting from the Pula's resilience.