Vaccine colonialism revisited: World's most comprehensive data on pre-purchases


21 November 2020

Paul Domjan
Senior Contributing Analyst @ Tellimer Research
21 November 2020
Canada, the US and the UK lead the world, with enough vaccine to inoculate their populations many times over
China, Chile, Argentina, India, Mexico, Indonesia, Brazil, Russia, Vietnam, GCC and Pacific Islands lead among EMs
Government-backed pharma investment in EM will boom as governments seek local capacity before the next epidemic


21 November 2020
In August, lamenting the fact that Covid-19 vaccines would be the main driver of the global economy in the short term, and yet data about would get the jab first was so sparse, I assembled all of the data that I could to give a global snapshot of vaccine pre-purchases. Duke University's Global Health Innovation Center has now assembled their own database, which they are regularly updating. I've now combined their data with my own[1] and filled in some of the holes to produce what I believe to be the most comprehensive picture available today of who will be first in line to get the jab – the full data table is at the bottom of this note:
Figure 1: Percentage of the population covered by direct or charitable (eg Fundación Carlos Slim) pre-purchases and options for further purchase. Not including GAVI COVAX AMC beneficiaries
92 developing countries will be eligible to receive vaccines under GAVI's COVAX Advanced Market Commitment, which aims in stages to provide enough vaccine doses to inoculate 20% of the population. Some of these countries have also been able to pre-purchase in their own right (eg Indonesia and Egypt) and/or benefit from pre-purchases by third parties (eg Fundación Carlos Slim for Latin America ex-Brazil and the Australia regional commitment to Oceania). For the remainder, however, doses provided under the GAVI framework may take some time to arrive. GAVI aims to deliver these doses by the end of 2021. These countries may also be able to receive some of the Gates Foundation's 100m pre-purchased vaccine doses. These are the 92 beneficiary countries:
Figure 2: GAVI's COVAX Advance Market Commitment initiative aims to provide vaccines for up to 20% of the population of 92 developing countries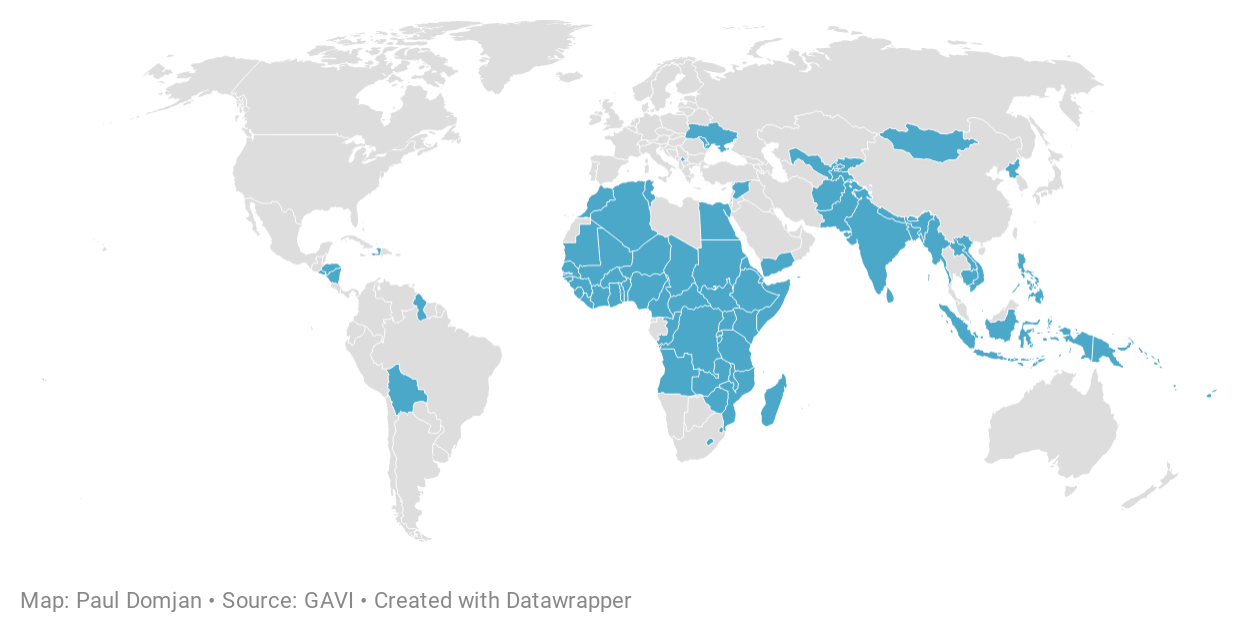 A Covid win for Trump, Boris and Bolsonaro
Although the US, the UK and Brazil have done a terrible job of managing the pandemic, they have been among the vanguard in securing vaccines. The US and UK were quick to pre-purchase multiple vaccine candidates, hedging the risk that one might fail. Both countries now have enough vaccine to inoculate their populations four times over. Although Canada has overtaken them in the vaccine stockpiling race, with enough to inoculate Canada's 38m people six times over, the US and UK were faster out of the blocks.
When I first surveyed this space in August, Canada had not yet secured any vaccine supplies. Similarly, although Argentina and especially Chile have now secured vaccine courses for a larger share of their population than Brazil has, Brazil was the only country in Latin America to have secured supplies in August. No doubt Trump will be envious that Boris and Bolsonaro are still in office to celebrate the foresight of the pre-purchases.
Don't underestimate China and Russia
Although China and Russia do not appear on the map in Figure 1, this doesn't mean that they won't be getting the vaccines—just that they haven't been talking about it in the press.[2] Russia and China have the only major, indigenous vaccine research programmes in emerging markets,[3] with the Gamaleya Research Institute and R-Pharm in Russia and CanSino Biologics, Sinovac and Fosun Healthcare in China. Given this capacity, I expect that they will ensure that their populations have adequate vaccine supply, as well as fulfilling international pre-purchases for these vaccines.
Chile, Ecuador and Peru may struggle to get full value from their pre-purchases, especially Peru
Chile (5mn courses), Ecuador (1mn courses) and Peru (4.95mn courses) are the only developing countries to pre-purchase the Pfizer-BioNTech vaccine. Given that this vaccine needs to be maintained at -70 degrees centigrade, these countries may struggle to achieve widespread distribution.
The PfizerBioNTech vaccine is only a minority share of Chile and Ecuador's pre-purchases. Chile has also secured 30mn courses from Sinovac and 7.2mn from Oxford-AstraZeneca, and Ecuador has secured 2.5mn from Oxford-AstraZeneca. However, Peru has only secured the Pfizer-BioNTech vaccine, so it will be particularly negatively impacted by the requirement for an ultra-cold chain. With the world's third-highest rate of death from Covid-19, Peruvians will be hoping that the cold chain requirements of the vaccine they have bought are able to be relaxed.
The real question: How will developed countries release their excess doses? And how quickly?
If we assume that China and Russia will take care of their own populations, enough Covid-19 vaccine courses have been pre-purchased or optioned to inoculate 84% of the world's population. Obviously, the reality will be less rosy, as some vaccines will fail to reach production, and it's unclear how often people will need to receive the vaccine. Nevertheless, if developed countries, which between them have acquired 3.4bn vaccination courses against a total population of 1.1bn, quickly release their excess vaccine doses to go to developing countries, there will be plenty of vaccine courses available. The Trump administration's pre-purchases have given the Biden administration the opportunity to offer a very powerful form of international aid. On the other hand, some developed countries may choose to stockpile their excess vaccine doses as a hedge against future problems, leaving developing countries short.
Either way, EM pharma, and EM pharma investors, will be the winner
Four large emerging markets stand out for their success in securing access to Covid-19 vaccines: India, China, Russia and Indonesia. These countries owe their success either to their ability to develop an indigenous vaccine, China and Russia, or at least to manufacture an internationally developed vaccine domestically, India and Indonesia. Although Vietnam has pre-purchased the vaccine developed by Russia's Gamaleya Research Institute, it is seeking to join Russia and China in developing its own indigenous vaccine. Vietnam will not be the last country to push in this direction. Even if countries are able to secure adequate vaccine supplies this time, the lesson of Covid-19 is likely to be that developing the domestic pharmaceutical industry can contribute both to economic development and to resilience in the face of future epidemics. Relevant western investors should consider positioning themselves to support emerging market governments to realise these aspirations.
The silver lining of the second wave: Why we should not worry that Stage 3 vaccine trials have gone so quickly
I have wanted to understand why Stage 3 trials have gone so quickly, and whether this is a worrying sign, and now I know why and that it isn't. Before we get into Covid-19, let's look at SARS. When I started thinking about Covid-19 vaccine development, one question that immediately came up is whether we should be worried that no vaccine was ever released to inoculate against SARS, especially considering the similarities between SARS and Covid-19. We shouldn't. A number of SARS vaccines were in development but, by the time any were ready for testing, public health measures had extinguished the virus, so they couldn't be tested. Vaccine trials don't run for a certain period of time, rather they run until enough people in the placebo group have gotten the virus to be certain that the vaccine has conferred meaningful protection to people in the vaccine group. But, without any chance of getting SARS, there would be no infection in the placebo group, so no way of knowing whether the vaccine candidate works.
Fast forward to today. Pfizer, as an example, computed statistically that it would need to see 164 cases of Covid-19 in the placebo group to be able to draw conclusions about the effectiveness of the Pfizer-BioNTech vaccine. Given transmission rates in the summer, when these trials were being planned, it was expected that this could take some time. However, the global second wave means that this threshold of 164 could be reached much sooner. While Pfizer will continue to follow the trial participants, higher levels of transmission have enabled Pfizer and other vaccine producers to assess effectiveness much faster than was originally expected.
Figure 3: Full table of vaccine pre-purchases, including both pre-purchased doses and options to buy additional doses
[1] The Duke data does not appear to capture Australia's commitment to the rest of Oceania, Gates Foundation pre-purchases and the Chinese military's oblique comments about securing the CanSino Biologics vaccine, nor does not it reflect supranational commitments (ie EU, Fundación Carlos Slim, Australia' regional commitment, Gates Foundation and COVAX) at national level. I've assumed the supranational supplies are evenly distributed among those countries that are eligible to receive them where this information is available.
[2] With a few exceptions, like this article in the New York Times that explores the relationship between Chinese state-owned enterprises, the Chinese military and Chinese vaccine research, including that the CanSino Biologics vaccine is being provided to the Chinese military.
[3] Although UAE-based G42 Healthcare has been cited in connection with Covid-19 vaccine development, its main role is in testing of the Sinopharm vaccine. This appears to be the vaccine (BBIBP-CorV) that Indonesia is shown in the Duke data as having pre-purchased from G42: see coverage here and here. G42 is separately working with Israel's Nanoscent on nasal Covid testing.
---