Machine Learning forecast
The current price of UK natural gas is 181 pence per therm (1 therm = 29.3 KW/h). Our machine-learning model forecasts a quick turnaround in gas price over the next six months, with it falling as much as 8% to 166 pence just next month. The retracement is forecast to bottom out at 92 pence, which represents a 49% fall from current levels. A period of consolidation is projected to follow as the price hovers around 110 pence until September 2022.
Natural gas prices are notoriously volatile
Extreme price movements are common in natural gas markets across the world and, historically, they usually revert back to their average rather sharply once geographic and statistical arbitrage forces have had time to kick in. It seems likely that a modest-to-sharp correction will take place over the next six months.
The divergence between UK and US prices
By analysing the divergence (spread) between US and UK gas prices, we can calculate just how much further UK prices are likely to extend over the short term and get a feel for what the price movement might be like over the next 12 months.
UK and US Natural Gas prices
For the past 10 years, UK gas has traded at a heavy premium to US gas, with the previous peak being in March 2012 – where it traded at 189% premium. The latest figures put UK gas at a whopping 288% premium, which is the largest on record (since 1997).
UK and US natural gas price divergence
Clearly, structural breaks (step changes) in their relationship have occurred in the past, where the divergence has failed to make it back to previous levels (such as the move up in 2009-2012). It would be prudent to normalise it by their 2-year average divergence (in orange) to create a more stationary time series.
UK gas is currently trading 131% above the expected average divergence. No other month on record has deviated this far from the 2-year average (since 1997).
Projected performance
Quantitatively, the times in which the divergence reached 100% or more in the past have led to a large negative forward (projected) return for the UK gas price over a 12-month time horizon.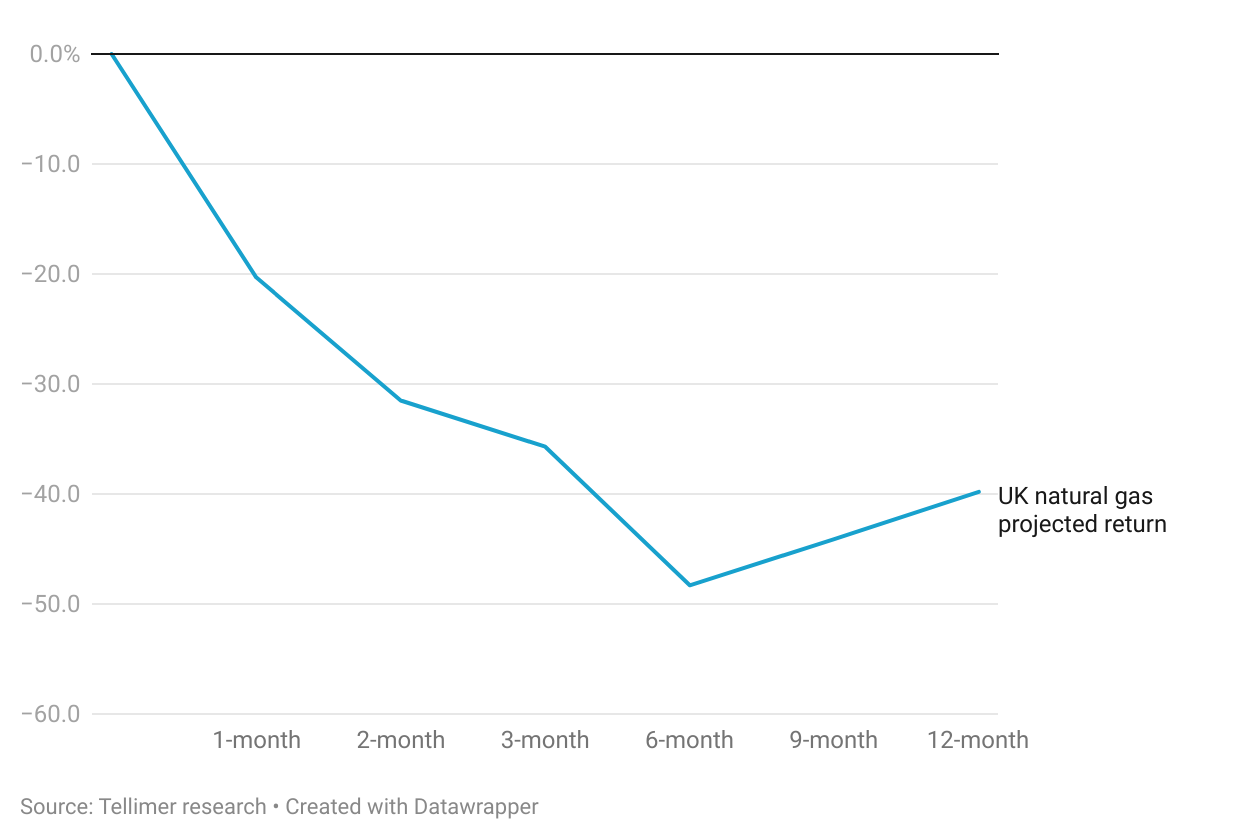 This highlights the expectation that the UK gas price will fall back 40% or more over the next 6-12 months to around 110 pence.
UK and US divergence has been a great predictor in the past
Below are the historical returns of the UK gas price given its divergence from the US price (after setting a baseline for historical divergence).
There is a pronounced "rubber-band" effect, so if the UK price remains inflated by 80% or more (currently at 130%), it is expected that a correction will occur within the next few months.