The note below was originally published in curtailed form as part of our IMF/World Bank Annual Meetings summary note on 27 October.
Uganda has come onto investors' radars over the past year in light of its high domestic government yields, and possible lack of other opportunities, while its own domestic market has matured with improving liquidity. While the yield curve has shifted downward from highs earlier in the year, it has reversed some of the decline over the past month. With a 10-year yield of 14.4% versus inflation of 2.2%, Uganda's real yield is still among the highest in EM and offers an interesting opportunity.
High real yields prompted non-resident holdings of government debt to rise from cUS$300mn in Q2 20 to cUS$800mn in Q2 21 (largely into longer-term bonds), pushing up the UGX by c4.5% over the period before softening more recently since mid-September (possibly pointing to some capital outflows amid the softer EM risk backdrop).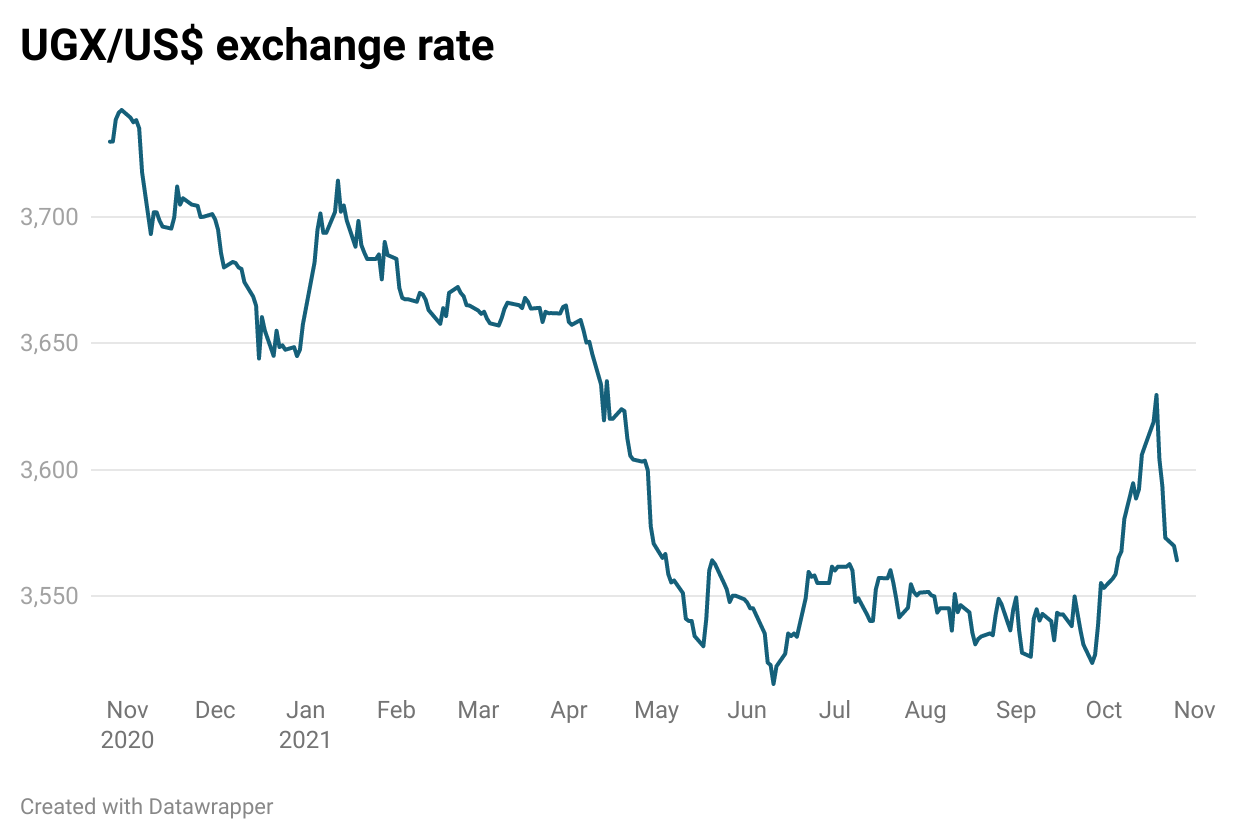 Alongside the IMF's US$494mn SDR allocation, portfolio inflows helped finance Uganda's large current account deficit, which reached 9.6% of GDP in 2020 is projected to remain elevated over the medium-term. To help meet its large external financing needs and support its reform agenda, Uganda also entered into a 3-year, US$1bn ECF programme with the IMF in June (with US$258mn already disbursed, and another US$129mn expected at the end of December).
Revenue-based fiscal consolidation is a key pillar of the programme, with the government hoping to stabilise debt below 50% of GDP over the medium term. While last year's budget deficit came in 0.5pp narrower than targeted, at a still-elevated 9.4% of GDP, revenue shortfalls risk pushing the 2021/22 deficit beyond its 6.4% of GDP target (although revenue shortfalls have been matched by spending cuts in Q1 21/22, driven largely by capex and thus weakening the composition of the budget).
That said, the macro outlook in Uganda is still quite positive under the IMF programme, and debt remains sustainable according to the IMF with a moderate risk of distress (revised from low in the previous DSA). Growth has been revised down for the year amid a new wave of Covid and limited vaccination progress, but is still expected to rise above 7% over the medium-term as oil production commences (expected in FY 24/25, but the FID has not yet been made, meaning delays are still possible).
Inflation has been significantly below the BoU's 5% inflation target, leaving room to loosen monetary policy. A high reliance on domestic borrowing to fund the budget has muddied the transmission mechanism, with lending rates staying elevated and private credit subdued despite 250bps of rate cuts post-Covid, but fiscal consolidation could pave the way for lower rates moving forward.
In June the IMF flagged the UGX as being modestly overvalued as a result of the large portfolio inflows, and with the current account deficit widening by 5pp to a record 12.3% of GDP in Q2 we think its overvaluation may have increased even further. That said, with elevated real yields, subdued inflation, and foreigners largely holding longer-term debt, we think the trade is attractive.
Further, with the government continuing to resist eurobond issuance in favour of concessional borrowing and non-concessional syndicated loans (with both forms of borrowing subject to ceilings under the IMF programme), the local debt market is a compelling way to get exposure to one of the continent's better macro stories (high growth/low inflation and low debt/IMF-backed fiscal consolidation, offset by high twin deficits and some PFM concerns).
As such, we assigned a Buy recommendation to domestic government bonds on the release of our IMF/WB Annual Meetings summary note on 27 October, preferring either the UGANGB 16 ⅝ 08/27/2026s at a yield of 13.18% or the UGANGB 17 04/03/2031s at a yield of 14.40% at cob on 27 October on Bloomberg. The yield curve has flattened, with shorter-term yields falling significantly in anticipation of looser monetary policy while the longer end has stayed persistently high. Therefore, we think there is scope for duration gains if monetary policy is eased alongside tighter fiscal policy, which should improve the transmission mechanism and allow longer-term yields to compress in line with changes to the policy rate.