19 February 2021
Uganda: Asset quality improves as economy reopens
Faith Mwangi
Equity Research Analyst, Financials (East Africa) @ Tellimer Research
19 February 2021
NPL ratio down to 5.1% as restructured loans rise mildly to 31%; we recommend cautious optimism
The central bank forecasts economic growth of 3.0-3.5% for the financial year 2020/21
Credit growth slowed down as risk aversion sets in for banks

19 February 2021
Bank of Uganda released statistics noting that the overall industry NPL ratio stood at 5.1% in October 2020 down from 5.8% in June 2020. Restructured loans increased mildly to 31% in October 2020 from 30.6% in June 2020.
We recommend cautious optimism
According to the central bank, improvements in asset quality were recorded in the agriculture, trade, building and construction, and personal household segments. The improvement was on the back of resumption of activity following the reopening of the country in Q2 20. Bank of Uganda has projected an economic growth of 3.0-3.5% for the financial year 2020/21 and is expected to increase to 4.0-4.5% in FY 21/22 and maintain 6.0-7.0% growth thereafter. According to the central bank, the positive outlook is hinged on Covid being contained in Uganda, resumption of tourism and increased commodity demand from foreign markets. While these are positive signs, there are risks to Uganda's economic growth related to the timeline of vaccine rollouts — especially in key trading partners and tourism source countries — and the threat of new coronavirus strains spreading in the country. Although these factors are largely not within the control of the country's administration, resorting to restrictive measures as a response could result in sluggish economic growth.
Similar to Kenya banks, we are concerned that the asset quality of Uganda banks could deteriorate once loan moratoriums lapse and banks can no longer offer further restructuring. In its recent monetary policy meeting, the regulator extended by 6 month (to September 2021) the credit relief measures that allowed banks to restructure loans and offer moratoriums on interest payments. We do not anticipate a further extension. While there has been some notable economic recovery, this has yet to return to pre-pandemic levels and we believe there will be some clients who will face difficulty paying their loans once the moratoriums lapse.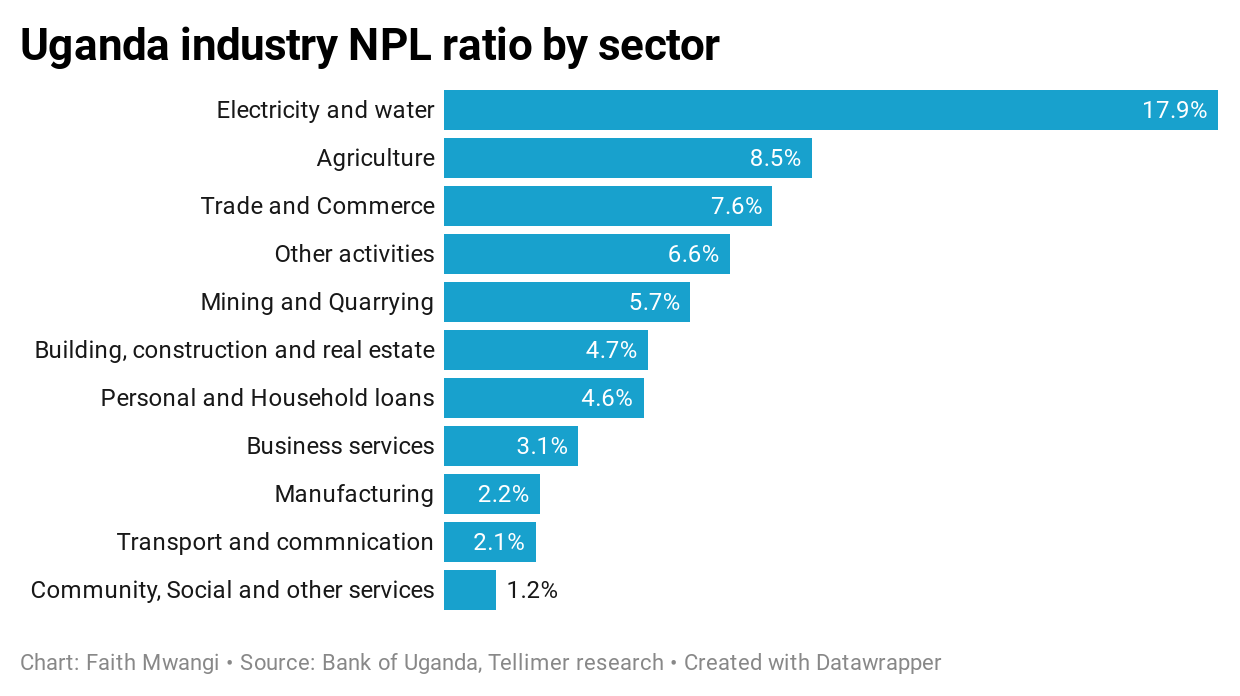 Credit growth slowed down as risk aversion sets in for banks
According to the Bank of Uganda, private sector credit growth fell to 6.9% yoy in October 2020 from 8.6% yoy in June 2020. There was notable slowdown in lending to agriculture (+4.1% yoy), manufacturing (-0.4% yoy) and personal households (+0.7% yoy) — these segments recorded slower growth than the preceding quarter. In our view, banks are likely to take a cautious approach to lending in 2021 given more stringent practices on account of Covid and the lapse on moratoriums exposing weak clients.
---