Abu Dhabi authorities acknowledged explosions at an oil storage tanker facility in Musaffah (about 10 miles from the city centre) and a fire in an under-construction area of airport earlier today. Initially, they disclosed three fatalities and six injuries in total, stated that investigations are ongoing, and, without pointing to any suspected perpetrators, have stated (according to Reuters) that drones may have been involved. Subsequently, a statement from the Foreign Ministry has pointed the finger at Yemen's Houthis.
Separately, Yemen Houthis claim that they conducted a drone attack on UAE (ie from over 1,000 miles away). The Houthis have made claims over drone attacks in the UAE previously (allegedly targeting both Abu Dhabi and Dubai airport in 2018) which were denied subsequently by UAE authorities.
Disgruntled Iraqi militias have also recently threatened UAE, blaming their poor showing in last October's election on election commission servers located in the UAE.
Senior members of the UAE government recently met with counterparts from Iran, Israel, Saudi, Turkey and the US in what looked to confirm a shift away from direct and indirect military involvement in the broader region to greater emphasis on diplomacy.
If these events are linked to external attacks then, while they are not on a scale or involving facilities as strategic as the September 2019 attacks on Saudi Aramco (Abqaiq processing facility and Khurais oil field), they serve as a reminder of conflict risks that investors are used to in the wider region but have not closely associated with the UAE.
Sensitivity to attacks is high in the UAE given their absence historically and the high contribution of tourism to the economy – about 5% directly to the entire UAE, which usually implies a figure at least double this in terms of indirect contribution, and likely multiples of this in the less oil-rich emirates such as Dubai.
UAE equities, measured by MSCI UAE, are up 40% in the past year (in total US$ return terms). Trailing PB of 1.5x (for 11% ROE) is almost a 10% premium to the 5-year median. Forward PE of 12x (for 9% consensus earnings growth) is a 12% premium to the 5-year median.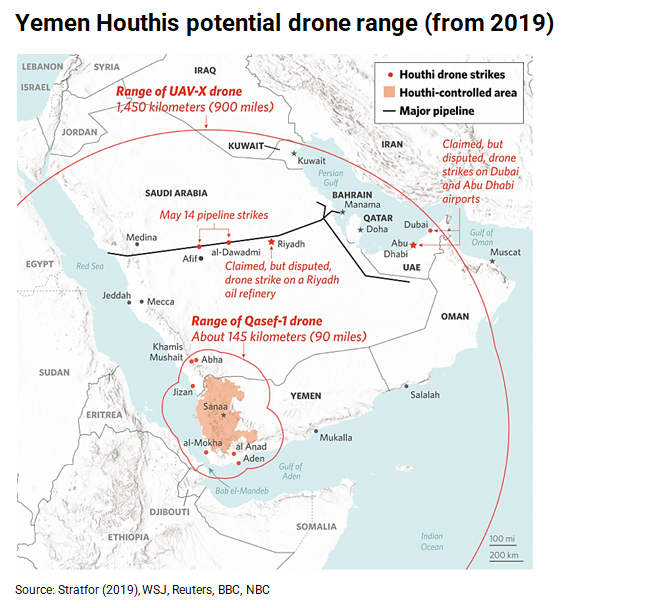 Related reading
Iran: Major escalation yes, all out war no, Jan 2020
Iran Nuclear Deal might be now or never, but Israel friction will last, Dec 2021
Iraq: Low election turnout, protests may reemerge, Iran and Saudi may not care, Oct 2021
Pfizer's Covid pill speeds up tourism recovery in emerging markets, Nov 2021