21 January 2021
UAE aluminium exempted from US import tariff as Trump leaves office

Vahaj Ahmed
Head of Industrials Equity Research @ Tellimer Research
21 January 2021
Aluminium imports from the UAE comprised 4.5% of total in 11M 20 but could revert to 6.4%
This is positive for UAE's EGA which recently ramped-up production at its new US$3.3bn alumina refinery...
...but unfavourable for other exporters in the GCC: Bahrain (ALBA), Saudi Arabia (Ma'aden), Qatar (Qatalum)


21 January 2021
In his final hours at the White House, outgoing US President Donald Trump exempted the United Arab Emirates (UAE) from 10% tariffs on aluminium imports. This could see UAE's market share rise from 4.5% in 11M 20 to 6.4% (the 10-year high registered in 2018 before the Trump administration implemented the tariffs).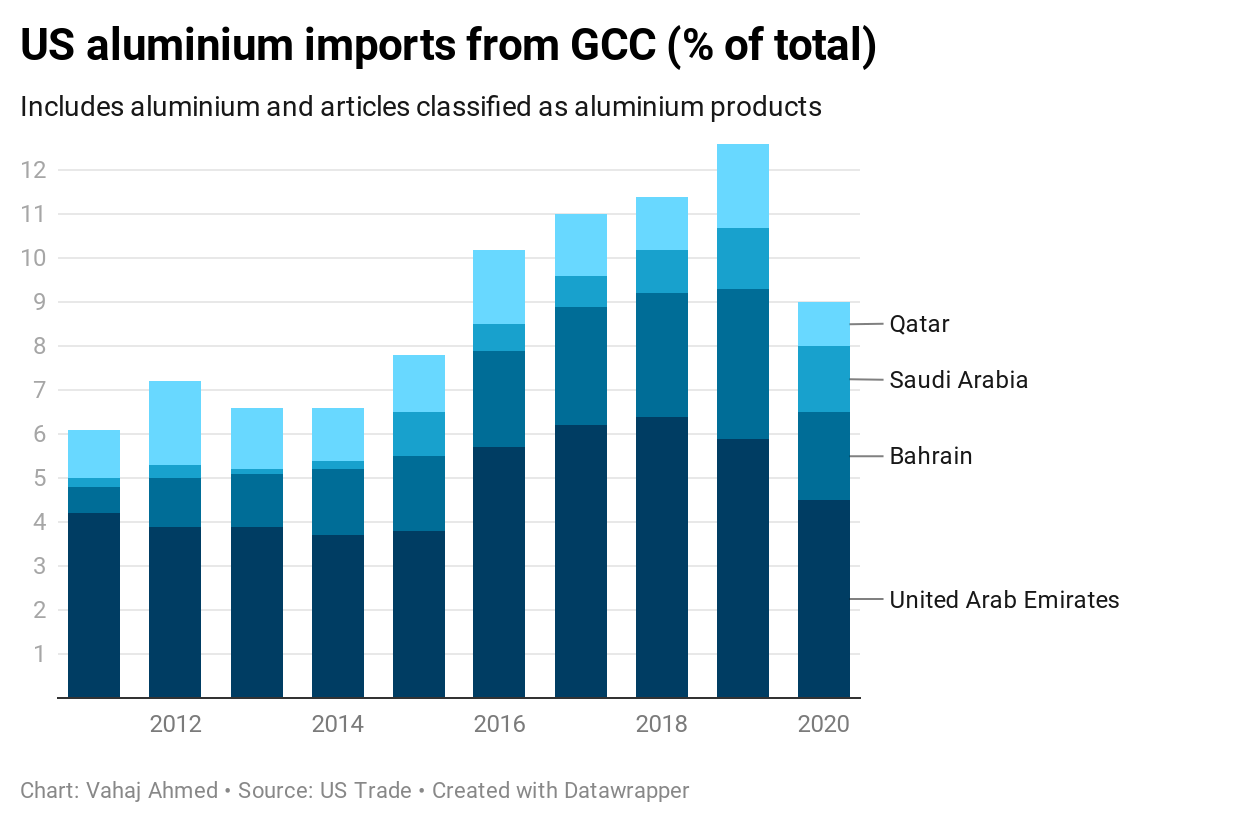 This is positive for UAE's Emirates Global Aluminium (EGA) – the country's largest industrial company outside oil and gas. Two weeks ago, EGA successfully ramped-up production at its new US$3.3bn alumina refinery to its 2 million tonnes per annum (mpta) nameplate capacity, which is sufficient to meet c80% of EGA's raw material needs (mainly alumina). This completes EGA's strategy to integrate upstream in the aluminium value chain. Together with the scale following the ramp-up, EGA's primary aluminium products could be the cheapest versus other GCC countries.
On the other hand, this could result in lower market shares for Bahrain's ALBA and Qatar's Qatalum; perhaps not so much for Saudi Arabia's Ma'aden which is 25%-owned by US-based Alcoa.
According to our estimates, exports to the US comprised 16% of ALBA's revenue in 2020f. Increased cost-competition from EGA means ALBA will have to defend its exports to the US. On the other hand, this could expedite ALBA's hunt for an alumina refinery to strengthen its supply chain (which was approved by its board in Q4 20). The company plans to enter into a joint-venture (JV) to secure 1.0mtpa of alumina. Management indicated at the Q3 20 results call that a JV with alumina refineries in the Middle East could significantly reduce freight costs. However, most of these refineries and/or integrated aluminium players are operating at near-optimum capacity.
---