Today, Turkey's central (CBRT) held its one-week repo rate at 14%, in line with the expectations of all 20 analysts surveyed by Bloomberg. The move comes after President Erdogan hinted early in the week at a slightly less aggressive pace of easing, saying that the interest rate will fall "gradually and without hurry."
However, with inflation spiking to an alarmingly high 36.1% yoy in December from 21.3% in November, Turkey's real policy rate has fallen to -22% and is in desperate need of a sharp increase to avoid a further de-anchoring of inflation expectations.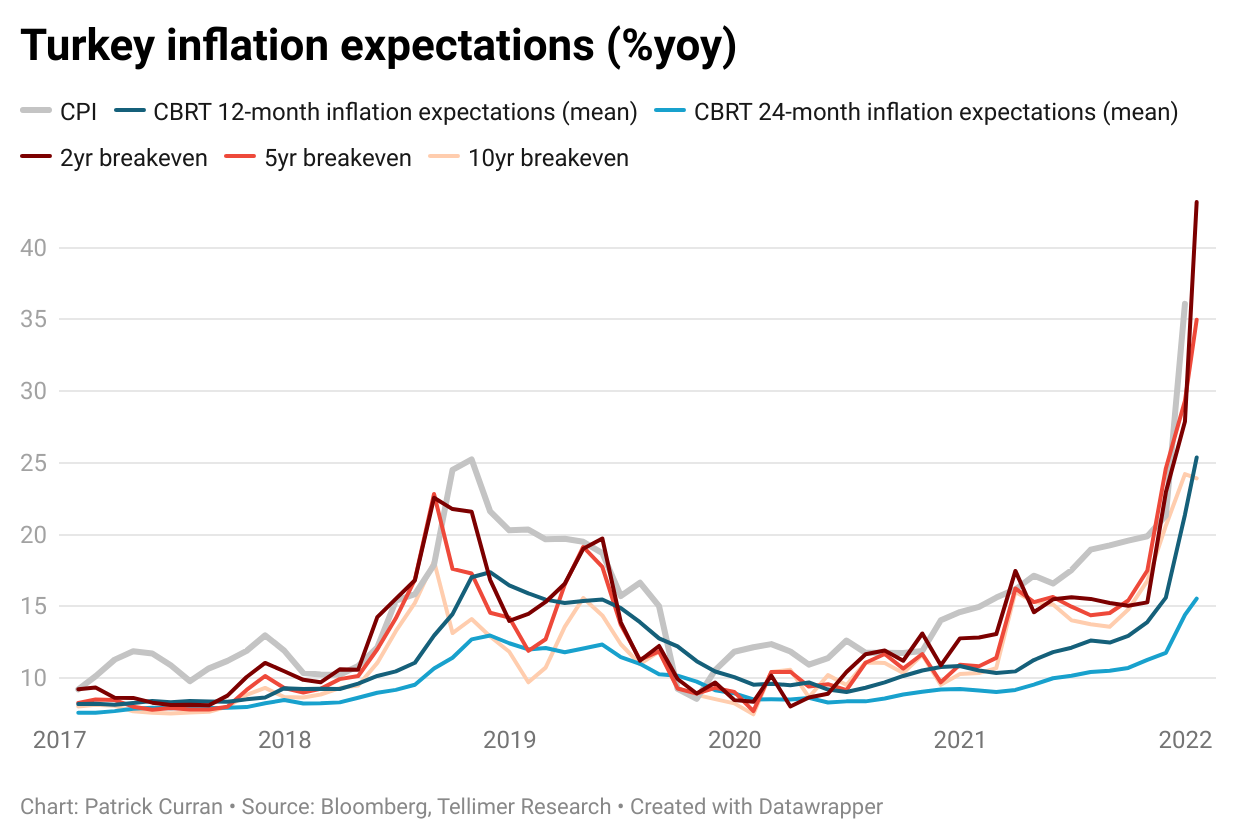 Although the recent stabilisation of the lira could provide some respite, measures to boost resident lira deposits have failed to materially reduce dollarisation and could backfire spectacularly if lira depreciation resumes.
Further, it is unclear if the stability can be sustained without further CBRT intervention, with the Bank selling US$7.3bn of FX last month in five separate interventions.
This has contributed to a sharp drop in reserves, with the CBRT's net FX reserves falling from US$24bn at the end of November to US$7.6bn on 14 January. With net reserves at a record low of negative US$46bn once swaps are factored out, there is little room for further intervention of lira weakness resumes, notwithstanding the temporary respite provided by the three-year, US$4.9bn swap line with the UAE announced this week.
Turkey's lira defense policy also carries massive fiscal risk, threatening to undermine one of the remaining pillars of macro stability in Turkey. Erdogan said yesterday that FX-protected lira deposit accounts have already reached TRY163bn, which would impose a cost of 0.25% of GDP for every 10% that TRY depreciation exceeds the 3-12 month time deposit rate (which currently ranges from 22.5% to 30% with a floor of 14%). And, the amount of FX-protected accounts is only likely to increase from here, with the incentive recently expanded to include corporates. 
Further, rising inflation also threatens to undermine the budget via public wage hikes, with President Erdogan announcing that civil servant salaries will be re-evaluated in July to reflect rising inflation. This could also combine with the recent 50% minimum wage hike to create a dangerous wage-price spiral.
To make matters worse, Turkey's newly appointed Finance Minister and Erdogan acolyte Nureddin Nebati has vocally supported President Erdogan's policy stance, eroding the credibility of the institution led by orthodox and respected policymaker Lufti Elvan until his resignation in December. In his first interview since being appointed earlier this month, he commended Erdogan's policy to free the economy of the burden of higher interest rates that are, in his view, imposed on Turkey by the "global barons of finance," and voiced confidence that inflation will reach single digits by mid-2023 elections.
High oil prices have also begun to erode Turkey's fiscal and external balances. The current account deficit swung from a US$3.1bn surplus to a US$2.7bn deficit in November as rising oil prices pushed up the energy import bill by over 2.5x (US$4bn) on a year-on-year basis, offsetting the recent improvement from increased tourism revenue. Meanwhile, the budget swung to a record deficit in December with the government transferring TRY59bn (US$4.4bn) to state gas company Botas to import fuel, the CBRT selling a total of US$5.9bn of FX to the company since October and below-cost fuel prices resulting in up to US$7bn of subsidy payments in 2021 (although prices have been hiked in January).
That said, Turkey's budget deficit remains quite tame relative to many of its peers, narrowing slightly to 2.9% of projected full-year GDP in 2021 from 3.4% of GDP in 2020. Meanwhile, general government debt fell by 5pp from 42.6% of GDP in Q3 20 to 37.6% of GDP in Q3 21. However, with rising fuel prices, elections approaching in mid-2023 amid dwindling popularity for President Erdogan, and a looming fiscal risk from the new lira defence programme, it might not be long until Erdogan's unorthodox policy preferences begin to erode one of Turkey's last remaining pillars of macro strength. Indeed, this risk is reflected in Turkey's elevated CDS spreads relative to peers like Brazil and South Africa.
Against this backdrop, it remains to be seen how long the period of lira stability can persist. On the one hand, much of the appreciation since late December can be seen as a reversal of what we have previously flagged as a clear overshoot of Turkey's fundamental valuation (with the lira falling nearly 60% in real effective terms over the last decade and the IIF recently saying that it is nearly 35% undervalued). However, amid rampant inflation domestically and global monetary tightening, the lira could well resume its depreciation in the year ahead, potentially triggering a vicious cycle if it forces the government to make good on its promise to defend lira deposits (or even worse if it cannot).
Today's (in)action and accompanying statement by the central bank, while at least providing some respite from further rate cuts, for the time being, makes it clear that Turkey has no intention of reversing course and following other EM central banks by hiking rates, and has instead adopted a wait-and-see approach is it waits for supply-side pressures to ease and inflation abate on its own.
Given the CBRT's optimistic inflation forecasts, there is little hope of a policy reversal unless a fresh currency crisis forces the CBRT's hand. As such, we maintain our Sell recommendation on TRY and TRY-denominated government debt.
Related reading
Turkish lira reversal and reserve depletion in four charts, December 2021
Turkish lira whipsaws as government intervenes, December 2021
Turkish lira collapse stoked by another rate cut, December 2021
Turkey: The de-anchoring of inflation expectations in one chart, December 2021
Turkish lira hits fresh lows and is set to plunge further until mid-2022, December 2021 (Huckle)
Turkish lira implosion in four charts, November 2021
Turkish lira battered by another irresponsible rate cut, November 2021
Turkey: Sharp policy shift solidified by 200bps rate cut, October 2021
Turkey: Central bank sacking sends lira into tailspin, October 2021
Turkey: Rate cut puts lira on back foot, September 2021
Turkey: Another leadership shuffle at the central bank, May 2021
Turkish lira plummets after central bank governor sacking; weakness to continue, March 2021