Turkish assets have crumbled today after ex-CBRT Governor Agbal was sacked over the weekend, sending the currency, bonds, and equities into a tailspin. The TRY fell just shy of 15% in early trading before settling nearly 9% lower at 8am New York/1pm London, a drop surpassed only once in the past 20 years during the height of the August 2018 currency sell-off.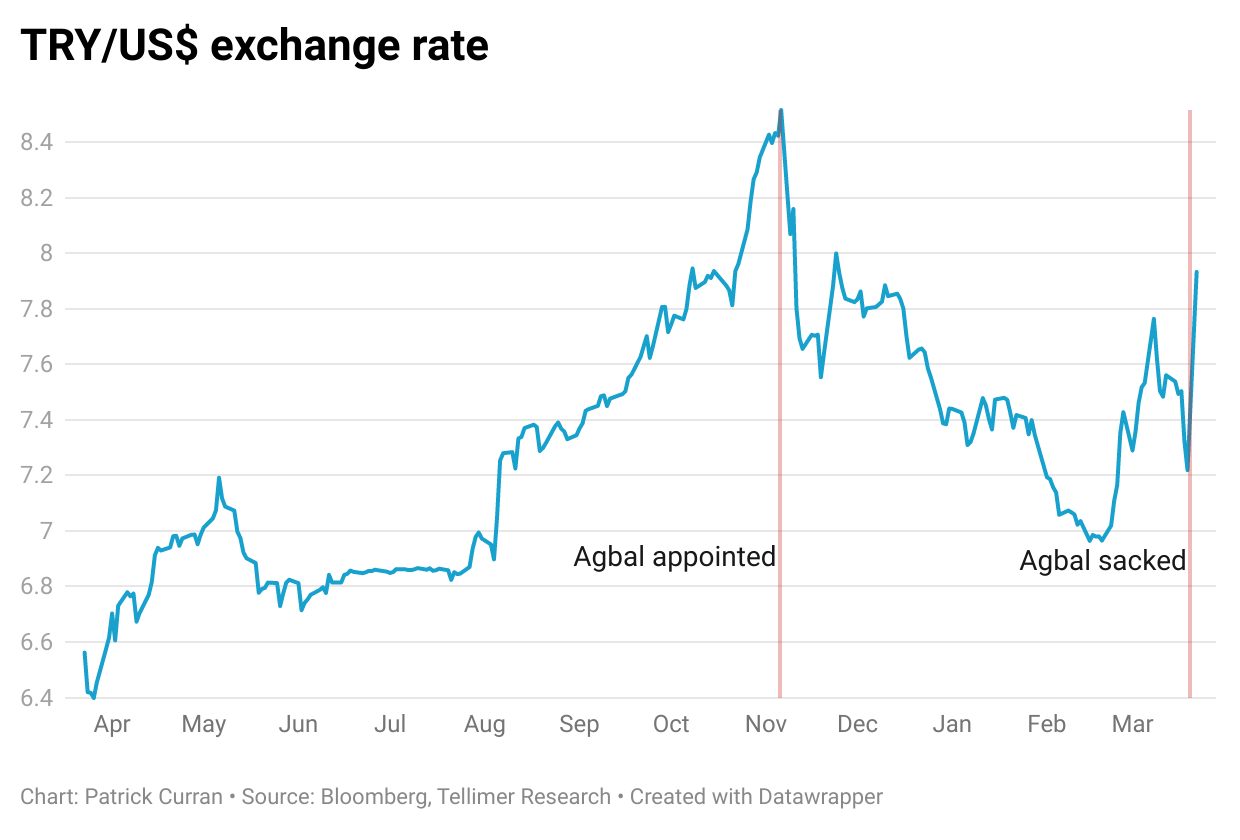 Meanwhile, the Borsa Istanbul 100 Index was down c9% (triggering circuit breakers for the first time since their introduction in August), US$-denominated government bonds due June 2031 were down c11% (+c150bps), and TRY-denominated government bonds due November 2030 were down c22%.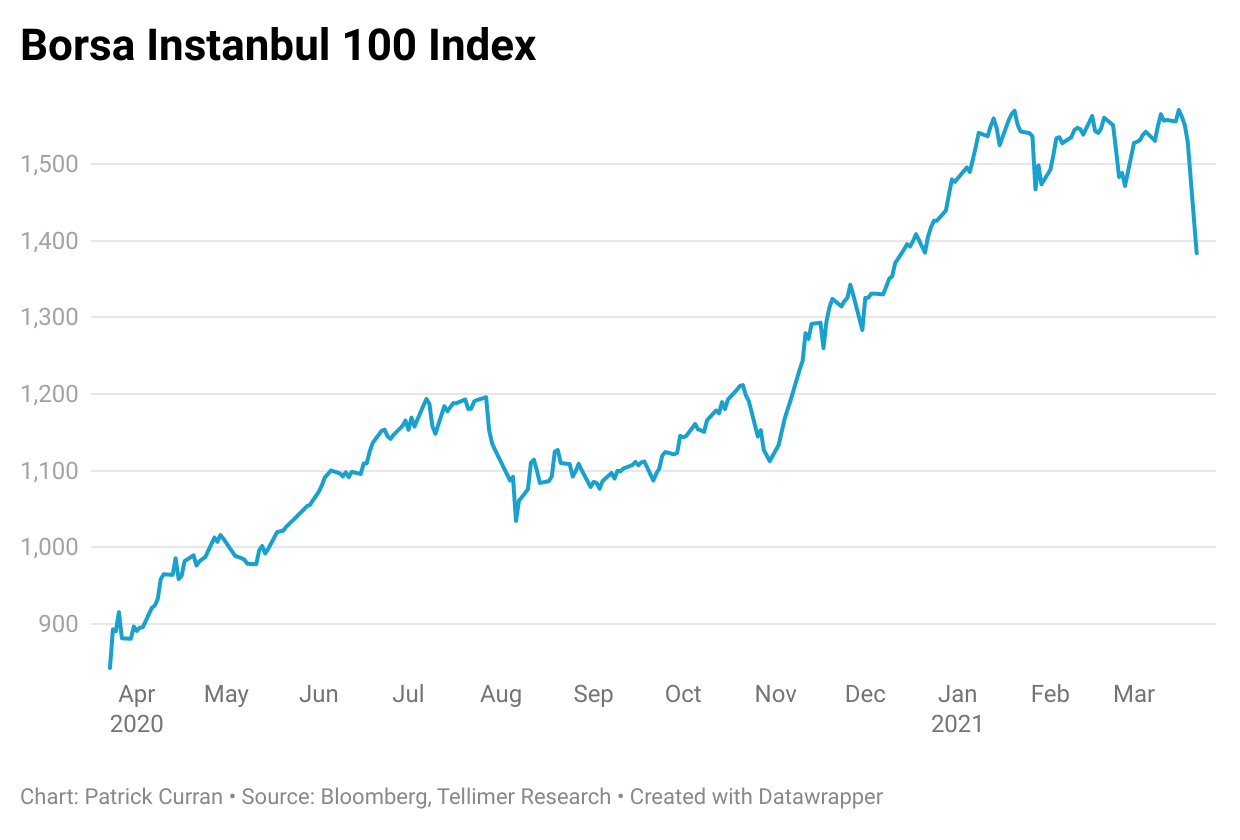 Today's sell-off is likely just the beginning, with the TRY still trading nearly 8% above the November low of c8.52/US$ immediately preceding Agbal's appointment as CBRT Governor (versus a gain of c2% for the JP Morgan EM Currency Index over that period).
The orthodox policy shift ushered in by Agbal and Finance Minister Lufti Elvan was the key driver of the rally, prompting cUS$4.7bn of domestic government debt and equity inflows from non-residents in the 4.5 months following their appointments. Those inflows are now likely to reverse after having slowed in recent weeks amid the weaker EM risk backdrop, pushing the TRY and Turkish assets down even further.
Elvan tried to calm markets today, saying that "the macro policy framework that we are implementing and which 'prioritises lowering inflation' will continue until a permanent reduction in inflation is achieved." He also expressed Turkey's ongoing commitment to free markets and a liberal FX regime, but the sell-off could prompt a return to heavy intervention by state banks to prevent the TRY from going into freefall (undermining efforts to build reserves and wean the CBRT off of FX swaps).
Meanwhile, new CBRT Governor Sahap Kavcioglu said yesterday that the CBRT "will continue to use the monetary policy tools effectively in line with its main objective of achieving a permanent fall in inflation". But Kavcioglu will struggle to build trust after forcefully advocating for lower interest rates in the past. Kavcioglu was a deputy manager of state-owned Halkbank from 2005-2015 before serving as an MP in Erodgan's AK Party from 2015-18 and, most recently, as a columnist for the pro-government newspaper Yeni Safak and instructor at Marmara University in Istanbul.
In a Yeni Safak column in February, Kavcioglu claimed that lower interest rates "indirectly cause inflation to rise" and said it was "saddening" to see bankers and business organisations advocating high borrowing costs when other countries had negative interest rates. Kavcioglu is also a former student of Erisah Arıcan, a senior adviser to Erdogan who also advised his son-in-law and former Finance Minister Berat Albayrak on his thesis while at Marmara.
The stage therefore appears to be set for lower interest rates, with all eyes on the 15 April MPC meeting (Kavcioglu said in Sunday's statement that policy meetings will remain on a monthly schedule, effectively ruling out an earlier emergency cut). Alternatively, he may use the next meeting to try to prove his independence to markets by choosing to hold rates. But, regardless of what he does, he will struggle to build credibility with the markets given the nature of his appointment and ideological leanings, giving him absolutely zero margin for error.   
Either way his bias towards lower rates is clear and, against the backdrop of rising inflation and external imbalances (see here for a deep dive), the Turkish economy and assets are in for a rough ride. Policy aside, Agbal's removal (the third sacking of a Governor by Erdogan since July 2019), has sparked yet another crisis of confidence and erased the hard-won credibility the CBRT had managed to claw back since his appointment in November.
The currency sell-off and capital outflows that stem from the decision will make it even more difficult for policymakers to rein in inflation and boost reserves. We downgraded Turkish T-bills to Sell on Saturday, and expect continued weakness in the coming days and weeks as markets grapple with the drastic shift at the CBRT and reverse the gains seen since Agbal's appointment in early November.
Related reading
Turkey central bank head goes as Erdogan spoils carry trade again; we downgrade, 20 March 2021
Turkish central bank surprises with 200bps hike, 18 March 2021
Turkey chartbook: Macro outlook improving but still fragile, 15 March 2021
Turkish lira is buckling under pressure, 9 March 2021
Turkey carry trade upgraded to Buy, 5 January 2021
Turkey hikes rates, solidifies shift towards orthodox policy, 24 December 2020
Turkey central bank delivers on rate hikes, 19 November 2020
Lira rally continues as Erdogan appears to make policy U-turn, 11 November 2020
Lira set for big moves amid leadership changes and central bank and MoF, 9 November 2020
Turkey: The only chart that matters – interest rates and inflation, (Malik) June 2020