Wide-ranging policy and regulatory changes have been announced in Turkey, which seem set to impact almost every line of lenders' income statements. As a result, banks' financial statements may come with even more footnotes than usual. Ahead of the Q1 20 reporting season and the next meeting of the Central Bank of the Republic of Turkey (CBRT), we highlight just some of the key changes there have been in Turkey in the last two months. Sources for this are the CBRT, the banking regulator (BDDK), Anadolu Agency and Bloomberg. As in other jurisdictions, Turkey will likely see the size of the state increase relative to the size of the private sector, as the government seeks to address the impact of the Covid-19 pandemic on the country's economy.  
Reports on 20 April suggested that Turkey's authorities may be considering capital injections for state-owned banks. TRY-denominated bonds may be issued to fund this, according to Bloomberg. Authorities have injected capital – in Tier 1 and Tier 2 format – into banks owned by the State in recent years. If confirmed, these capital injections may only help offset the impact of strong loan growth at Turkey's state-owned banks. In the year to 9 April, loans increased by more than 13% at these banks. This compares to the 8% growth in loans reported by domestic privately-owned lenders.
Table 1: State-owned banks' capital ratios 


2019
2018


CET1
Tier 1
CAR
CET1
Tier 1
CAR
Ziraat
13.58%
15.40%
16.39%
13.22%
13.22%
14.23%
Halkbank
9.32%
11.08%
13.65%
10.36%
10.36%
13.36%
Vakifbank
10.26%
13.26%
16.22%
11.34%
13.32%
16.47%
Turk Eximbank
13.10%
14.60%
19.10%
13.40%
13.40%
18.70%
Source: Company statements. Consolidated figures, except Turk Eximbank.
An asset ratio has been introduced, which will have to equal or exceed 100%. Asset ratio = (100% loans +75% government bonds +50% CBRT swaps) / (100% LC deposits + 125% FC deposits). This ratio will be effective from 1 May and banks will have to pay a fee if this falls below 100%. Introduction of this ratio has contributed to a significant decline in the yield of TRY-denominated government securities this week.


The CBRT will 'provide banks with as much liquidity as they need' through intraday and overnight standing facilities. The CBRT may inject liquidity into the market through repo auctions (up to 91 days maturity), and banks with winning bids may account for these repos as deposits. Additional liquidity facilities to 'secure uninterrupted credit flow to the corporate sector' will be provided by the CBRT. The total amount is projected to be 25% of funding needs. The table below shows liquidity coverage ratios for select Turkish banks. We note that TSKB has issued a eurobond since the start of this year.
Table 2: Liquidity coverage ratios (LCRs)


2019
2018
Bank
Overall LCR
FC LCR
Overall LCR
FC LCR
Akbank
198%
204%
216%
249%
Albaraka Turk
374%
368%
266%
302%
Alternatifbank
170%
244%
118%
169%
Turk Eximbank
675%
555%
210%
34%
Garanti
207%
207%
160%
157%
Halkbank
122%
395%
117%
115%
Isbank
183%
314%
123%
189%
Kuveyt Turk
370%
421%
240%
272%
Odeabank
405%
407%
219%
142%
QNB Finansbank
120%
176%
114%
159%
Sekerbank
129%
182%
191%
245%
Ziraat Bank
147%
496%
81%
121%
TSKB
126%
84%
262%
156%
Vakifbank
130%
502%
112%
265%
Yapi Kredi
190%
430%
136%
226%
Source: Company statements. Consolidated figures, except Turk Eximbank and Odeabank.
All FX reserve requirement ratios were cut by 500bps in March, for banks that 'meet real credit growth conditions'. CBRT estimated that this would release FX and gold liquidity of cUSD5.1bn.


In what appears to be a repeat of 2018 forbearance measures, until the end of this year, banks may use YE 2019 exchange rates in valuing foreign currency assets and the BRSA has suspended mark-to-market on securities (where classed as FVOCI, fair value through other comprehensive income) in capital ratio calculations. Given TRY weakness, this change will likely flatter banks' capital ratios. It may be that in 2018, requests from market participants mean that banks also disclose what capital ratios would be without regulatory forbearance.
Chart 1: TRY versus USD – 2020TD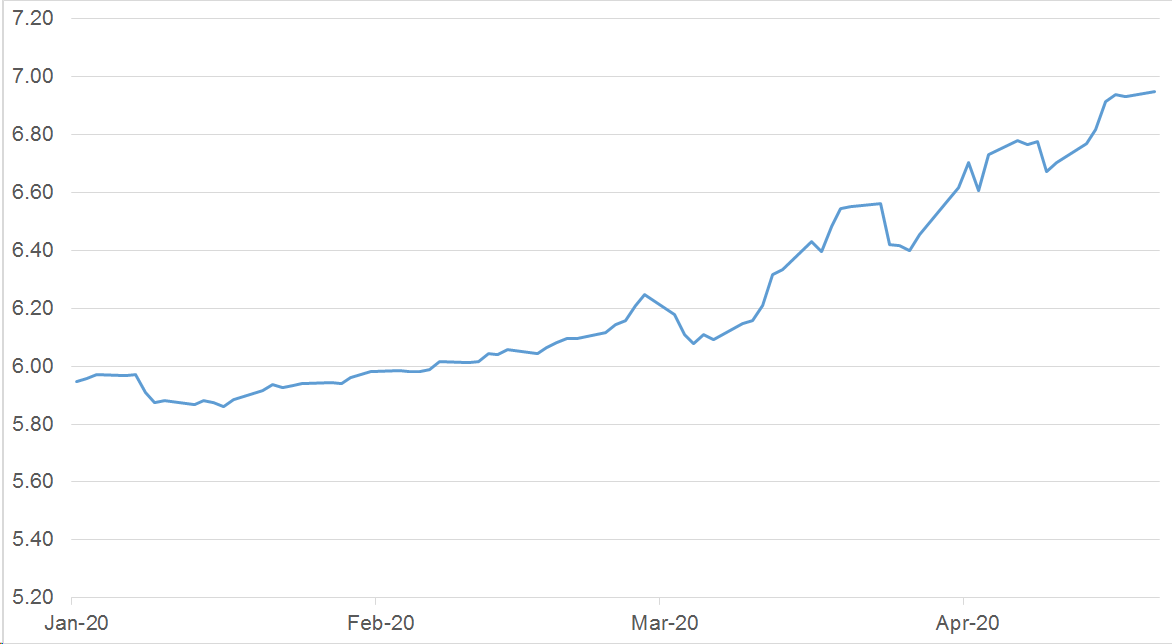 Source: Bloomberg 
It will now take longer for loans to be considered impaired. Loans will only be classed as non-performing (Stage 3) loans if at least 180 days overdue (rather than 90 days). If 90 days or more overdue, such loans will be classed as Stage 2. This also applies until the end of this year. This will clearly affect reported Stage 2 and Stage 3 loan ratios, as well as expected credit losses. As with capital ratios in 2018, it may be that banks disclose what these ratios would be in the absence of regulatory forbearance.


Turkey's Sovereign Wealth Fund, TVF, may invest in the debt and equity of 'strategic' non-financial companies in distress, according to Bloomberg. The strategic sectors include energy, telecommunications and infrastructure. This may have implications for asset quality and other metrics at banks which have exposures to these companies.


A TRY100bn 'Economic Stability Shield', which was announced by President Erdogan in March, will support individuals and businesses. This includes measures such as:

Postponement of VAT, income tax and accommodation tax payments in some sectors, postponement of easement and revenue sharing payments due from hotels, a delay in budget cuts at municipalities and rent flexibility at government-owned properties. Postponing tax payments could affect consumers' spending decisions. This may have an indirect impact on volumes and revenues (including fee income) at banks.
Minimum wage support of TRY75 per employee for about 7.8 million people, flexible and remote working, payment of up to 60% of salary for three months where business operations are impacted, increase in minimum pension payments, continued payments for untenured teachers and others, TRY1,000 payments to over four million families, increased notice periods and increased performance payments for healthcare workers. Taken together, these measures appear to be designed to limit the impact of the pandemic on consumers' spending habits and reduce potential unemployment. If successful, these measures should also help cushion the effects of the pandemic on Turkey's banks.
The size of the previously-established Credit Guarantee Fund has doubled and limits on credit insurance have increased. In addition, banks may defer principal and interest payments for companies facing challenges and the maximum LTV on houses worth up to TRY500,000 has been raised to 90% from 80%. State-owned lenders are extending emergency loans of up to TRY10,000 with maturities of up to three years, to families earning TRY5,000 a month or less, and loans may be provided to firms committed to staff retention.



Turkish banks have implemented their own measures related to the point mentioned above, including increasing limits on daily cash withdrawals and contactless payments. State-owned banks have said borrowers impacted by the pandemic may postpone payments by three months, and may restructure debt with a grace period of up to a year. Privately-owned banks including Isbank have put a number of measures in place including allowing clients to postpone payments due by April to June.


The CBRT cut the one-week repo rate by 1ppt on 17 March, to 9.75%. The next meeting is on April 22 and the Bloomberg consensus estimate suggests a rate cut of 50bps is expected. While this may lead to lower deposit costs at banks, rate cuts may also lead to reductions in loan rates at banks, especially at this time when there is pressure for banks to help limit the impact of the pandemic on Turkey's growth.