The CBRT held the one-week repo rate at 19% today, in line with the forecast of all but two of the 25 economists surveyed by Bloomberg. In the first MPC meeting since his surprise appointment on 20 March, Governor Sahap Kavcioglu signalled that he will not immediately ditch his predecessor's commitment to prudent policy.
The decision had been well telegraphed, with Kavcioglu attempting to ease investor concerns in a written response after his appointment by saying, "I do not approve a prejudiced approach to MPC decisions in April or the following months, that a rate cut will be delivered immediately" and that "we strictly adhere to the medium-term inflation target of 5%."
However, the MPC statement also contained dovish undertones. Guidance in the previous statement that the CBRT would keep policy tight "for an extended period" and that "additional monetary tightening will be delivered if needed" were removed. Instead, the statement promises to maintain the policy rate "at a level above inflation to maintain a strong disinflationary effect until strong indicators point to a permanent fall in inflation and the medium-term 5% target is reached."
While the statement appears to pledge a positive real repo rate, it leaves some room to cut from the current real rate of c2.8% and seems to shut the door on further hikes. The TRY has responded by trading slightly higher (c0.3%) at the time of writing, while equities were flat and 10-year eurobond spreads narrowed by c6bps.
While Kavcioglu has decided to stay the course for now, the bias towards looser policy is clear. Meanwhile, Erdogan has continued to trumpet the cause of lower rates, saying in a recent speech to AKP lawmakers that "we are determined to bring inflation, which has recently accelerated, down to single digits", but that "we are also determined to reduce interest rates to single digits."
Erdogan has also urged citizens to support the TRY, saying "I repeat my call to our citizens to bring gold and foreign currency they keep at home into the economy through financial institutions" and that citizens' gold and FX savings constitute the "national wealth". But Erdogan will struggle to lure residents back to the TRY with political interference at the CBRT on the rise. Following ex-Governor Agbal's dismissal, Erdogan also sacked Deputy Governor Murat Cetinkaya (no relation to the previous governor of the same name) and MPC member Omer Duman. This means that of the seven MPC members that oversaw the latest 200bps rate hike, only four remain.
The leadership reshuffle prompted US$2.4bn of non-resident outflows from domestic government debt and equities in the two weeks that followed. However, the bleeding stopped in the week through 9 April, recording US$30mn of non-resident inflows.
Strangely, dollarisation of resident deposits actually slowed in the wake of Kavcioglu's appointment, with resident FX deposits dropping by US$18bn in the three weeks following. However, this took place alongside a US$16bn drop in TRY-denominated deposits, pointing to capital flight from the domestic banking sector rather than a bona fide reversal of dollarisation trends.
The shuffle at the CBRT has also materially worsened Turkey's growth-inflation trade-off, requiring a tighter policy stance to maintain confidence in the currency and meaningfully raising inflation expectations (with the 10-year breakeven rising from 11.3% to 14.9% and the CBRT's survey for inflation 12-months ahead rising from 10.5% to 11.3%).
Meanwhile, net international reserves have continued to drop (from US$12.5bn to US$10.7bn in the week to 2 April) and progress on reducing the CBRT's swap liabilities has stalled. At the same time, current account normalisation appears elusive with imports continuing to grow by a robust 10% yoy in Q1 (albeit offset by a 17% rise in exports) amid rapid private sector credit growth of 29% in February (down from a peak of 43% in October).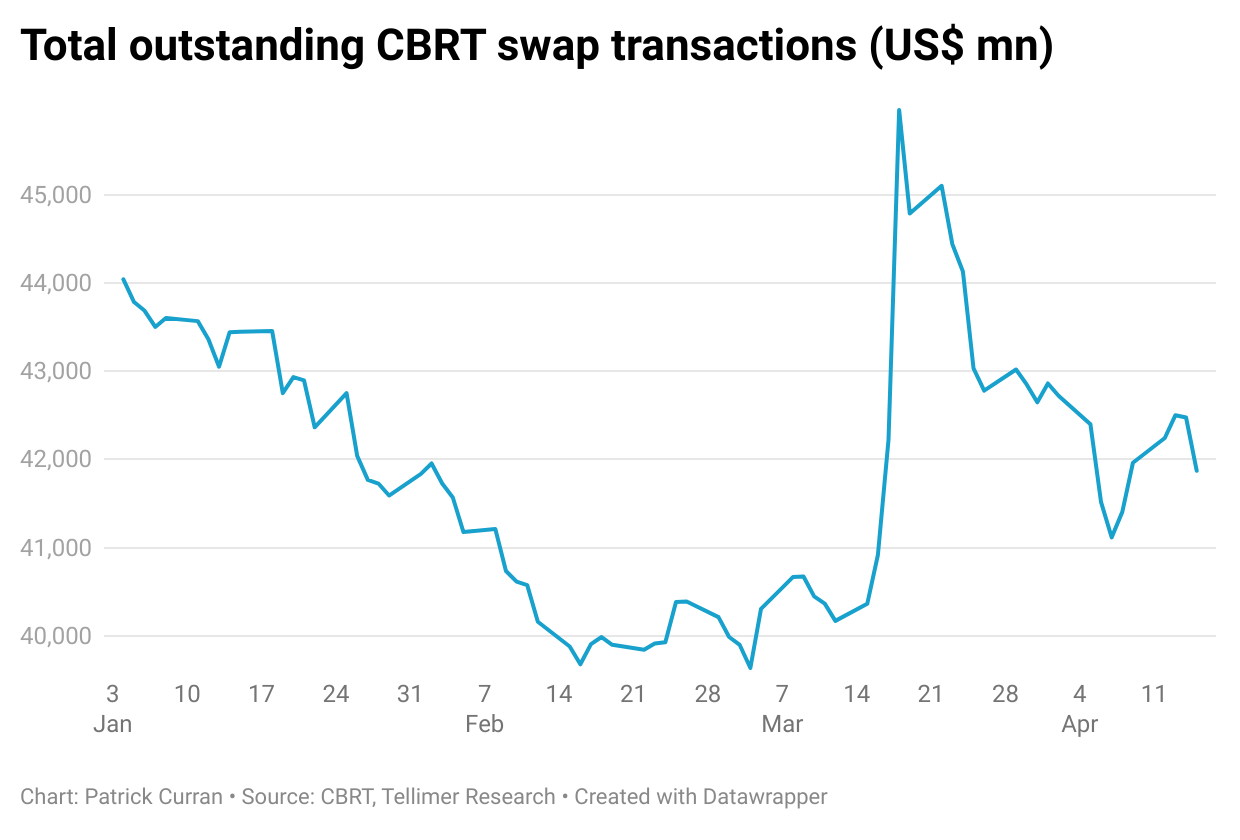 Against this backdrop, vulnerabilities are clearly still too high to be complacent. Loosening the monetary policy stance is likely to trigger further capital outflows, exacerbating external imbalances. As long as rollover rates stay near unity, then Turkey will be able to weather the crisis, but a hard stop in financing could trigger a BOP crisis.
If a BOP crisis emerged, Turkey would have four choices to solve it. 1) An IMF programme (unlikely given government resistance); 2) More swaps (a temporary fix and difficult given the size of the economy and swap liabilities outstanding); 3) Capital controls (unlikely given huge administrative hurdles and growth model reliant on foreign capital, with no controls for over three decades); 4) Tighter monetary policy stance.
The CBRT's current policy stance seems broadly appropriate, but it is hard to imagine Kavcioglu tightening if inflationary or external pressures continue to rise, and he must tread carefully to avoid a BOP crisis. Most of the heavy lifting has already been done since November under Agbal's leadership, but Kavcioglu must resist the temptation to cut rates before inflation has been put on a firm downward trajectory or he risks triggering a BOP crisis.
Turkey still has ample fiscal space to offset a monetary tightening, with the budget deficit widening only marginally from 2.9% to 3.4% of GDP in 2020 and gross government debt reaching a manageable 39.5% of GDP (though this likely understates the true magnitude due to contingent liabilities). That said, fiscal vulnerabilities are on the rise too, with the debt composition shifting towards shorter maturities and greater FX borrowing and interest payments rising to nearly 15% of government revenue (albeit mostly domestic).
The longer-term growth outlook has also worsened materially over the past 15 years, shifting from a brief period of TFP-led growth in the early 2000s to a credit-fuelled growth model since the GFC. Reforms to the business environment (simplifying entry/exit procedures, reducing barriers to competition and bureaucracy, etc) and labour market (improving education, boosting female labour force participation, etc) are essential to boost productivity and the long-term growth outlook, but Turkey has continued to move further from the efficient frontier under Erdogan's guidance.
Upgrade local currency to Hold and credit to Buy
The TRY is now just over 10% weaker against the dollar since Kavcioglu's appointment, while equities are c8% lower, 10-year T-bill yields are c3.6% higher, and 5-year CDS spreads have widened by nearly 100bps. That said, the sell-off appears to have lost steam and entered a fragile equilibrium as markets wait to see the path forward under new CBRT leadership.
After downgrading Turkish T-bills from Buy to Sell on 20 March, we therefore upgrade to Hold. With 12-month yields at nearly 17.5% versus 12-month inflation expectations at 11.3%, Turkey's real yields are still amongst the highest globally (barring Egypt). In addition, the TRY has already corrected sharply in the wake of the leadership reshuffle at the CBRT.
However, premature rate cuts by the CBRT would likely fuel another bout of selling, and it will be nearly impossible to regain the credibility clawed back under Agbal's short tenure. As such, upside for local currency debt and the TRY is limited, with any carry trade profits liable to be wiped out by future bouts of TRY weakness.
On the other hand, we think the sell-off in hard currency debt has created a compelling buy opportunity. Turkey's 5-year CDS spread has spiked by c100bps since Kavcioglu's appointment, and at c410bps is now almost double its South African and Brazilian peers. And at 510bps, Turkey's 10-year eurobond now trades in line with Nigeria and just inside Kenya (c530bps) and Egypt (c540bps), countries with even more elevated debt sustainability concerns and similar structural constraints.
While the economic outlook for Turkey is grim, in our view, the risks are now more than priced into Turkey's hard currency debt. To be fair, Turkey's CDS spread does not appear to be disproportionately high relative to its own history or its peers, having exceeded current levels following both the 2018 and 2019 central bank shuffles and the onset of the Covid crisis.
However, we do not think that Kavcioglu will revert to rate cuts as quickly or as sharply as former Governor Uysal did in 2019. While Kavcioglu's bias for lower rates is clear, early signs are that he acknowledges the need to maintain a tight stance and will not be in a hurry to fully reverse the rates cuts implemented under Agbal.
The policy and reform outlook is considerably worse than it was before Agbal's sacking, but now that the heavy lifting has been done on the monetary policy front, we still think it is better than it was in early November before Agbal was hired. And with CDS spreads in line with pre-Agbal levels and the debt sustainability outlook basically unchanged, we think there is some upside to Turkish credit. As such, we upgrade to Buy.
Related reading
Turkish lira plummets after central bank governor sacking; weakness to continue, 22 March 2021
Turkey central bank head goes as Erdogan spoils carry trade again; we downgrade, 20 March 2021
Turkish central bank surprises with 200bps hike, 18 March 2021
Turkey chartbook: Macro outlook improving but still fragile, 15 March 2021
Turkish lira is buckling under pressure, 9 March 2021
Turkey carry trade upgraded to Buy, 5 January 2021
Turkey hikes rates, solidifies shift towards orthodox policy, 24 December 2020
Turkey central bank delivers on rate hikes, 19 November 2020
Lira rally continues as Erdogan appears to make policy U-turn, 11 November 2020
Lira set for big moves amid leadership changes and central bank and MoF, 9 November 2020