President Erdogan initiated yet another leadership shuffle at the central bank (CBRT) on 25 May, replacing Deputy Governor Oguzhan Ozbas with Semih Tumen. This is the third major sacking at the CBRT in the past two months, with Erdogan firing Governor Naci Agbal and Deputy Governor Murat Cetinkaya in March. Four of seven MPC members have now been appointed in the past two months, effectively stacking the committee with Erdogan acolytes.
Semih Tumen is a labour economist with degrees from LSE and the University of Chicago, who previously worked at the CBRT in various roles from 2002-18 before leaving to serve as Head of Department of Economics at Ankara-based TED University and Advisor to the Human Resources Office of the Turkish Presidency. Though his qualifications are clear, his appointment serves as yet another example of the lack of independence at the CBRT and Erdogan's penchant for harmful overnight leadership changes.  
It is also concerning that Ozbas, who Tumen is replacing, has been a notable critic of unorthodox policy at the bank. Last November, before the appointment of Agbal as Governor, he criticised the CBRT policy of tightening by the backdoor, saying that it was "unnecessarily complicating the monetary stance." This provides a likely motive for his sacking, with Erdogan purging voices of dissent against his favoured policy of low interest rates as the key tool to fight inflation.
Markets have taken Ozbas' sacking in their stride, with the TRY falling 0.8% on the day versus a 0.2% decline in the JP Morgan EM Currency Index. With Agbal's removal in March effectively squandering whatever credibility the CBRT had managed to claw back during his short tenure in one fell swoop, markets have already priced in the lack of CBRT independence and are probably less concerned about leadership changes than they are about the direction of policy at the next MPC meeting on 17 June. Largely as a result of Agbal's sacking, the TRY has been the worst-performing EM currency so far this year.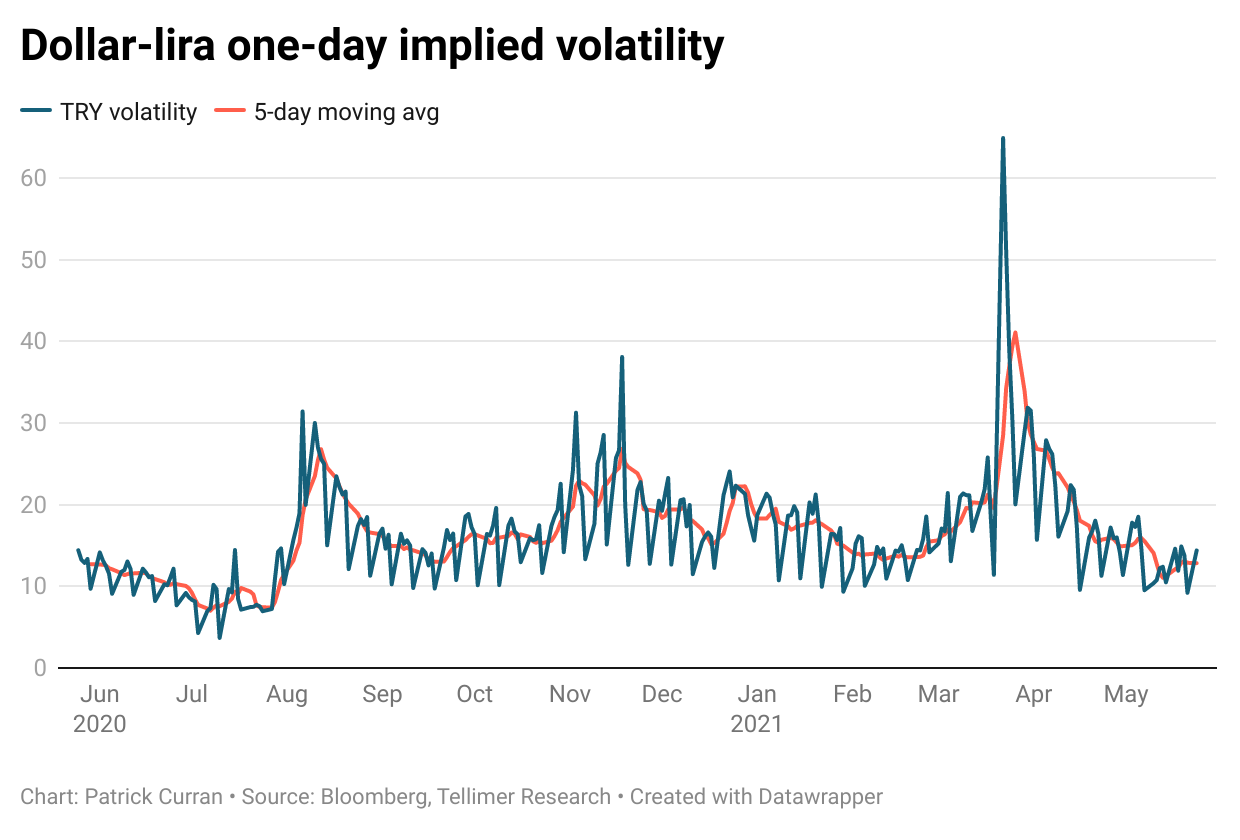 While Governor Kavcioglu has so far held steady at his first two MPC meetings since his appointment in March (here and here), his bias towards lowering rates is clear and we think it is only a matter of time before he delivers cuts. As soon as inflation is on a downward trajectory and the TRY is seen as sufficiently stable, Erdogan will expect the repo rate to be lowered, and if Kavcioglu fails to deliver then he risks becoming Erdogan's next victim.
Interest rate forwards are currently implying 1.1% of cuts in the next three months and 2.2% of cuts over the next six, while the April Bloomberg economic survey sees rates at 14.6% by the end of the year and 12% by the end of 2022 (from 19% currently).  
Interestingly, a Metropoll survey seems to indicate increasing dissatisfaction with Erdogan's erratic behaviour, with support for the AKP declining to an all-time low of 27% (excluding undecided voters) in April and Erdogan falling over 10 percentage points below potential rivals like Istanbul Mayor Ekrem Imamoglu and Ankara Mayor Mansur Yavas in terms of popularity. It is likely that the collapse of the TRY, driven largely by Erdogan's leadership changes, has been a key driver of this decline in support.
While TRY volatility has calmed since March, it is by no means out of the woods. A premature rate cut in June, before there is much evidence of a downward move in inflation, will likely spark a renewed selloff. Meanwhile, with US$9.2bn of public and private external debt maturing in June, pressure on the TRY could rise. And, while non-resident outflows have stabilised and historically low holdings help contain the risk of capital outflows, the TRY will still be at the mercy of swings in broader EM sentiment.
Net FX reserves also remain worryingly low at US$12.5bn as of 14 May, and despite a recent narrowing of the current account deficit it remains elevated at US$36bn on a rolling 12-month basis in March. Finance Minister Lutfi Elvan expects the deficit to narrow to US$22-25bn by the end of the year as Turkey's vaccination efforts progress and the tourism sector reopens, but such a rapid recovery is far from a foregone conclusion and external financing needs will remain high regardless.
The 17 June MPC meeting will be another watershed moment for the TRY. In the meantime, we maintain our Hold recommendation on domestic government debt (with 12-month T-bills trading at 17.70% on a mid-price basis and 12-month TRY:USD swaps trading at 21.07%), while we retain our Buy recommendation on Turkish credit (with five-year CDS trading at a spread of 403.5bps).
See here for the full trade rationale.
Related reading
Turkey: Central bank holds again, but easing bias still clear, 6 May
New central bank governor stays course, for now; upgrade debt ratings, 15 April 2021
Turkish lira plummets after central bank governor sacking; weakness to continue, 22 March 2021
Turkey central bank head goes as Erdogan spoils carry trade again; we downgrade, 20 March 2021
Turkish central bank surprises with 200bps hike, 18 March 2021
Turkey chartbook: Macro outlook improving but still fragile, 15 March 2021
Turkish lira is buckling under pressure, 9 March 2021
Turkey carry trade upgraded to Buy, 5 January 2021
Turkey hikes rates, solidifies shift towards orthodox policy, 24 December 2020
Turkey central bank delivers on rate hikes, 19 November 2020
Lira rally continues as Erdogan appears to make policy U-turn, 11 November 2020
Lira set for big moves amid leadership changes and central bank and MoF, 9 November 2020