The 10th anniversary of Tunisia's democratic transition (14 January 2021) was marked by the start of violent protests across the country, with many youths expressing outrage at the lack of economic opportunities and spiralling Covid cases that have pushed Tunisia's health system to the brink of collapse (with reports of oxygen shortages and intensive care wards stretched beyond capacity).
Tunisia's economic malaise is long in the making, driven by the economic dominance of its large and inefficient state-owned enterprises (SOEs) and a bloated public sector wage bill. Both of these problems are driven by the political clout of the unions and the inability of fragile and fragmented post-Arab Spring governments to credibly commit to reforms due to the lack of a decisive, coherent majority for either the moderate Islamists (Ennahda) or other political groupings (a mix of the ancien regime, technocrats, socialists) in Tunisia's post-Arab Spring political landscape.
Tunisia's economic and political outlook has deteriorated even more in recent months as hopes for an IMF programme have faded amid rising political tensions and social unrest, with months of tensions between President Saied and Prime Minister Mechichi (both independents), including a stalemate in which Saied refused for months to swear in four new ministers named by Mechichi. The standoff culminated in Saied's decision to fire Mechichi on 25 July and assume executive control for a period of 30 days, with little clarity on the path forward in the weeks since.
The public has generally reacted favourably to Saied's decision (he received over 70% of the vote in the October 2019 elections, and remains popular due to his image as a political outsider after a decade of mismanagement by Tunisia's democratically elected governments), but concern is growing with little progress towards a new government and rising evidence of authoritarian tendencies from Saied that threaten to undermine Tunisia's nascent democracy. Ennahda, which is the largest party in parliament (with 21% of seats), has called Saied's decision a "coup", but Saied has so far dismissed domestic and international calls for dialogue.  
Instead, he has continued to clean house, suspending parliamentary immunity, arresting four MPs (three of whom had expressed opposition to Mechichi's removal), placing restrictions on the movement of senior Ennahda officials, launching investigations into the finances of Tunisair, the national anti-corruption body, and of three parties (Ennahda, Qalb Tounes, and Aich Tounsi), sacking four governors, removing the ministers of finance, interior and communication technologies (in addition to the health minister, who he removed on 20 July), and launching a broad anti-corruption drive aimed at returning an alleged US$4.8bn of ill-gotten gains from 460 businessmen from unpaid taxes and fraud.
Against this backdrop, Tunisia's economic outlook continues to worsen. After deteriorating by a post-independence record of 8.6% last year, Tunisia's real GDP is expected to grow by just 2.4% this year and 2% on average from 2022-26. The World Bank also estimates an increase in the poverty rate from 14% pre-Covid to over 20% in 2020, and the unemployment rate has risen from 14.9% pre-Covid to 17.8% in Q1 21 (and is especially severe among women and youths).
Meanwhile, Tunisia's debt burden risks spiralling out of control, with public debt rising from 72% to 88% of GDP in 2020 (c6pp of which comes from a lower GDP denominator) and projected to reach nearly 100% of GDP by 2025. According to IMF estimates, Tunisia's budget deficit rose from 3.9% to 10.6% of GDP in 2020 amid falling revenue and additional government hiring, which pushed the public wage bill to 17.6% of GDP and 75% of tax revenue (among the highest in the world, versus non-oil EM medians of 8.7% and 51%, respectively).
Tunisia's large and inefficient SOE sector also undermines the competitiveness of its economy and creates a large fiscal burden for the government. Tunisia has over 100 SOEs, the top 30 of which have debt totalling 40% of GDP (of which 16% is guaranteed by the government, half of which is for the struggling state electricity utility, STEG). The government also transfers an average of c7-8% of GDP annually to SOEs (c40% of which is in the form of fuel, electricity and cereal subsidies), and there is also a large stock of circular arrears (with the government owing c9% of GDP to SOEs as of mid-2020 and SOEs, in turn, owing the government c6% of GDP).  
Financing Tunisia's large deficit has become increasingly difficult, with the government relying on the domestic banking sector and the central bank to fund much of its deficit post-Covid, increasing banks' already substantial links to the sovereign and exacerbating the risk of financial instability, rising inflation and currency depreciation (we recently flagged Tunisia as being at a particularly high risk of this). In the IMF's February Article IV, it notes that "Tunisia's public debt would become unsustainable, unless a strong and credible reform program were adopted with broad support."
And Tunisia's external financing outlook is also tenuous. Although reserves rose from a low of US$4.4bn in August 2018 to US$9.1bn by the end of 2020, they have since fallen to US$8bn in July (and have reportedly fallen further to US$6.8bn in early August due to several amortisations). Tunisia's import coverage of c4 months is not yet critical, but large external financing needs (with the IMF forecasting a current account deficit of c9.5% on average from 2021-26 alongside public amortisations of c4.5% of GDP over that period) will push reserves to critical levels in short order unless fresh external financing is secured.
However, much of Tunisia's external funding is likely linked to a successful IMF agreement. In April, Tunisia asked the IMF for a new programme that could be worth up to a maximum of US$4bn (435% of quota), with negotiations beginning in May. The programme was meant to "tackle decisively" the issue of public finances and debt and restructuring of subsidies, SOEs and the public wage bill. However, while the political crisis unfolds, there is little hope of a swift resolution to Tunisia's IMF negotiations, and President Saied will be unwilling to use his scarce political capital to tackle politically difficult items like wage and subsidy reduction at a time of turmoil.
Tunisia has relied heavily on the IMF in recent years, having agreed to a 2-year, US$1.75bn SBA in June 2013 (which was extended by six months to December 2015), a 4-year, US$2.85bn EFF in May 2016, and a US$745m RFI in April 2020. However, performance has been lacklustre, with both the SBA and EFF experiencing delays and waivers at every stage of the review process and ultimately expiring before completion (with just US$1.6bn disbursed under each programme and most structural reform benchmarks remaining unfulfilled). The EFF was cancelled when Covid hit in April 2020 and replaced with the RFI, with the understanding that a successor EFF would be sought after the initial crisis passed, so Tunisia's turn back to the IMF was expected (and, if anything, appears to be delayed).
While Tunisia has never sought a Paris Club restructuring and the previous government had continually insisted that it is not considering a debt restructuring, it is unclear whether that stance will be maintained another the new Saied-dominated government and it may ultimately be forced to default if it is unable to secure an IMF programme to fund its external financing gap. And, even if Tunisia does agree on a programme, there is a risk that the IMF and Paris Club may require a restructuring anyway. Indeed, on 8 July Fitch downgraded Tunisia's credit rating from B to B- with a negative outlook, saying that "In the absence of strong reforms, official creditors might consider a debt restructuring necessary before additional support can be extended."
But unlike Sri Lanka, which was unable to secure RFI financing due to an unsustainable debt burden, Tunisia received RFI funding last April. Further, the IMF's assessment in February flagged Tunisia's debt as being at high risk, but outlined a plan to set it on a sustainable path without restructuring. This suggests that the window has not yet closed to avoid default, unless the IMF's assessment of debt sustainability has materially changed in the months since. But the fact that a programme has not been secured c4 months after negotiations began shows that the IMF will need to see a credible commitment to reforms to be confident that debt is sustainable and extend funding, and the ongoing political crisis will make that a difficult hurdle to clear (although it was difficult before Mechichi's sacking, too).
The rest of this report takes a deeper dive into Tunisia's fiscal and external balances and reform options. We outline several possible scenarios and quantify the impact on its 2025 eurobond, which is the largest of Tunisia's three outstanding US$ instruments (with US$1.4bn of US$ debt, plus three EUR-denominated bonds totalling US$2.4bn and seven JPY-denominated bonds totalling US$1.75bn, totalling c18% of Tunisia's public external debt stock). We find Tunisia 25s to be slightly overpriced at a price of US$88.7 at cob on 11 August on Bloomberg, but assign a Hold recommendation given the potential upside if an IMF programme is secured.
Fiscal consolidation is urgently needed
Tunisia's fiscal accounts are at the heart of its economic crisis, leading to large fiscal and external funding needs. Without urgent and sharp fiscal consolidation, its debt will likely become unsustainable. In 2020, Tunisia's budget deficit expanded from 3.9% to 10.6% of GDP. This was driven by lower government revenue (dropping from 27.5% to 26% of GDP) and a spike in spending (from 31.6% to 37.5% of GDP). The former was driven by Tunisia's historically large recession, which weighed on tax revenue. The latter was driven mainly by increased hiring (c40% of which was in the health sector), which pushed the wage bill from 14.6% to 17.6% of GDP, partially offset by lower spending on energy subsidies and capex (which comprised just 17% of spending in both 2019 and 2020).
Overall, emergency Covid-related measures will reach a projected 4.3% of GDP from 2020-21, including 0.4% of GDP of foregone revenue, 2% of GDP of increased spending, and 2% of GDP of off-budget guarantees and financing for affected sectors. To finance the deficit, the government relied heavily on domestic financing sources, which provided 9.4% of GDP of financing versus just 1.2% from external sources. This included 2.5% of GDP of exceptional financing from the central bank (BCT), against its own wishes (the Central Bank law does not allow direct monetary financing).
20.8% of banking sector assets (including the BCT) are now comprised of claims on the government, up from just 16.1% at the end of 2019. Sovereign exposure totals over c25% of GDP for the banking sector as a whole, not including SOE loans (c17% of GDP and c9% of assets), with sovereign exposure especially concentrated in state-owned banks. Rising sovereign linkages, coupled with high NPLs and weak capital buffers, raises the risk of a banking sector crisis if the sovereign were to default (S&P estimates a total cost of US$4.3bn-US$7.9bn, equivalent to 55%-102% of the banking system's total equity or 9.3%-17.3% of forecast 2021 nominal GDP).
Furthermore, continued monetisation of the deficit by the BCT increases the risk of runaway inflation and currency depreciation. The BCT most recently held its benchmark interest rate at 6.25% earlier this month, but inflation has risen sharply from 5% yoy in May to 6.4% in July after two years of declining inflation (largely on the back of rising food prices), pushing the policy rate into negative territory.
BCT Governor Marouane El Abassi recently warned lawmakers that continued reliance on central bank financing will lead to "three-digit inflation", while a number of food and beverage producers from lobby group Utica have heeded President Saied's recent calls to reduce prices in response to rising food inflation (but will only be able to accept reduced margins for so long). Meanwhile, the IMF has urged the government to avoid monetisation of the budget and implement a roadmap to inflation targeting.
In 2021, the authorities expect the budget deficit to decline sharply from 11.5% to 6.6% of GDP (excluding grants), mainly on the back of the unwinding of temporary stimulus measures, a lower wage bill and reduced energy subsidies. However, the IMF said in February that the budget does not specify how the savings will be achieved, and excludes potential hiring plans totalling an estimated 0.5% GDP, arrears clearance totalling 1.5% of GDP that is still under review, and the impact of higher oil prices on fuel subsidies (with a budget baseline of US$45/bbl versus a ytd average of US$70/bbl). The IMF, therefore, projects a less ambitious 9.9% of GDP deficit (excluding grants), or 9.3% once grants are included.
This raises the prospect of large gross fiscal financing needs, which the IMF projects at 18.3% of GDP (US$8.1bn) once public amortisations are included (or 15.4% of GDP – US$6.8bn – by the government's own estimates). The authorities plan to meet 70% of its gross fiscal financing needs through external issuance, including a eurobond totalling 5.3% of GDP (US$2.2bn). However, without an IMF programme in place, official creditors may choose to withhold support and it will likely find itself locked out of the commercial market, potentially putting an even larger burden on the domestic financial sector and central bank.
Tunisia is in talks with the US on up to US$500m in aid for infrastructure projects and a loan guarantee to enable external issuance, ex-Finance Minister Ali Kooli told Reuters in May, but these too could be linked to the IMF programme. One US$500m bond guaranteed by the US government matured at the end of July, and another of the same size matured in early August. While guarantees from the US and Japanese governments have helped boost Tunisia's external funding prospects in the past, it remains to be seen if further guarantees will be so forthcoming in light of the ongoing political turmoil, potentially raising the stakes even further for the successful resolution to the crisis and IMF talks.
With public debt rising from 72% to 88% of GDP last year (excluding contingent liabilities of c16% of GDP and arrears of c9% of GDP), and projected to rise even further to 91% of GDP in 2021 and nearly 100% of GDP by 2025, fiscal consolidation is urgent. Even before contingent liabilities and arrears are factored in, Tunisia's debt stock far exceeds the B-median and IMF benchmark of 70% of GDP.
Conversely, the reform path laid out by the IMF in February aims to bring public debt below 85% by 2025 by improving the primary balance (excl. grants) from -8.2% of GDP in 2020 to +1.6% in 2025 (compared with a debt-stabilising balance of -3.3% of GDP under the IMF's reform scenario and -2.7% of GDP under the baseline scenario). This amounts to a c5% of GDP adjustment, excluding one-off arrears clearance and Covid-related measures, which is ambitious even under the best of circumstances.
The key fiscal reforms targeted by the IMF are to reduce the wage bill from 17.6% of GDP in 2020 to 14.5% of GDP by 2025, phase out energy subsidies (which fell from 2.8% to 1.3% of GDP in 2020 due to lower oil prices, but are projected to rise to 1.8% of GDP this year), reform loss-making SOEs, shift towards more equitable and growth-friendly taxation, eliminate BCT monetisation of the deficit and limit domestic financing below 2% of GDP annually, and clear the arrears of the social security system.
While reform prospects are bleak at the moment, Tunisia's budget deficit has actually contracted over the first five months of the year. Spending is down 3% yoy (versus a +6% yoy full-year target) while revenue is up 14% yoy (versus a +11% yoy full-year target), bringing the budget deficit to just 1.2% of projected full-year GDP versus 3% of GDP in the same period last year, which could help grant Tunisia some additional fiscal runway while its reforms are being negotiated. However, the decline in spending is due to lower capex, which is down 40% yoy and totals just 7% of spending through May, while wages continued to rise by 6% yoy (in 2020, the wage bill already absorbed nearly 3x as much as public investment and 6x the amount of spending on social programmes).
Large external financing needs are cause for concern
Tunisia's current account deficit continued falling from 11.1% of GDP in 2019 to 8.4% in 2019 and 6.8% in 2020. This was despite a decline in tourism revenue (Tunisia's biggest source of FX, totalling c5% of GDP and 10% of goods and services exports in 2019) from US$1.9bn (4.9% of GDP) in 2019 to US$700m (1.8% of GDP) in 2020, which was more than offset by a US$1.9bn (4.9% of GDP) improvement in the trade deficit (with exports down 8% and imports down 15% yoy, due to weak demand and low oil prices). 
The IMF sees the current account deficit widening to 9.5% of GDP this year and over 9% of GDP on average from 2022-26 as oil prices rise and import demand picks up, with tourism not expected to recover this year due to the Covid outbreak. Indeed, the trade deficit has widened from US$2.2bn to US$2.7bn in H1 21, with imports rising by 27% yoy and exports up by 30% yoy. However, the current account deficit has reportedly fallen on the back of strong remittances, reaching 3.4% of full-year GDP in H1 21 versus 3.9% in H1 20.
That said, after rising sharply from US$4.4bn in August 2018 to US$9.1bn at the end of 2020, reserves have fallen to just over US$8bn (equivalent to c4 months of imports) in July amid weak financing flows. The BCT says that reserves have fallen even further to US$6.8bn in early August on the back of a US$500m amortisation of US government-guaranteed debt, and there are another cUS$1.15bn of public FX-denominated amortisations due between now and year-end, which will be partially offset by a US$741m SDR allocation later this month. With a current account deficit projected to average US$4.5bn from 2021-26 and external public amortisations averaging US$2.25bn over that period, reserves could quickly drop to critical levels absent fresh financing flows. And while portfolio liabilities were a negligible US$2.1bn at the end of 2020, other investment liabilities were a massive US$40.7bn, raising the risk of capital outflows (with 110% of GDP of portfolio and other investment liabilities in total).
Overall, the IMF projects a current account "norm" of -4.3% of GDP versus a "cyclically-adjusted balance" of -7.7% of GDP in 2020, resulting in a "current account gap" of 3.4% of GDP. This translates into a REER overvaluation of 5-10% (see here for an explanation of exchange rate valuation using this method), with the IMF, therefore, advocating for further exchange rate flexibility as one of its key reform pillars.
Tunisia's external outlook moving forward will also hinge critically on its tourism recovery, which is unlikely this year with Tunisia's emergency wards stretched to capacity amid a fourth wave of Covid (although new cases have declined sharply in recent weeks). Tunisia has stepped up its vaccination drive of late, with 12% of its population fully vaccinated and a goal of vaccinating half the population by mid-October, but it will still be a long time before any sense of normalcy can be restored. The external outlook will also be tied to the economic outlook of the EU, which is Tunisia's key trading partner (76% of exports and 62% of imports in 2019) and a key source for remittances, tourism and FDI.
IMF programme likely needed to avoid default
Taking everything into consideration, an IMF programme appears increasingly necessary if Tunisia is to avoid a restructuring. While Tunisia may be able to muddle through with a homegrown consolidation programme, it needs fresh sources of external funding to meet its large fiscal funding needs without placing an undue burden on the banking sector and BCT and to meet its external funding needs without drawing reserves to unsustainable levels.
Ex-Prime Minister Mechichi's economic advisor said that technical talks between Tunisia and the IMF began on 18 May, and were expected to be concluded by the end of June or July. This was confirmed by the IMF in its 20 May press conference, with the Fund saying that "we have received the request" and that "technical discussions are currently focused on understanding the details" of its economic reform plan. However, with Mechichi's government now gone, it is unclear what the status is, and discussions will almost certainly be delayed until a new government has been formed (the President has until 24 August to do this, but it could be subject to delays as talks don't seem to have yet started).
In addition, with weak performance and numerous delays and modifications under the previous two IMF arrangements, the IMF is not likely to grant Tunisia a programme without meaningful prior actions. And, if debt is assessed to be unsustainable, it could require a restructuring (or commitment to one) before a programme is agreed. During its February assessment, the Fund assessed that "public debt would become unsustainable unless a strong and credible reform program were adopted with broad support," adding that "Debt sustainability risks are compounded by SOE contingent liabilities and guarantees, financing risks, and REER overvaluation. A course correction is therefore urgently needed." This shows have quickly things have deteriorated since the RFI request last April.
As a first step, Tunisia needs to have a government in place to facilitate IMF talks. But even if President Saied is able to form a new coalition government, it is unclear if it will have the will or mandate to credibly commit to the IMF's reform and policy anchors. Presidential and parliamentary polls are not due until late 2024, but some Ennahda members are reportedly calling for snap elections. That said, Ennahda leader Rached Ghannouchi struck a more conciliatory tone this week, saying that "We will support President Kais Saied and do what contributes to his success," raising the prospect that dialogue could lead to a new government. But in the meantime, IMF talks will be on hold, and it remains to be seen if the government that emerges will be able to secure a programme.  
Without an IMF programme, Tunisia's best hope would be a bilateral "bailout" to buy time to muddle through. But it is unclear where this support would come from. In the past, Tunisia has been able to rely on its status as the only democracy to emerge from the Arab Spring to attract official financial support from the West (including debt guarantees from the US), but with the political crisis underway, support may not be so forthcoming. As a former French protectorate, French President Macron could choose to champion the cause, but the case of Lebanon shows that France won't simply provide a blank cheque without a credible commitment to reforms (although Lebanon is more of a basket cast, so France's willingness to support Tunisia could be higher). This, in turn, could hinge on IMF backing, and potentially even require a debt restructuring if the IMF considers debt to be unsustainable (see above).  
That leaves non-traditional bilateral creditors, including China, the UAE and Saudi Arabia. As a country without significant ties to China's Belt and Road Initiative, with no clear implications on China's domestic security, and which is not a key resource exporter, it is unlikely that Tunisia is of enough strategic importance to warrant a bailout from China (à la Angola last year). Saudi Arabia and the UAE may be more promising, though. Both countries claim Ennadha has links to the Muslim Brotherhood, whose Islamist political agenda they have disavowed in the wake of the Arab Spring. As the only democratic country still remaining, Saudi Arabia and the UAE may therefore back President Saied as a way to quash political Islam once and for all. As such, support from the Gulf likely represents Tunisia's best chance of securing funding to muddle through without IMF backing.
Tunisia stands at a fork in the road
The IMF outlined two possible paths for Tunisia, including a baseline path in which fiscal consolidation is steady but slow and the current account deficit remains elevated, keeping growth below 2% while public debt rises towards 100% of GDP and reserves fall below two months of imports. Conversely, the IMF's reform programme (detailed throughout this note – see here for a full summary) sees a more ambitious consolidation of the fiscal and current accounts, pushing growth towards 3% of GDP and stabilising public debt at 85% of GDP and reserves at c4 months of imports.
Overall, we think restructuring is inevitable for Tunisia without an IMF programme in place to unlock fresh financing and backstop its difficult reform agenda, unless it secures a bilateral bailout (which will only kick the can down the road for a bit longer if it is not followed by ambitious reforms). Indeed, both our debt sustainability and external liquidity scorecards flag Tunisia as being at particularly high risk, making it one of the six countries most likely to default this year, by our estimates. 
However, with the current political crisis pushing IMF negotiations and reforms to the backburner, it will be difficult to agree to a programme in a timely fashion (and, indeed, the new government may not want to, with President Saied typically expressing less conservative economic views than the ousted prime minister and the Ennahda party).
Using the IMF's scenarios as our baseline, we lay out several possible scenarios for Tunisia:
Scenario 1: IMF programme is secured, and the government broadly sticks to reform targets;

Scenario 2: IMF programme is secured, but with slippage and delays on reform programme;

Scenario 3: No IMF programme, but Tunisia muddles through with bilateral support;

Scenario 4: IMF programme is secured, but restructuring is required; and

Scenario 5: No IMF programme, eventually pushing Tunisia into "hard default".
We assign a 20% probability of default for Tunisia (roughly in line with the market's implied 19% probability), split between scenarios 4 and 5. We also assign a 65% probability that an IMF programme will eventually be secured, split between scenarios 1, 2, and 4. Our base case is for either an eventual IMF programme but with reform slippage (scenario 2 – 30% probability) or a continued muddle through as the political crisis delays negotiations (scenario 3 – 30% probability).
In scenario 4, we assume the restructuring will take place based on projections in the IMF "reform" scenario, and estimate that haircuts of c20% will be required to achieve the 70% public debt/GDP benchmark by end-2025 (assuming domestic debt is excluded due to relatively low stock and attendant financial stability risks). We also include a 3-year maturity extension and grace period to cover the length of the IMF programme, but assume that no further cashflow relief will be required (reserves are already projected to stay at the c4 months of imports benchmark in the reform scenario).
In scenario 5, we take the IMF's baseline scenario as the starting point (ie assuming no reforms) and find that haircuts of c45% would be required on external debt to bring total public debt to the 70% of GDP benchmark by 2025. We also assume that cashflow relief will be required to boost reserves to cUS$10.5bn by 2025 (in line with the IMF's forecasts for 4 months of imports coverage). This would require US$5.8bn of relief, which could be achieved by increasing the maturity extension and grace period on bilateral and private external debt by one year to cover the 2022-25 period.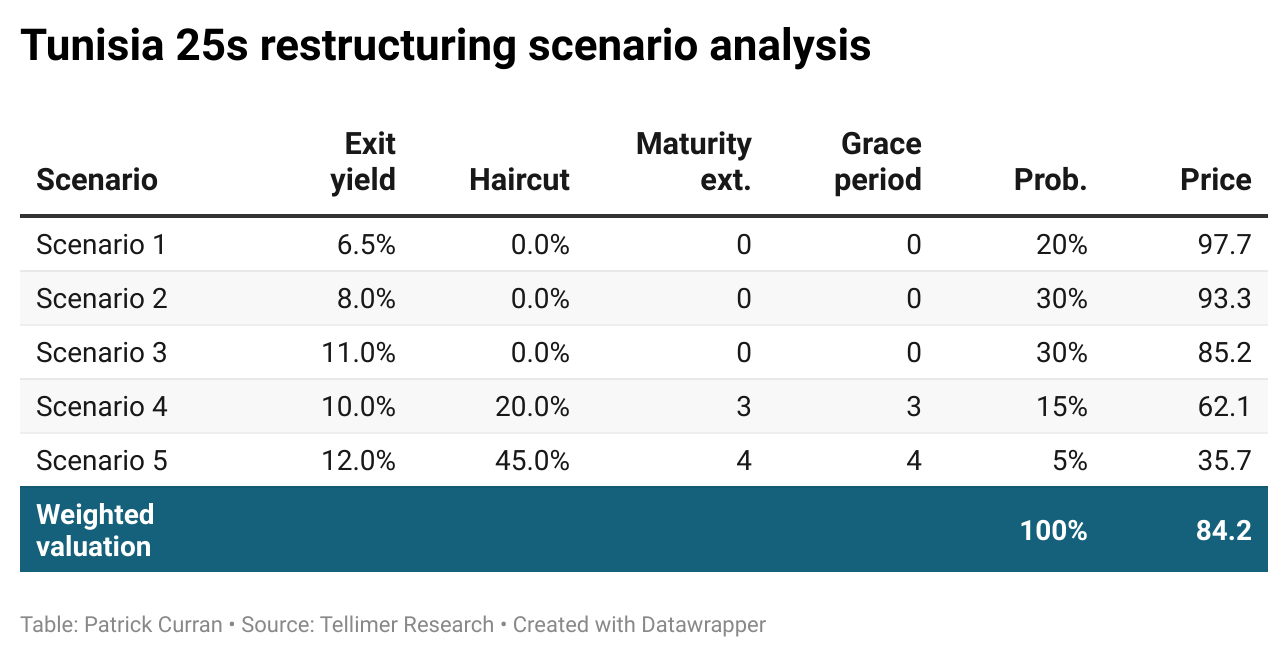 We find a weighted valuation of cUS$84, which is c5% below the current price of US$88.7 on the Tunisia 25s. This implies some downside relative to the current price. We see parallels between Tunisia and El Salvador, which was seeking an IMF programme but had negotiations stall due to political issues as well. In El Salvador, yields on its 2025 eurobonds have spiked from c10% to c11.5% in recent weeks, illustrating the potential downside in the near term if an IMF programme is not secured.
However, there could also be some material upside if the political crisis is resolved and the new government agrees to an IMF programme in a timely manner, which could push bonds up by c9pts based on an exit yield of 6.5%, which is around where Tunisia traded pre-Covid and represents a c1% premium on the Pakistan 25s (Pakistan entered an IMF programme with similarly high levels of public debt and low reserves, and is currently struggling to meet its targets amid higher than budgeted subsidy payments and political turmoil, making it an apt comparison for Tunisia if it secures a programme).
Despite a fair value estimate below current pricing, the potential IMF catalyst makes us wary to assign a Sell recommendation, as it provides some notable upside (even if it takes some time, as is likely). As such, we initiate a Hold recommendation on the Tunisia 25s, and will consider downgrading to Sell if willingness or ability to secure an IMF programme deteriorates in the coming month (including if the political crisis looks like it will prolong government formation beyond the end-August deadline), or upgrading to Buy if there is evidence of solid progress towards a programme.
Related reading
Tunisia democracy fails again, July 2021 (Hasnain Malik)
Jobs matter more than votes: ESG pointers from Tunisia and Lebanon, January 2021 (Hasnain Malik)
Tunisia: Fractious politics gets in the way again, July 2020 (Hasnain Malik)