20 May 2021
Quantitative Analysis /
Global
This is what our model predicts for Gold, and its correlation with Bitcoin
James Huckle
Quantitative Analyst @ Tellimer Research
20 May 2021
A 10-15% fall in gold is likely to attact strong buying, it has underperformed the S&P 500 since 2019
A 3-year correlation of 73% with S&P 500 goes against the historical narrative that gold is used a safe haven asset
Gold and Bitcoin have positive 3-year rolling correlation, lending credence to Bitcoin's nickname as digital gold
20 May 2021
Machine-learning forecast
Gold had a volatile day on Wednesday and is US$1,859 per ounce at the time of writing. Our machine learning model forecasts a drop to US$1,597 over the next five months – representing a 14% decrease from current levels. However, it suggests this is likely to mark the bottom of the current flag pattern. A bounce is expected to occur at the start of 2022, with the final 12-month projection sitting at US$2,015 – an 8.4% increase from current levels.
Gold performance
YTD: -2.1%

Last 12-months: +6.7%

Distance from all-time high (set in Aug 2020): -10.3%
Gold vs S&P 500
Performance
Gold has underperformed the S&P 500 since 2019, with it appreciating 47% vs 63% for the S&P 500. However, gold has outperformed the S&P500 on a risk-adjusted basis with it having an average Sharpe ratio of 1.11 vs 0.97.
Gold vs S&P 500 correlation (6-month rolling)
The short-term correlation between gold and the S&P 500 is currently at -61%, well below the average since 2009 of 4%. This means that gold has broadly moved in the opposite direction to stocks over the past 6-months and that generally, there is not a strong correlation over the 6-month time horizon.
Gold vs S&P 500 correlation (3-year rolling)
The longer-term correlation is much more robust, with gold and the S&P 500 currently having a 73% correlation over the past 3 years. This somewhat goes against the historical narrative that gold is used as a safe haven asset and is generally considered to be inversely correlated to stocks.
Gold vs Bitcoin "digital gold"
Performance
Despite Bitcoin's recent 29% "flash crash", it has outperformed gold in absolute terms, producing an 814% return vs gold's 47% return since 2019. Despite the extreme volatility, Bitcoin has still managed to outperform gold on a risk-adjusted basis too, with it having an average Sharpe ratio of 1.57 compared to gold's 1.11, since 2019. The current market conditions for crypto make it less certain that Bitcoin will continue to outperform gold over the next 6-months on a risk-adjusted basis.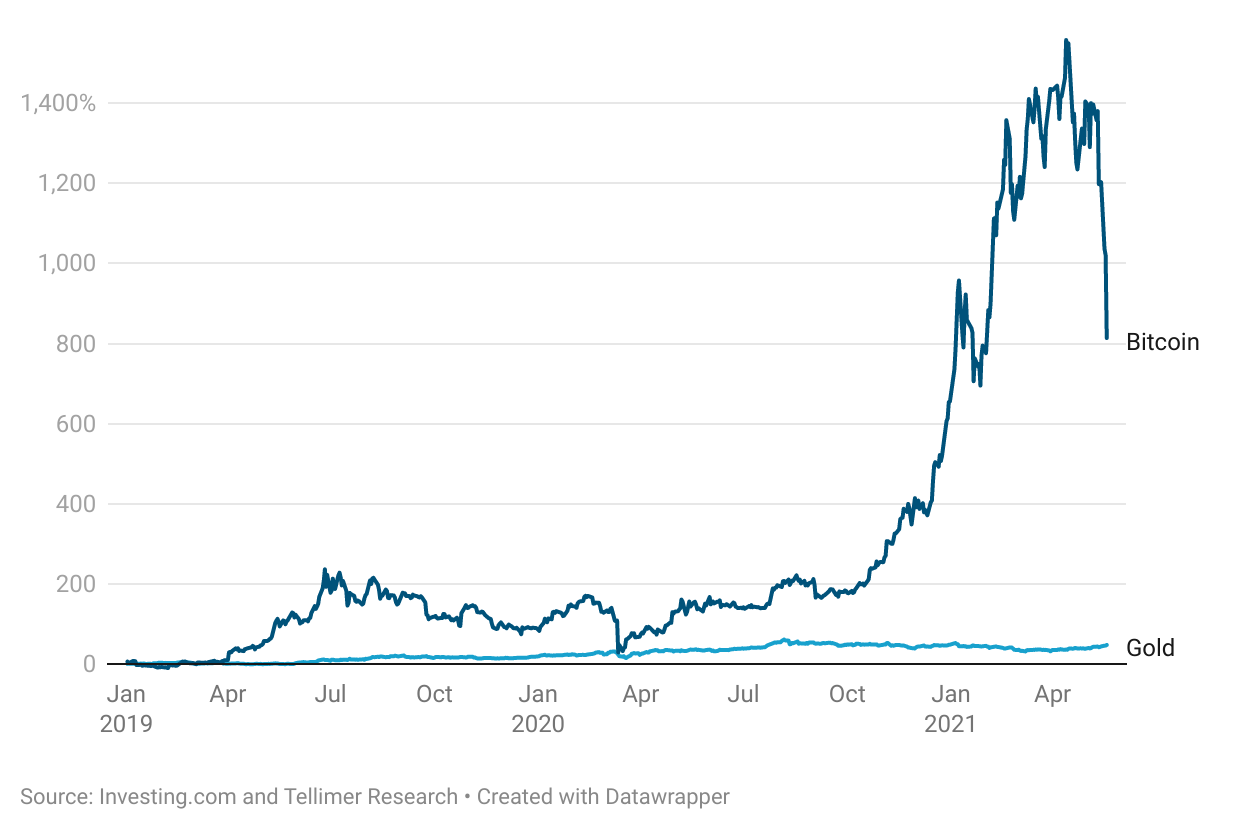 Gold vs Bitcoin correlation (3-year rolling)
Gold and Bitcoin have a consistently positive 3-year rolling correlation, perhaps lending credence to Bitcoin's nickname as digital gold.
---
Disclosures
This report is independent investment research as contemplated by COBS 12.2 of the FCA Handbook and is a research recommendation under COBS 12.4 of the FCA Handbook. Where it is not technically a res...
Full Tellimer disclaimers