Continuing our series on the risks and opportunities in the key fintech markets, we focus here on India, drawing on the results of three proprietary surveys we conducted in the country of 20 fintechs, nine incumbent firms and 100 consumers, allied to desk research into a total of 533 local fintech firms.
In this report, we examine the current fintech landscape in India, identify fintech success factors, assess future strategies, innovations and growth constraints, and gauge the impact fintechs are having on their customers. We also study listed financials, telecoms and technology sector incumbents in the country to assess how they are responding to the fintech threat. And, lastly, we analyse the results of our survey of Indian consumers to ascertain their current financial product preferences and future expectations, and what that means for the future of Indian finance.
A snapshot of India's fintech landscape
Source: Tellimer Research, Crunchbase
We conclude that India's fintech ecosystem is benefiting from strong funding flows, especially from the US and China. Its top-tier fintechs are of a good size, demonstrating the upside potential when strategy and execution combine. An area of relative weakness, though, is 'fintech density'; India has fewer fintechs per capita than other EMs. Customers say they value Indian fintechs for product quality, faster approvals and increased security.
Looking ahead, Indian fintechs are likely to grow their businesses through 'financial inclusion' – gaining customers who are currently excluded from the formal financial sector. Top growth strategies include expanding into new countries, investing in technology and boosting operational efficiency. Planned innovations include use of cloud technology, digital banking and chatbots/ virtual assistants. Major growth constraints are funding access, the long-term effects of Covid-19 and distribution capacity.
The fintech landscape in India
After China, India is one of the largest fintech hubs in emerging markets. The multiple factors supporting the development of India's fintech industry include banking sector inefficiencies and a burgeoning young adult population, allied to improving internet access and smartphone penetration and a fast-growing e-commerce marketplace. Government initiatives to boost financial inclusion (such as the National Strategy for Financial Inclusion 2019-24) have also proved to be supportive.
In common with other EMs, payments and lending are the main fintech product areas. However, relative to other countries, India's fintech industry has a greater weighting towards investech companies such as: Sqrrl, a mutual fund app with a minimum investment of INR100 (cUS$1.35) per month; Scripbox, which uses algorithms to select mutual funds that best fit a customer's investment profile; and KredX Early, a cloud-based platform that maximises returns for corporates while helping their suppliers secure early payment.
Fintech sophistication
We have assessed India's fintech ecosystem across several metrics including fintech density, scale of fintechs, ecosystem diversity & profitability, funding access, positioning and strategy. Performing the same exercise in six other emerging markets (Brazil, China, Indonesia, Kenya, Mexico, South Africa) allows us to position India on a relative basis.
India ranks third overall on the level of fintech sophistication across seven assessed EM markets (behind China and Brazil). Its fintechs are benefiting from US and Chinese investment (though the latter seems under threat from politicians), and the country secured the largest single EM funding ticket last year (US$1.7bn in One97 communication, the parent company of Paytm, a payments fintech in India). Facebook's US5.7bn investment in Reliance Jio is also noteworthy, particularly given its recent go-ahead to provide payments services in India via WhatsApp.
India's top-tier fintechs are of a good size, demonstrating the upside potential when strategy and execution combine. Diversity of the fintechs (gauged by the proportion of fintechs other than payments and lending) and their profitability (% of fintech companies currently in profit) are in line with other EMs. An area of relative weakness is fintech density; India has fewer fintechs per capita than other EMs.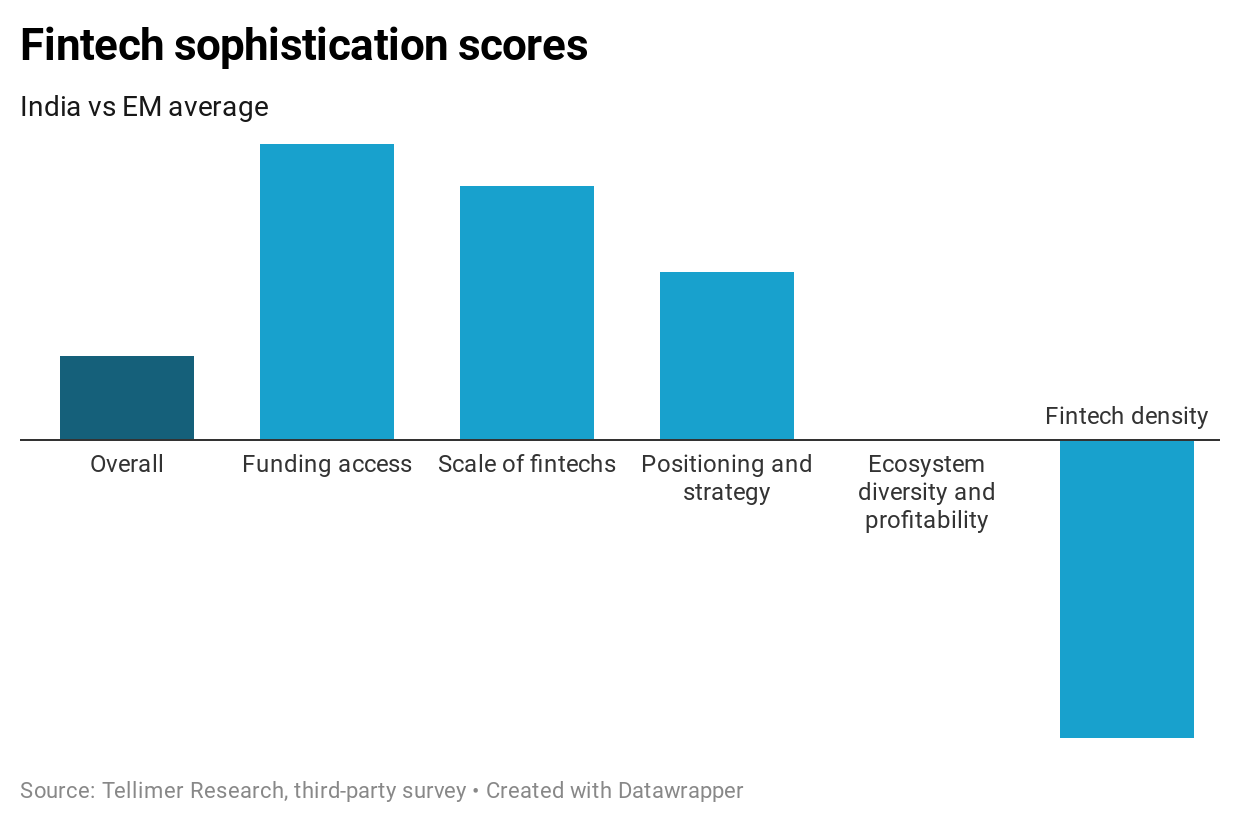 Funding analysis: Indian fintech is firmly in investors' sights
India ranked as the top emerging market in terms of the value of investment received in 2019 (US$3.6bn) but ranked second in terms of transactions, with 125 deals disclosed in the year. Notably, 40 Indian fintech firms raised more than US$5mn each in the year. Bear in mind that India's data was boosted by the largest individual EM fintech transaction last year, a US$1.7bn series G investment in One97 Communications led by US asset manager T. Rowe Price. The investment was raised to fund the expansion of Paytm's payments business and to fight back against international giants such as Google, Walmart's PhonePe, and Facebook. Other large deals were also focused on the payments sector, or on lending.
Reasons for the strong investor interest in Indian fintech include the country's massive population and growing adoption of technology, which in many ways mimics China several years ago, when it was in an early stage of fintech development. For Western investors, India also carries much less political risk than China.
Indian fintechs' customer value-proposition: quality products, fast approvals, security
The top fintech values, according to our survey of Indian fintechs, are product quality, faster approvals and increased security. In contrast, convenience, which is a factor often cited by fintechs in other emerging markets, was not cited as frequently by Indian fintechs.
Product quality is a catch-all term, in our view, which includes factors like ease-of-use, product innovation, seamless execution and speed of service. This may explain why it is mentioned as the top value by both fintechs and consumers. Indian fintechs that mentioned product quality as their key value proposition include ZestMoney (lending) and Savart (investech).
Faster approvals: This is the second most important value cited by Indian fintechs. Fintechs can bypass the legacy systems used by incumbents that require human interaction. They may also be less constrained by compliance checks. We think fintechs will need to keep progressing on this front as incumbents are also working to up their game. Zerodha (investech) and Karbon Card (lending) are among the fintechs that mentioned faster approvals as a key value they provide.
Increased security: Cybersecurity is a key concern for the financial services industry; both fintechs and incumbents need to continually enhance their security protocols to protect consumer data. Blockchain technology can improve transaction security, making it more difficult for hackers. Fintechs that mentioned increased security as one of their key values include Zerodha (investech) and Faircent (lending).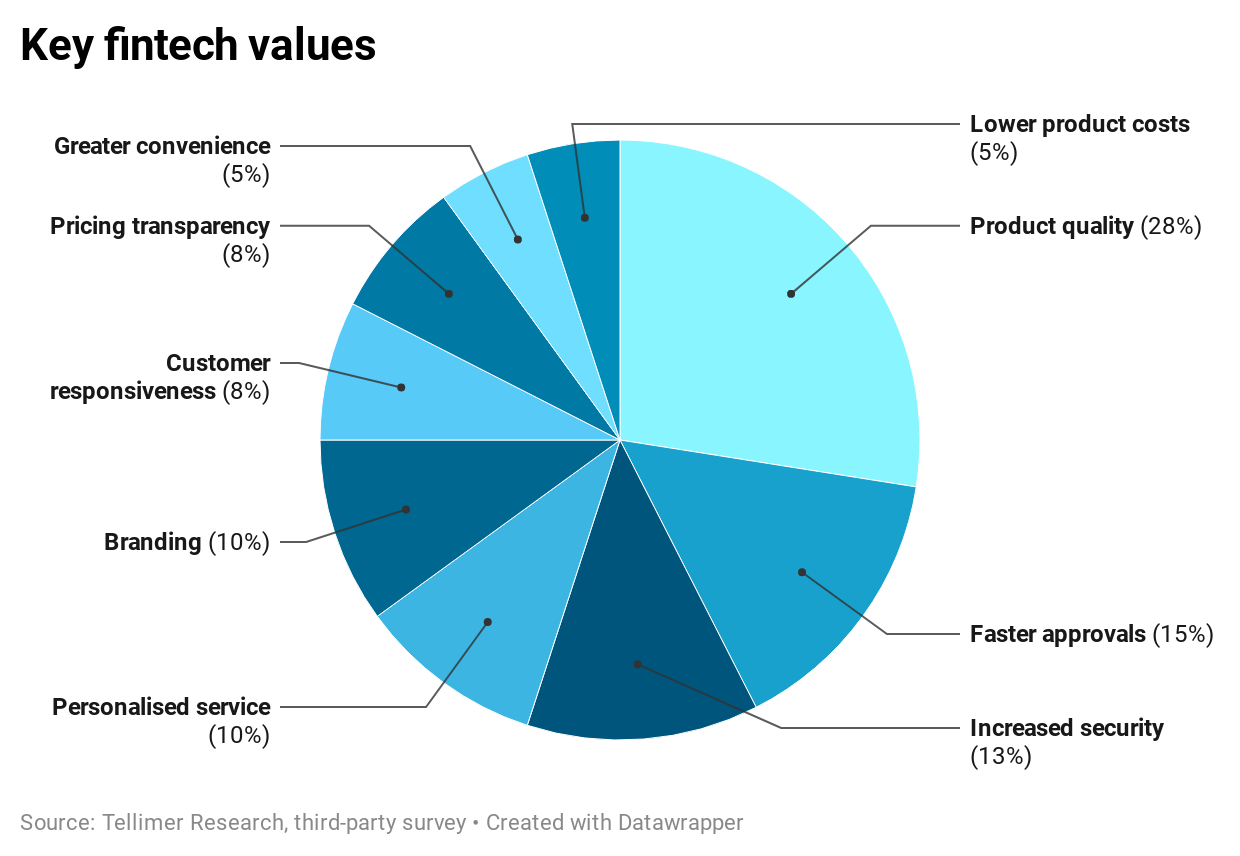 Key factors for fintech success: competitive pricing, efficient operations, management expertise
In common with our findings in other emerging markets, the top 3 success factors cited by Indian fintechs are competitive pricing, operating efficiency and management expertise. In addition, funding access, unique offerings and operational efficiency are also considered important.
Competitive prices. This reflects customers' price-sensitive mindset; our survey indicates that pricing is a very important factor in the purchase decision for 69% of Indian consumers. Fintechs can offer low prices given their greater automation and focus, use of outsourcing, and innovative distribution solutions. Companies citing competitive prices as a key success factor include Zerodha (investech) and ZestMoney (lending)
Operating efficiency. Fintechs, particularly in payments and lending, consider operating efficiency as a key success driver. Automation saves costs and facilitates faster customer service. Capital Float (lending) uses machine learning to efficiently check customer credit profiles; around 80% of the work is fully automated, improving decision-making speed and lowering costs. Coverfox Insurance (insurtech), has created an AI-driven chatbot that assists its customers during both the buying stage and the post-sales process. This reduces its operational costs, and helps customers select an insurance plan that better fits their needs.
Management expertise. This is particularly important for blockchain fintechs (due to challenges in implementation), and investech firms (where developing the products to match clients' and regulators' needs benefit from extensive industry experience). Companies mentioning management expertise as a key success factor include Savart (investech) and Rental Coins (blockchain).
Fintechs' future plans: geographical expansion, technology investment, better efficiency
The top 3 future strategies for Indian fintechs are expanding into new countries, technology investment and increasing operational efficiency. Compared to the other emerging markets, India fintechs are less focused on introducing new products and entering new customer segments. 
Expanding into new countries. Domestic success and strong opportunities in other Asian markets are encouraging Indian fintechs to seriously consider expanding their geographic footprints. This goal can be achieved in various ways, such as through strategic partnerships or launching own-branded services. Fintech firms citing this strategy include ZestMoney (lending) and Billdesk (payments).
Technology investment. Technology like ML and AI can improve the speed, cost and quality with which services are delivered to consumers. Razorpay (payments) and Indifi (lending) are among the Indian fintechs planning more technology investment.
Increasing operational efficiency. Operational efficiency allows companies to boost their bottom-line and also enables competitive pricing. Fintechs targeting operational efficiency include Billdesk (payments) and Zerodha (investech).
Fintech innovation is focused on cloud technology, digital banking and virtual assistants
Looking at planned innovations over the next three years, Indian fintechs are most focused on cloud technology, digital banking and chatbots/ virtual assistants. This is broadly in line with what we see in other emerging markets.
Cloud technology. Fintech companies can use cloud technology to store and protect data and to host services; it can reduce both operating costs and operating risk. Indian fintechs planning to make more use of cloud technology include ZestMoney (lending) and Razorpay (payments).
Digital banking encompasses the full suite of products offered by traditional banks, but via digital channels. By adopting this approach, fintechs are simultaneously trying to capture a greater share of existing customers' wallets, and also to attract new customers to the franchise. Fintech companies that have digital banking in their innovation plans include Acko (insurtech) and Financepeer (lending).
Chatbots and virtual assistants help enhance the customer experience by automating customer service/education. Chatbots and virtual assistants are already being used by many fintech companies to improve customer experience and reduce the need for human intervention. Fintech companies with plans in this area include Zerodha (investech) and Acko (insurtech).
Market share shifts: fintechs will likely gain share through improved financial inclusion
In our consumer survey, we asked them which types of providers were meeting their current financial services needs, and which ones they expected to be using in three years' time. The responses provide a customer-centric perspective of future market share shifts. The data suggest fintechs are likely to gain 5ppts market share in next three years, mainly from customers who are currently excluded from the formal financial sector. Traditional financial institutions are likely to lose around 1ppt market share. The data suggest fintechs and traditional firms are not likely to compete head-on in the near term; instead fintechs are helping to grow the overall market.
Key constraints to fintech growth: funding access, Covid-19 lockdowns and distribution capacity
Funding access, the long-term effects of Covid-19 and distribution capacity are the key growth constraints cited by Indian fintechs. Compared to fintechs in other emerging markets, Indian fintechs appear more concerned about Covid-19 and funding access, and less worried about the size and growth of the overall market.
Funding/capital. Depending on the business model they employ, funding can be the lifeblood of lending fintechs, but it is also important for fintechs active in payments, investech and insurtech. Recent funding flows have declined due to the coronavirus outbreak, exacerbating the problem. Fintechs citing this constraint include Acko (insurtech) and Savart (investech).
The long-term effect of Covid-19 can be detrimental to the overall growth of the economy and hence can negatively impact the fintech sector, although some sub-sectors like payments are currently benefitting from Covid-19 lockdowns. Companies citing this factor as a growth constraint include Zerodha (investech) and Financepeer (lending).
Distribution capacity. Smaller/ newer fintechs, like those in the insurtech sector, can struggle due to a lack of distribution capacity, particularly if they have been unable to develop partnerships with established companies or agent networks. For example, blockchain is still in its infancy, which is why many blockchain companies have failed to partner with agent networks. Fintech companies citing this growth constraint include Pine Labs (payments) and SanKash (lending)
Fintech regulatory hurdles: capital requirements, know-your-customer, anti-money-laundering
In terms of regulations, capital requirements and KYC/AML are the main hurdles for Indian fintechs. In contrast, in other EMs, deposit insurance and data protection typically carry more importance than in India.  
Capital requirements. Particularly outside of lending, fintechs tend to favour-capital-lite business models; any regulations that challenge this approach can have a serious impact on business models. Fintech companies that cited this regulatory hurdle include Indifi (lending), and Toffee Insurance (insurtech).
KYC/AML regulations. KYC/AML can be tougher in countries with a significant undocumented economy (at least relative to informal providers) and we think this is why Indian fintechs (such as Zerodha (investech) and ZebPay (blockchain) have cited this as a major challenge.
How incumbents are fighting the fintech threat: technology, data analysis and cultural change
Technology investment is at the forefront of Indian incumbents' actions to fight the fintech threat, followed by data analysis and cultural change. Compared to other EM fintechs, cost-cutting is a less-targeted strategy in India, while the focus on cultural change is much greater.
Investment in technology/automation. To boost process efficiency, financial institutions are adopting SaaS applications in areas such as accounting, human resources, and KYC verification. They are also using cloud technology for data storage and security. Axis Bank and ICICI Bank are among the incumbents that are increasing investment in technology.
Better analysis of existing datasets. In theory, incumbents have a big advantage over new entrants as they have large customer bases with long and relevant transaction histories. But often the data is not in one place, and/or is difficult to work with. With the help of AI and ML, incumbent firms are now working more closely with this in-house data to offer more personalised and targeted services to their customers, and to make better-informed strategic decisions. Companies using this strategy include Tata Consultancy Services and Kotak Mahindra Bank.
Cultural change. One of the key issues that could contribute to incumbents losing to fintechs is the difference in company culture; fintechs tend to be more supportive of innovation and new ideas while incumbents are more results-oriented and risk-averse. Some incumbents, such as City Union Bank and ICICI Bank, are focusing on changing their culture to counter the threat of fintechs.
Innovative fintech practices
In the table below we present some innovative practices by Indian fintechs based on our desk research: