The African fintech space has recorded impressive growth over the past decade. There are currently over 400 active fintech companies across the continent, c80% of which are home-grown.
Major drivers of this growth in the fintech ecosystem include favourable demographics, high levels of mobile phone access and Africa's generally poor levels of financial inclusion.
The scene is currently dominated by payments solutions providers, largely due to the lack of financial inclusion in the formal banking system for many individuals and corporates. However, we think other segments will also expand soon as customers shift their attention to fintech solutions that satisfy their various financial needs. The table below groups the current offerings into seven categories.
In this in-depth report, we survey 150+ fintechs across 20 African markets to find their product and customer niches, identify their unique success factors and outline their future plans. We also examine what impact the rise of fintechs will have on traditional financial industry players.
Fintech landscape across major African countries
Note: Many of these companies could appear in multiple cells. Source: Tellimer Research, CB Insights, Irrational Innovations
Executive summary
A diverse universe
There are currently over 400 active fintech companies in Africa, c80% of which are home-grown. We group their varied product offerings into seven categories: payments, lending, remittances, investing, insurance, blockchain/cryptocurrency and specialised fintechs (Figure 1).
The payments segment dominates African fintech
Payments dominates African fintech, given the continent's large unbanked population and consequent high demand for services that boost financial inclusion. By product, c40% of fintechs are targeting payments, 25% lending, 11% insurance and 10% investments (Figure 2). So far, fintechs have been less active in blockchain, agritech, proptech and e-marketplaces.
Key factors for success
Key factors for success (Figure 10) include using technology to lower operating costs (21% of our sample), entering strategic partnerships (15%), product innovation (12%), regulatory support/ integration with central payment systems (10%), and focusing on niche/ underserved markets (10%).
Future plans
Looking ahead, the most popular strategies being employed by African fintechs include: broadening the product suite (38%), geographic expansion (27%), targeting underserved markets (15%), partnering with incumbents (12%), and technology investment (8%). See Figure 12 for details.
Regional hubs
The African fintech landscape is dominated by four main centres: Egypt, Kenya, Nigeria and South Africa together house c70% of the continent's fintechs (Figure 5). These hubs help drive innovation and attract the lion's share of venture capital and investment financing (85% in 2019). Ghana, Uganda, Cameroon, Rwanda are up-and-coming locations.
Nigeria could have its first fintech listing in 2020
Interswitch has announced plans for a potential dual London-Lagos listing later this year. A successful flotation could encourage other fintechs to come to market.
Impact on incumbents
In response to the rapid rise of fintechs, traditional financial industry players are: 1) developing fintech or technology-led products in-house (eg WEMA Bank's ALAT, Nigeria); 2) spinning out their own fintech businesses (eg Equity Bank's Finserve, Kenya); and 3) partnering with fintechs (eg Compass Insure and Pineapple in South Africa).
Implications for listed equity investors
We are seeing a widening divergence in the premiums enjoyed by fintech start-ups and the discounted valuations applied to listed incumbents. With fintechs increasingly encroaching onto their home-turf, we think traditional business models will continue to de-rate in relative terms. But incumbents that have successfully incubated new business models (eg Safaricom, Equity Bank in Kenya) should increasingly command premium multiples (Table 1).
Increased regulatory oversight
Regulatory oversight is likely to increase as fintech businesses become more mainstream, especially for cyber-security and consumer protection. By raising the industry's credibility, we think appropriate regulations could potentially accelerate, rather than hinder, the industry's growth.
Africa's fintech landscape
The African fintech space has recorded impressive recent growth. According to Ernst & Young, the number of fintech firms in Africa has recorded a CAGR of 24% over the past 10 years. Major drivers of this growth in the fintech ecosystem include favourable demographics (young and growing populations), high levels of mobile phone access and poor levels of financial inclusion across much of the continent.
Historically, new entrants have found it very difficult to break into financial services as incumbents had significant advantages in terms of financial resources, branch and agent networks, branding, compliance systems and client base. However, recent years have seen the rapid rise of non-traditional competitors.
Based on Crunchbase data, the African fintech sector comprises over 400 active companies, c80% of which are local companies while 20% are international players.
The scene is currently dominated by payments solutions providers, largely due to the lack of financial inclusion in the formal banking system for many individuals and corporates. However, we think other segments will also expand soon as customers shift their attention to fintech solutions that satisfy their financial needs.
In Figure 1, above, we have grouped the service offerings of African fintechs into seven broad categories: payments; lending; remittances; investech; insurtech; blockchain/cryptocurrency; and specialised fintechs (agritech, medtech, proptech). However, we acknowledge that many of these companies are not monoline product providers, and note that broadening their product suite is a key strategic goal for many African fintechs.
Africa fintech product offerings
Fintech companies are increasingly competing with traditional financial services providers, by structuring their offerings in innovative and more efficient ways. These companies often help to widen the financial inclusion net using models such as branchless distribution, mobile banking, big data credit scoring and machine-to-machine lending, often simultaneously reducing acquisition costs, servicing costs and risk costs (as well as boosting convenience and service quality). They can thereby profitably access previously unbanked/ underbanked populations at the bottom of the pyramid. The experience to date indicates that there is significant untapped demand in Africa for payments, lending, savings, insurance and financial management services.
Figure 2: African fintechs product offering mix
Source: Tellimer Research
One major change that is providing momentum to the fintech wave is that more and more Africans are connecting to the internet through smartphones, improving data availability for fintechs and enabling more sophisticated consumer-profiling models to be developed. This, in turn, allows resources to be more efficiently targeted and risks to capital to be reduced.
Figure 3: Mobile penetration in Africa
Source: GSMA, Tellimer Research
Digital payments
Digital payments is the most active and arguably most developed segment in the space, accounting for c40% of all fintech products on the continent. Payments encompasses activities such as retail payments, merchant/ corporate payments and the provision of payment infrastructure through several channels: digital wallets (MTN MoMo, Ghana), USSD (EcoCash, Zimbabwe), mobile apps (SnapScan, South Africa), internet (Flutterwave, Nigeria), vouchers (Zoona, Lesotho).
Lending
Lending is second in terms of popularity of fintech products, accounting for 24% of the market. These companies offer lending/niche banking products in more efficient ways than traditional banks or credit companies, using technology to profile customers (allowing for more personalised products), disburse loans more quickly and enable repayments to be collected more efficiently. Notable examples are Branch (Nigeria), GetBucks (Mozambique), Jumo (South Africa) and Tala (Kenya).
Insurtech
Insurtech offers insurance products such as life, car, health, etc., in innovative and easy-to-understand ways that rival traditional companies' offerings. Example include Pineapple (South Africa), which offers peer-to-peer insurance and returns all unused premiums at the end of each year, DabaDoc (Algeria), which offers health insurance by providing users access to nearby doctors, hospitals or pharmacies, and mPharma (Ghana), which provides users with access to pharmacies.
Investech
Investech companies offer financial management services such as managing customers' finances based on pre-established investment guidelines. Their services range from providing platforms for trading securities to advisory services and portfolio management. Piggyvest (Nigeria), is a savings platform that helps users manage and grow their finances, while EasyEquities (South Africa) enables users to invest in equity market instruments such as stocks, ETFs and index funds.
Remittances
Remittances, which are in effect cross-border cross-currency payments, enable transfers of money by foreign workers to friends/ relatives/ businesses in their home countries. Relative to domestic payments, remittances carry a much higher burden of documentation, while the currency exchange element also adds to costs and reduces transparency. Due to the high cost of traditional remittance providers, particularly for small denominations, low-income workers will often turn to informal channels to send money home. Fintechs are helping to bridge this gap by providing almost instantaneous cross-border transfers at considerably lower cost. Examples include Thunes (Botswana) an online mobile wallet remittance service, WorldRemit (operating in several African countries), which allows users to transfer money across borders to be deposited in the local bank accounts of the receiver, and Sure Remit (Nigeria), which offers tokened non-cash remittances, allowing users to send vouchers that can be used by the receiver to pay bills.
Blockchain
Financial exchange platforms are increasingly migrating to distributed ledgers (blockchain). These ledgers provide immutable records of transactions and can help to create trust between counterparties even where there is no central intermediary. This technology has the potential to dramatically improve the efficiency of certain financial transactions, such as eliminating the need for currency exchange on cross-border transactions. Examples include Kobocoin (Nigeria), a mobile wallet that allows users to trade in cryptocurrencies, and Sun Exchange (South Africa), which enables users to earn rental income by leasing out their solar panels; they can either be paid in local currency or bitcoin.
Specialised fintechs
Specialised fintechs offer digital financial solutions for unique or niche markets. They often operate as a distinct ecosystem with integrated payments, lending or e-market place offerings. Notable genres include:
Agritech, such as FarmDrive (Kenya), Farmcrowdy (Nigeria) and Twigga foods (Rwanda), which provide farmers with access to loans, crowdfunding or to digital trading platforms based on blockchain technology, enabling them to transact directly with buyers.

Proptech, such as VisaFront (Nigeria), which provides access to property trading, BuyRent (Kenya), which automates rent collection, and JumiaHouse (Kenya), which facilitates short-term rentals.
Regional fintech hubs
The four main fintech hubs in Africa are Egypt, Kenya, Nigeria and South Africa. These markets have distinguished themselves from the rest of Africa through their support for innovation (for example, via regulatory sandboxes) and the widespread establishment of strategic partnerships (such as Nigerian fintech, Paga's partnership with WorldRemit for international remittances). As a result, these centres have to date attracted the lion's share of the investment capital deployed across the continent (85% of total funding in 2019).
Figure 4: Distribution of African fintechs by geography
Source: Central bank publications, Irrational Innovations
Figure 5: Fintech product mix by geography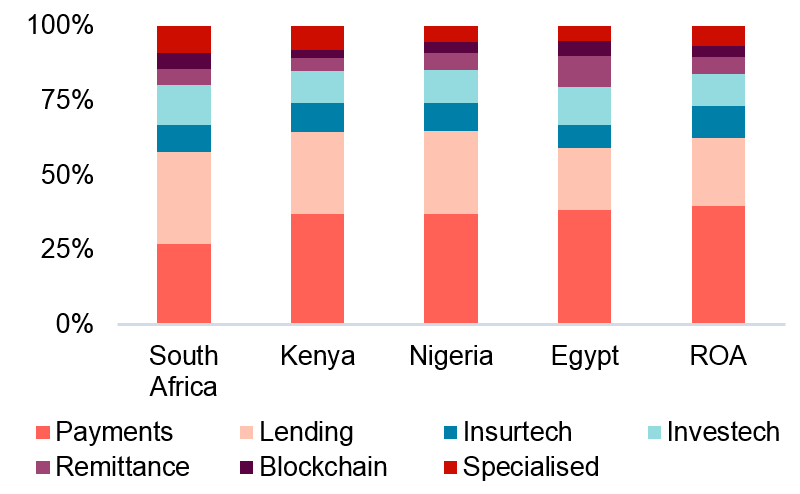 Source: Irrational Innovations. *ROA = Rest of Africa
South Africa
South Africa is arguably the heart of African fintech, housing a third of all African fintech firms, with the majority of these located in Johannesburg. As the most diversified hub, South Africa has some similarities with developed market fintech hubs like Silicon Valley, such as the integration of fintech into central payment systems and high technology adoption rates by the local population, which can make it easier for local fintechs to attract external funding. Lending fintechs account for the largest proportion of players in this market (c30%). Despite having the largest and most diverse fintech space, South Africa has recorded a decline in both the number of fintech deals and value of funding to fintech in 2019. However, given improving financial access/ inclusion in South Africa, we note that insurtechs (such as Lukmani, Simply, Pineapple, MicroRe) are on the rise, offering customised insurance products at the point of sale.
Kenya
Kenya, the second-largest hub, hosts around one-sixth of the African fintech population and has a strong focus on the payments segment. Nairobi alone is home to more than 50 fintech companies. Following the success of M-Pesa, Kenya has seen a rise in personal and SME lending-focused fintechs such as Branch, Tala, Lendabale and Pezesha. A niche of agricultural lenders has started to develop over the past few years, such as FarmDrive, Tulaa and Appollo Agriculture, with a primary focus on small-scale farmers.
Nigeria
Nigeria is the third-largest hub, with most of its fintechs based in Lagos. The payments segment has the largest number of players. However, there has recently been a rise in lending (RenMoney, Migo) and investech companies (CowryWise, PiggyVest), as the unmet needs of the real sector shift from payments to credit availability and investment products.
Egypt
Egypt is also led by payments players, as the focus remains largely on improving woeful levels of financial inclusion. Local fintechs tend to collaborate with traditional banks to provide users with access to several financial services, including payments facilitation, electronic cash and loans. Several innovative fintechs also offer standardised versions of local financial practices such as savings circles.
Access our collection of Ultimate Fintech Guides to key emerging markets here: Brazil, China, India, Indonesia, Kenya, Mexico and South Africa.