NFTs (non-fungible tokens) are one-of-a-kind digital assets, usually digital artwork, that are stored on the Ethereum blockchain. They can be bought and sold like any other piece of property and can be thought of as certificates of ownership, but it is their rarity and individuality that sets these digital collectibles apart from other crypto assets.
They made it into our top 10 crypto trends for 2021 and are poised to grow exponentially in popularity over the coming years.
Collectively, the five most valuable NFT collections have increased in value by 4,800% (48x) in 2021 and are now valued at over US$10 billion.
Below we take a look at the top five NFT collections by total value, and apply our machine-learning model to make a forecast for one of them, Bored Ape Yacht Club.
1.      CryptoPunks
Total collection value: US$2.97 billion

Average NFT value: US$297,000
CryptoPunks are 10,000 unique 24x24 pixel art NFT characters and are widely credited with starting the current NFT craze.
To this day they remain the most valuable collection and importantly, due to their small size, each character's pixel map is stored directly on the Ethereum blockchain – as opposed to a link to an image stored elsewhere like most other collections. Therefore they grant investors the most secure proof of ownership.
Jay-Z, Logan Paul and Serena Williams are amongst the line-up of celebrities that have been public about owning a CryptoPunk.
2.      The Sandbox – Land
Total value: US$2.33 billion

Average NFT value: US$14,000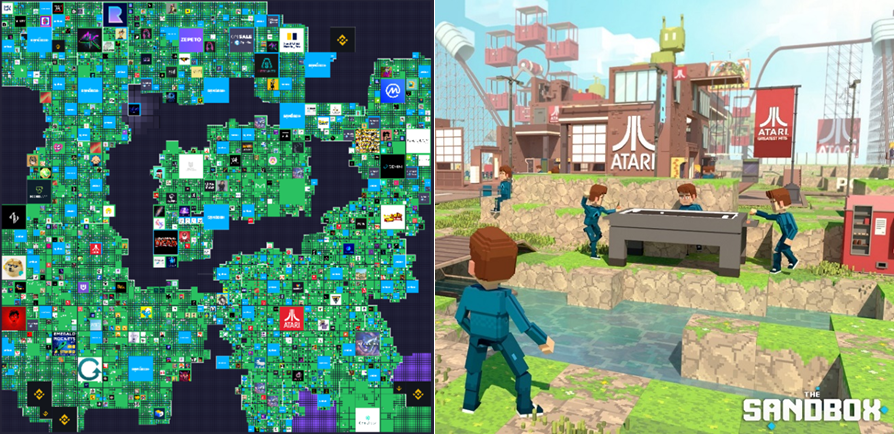 The Sandbox is a non-VR 3D Metaverse organised into a grid of 408 x 408 (166,464) pieces of NFT-based LAND which can be purchased and allow community-driven players to build, share, and monetise their user-generated virtual content.
It uses Minecraft stylised block-based building materials and although it initially launched on the Ethereum network it has plans to bridge over to Polygon in an effort to reduce NFT tradings costs and its carbon footprint.
Justin Timberlake, Katy Perry, and Snoop Dogg are early adopters of LAND NFTs.
3.      Axie Infinity – Axies
Total value: US$2.01 billion

Average NFT value: US$201
Axie NFTs are unique Pokemon / Tamagotchi-inspired characters that power the Axie Infinity 2D gaming metaverse, whose blockchain play-to-earn economic design rewards players with their native cryptocurrency (AXS) for battling.
There are currently over 10 million Axies in the game. New Axies can be bred from an existing Axie, or you can purchase eggs (with Ethereum) to hatch a new Axie.
50% of all players live in the Philippines and many depend on the game as a primary source of income, despite the extreme volatility of the cryptocurrency in which they earn. At its peak in July, players were earning around US$120 a day – around 3x the median wage in the Philippines. Currently, many full-time players are earning much less though, around US$12 a day, which is just above the minimum wage.
4.      Bored Ape Yacht Club / Mutant Ape Yacht Club
Total value: US$1.59 billion

Average NFT value: US$53,000
The Bored Ape Yacht Club (BAYC) launched in April 2021 with a collection of 10,000 unique ape-styled NFTs, ownership of which doubles as a membership card to an exclusive high-net-worth social community.
A public auction took place in August for the sale of an additional 10,000 visually shocking Mutant Apes NFTs which sold for US$96mn, after which existing BAYC members were airdropped "Serum" that allowed them to create their own Mutant Ape version of their existing Ape NFT. This event introduced 20,000 new NFTs which make up the Mutant Ape Yacht Club.
Jimmy Fallon, Shaquille O'Neal, and Mark Cuban are all famous members of the BAYC, each paying over US$100,000 for their NFTs.
5.      Decentraland – Land
Total value: US$1.08 billion

Average NFT value: US$12,000
Decentraland is similar to The Sandbox in that it is a non-VR 3D Metaverse powered by the Ethereum blockchain. It is organised in a neat 300×300 grid of 90,000 NFT based land pieces, or parcels, on which users can create, experience, and monetise their created content and applications.
It has a more "realistic" feel to its graphics compared to The Sandbox but some users have commented that this can cause a noticeable performance impact when walking around the browser-based game.
Over 80 artists performed during a virtual music festival hosted by Decentraland in October, highlighting the growing trend for metaverses to be involved in large events.
Overview
Bored Ape Yacht Club ML forecast
This article wouldn't be complete without throwing some data at our ML model, this time in an attempt to forecast the combined value of the full BAYC collection over the next three months.
With their collective value declining from US$2.4bn to US$1.59bn in the past month – a drop of 34% – it is clear that a correction has begun. Our forecast suggests that a further drop of 25% to US$1.2bn is likely by the end of January, but that a strong rally will follow, pushing their valuation back to US$2.3bn – close to all-time highs – by the end of March.
Despite the obvious volatility, the BOYC collection is expected to continue to increase in value in 2022.
NFT index Funds
Index providers have begun to build products to help investors get the broadest and most diversified exposure to the NFT marketplace. The two most prominent are:
Bitwise Blue-Chip NTF Index Fund achieves this by tracking an index of the most valuable (as defined by market capitalisation) and well-established NFT collections directly and is rebalanced quarterly.

NFT INDEX made by Pro Blockchain takes a different approach and focuses on building a basket of cryptocurrencies that underpin the NFT and metaverse movement, such as Matic which is used on OpenSea (the most popular NFT marketplace), and the digital currencies that power popular metaverses such as Decentraland, The Sandbox, and Axie Infinity.