GLOBAL
Global bonds rallied yesterday as recession risks intensified after the US posted a quarterly economic contraction for Q2. US yields plunged below 3.00%, with the curve disinverting to some degree as the markets priced out some Fed rate hike risk owing to the weaker than expected performance of the US economy and growing headwinds to growth going forward. Yields at the front end of the UST curve were down almost 20bp on the session at one stage, while swaps referencing meeting dates for the Fed are now pricing in rates rising to just 3.25% by the end of the year, less than 1pp from current levels. In Europe, bunds and peripheral bonds all rallied, with Italian debt outperforming as traders reduced their bets on ECB rate hikes. The market is now pricing in less than 100bp worth of rate hikes to come by the end of the year, the lowest we have seen since mid-June. The day ahead could see bonds remain in favour, with European Q2 GDP numbers out and downside risks building. There will also be the usual month-end flows to contend with as well as US PCE Core data, which will likely reflect elevated price growth.
AFRICA
Africa: The Africa Centres for Diseases Control and Prevention has indicated that Africa is falling behind on monkeypox vaccines as the virus spreads. Africa is yet to receive monkeypox vaccines as the infectious viral disease spreads to non-endemic countries on the continent. While the World Health Organisation declared monkeypox a public health emergency of international concerns last weekend, the Africa CDC has yet to secure any doses of inoculation. Last month the Africa CDC called for Africa to be first in line to receive monkeypox vaccines, hoping to avoid a repeat of the coronavirus pandemic that left the continent far behind wealthier nations.
Ghana: A Bloomberg report quoting a source close to the matter suggests that Ghana is set for its smallest cocoa crop in more than a decade after drought withered pods and illegal gold miners damaged plantations. Preliminary data shows that Ghana will harvest an estimated 685,000 tons of beans in the season through September, down from a record crop of about 1.05mn tons in the previous year. Ghana's cocoa regulator had originally forecast a crop of 950,000 tons this year, but the harvest was hit by long dry spells early in the season. In addition, more than 19,000 hectares, or about 2% of cocoa plantations, have been destroyed by small-scale miners who often operate illegally, the Ghana Cocoa Board said in May. A smaller than anticipated crop is likely to weigh on the much-needed foreign exchange income for the world's second-largest cocoa producer.
Kenya: Speaking to reporters on Thursday, Kenya's central bank governor Patrick Njoroge said that the bank has reduced its growth forecast for this year. The Central Bank of Kenya now forecasts the economy to expand by 5.4% from 5.9% previously. The agricultural sector is estimated to grow by 1% this year from a contraction of 0.2% in 2021. Meanwhile, inflation is forecast to be back in the central bank's target range of 2.5-7.5% in the near term, with subsidized corn prices expected to reflect in the coming months. Governor Njoroge also said that dollar access constraints have been resolved. Dollar scarcity has, in part, weighed on the Kenyan shilling this year which dropped by over 5% YTD.
Kenya: Government-backed Korea Overseas Infrastructure & Urban Development Corporation (KIND) is in talks with Kenya to build a $1.5bn highway connecting the port city of Mombasa to the capital. The Korean company has been undertaking feasibility studies for the almost 400km highway since November last year, which are scheduled to end next month. KIND was established in 2018 by the Korean government to support global public-private partnerships. KIND, without providing timelines  in a statement, said that "Although still at the stage of preliminary feasibility study, we are continuously discussing commercializing this project and if we win an order in the future, we expect we will be able to advance into Kenya through investment co-operation and in consortium with domestic companies." Investors are expected to recoup their outlay by charging tolls. Given that the country is classified as being at high risk of debt distress by the International Monetary Fund, Kenya is looking to non-debt measures such as public-private partnerships to finance infrastructure projects.
Zambia: Data from Zambia Statistics Agency showed that Zambia's January to June copper exports fell by 0.4% y/y amid slowing global prices due to global growth concerns. The country's half-year cooper shipments dropped to 445,500 metric tons, compared with 447,100 tons in the same period in 2021. According to the agency, copper export earnings slumped by 13% in June due to lower prices at the London Metals Exchange. If persistent, weaker copper prices pose further downside risks to Zambia's trade surplus, which narrowed further in June. The trade surplus narrowed to ZMW 2.1bn from ZMW 3.4bn in May, the smallest surplus since June 2020.
Forex: Kwacha strength is helping to limit inflation pressures in Zambia
Headline inflation in Zambia was marginally higher in July, coming in at 9.9% y/y from 9.7% y/y in the prior month. On a month-on-month basis, consumer prices climbed 0.4%. Cooking oil, diesel and gasoline prices contributed to the uptick in the heading figure. Annual food price growth rose to 12% in July from 11.9% in June, while non-food price inflation accelerated to 7.2% from 6.9% in June.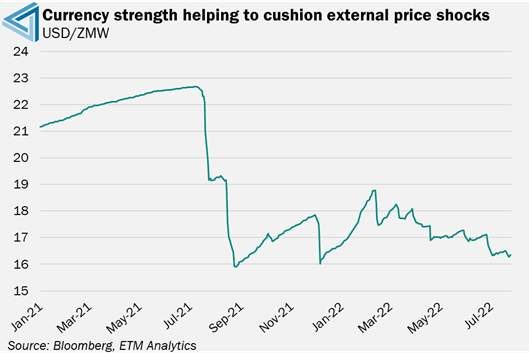 The acceleration in inflation in July was the first rise in inflation since June 2021. While inflation edged higher in June, inflation is modest compared to levels seen over the past two years. The resilient kwacha is helping to contain price pressures stemming from supply-chain disruptions related to the war in Ukraine and intermittent Covid-19 lockdowns.
Compared to levels seen a year ago, the Zambian kwacha has appreciated by almost 15% against the USD, making it one of the best-performing African currencies. While the ZMW remains particularly resilient, it is worth noting that the kwacha is now significantly overvalued on a real effective exchange rate basis, suggesting the room for further significant gains may be limited.
Overall inflation in Zambia has remained above the Bank of Zambia's 6-8% target range for more than three years now, and risks are still tilted to the upside amid still elevated global food and energy prices and tightening global financial conditions. This suggests that the BoZ could consider hiking its policy rate when it meets in August and revises its inflation forecasts.
Fixed Income: The list of rating downgrades in Africa continues to grow  
Tightening global financial conditions and the adverse effects of the Covid-19 pandemic have resulted in a significant deterioration in fiscal dynamics across Africa. Debt servicing costs have surged, pushing many African countries into a position of fiscal distress, with countries such as Zambia even defaulting on their debt. The deterioration in fiscal dynamics has triggered a wave of sovereign credit rating downgrades across Africa.
The latest African country to be downgraded is Mauritius. Moody's downgraded the Government of Mauritius's long-term foreign and local currency issuer ratings to Baa3 from Baa2 and changed the outlook to stable from negative. Moody's ascribed the ratings downgrade to its assessment that the quality and effectiveness of institutions and policy-making has weakened, which in turn hampers Mauritius's economic resiliency and capacity to absorb future economic shocks. The stable outlook reflects Moody's expectations that Mauritius's credit profile will remain aligned with Baa3-rated sovereigns and, in particular, incorporates Moody's view that the headline fiscal and debt metrics will further improve, with the debt burden falling below 70% of GDP by the end of the 2022/23 fiscal year.
As is the case for many African nations, Moody's said in its statement that if it becomes increasingly likely that government debt will remain higher than Moody's expects, this would weigh on fiscal strength and would be credit negative. An increase in the likelihood of government support for state-owned enterprises or a marked decrease in international reserves that would point to higher external vulnerability risks would also exert downward pressure on the rating.
Macroeconomic: Sovereigns have little fiscal room to soften the blow of a looming global recession
A report published by global rating agency Fitch on Thursday added to the notion that fiscal risks in Africa have risen markedly. The agency highlighted in its report that few countries have managed to reverse the fiscal damage caused by the pandemic. This comes as countries around the world stare down the barrel of a looming global recession. Fitch said in its report that as that global growth slows in 2022-2023, higher levels of government debt/GDP could leave many sovereigns with less fiscal flexibility to support economic growth and vulnerable sections of the population than during other recent external shocks.
The global rating agency forecasts that debt/GDP ratios will be at 2019 levels or lower in just 20 of the 119 sovereigns in its rated portfolio by the end of the year. Interestingly, Fitch noted that Africa and the Middle East have the highest proportion of sovereigns with lower debt/GDP in 2022 than in 2019, with many of these countries benefitting handsomely from the surge in global commodity prices.
Fitch added that the recent acceleration of inflation in many countries may initially lower debt/GDP by boosting nominal GDP levels and lifting fiscal revenues more quickly than spending, especially for commodity exporters. That said, structural fiscal-consolidation efforts that require increasing taxes or reducing public spending will likely generate social and political frictions where households and businesses face inflation-related income pressures. Moreover, it is worth flagging that high inflation is also driving up nominal interest rates, raising sovereign borrowing costs, as well as driving exchange-rate weakness in some emerging markets. The adverse impact of the surge in inflation and tighter monetary conditions is apparent in Africa and will result in a sustained deterioration in fiscal dynamics, increasing the risk of more rating downgrades in the months to come.