We have examined the year-to-date performance of the emerging markets banking sector, which has outperformed during this tumultuous year, highlighting the key factors driving returns – several of which will continue to play a key role over the coming months.
We have also profiled some of the standout performers.
Emerging market banks have outperformed this year
Emerging market banks have significantly outperformed their developed market peers in USD terms and, until last week, were in positive territory YTD. Moreover, while developed market banks have broadly tracked the overall market, the EM banking sector has outperformed the broader market by over 15% points.
Banks severely underperformed during the pandemic, and are still recovering ground lost during that period. Stronger balance sheets and capital distributions (via dividends and buy-backs) are helping to boost sentiment.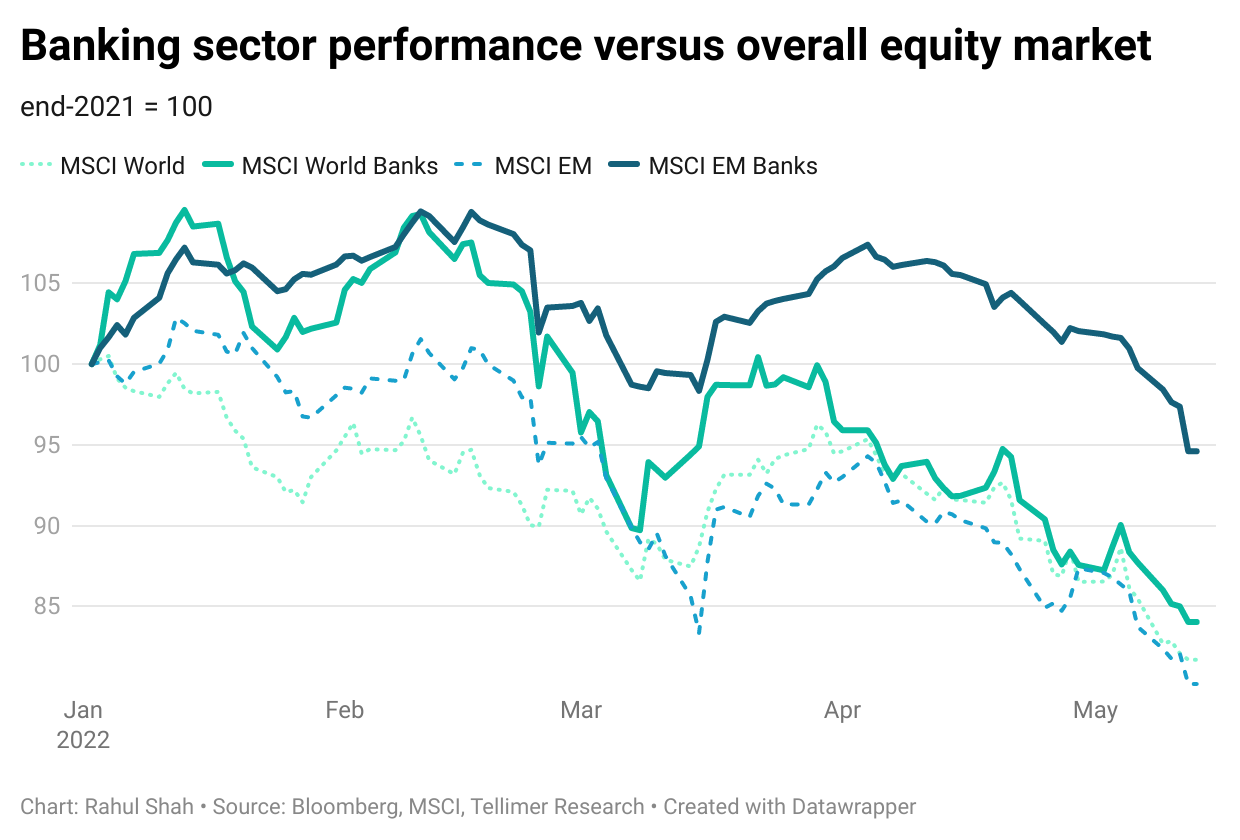 Country-level performance shows substantial variation
At the country level, many of the better-performing banking markets are commodity-exporting countries, while weaker markets have linkages to Russia's invasion of Ukraine.
Key themes
Overall, we identify three key themes driving performance:
1. Interest rates
Emerging markets started hiking rates much sooner than developed markets, and the repercussions are feeding through into some banks' earnings, as we move through the Q1 results season.
To the extent that banks can raise their loan prices without hitting loan quality, higher rates can be a positive driver of financial performance. Our detailed study highlights those names that are most impacted by the rate cycle.
2. Commodity prices
We see that several of the better-performing sectors are economies with sizeable raw material exports, such as hydrocarbons (Saudi Arabia and Qatar) or metals (Chile). In these countries, better commodity pricing can feed through to the broader economy (eg through improved fiscal stimulus and/or better private sector investment confidence) and, hence, to banks' financial performance.
Supply chain issues have been key to driving some of these prices higher but, if global growth were to slow, we could see the prices of non-constrained raw materials decline (copper prices have started to decline recently, for example).
3. Russia's invasion of Ukraine
Russia's war has had a profound effect on the global economy, with supply constraints and sanctions contributing to higher prices for a range of hard and soft commodities, and the resulting spike in inflation forcing many central banks to tighten monetary policy.
The disruption has also hit neighbouring economies such as Poland (dealing with a huge influx of refugees) and Kazakhstan (which is exposed to the slowdown in the Russian economy).
The best- and worst-performing EM banks so far this year
Our top-performing sector, Saudi Arabia, can lay claim to three of the 10 strongest banks YTD. Performance has been boosted by higher oil prices and these banks' favourable sensitivity to rising interest rates.
In contrast, Russian banks, unsurprisingly, are some of the weakest performers; the economy has been scuppered by sanctions.
Below, we briefly highlight some of the top performers in the EM banks space.
Alinma Bank
Alinma Bank, established in 2006, is the youngest bank in Saudi Arabia. The bank aims to be the fastest and most convenient bank in the Kingdom. In 2021, c97% of the total transactions of its 2.9mn customers were settled digitally.
The bank's balance sheet has shown positive momentum, while its commitment to digitisation, growing its income and optimising its processes has helped keep its cost/income ratio below 36%. Moreover, higher interest rates should support its bottom line. The bank is well-capitalised, with a capital adequacy (CAR) ratio of 22.8% at the end of 2021.
Looking ahead, Alinma Bank aims to remain focused on providing a premium user experience by differentiating products and services and through continued investment to enhance its digital capabilities.
Alinma Bank hs a market cap of US$19.6bn. Its shares are trading on a forward PE multiple of 21.6x and 2.6x PB (based on the Bloomberg consensus).
Banco de Chile
Copper accounts for around half of Chile's exports, with China being a key destination. In this context, with copper prices this year on average 60% higher than in 2020, this is a big boost to the country's finances, adding further impetus to the robust post-pandemic recovery that was already taking place. Sharply higher interest rates have also boosted the peso.
Banco de Chile is an industry leader, with a market share of c20%. It has superior profitability and capital strength than its closest peers, partly reflecting its higher-income retail customers (consumer and SME loans account for around 60% of the loan book, versus c50% for the rest of the system).  Its asset quality and provisions coverage ratios also compare favourably to the system. Margins have improved significantly in recent quarters as interest rates have increased, with the bank's large stock of equity capital and demand deposits keeping funding costs in check. Meanwhile, technology investments have helped keep operating costs under control, too – the cost/income ratio is now below 40%.
The bank has a market cap of US$9.5bn and is trading on a forward earnings multiple of 9.8x and price/book of 1.8x (based on the Bloomberg consensus).
Grupo Financiero Inbursa
Inbursa is a large Mexican financial conglomerate. Its key products include payroll loans and automotive finance, and general insurance. The business has over 11mn customers who are served by almost 11,000 employees and nearly 19,000 sales agents operating via c750 branches and over 5,000 ATMs.
Relative to domestic peers, Ibursa benefits from greater operating efficiency, superior asset quality and more conservative provisioning levels.
In 2021, the business generated net operating income of US$2.5bn and net profit of US$1.0bn from a US$28bn balance sheet. The firm generated a return of 12.6% on its equity base of US$8.5bn.
The shares have a market cap of US$10.4bn and are trading on a forward earnings multiple of 10.7x and price/book of 1.2x (based on the Bloomberg consensus).
Isbank
Isbank is the largest private bank in Turkey, with nationwide coverage of 1,174 branches and a market cap of US$3.1bn. In 2021, the company witnessed 62% growth in deposits, translating to over a 50% rise in assets and a 43% increase in financing. Within the loan book, commercial and corporate have the biggest share, of 59% (versus 55% in 2020), while retail accounts for 22% (versus 25% in 2020).
The non-performing loans (NPL) ratio stood at 4.1% at the end of 2021, improving from 4.9% at the end of Q2 21. Isbank has the highest market share among Turkey's private banks of demand deposits (48%), which helps to keep its funding costs down. Its net interest margin has accordingly benefitted as interest rates have increased.
Qatar Islamic Bank
Qatar Islamic Bank, incorporated in 1982, is the leading Islamic financial institution in Qatar and by far the largest one in terms of total assets; it has around half of the domestic market for Islamic banking and an 11% overall market share. The bank has witnessed healthy growth combined with a robust risk management framework. Its NPL ratio stood at 1.5% at the end of Q1 22, and only peaked at 1.8% in the pandemic. Its provisions coverage ratio is 95% while the capital adequacy ratio is strong, at 18.8%, 4% points above the statuturoy minimum. Its cost/income ratio was just 17% in Q1 22.
The shares have a market cap of US$15.8bn and are trading on a forward earnings multiple of 16.2x and price/book of 2.7x (based on the Bloomberg consensus)
Related reading
The EM banks with the largest indebted sovereign exposures as 'doom loop' looms
The emerging market banks most vulnerable to spiralling inflation
Banking on inflation: The sectors best-placed for the new economic paradigm
The emerging market banks that benefit the most from rising interest rates
Emerging market banks: The winners and losers from tighter monetary policy