After an extremely challenging year, some might say EM fixed income has lost its shine, although it has been difficult for most financial assets too, in the context of inflation at multi-decade highs around the world and with global interest rates heading to their highest since the global financial crisis.
With a total return of -20% YTD (to 17 November) for EM sovereign dollar bonds, based on the Bloomberg EM Sovereign USD index, it is hard to disagree with that view, especially for long-only funds. It's the worst annual return since data began and only the seventh negative return we've had (if we use the longer span of the JPM EMBIG). Moreover, we've never had two consecutive years of negative bond returns (we had a small minus in 2021, too).
As we noted in our report, "What investors are thinking", in June, that makes the case for investing in EM bonds (and likely EM assets more generally) that much harder.
EM bonds have been rocked by the global inflation shock caused by the post-pandemic policy stimulus and the deterioration in the external environment linked to Russia's war in Ukraine (the twin shocks of war and rates).
The resulting tightening in global financial conditions, and near "sudden stop" in capital flows, as well as the associated period of US dollar strength, has hit all EM, with a generalised re-pricing in yields (but less so in terms of the country risk premia) and slower growth, while those with higher debts and that are more reliant on foreign capital and with less space to absorb the shock, especially among the sub-investment grade and low income countries, have been perceived by investors as most vulnerable.
The average nominal yield on EM sovereign dollar bonds rose to over 9% in October, reaching a high of 9.25%, its highest level outside the exceptional global financial crisis/pandemic periods, for an increase of 440bps this year (although the yield has recovered a bit since then, down to 8.2%, after the better-than-expected US October CPI release).
To put this into context, the average yield on investment grade (IG) sovereigns nudged 6%, higher than when Zambia issued its debut eurobond in 2012. Meanwhile, the yield on speculative grade (high yield) sovereigns rose to nearly 13%.
At a time of tighter global liquidity, as rates rise and developed market central banks shrink their balance sheets, investors have become more concerned about how emerging market countries will fund higher debts and deficits, amid the post-pandemic deterioration in debt dynamics with lower growth and higher debt service costs, while those countries with higher external financing needs relative to reserves are seen as especially vulnerable.
This has led to concerns about a new wave of sovereign defaults, with the IMF warning that some 60% of low income countries are at, or already in, debt distress. That said, we've still only had a handful of sovereign bond defaults this year (and most of them were due to exceptional circumstances around Russia's war in Ukraine), although plenty of other sovereigns are priced for distress, and so more could follow with a lag.
But, notwithstanding the challenging external environment, we think reports of the death of EM are greatly exaggerated (and it is naïve to think that EM could de-couple from what was going on elsewhere). We offer a couple of reasons why.
First, the improvements in fundamentals that characterised the boom years of EM have (bar a few exceptions) not gone away. Such factors include stronger macro policy frameworks, the shift from fixed to floating exchange rates, self-insurance through stronger reserve coverage (as a whole, if not everywhere), greater openness to trade, structural reforms, better institutions and increased transparency – although we think threats to central bank independence, with inflation so high, should be monitored closely. And, even if the era of exceptional EM growth has come to an end, the positive EM-developed markets growth differential should continue.
Second, even if sovereign default rates have picked up, compared with the pre-pandemic period, they remain low and fairly well contained, and generally concentrated in smaller and frontier EM (with the exception of Russia) rather than in more systemic countries, so that the risks of spillover are perhaps more muted, while three defaults this year (Russia, Belarus, Ukraine) are due to very specific circumstances that investors have been able to differentiate. While there is some concern over contagion along similar characteristics arguments, this is a far cry from Argentina's 2001 default or even the 'fragile five' during the taper tantrum in 2013.
Third is market size and fund flows. With a market capitalisation of some US$2tn (in US dollar sovereign and corporate bonds), EM bonds account for an increasing share of global fixed income and the asset class is not going away (and where would it go to?). Market cap has grown from c0.5% of world GDP during the noughties to c2% today (after reaching nearly 3% in 2019). The EM bond market today is simply not the same as the Brady bonds in the 1990s, which reached cUS$160bn in 1997, and which could conceivably have been absorbed in other assets without really moving the dial if the nascent EM bond market had collapsed back then. And, today, even if tourist (cross-over) money withdraws (and some might say a shake-out is a good thing), there is still a very large and dedicated investor base underpinning EM, although recent performance may make end investors more cautious for a period, and despite its growth, notwithstanding this year's decline, the market might still be considered under-represented relative to EM population and GDP size.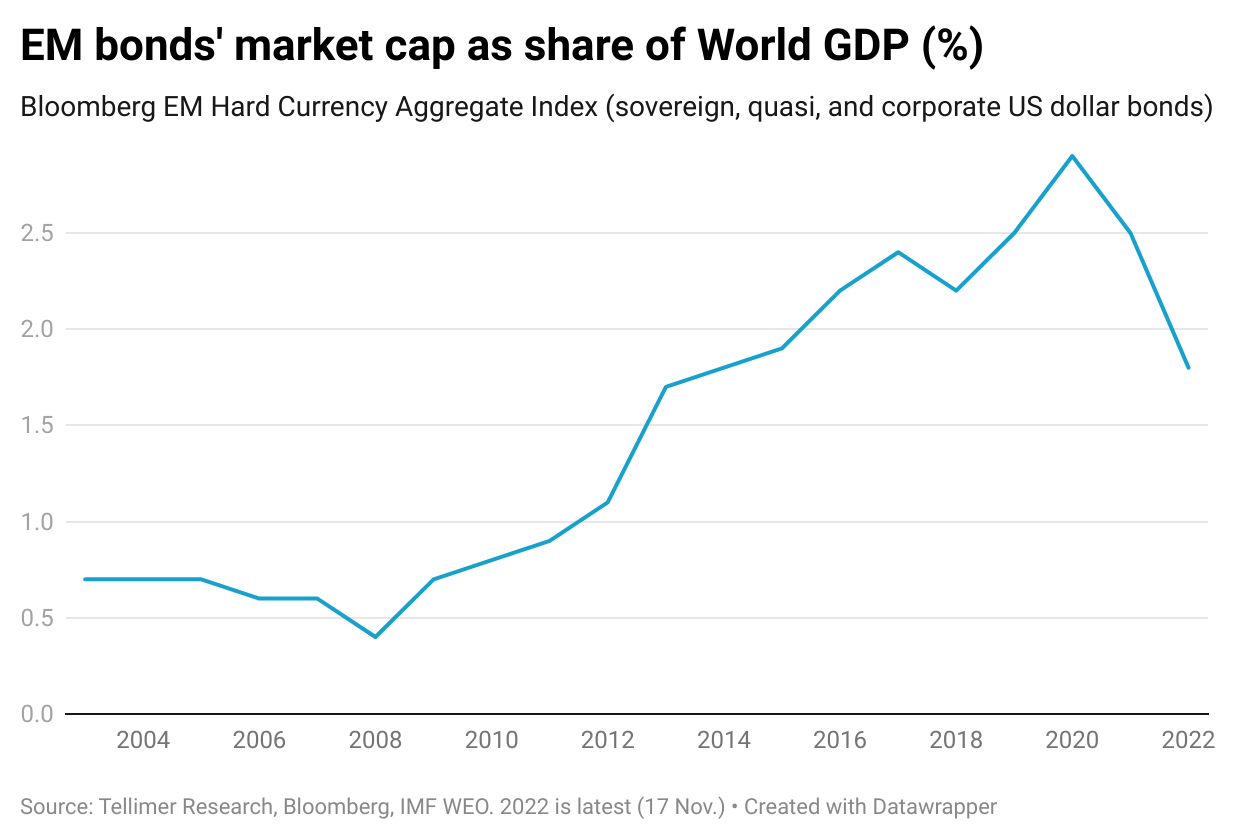 Finally, valuations. Put simply, EM bonds have not been this cheap for several years. Yes, it has been an unprecedented and generalised sell-off. But sell-offs open-up pockets of value, which can be exploited by those funds that can take advantage of these conditions, while to the extent that investors have been sitting on cash, and avoiding redemptions, that could further support the market if conditions improve.
To that end, we observe that typically years of negative (or essentially flat) returns have been followed by solid positive returns in the next two years, with a median annual rate of return of 19% (CAGR) over the seven episodes we've identified (excluding 2021, which might be an aberration, or perhaps it was really the start of the 2022 cycle, but in any case, sufficient time hasn't passed to include it). This might be some reason to cheer.
That said, if instead, we focus on returns following the end of a Fed tightening cycle (and, excluding the current one, we identify five of them since the mid-1990s – and they have generally all preceded a crisis, with the exception of 2018 when a crisis followed (the pandemic) for different reasons), performance in the following two years has been somewhat mixed, with a median annual rate of return of 7% (CAGR). However, this is only illustrative; it is difficult to be too precise with annual data and given the role of expectations.
The trick in 2023, as always, of course, will be to pick the outperformers.
Read all of our Global Themes for 2023 here.