25 May 2021
The complete history of M&A in Kenya banks – the fourth wave is here
Faith Mwangi
Equity Research Analyst, Financials (East Africa) @ Tellimer Research
25 May 2021
We trace the history of mergers and acquisitions in Kenya's banking sector from 1986 to date
Early M&A came as a result of bank failures, later stages saw mergers to create strong capital bases & combine synergies
We expect M&A activity to continue in Kenya as banks aim to improve profitability, raise market share and boost capital

25 May 2021
Kenya's banking sector has been through three distinct phases of mergers and acquisitions, all of which were prompted by bank failures. We believe we are now in the fourth phase, driven this time around by capital regulations, pressure on profitability and banks seeking to benefit from combined synergies. 
In the past decade, there has been a notable increase in consolidation activity, with more than 10 mergers and acquisitions taking place. In this report, we trace the complete history of M&A in the Kenya banking sector and outline what we see as the future drivers of further consolidation.
First wave: 1984-1989
A nascent sector with weak regulations
The first major wave of consolidations in Kenya's banking sector took place in 1984-1989, when eleven banks collapsed, while nine financial institutions (a mix of banks and non-bank financial institutions) merged to form the Consolidated Bank of Kenya at the end of 1989. The merger was sanctioned by the central bank as a way of salvaging the nine financial institutions to which the government had exposure.
Up until 1989, the Central Bank of Kenya (CBK) did not have a fully-fledged supervisory department. According to the regulator, the department operated without documented guidelines or inspection programmes, and the scope and depth of inspections relied on the initiative and limited knowledge of the individual inspector.
For this reason, banks lacked proper oversight even though the sector was growing rapidly, hence leading to the collapse of eleven banks within the period. 
Reasons for failure
According to the CBK, the main reasons for the failure of institutions in 1986-1989 included:
Poor asset quality with some banks recording up to 90% NPL ratio.

Lack of competent management, which was plagued by political patronage.

Poor fund management leading to inadequate liquidity levels.

Low profitability, which hampered internal capital generation and hence low capital adequacy ratios.

Interference of directors in day-to-day operations and the negative influence of boards.

The high rate of insider loans that were not monitored and were largely unsecured and non-performing.

Poor credit policies.

Liquidity mismatch.
1989 Banking Act
To regularise the banking sector and create stability, the Banking Act of 1989 was passed, which included new amendments:
Restrictions on the amount of a bank's share capital that could be owned by one person.

Restrictions on the amount of share capital that could be advanced for the purchase of land.

New limits for minimum capital, reserves and capital/deposit ratios.

Directors could no longer advance unsecured loans to themselves, their families, or related parties.

The Central Bank of Kenya's powers to supervise were enhanced, with additional reporting requirements and the possibility to intervene in the management of a bank should the need arise. 
In the meantime, to resolve the crisis at hand, nine of the failed financial institutions were merged to form the Consolidated Bank of Kenya.
The main depositors of these nine financial institutions were the government and parastatals. The current shareholders of Consolidated Bank of Kenya are the National Treasury (85.8% stake) and other government and parastatal institutions that were compensated for their deposits in the nine financial institutions by allocation of shares in the newly formed bank. 
The transaction ended up achieving the main goal of salvaging government funds through ownership in the new bank. This was not the case for other financial institutions which were excluded from this merger as they did not hold government funds and were unfortunately liquidated.
Second wave: 1992-1994
Blatant disregard for the 'new sheriff in town' and liberalised interest rates drive mergers
Following the first wave of consolidations, the newly introduced laws were expected to prevent bank failures in Kenya. However for it to succeed, strong banking supervision and oversight was needed, which required time to build.
The period was characterised by non-compliance that led to further regulations being introduced. Banks operated outside of the 1989 regulations as supervision was not capable of adequately monitoring the sector and compliance regulations needed to be tightened further.
Between 1993 and 1994, the regulator liquidated 17 financial institutions, with much of the sector still in troubled waters. The majority of these institutions were individual/family-owned institutions that still struggled with corporate governance.
According to the central bank, the reasons for liquidating these banks were:
Non-compliance with the Banking Act of 1989.

Undercapitalisation.

Credit concentration to either a sector or individual borrowers.

Insider lending.

Over-reliance on high cost of funds.

Fraud cases that had a ripple effect across the banking industry. 
Liberalisation of lending rates
Another factor that drove mergers in this period was the liberalisaton of lending rates – lifting the ceiling on lending rates in 1991 set the stage for banks merging with non-bank financial institutions (NBFI).
Mostly, NBFIs were owned by banks that primarily set them up prior to 1991 when the lending rates were higher for NBFIs than banks due to a lending rate ceiling placed on bank loan yields. After liberalising interest rates and introducing more stringent laws for NBFIs, banks no longer needed to maintain these institutions, thereby driving mergers. For these mergers, parent banks were simply merging their NBFI business with their bank business.
In addition to the five mergers that happened between 1994 and 1995 (see table below), a total of 19 NBFIs also transitioned to fully-fledged banks. The transition of the 19 NBFIs to fully-fledged banks was also on the back of the removal of the cap on loan yields which erased the competitive advantage of operating an NBFI. Transitioning to banks allowed the newly formed NBFIs to be able to offer a wider range of products that they previously could not offer clients under an NBFI licence.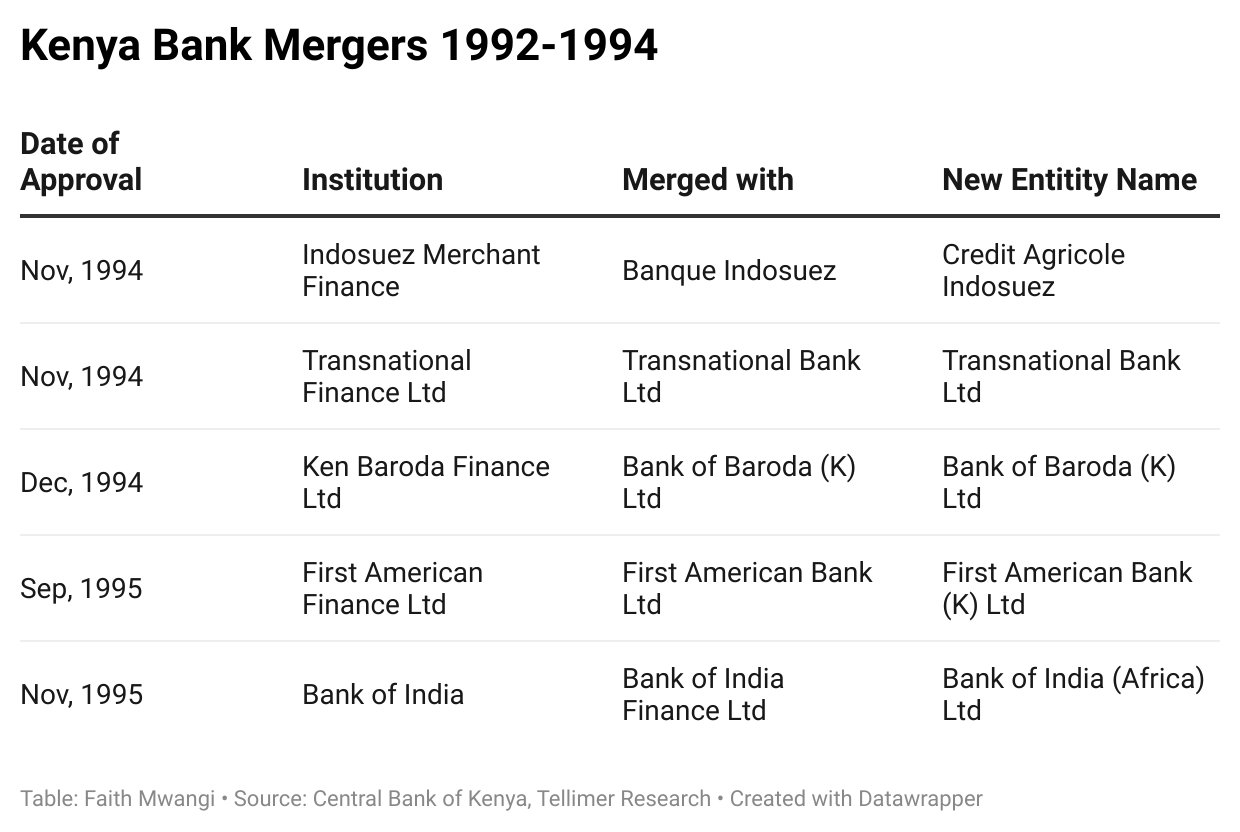 Third wave: 1996-1999
Moratorium on bank licences and higher capital requirements boost mergers amid another round of bank failures
This period saw a raft of consolidations driven by the moratorium on licensing new banks and a fresh round of bank failures. In 1993, the Central Bank of Kenya placed a moratorium on new bank licences as the regulator encouraged NBFIs to convert to banks. At the end of 1996, 20 NBFIs had converted while nine others merged with their parent banks. As stated above, NBFI's that merged mostly had parent banks already operating in the country, while those that did not merge had no parent bank but wanted to take advantage of the wider product suite that a bank licence could offer to customers compared to an NBFI licence.
This brought the total number of banks in Kenya to 50 in 1996, up from 33 in 1994. The increase in number of banks at this point was positive as it meant there was better regulation in the industry as banks now were subject to stricter regulations compared to other forms of financial institutions. The moratorium was lifted in 1997, but the rules to acquire new licences were made more stringent to avoid weak players entering the market. 
The period also saw five banks placed under statutory management in 1998 alone. According to the regulator, the collapse of these five banks was driven by much the same factors as in the previous two phases, which include:
Conflicts of interest, with shareholders interfering in day-to-day bank management.

Judiciary operations hampering the recovery of loans through the court system.

Insider lending to directors and their associates for non-viable projects.

Undercapitalisation of some banking institutions.

Over-investment in the property market, which at the time suffered a sharp drop in prices.
At this point, the CBK had supervision teams (both on-site and off-site) that had access to banks' audited accounts and periodical audit and prudential reports. The reasons for rampant bank failures had remained much the same as in the 1980s when there were weaker regulatory measures, and hence the central bank now focused on introducing more effective risk management procedures. Previously, risk was evaluated during on-site valuations on a bank-to-bank basis with no method for consolidated risk analysis. 
Regulations introduced within the period included:
Loans to directors were to be made on similar terms as loans to regular customers and they required full board approval as well as approval from the regulator.

Total insider loans and advances as well as non-performing loans were to be disclosed to the public along with the financial results.

Minimum paid-up capital for banks was set KES200mn (up from KES75mn) with a requirement to raise this to KES500mn within three years at a rate of KES100mn per year. The Central bank of Kenya, however, later allowed banks until 2005 to meet the KES500mn minimum capital requirement. Institutions entering the industry were required to immediately have the KES500mn in capital before licencing.

Information on non-performing loans now had to be published on a quarterly basis (rather than an annual basis as previously) and provision requirements were increased to provide a further cushion to the sector.
The new raft of regulations resulted in 14 mergers (see table below) as banks and NBFIs tried to meet the minimum capital requirements. Similar to the 1992-94 period, most of these mergers were parent banks merging with their smaller related institutions. The goal here was to reduce both the administrative headache and the cost of capital that had been needed to maintain two institutions.
2010 to date
The fourth wave – bigger is better
From 2010 onwards, bank failures have been few and far between, with mergers and acquisitions tending to be driven by banks seeking synergies and meeting capital requirements rather than just NBFIs merging with banks, as was the case before. 
Some of the factors that have driven the current wave of M&A activity include: 
The Central Bank of Kenya amended its prudential guidelines in 2000 to expedite the process of mergers and reduce the hurdles involved in the transfer of assets between entities. This made bank mergers much easier and quicker.

Steadily increasing capital requirements meant that banks have had to merge or be acquired in order to meet the ever-rising capital ceilings. Below is a history of some of the key regulatory capital developments:

In 1998, minimum capital was raised from KES75mn to KES200mn.

In 1999, banks were given until 2005 to raise their minimum capital from KES200mn to KES500mn. In 2003, after it was observed that quite a few banks would not be able to meet the KES500mn threshold, the central bank reduced the minimum capital requirement to KES250mn.

In 2008, an announcement was made to raise the minimum capital in a progressive manner from KES250mn to KES350mn by 2009, KES500mn in 2010, KES700mn in 2011 and KES1bn in 2012.

In 2012, an additional 2.5% buffer was added to raise the Tier 1 regulatory ratio to 10.5% from 8.5% and CAR to 14.5% from 12.5%. Banks were given two years to meet this requirement.

Also in 2012, it was decided that in the calculation of risk-weighted assets, a capital charge was to be applied to operational risk and market risk starting from 2013.

Following the introduction of IFRS9 in 2018, the CBK noted that some banks would struggle to meet the capital requirements on account of accelerated provision charges. Hence, banks were given a 5-year transition period to meet the regulatory capital requirements following the transition to IFRS9.

In 2015, the CBK put a moratorium on granting licences to new banks. In 2017 however, the central bank licenced two new banks that had received approval in principle prior to the 2015 moratorium. The regulator has hinted at lifting the moratorium on new bank licences, but this has yet to happen. New players have therefore entered the market by acquiring local banks.

In 2016, the interest rate cap law was introduced, which limited loan interest rates to 4% above the central bank rate. The law made it difficult for Tier 2 and Tier 3 banks to achieve profitability as their clients are mainly SMEs and MSMEs that typically attract very high rates due to their risk profile. This hampered their ability to generate capital through earnings and hence a number of banks were left operating below the required capital threshold. The cap was finally removed in 2019.
These four factors were key drivers in the following mergers and acquisitions:
Notably, the majority of acquisitions were driven by regional banks seeking entry into the Kenyan market. With a moratorium on licences for new banks, new entrants had to go the acquisition route. The moratorium on new licences is still in place, and therefore we expect any new entrant going forward will still have to acquire an existing bank in Kenya.
Secondly, due to the declining profitability of the banking industry following the loan interest rate cap in 2016, mergers and acquisitions have been occurring at cheaper multiples. Given the continued challenges of asset quality and low capitalisation in the industry, we expect transaction multiples to remain fairly low even with the loan interest rate cap having been lifted.
In the table below, we document mergers that have occurred in the past decade. The mergers have mainly been driven by the need to increase the capital base and taking advantage of synergies presented by banks operating in similar market segments.
Unlike in the 80s and 90s, the M&A activity in this phase that arose from bank failures was characterised by the adoption of partial assets from the collapsed banks, as shown in the table below.
In these deals, instead of the acquirers fully acquiring the failed banks, they were given the option of acquiring partial assets from the bank undergoing liquidation.
According to the Central Bank of Kenya, the single most critical impediment to mergers in Kenya is the inability of individual institutions to get to the negotiating table and integrate their diverse business philosophies and corporate cultures.
M&A is made particularly difficult by the ownership structures of banks in Kenya, with shareholdings mainly being family or community based and, in most cases, not keen on relinquishing control of their institutions.
Why this fourth wave of M&A is likely to continue
Despite the impediments described by the CBK, we expect the current phase of mergers and acquisitions to continue due to:
A tougher operating environment that is hampering capital generation, thus requiring banks to consider alternative ways of meeting capital demands. This is especially true for Tier 3 banks.

The lifting of the loan rate cap in 2019, which should attract new players to the market that will likely enter the market through acquisitions. Even then, as mentioned earlier, these transactions are likely to be at lower than historical multiples due to existing asset quality challenges.

The fact that the Kenyan population is currently overbanked, in our view, with roughly 1 bank operator per million people (inclusive of children and adults), while financial inclusion is well above 70%, leaving little room for market expansion.
These factors mean a reduction in the number of banks through further mergers and acquisitions appears inevitable.
---
Disclosures
This report is independent investment research as contemplated by COBS 12.2 of the FCA Handbook and is a research recommendation under COBS 12.4 of the FCA Handbook. Where it is not technically a res...
Full Tellimer disclaimers