Square's recent US$29bn acquisition of Australian-headquartered Afterpay has increased investor attention on the fast-growing Buy Now Pay Later (BNPL) space and on the strategic fit between payments and BNPL providers. Although both Square and Afterpay operate in developed markets, the industrial logic also holds in emerging markets.
In this note we describe how the BNPL business model works and highlight some recent industry trends, including the importance of scale. We examine the targeted synergies from the Square-Afterpay combination and provide takeaways for emerging market providers.
In a follow-up note, we will look at the BNPL landscape in emerging markets and highlight some companies that could attract interest from strategic investors.
BNPL business model
Buy Now Pay Later is a modern form of short-term credit allowing customers to pay for their purchases (mostly via e-commerce) in instalments. The facility is often free for the borrower (ie no charges or interest) if repaid on time, although some providers do charge establishment or periodic fees. In contrast, BNPL providers do typically charge fees to merchants, which is one of their primary sources of revenue. For merchants, BNPL providers can help boost sales by encouraging purchases from customers with insufficient liquid resources as at the transaction date.
BNPL providers compete with traditional forms of instalment purchases like credit card or instalment plans offered by merchants. Their growing success can be explained by their lower cost and greater convenience relative to these mainstream alternatives. Another factor in their favour, particularly in emerging markets, is that many consumers may be unable to access these alternative forms of finance. 
Financial flows in a BNPL transaction*
Note: *When repayments are made from a linked debit or credit card
(b) May be free to consumers for on-time repayments of smaller balances; missed payments usually attract late fees, and establishment and/or periodic fees may apply for larger balances
Source: Reserve Bank of Australia
BNPL is a high margin business…
The major sources of revenue for BNPL companies are merchant fees, interest income and consumer fees. Looking at some of the established developed market players, the revenues/outstanding loans ratio ranges from 30-80%, while gross margins are between 60-90% of sales.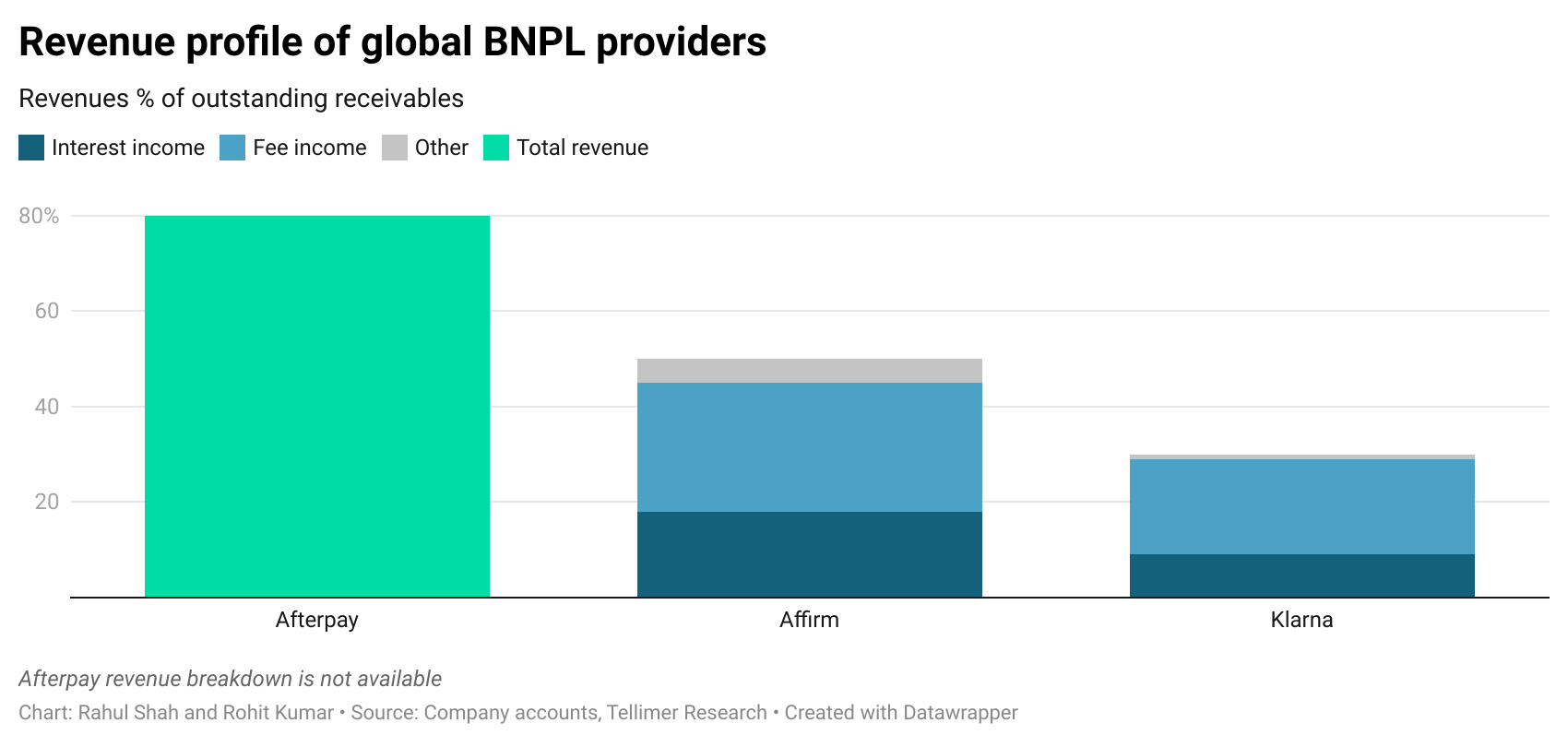 …but default rates are high too
Despite these high margins, most global BNPL companies are running losses. The two main reasons for this are high administrative and marketing expenses (the cost/income ratio for these three players averages 138%) and high credit default rates. Annual credit impairment costs of these three global BNPL providers are on average c16% of revenues and 8% of outstanding loans. We would expect emerging markets default rates to be even higher; according to The Economic Times, the bounce rate (ie % of loans not repaid on time) for BNPL companies in India is about 15-20%.
Scale and partnerships are key to control defaults
Scale and strategic partnerships are important success drivers for all fintechs; but we think their importance is even greater for BNPL businesses. With higher scale and access to strategic partners' customer information, BNPL providers can analyse more data, enabling them to better assess credit risk and control default rates, and thereby lift financial performance. These factors can also raise borrower default costs; for example, Ant Group's Huabei product locks defaulted customers out of the Alibaba e-commerce platform; this, along with other risk management tools, have enabled Ant Group to keep consumer loan default rates within 2-3% range. 
The rationale behind Square's Afterpay acquisition
Square, a leading US-based payments infrastructure company, recently acquired Australian-headquartered Afterpay for US$29bn paid in stock, equivalent to 43x Afterpay's FY 21 revenues (end-June). Australia-based Afterpay is one of the leading BNPL providers globally with operations in seven countries including the UK and the US.
Square targets various synergies from the transaction, including:
Offering Afterpay's BNPL services to Square's merchants

Selling Square's payments services to Afterpay's 98,000 merchants

Using the broader product suite of the combined company to attract more merchants to the platform

Integrating Afterpay's BNPL services within Square's Cash App, which has 70mn individual users. 
Potential synergies from Square-Afterpay deal
Source: Square + Afterpay company presentation 
Partnering payments and BNPL products can prove to be a lucrative combination
The Square and Afterpay deal highlights the natural fit between payments and BNPL companies. We think such partnership is even more beneficial in emerging markets as payments companies have access to consumer spending patterns, which are important for credit risk management in the absence of credit bureau coverage and other traditional consumer financial data. We have previously highlighted Huabei from Ant Group, which leverages off Alipay data to generate additional sales for Alibaba. There are many other examples of other fruitful partnerships elsewhere in EM. For example, PayU, a payments gateway company in India, owns LazyPay, one of the leading BNPL companies in the country. UK's Checkout.com recently led a US$110mn funding round in Saudi Arabian BNPL provider Tamara, taking a minority stake.
In emerging markets, we have seen payments companies growing strongly and commanding high valuations. As per our EM fintech survey, one of the top three strategic priorities for both payments and lending fintechs is expansion of their product base. Therefore, payments companies and BNPL companies could follow Square and Afterpay's footsteps to expand their offerings to both consumers and merchants in their markets of operations.