Nigerian bonds have sold off sharply this year, with the spread on the Bloomberg EM Sovereign Nigeria Index rising by 327bps ytd through 17 June versus a 105bps rise in the Aggregate Index.
Nigeria's sell-off has been surpassed only by those of Tunisia, El Salvador, Pakistan, Ethiopia, Ghana, Honduras and Kenya among index constituents that are not in default or directly impacted by the Ukraine war, and the NGERIA 7 ⅞ 02/16/32s now yields a whopping 13.13% (1,004bps z-spread) and had a cash price of just US$71.7 on 21 June implying a high degree of default risk.
Given the outsized sell-off both relative to its own default risk and the performance of its peers, we have a Buy recommendation on the NGERIA 7 ⅞ 02/16/32s at US$71.7 (13.13% YTM), with a conservative target of spreads narrowing by 100bps relative to the Bloomberg EM Sovereign Aggregate.
Report: Nigeria: Upgrade to Buy after excessive sell-off
Thailand is the most liquidly traded top-down equity exposure to tourism available in emerging markets, with over 10% direct contribution to GDP from the sector, and average daily traded value (past six months) in the equity market of over US$2bn.
Thailand appears cheap, in terms of trailing PB relative to history, compared with peers in Asia EM and Tourism EM.
The local SET Index is down 10% in total US$ terms ytd, second only to Indonesia in Asia EM.

Trailing PB of 1.2x (for trailing ROE of 9%) is a 36% discount to the five-year median.

Forward PE is 16x (for 16% consensus earnings growth in 2022f and 2.8% dividend yield) is close to par with the five-year median.

The real effective exchange rate is close to 100 and to its 10-year median.
Report: Thailand – Shinawatra scion tops opinion poll, election likely before May 2023
We have a Sell on Colombia's dollar bonds. To the extent that investors were pricing in a Rodolfo Hernandez victory in the presidential election, we expect Colombian bonds could weaken initially and pending better visibility over winner Gustavo Petro's plans in office and relations with Congress, although investors may wait to see who Petro appoints to his economic team and whether he moderates his message. There are also two months before he can do anything. Meanwhile, external headwinds will likely continue.
Report: Colombia turns left as Petro wins presidency in anti-establishment run-off vote
We have cut our target price for Indonesian tech company GoTo by 9%, due to the increased risk of cash burn. Our new TP of IDR202 implies 50% downside, hence we reiterate our Sell recommendation (see our initiation report here).
There are three key reasons for our pessimism:
BNPL will worsen GoTo's cash burn: GoTo has announced that it intends to expand into buy now, pay later (BNPL) loans. A foray into BNPL would only worsen GoTo's stretched financial situation. We expect EBITDA losses of IDR31,972bn (US$2.20bn) in FY 22 and IDR32,140bn (US$2.22bn) in FY 23.
The company is still heavily loss-making: GoTo recently released its Q1 results – revenue rose 65% yoy but at the expense of widening losses. Pre-tax losses rose almost one-third to US$1.5bn, worsening its cash burn.
It has lower net cash than its ASEAN peers: GoTo's cash position is precarious compared with its ASEAN peers Grab and Sea. In FY 22, the cash burn will be onerous due to high operating expenses.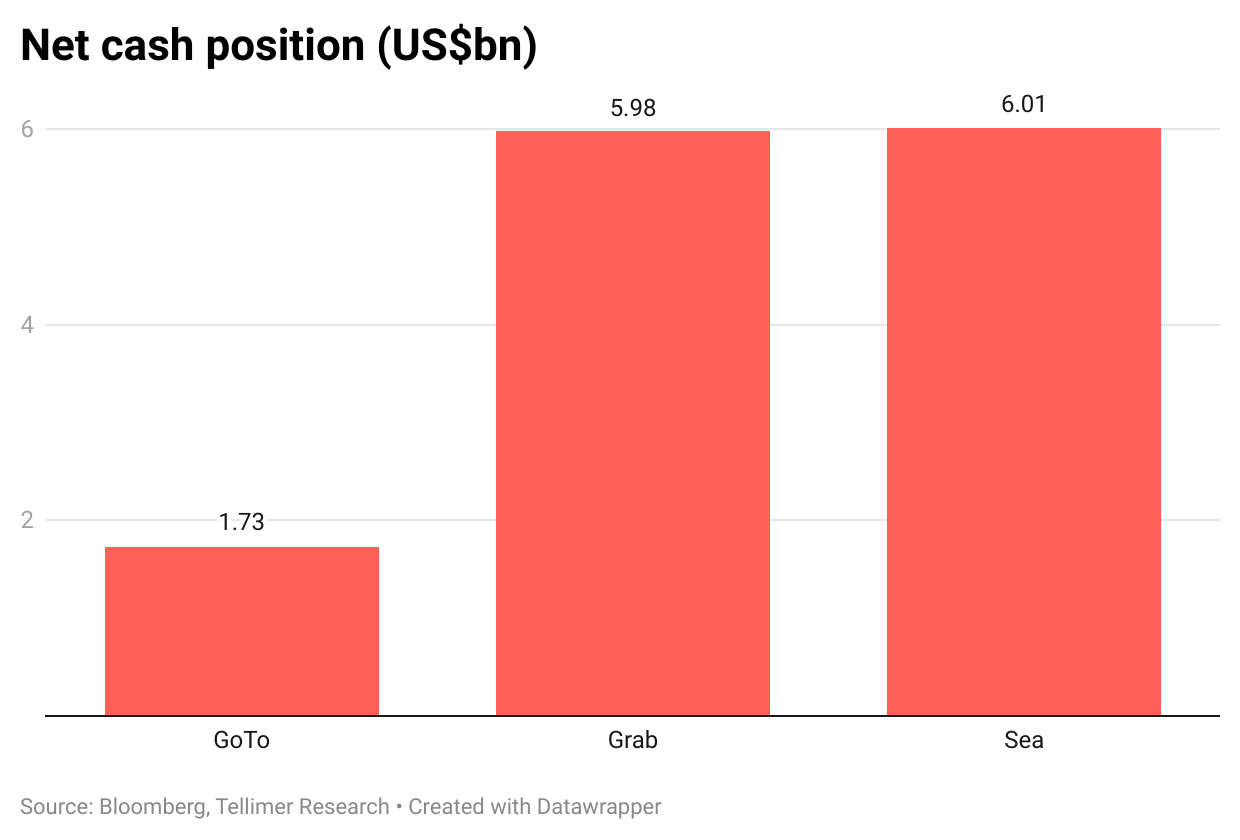 Report: GoTo – Heading for a severe cash crunch
Operating costs consume a median 44% of emerging market banks' revenues. For the largest EM banks, the cost/income ratio is highest in South Africa, the Philippines and Hungary, and lowest in Qatar, Vietnam and Russia.
More pertinently for investors, operating costs are equivalent to c100% (average/median) of pre-tax earnings, meaning that a 1% increase in costs erodes earnings by a similar amount. The bank earnings that are most vulnerable to earnings erosion include those in South Africa, the Philippines and India.
Combining both these factors (margin and cost sensitivity) allows us to assess those banks that could benefit most from higher margins and be less sensitive to higher cost inflation (top-left quadrant in the chart below) and those that are less favourably positioned along both these metrics (lower right quadrant).
Our analysis presents banks in Qatar and Saudi Arabia in a positive light. India, Hungary and Colombia banks could find the current environment to be more challenging.
Report: Inflation, interest rates and the margin-cost trade-off for EM banks