20 May 2021
Telecom infrastructure: The big opportunity for tower companies in Africa

Ayobami Omole
Junior Research Analyst @ Tellimer Research
20 May 2021
Telcos are moving towards asset-light models through sale and leaseback agreements of mobile towers with tower companies
Still many opportunities for tower companies given low mobile penetration, significant coverage gap and 5G rollout
Ethiopia is a great prospect for tower companies if restrictions loosen, alongside Democratic Republic of Congo and Chad


20 May 2021
Telcos giants in Sub-Saharan Africa are selling off their towers as they morph into asset-light business models.
Recently, Airtel Africa announced the sale of its towers in Madagascar and Malawi to Helios Tower, as well as its intention to build an additional 195 sites which will be handed over to Helios. The company has also entered into an MoU with Helios Tower for the potential sale of about 1,000 towers in Chad and Gabon. The transactions are embedded with lease agreements between both parties.
Similarly, MTN Group recently appointed advisors to explore a sale and leaseback programme for some or even all of its 13,000 towers in South Africa.
Apart from the sale and leaseback deals, tower companies are also developing new sites to serve mobile network operators (MNOs). Helios Towers recently signed an agreement with the Senegalese government to invest US$200mn in towers over five years. 
The sale and leaseback trend in Africa started as far back as 2010, but the volume of transactions has picked up over time. There are three main reasons why telcos are going in this direction.
The cost of operating tower sites is quite high, particularly because of the electricity problems in most parts of SSA and the need to rely on diesel generators. The sale of towers to tower companies allows MNOs to cut operating costs.

The sale and leaseback arrangement allows telcos to free up capital for other investments and focus on emerging revenue lines, e.g. digital payments.

Shared infrastructure allows telcos to deliver better quality services and easily reach more people at lower cost.
There is still room for more deals across Africa
The majority of towers in Sub-Saharan Africa are owned by MNOs (c60% of c170,000 towers) compared to the global situation where tower companies own c70% of the tower portfolio. Africa typically lags other continents in this industry trend because of the peculiar challenges in the region.
This and other data evidence suggests that the trend of tower companies acquiring and building tower sites across the region is not ending anytime soon.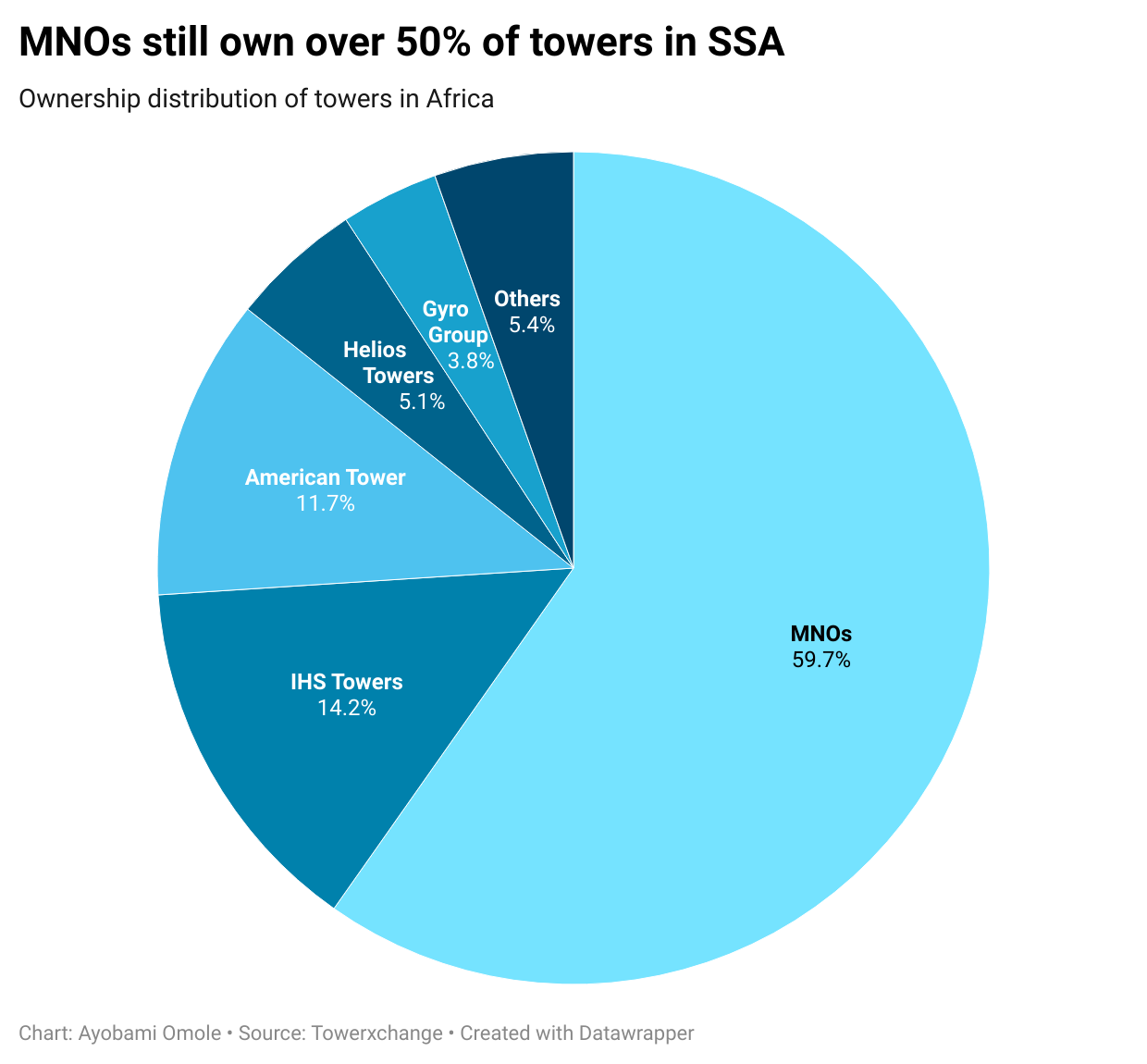 There is an internet coverage gap of 25% in Sub-Saharan Africa and the gap is as high as 42% in Central Africa. While increasing usage is a priority, the large coverage gap shows that there is an untapped market that MNOs and tower companies can explore in the future.
On the back of that, countries with low mobile penetration offer plentiful opportunities for tower companies to expand and support MNOs in reaching more potential subscribers.
In addition, there is a strong investment case in highly populated countries with low mobile penetration, such as Ethiopia and Democratic Republic of Congo.
In the case of acquiring already existing towers to allow MNOs to transition to asset-light models, in very few countries (Ghana, Nigeria, Rwanda and Uganda) are more than 70% of tower sites owned by tower companies. Indeed, tower companies are not present at all in Chad, Gabon, Malawi, Mozambique and Ethiopia, although this will change with the acquisition of Airtel Africa's towers in Chad and Gabon by Helios Towers.  
Putting all the above together, Ethiopia is a great prospect for tower companies, but authorities have restricted the entry of international players into the telco infrastructure industry even as the country aims to privatise and open up the Telco sector. We believe that the restriction might be loosened over time as the industry grows and develops.
Central African countries also exhibit an attractive gap that towers companies can take advantage of, particularly Democratic Republic of Congo and Chad.
Even for the countries that already have a huge presence of tower companies and high mobile penetration, there are still investment opportunities as MNOs plan to roll out 5G. Effective 5G rollout will require the significant rollout of small cell towers. As countries like Nigeria, Ghana and Kenya begin to test and prepare for the gradual rollout of 5G, tower companies have a key role to play.
Operational advantage for tower companies
Tower companies can take on the burden of managing the towers effectively and remain profitable because of focused expertise, better operational execution, and the ability to host multiple carriers. Recently, tower companies are also forming partnerships with energy service companies to manage the cost of electricity needed to power the tower sites, taking off the burden from MNOs totally.  
Financial advantage for MNOs
For the MNOs, one of the major advantages of this trend is that capital is freed up for other projects or to settle existing obligations. For instance, Airtel Africa intends to use the process from its tower sales to settle part of its debt obligation. On a long-term basis, the elimination of tower management costs is a huge positive. The recent introduction of IFRS 16 on the treatment of lease liabilities, which mandated the removal of lease costs from operating expenses, means that all things being equal, MNOs will record higher EBITDA margins after sale and leaseback transactions.
---
Disclosures
This report is independent investment research as contemplated by COBS 12.2 of the FCA Handbook and is a research recommendation under COBS 12.4 of the FCA Handbook. Where it is not technically a res...
Full Tellimer disclaimers