2021 Themes: Technology has dominated global equities, consider its risks


24 November 2020

Hasnain Malik
Strategy & Head of Equity Research @ Tellimer Research
24 November 2020
Covid-19 accelerated tech adoption, but also widened the gap in tech growth and access to capital vs. other sectors
Valuation multiples in US and EM tech have expanded massively
However, risks have intensified: US anti-trust scrutiny, nationalist regulation and China-Taiwan friction


24 November 2020
Tech's total dominance
For years, mega Technology companies have grown faster and with higher returns on capital (particularly, in US$ terms), enjoyed wider equity valuation multiple expansion, and attracted greater fund inflows (the amplifying effect of passively managed assets) than old-fashioned sectors in developed, emerging, or frontier equity markets.
In many respects, every other part of the public equity universe has lived in the shadow of mega Tech, even within large EM with the outperformance of China (mainly software applications like Alibaba), Korea-Taiwan (mainly hardware manufacturers like Samsung and TSMC) and small EM-FM Tech (eg Mercado Libre in LatAm, Sea in Asia, Yandex in Russia, Jumia in Africa).
In 2020, Covid-19 not only accelerated tech adoption, it also widened the gap in tech growth and access to capital relative to all other sectors which have been negatively impacted by Covid-19. As Microsoft CEO Satya Nadella stated, "As Covid-19 impacts every aspect of our work and life, we've seen two years' worth of digital transformation in two months."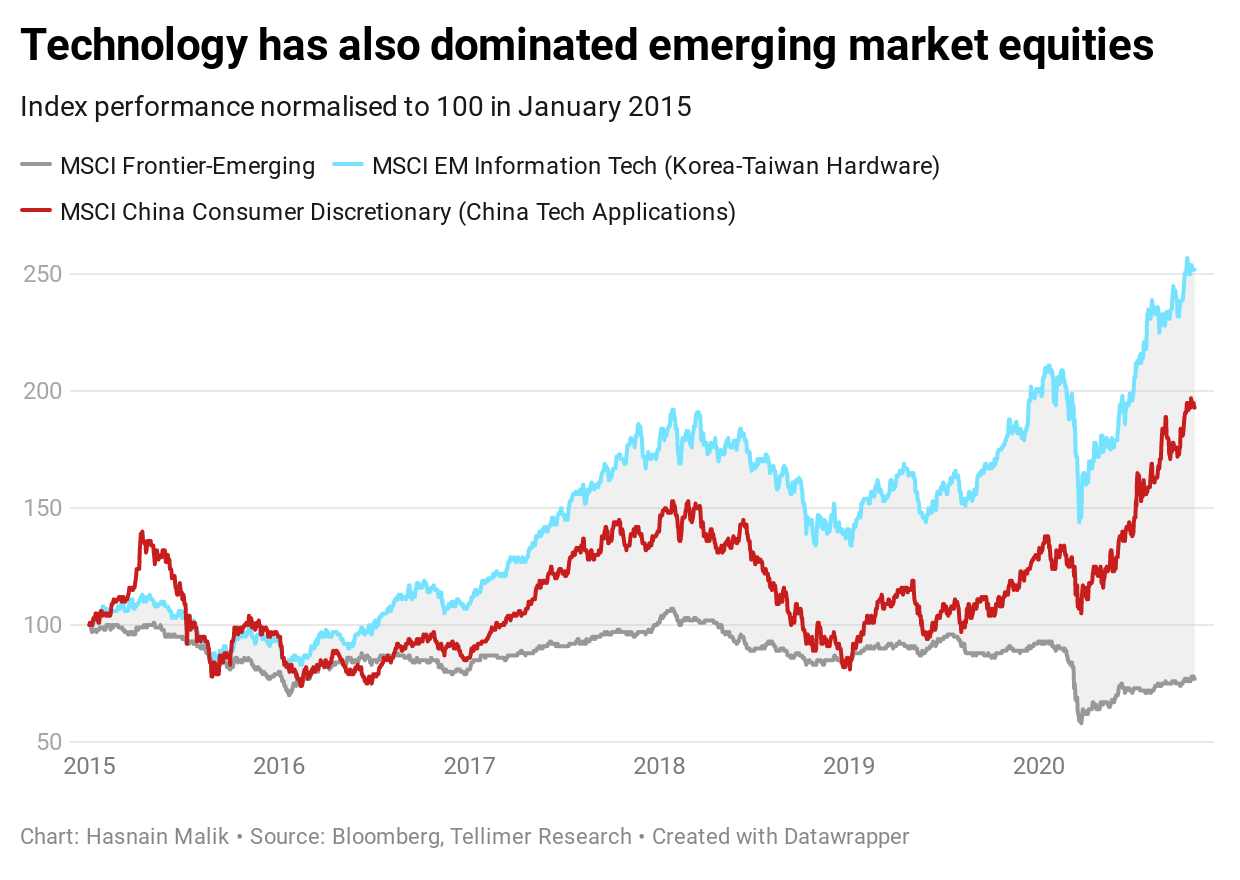 Major risks have intensified in 2020
However, there are three risks which have significantly deteriorated for the global Tech sector in 2020.
1) US antitrust scrutiny – The US Department of Justice filed an anti-trust lawsuit against Google's online search in October 2020. In some respects, this is quite a narrowly defined case and is very similar to the case against Microsoft's web browser (Microsoft's version of the software which ultimately grew into the Google commercial juggernaut of online search, as we know it today). This is not a coincidence. The DoJ expects their chances of success are maximised by mirroring a precedent lawsuit. But the repercussions, whether the prosecution succeeds or not, are much wider because they could presage anti-trust suits against the other titans of US mega Technology. Note that the initiation of anti-trust proceedings against Google follows the 450-page report from a US Congressional committee (led by the Democrats), in which Google, Apple, Amazon, and Facebook were alleged to be undermining commercial and political freedom.
2) Nationalist regulation amid US-China friction (not to mention, Japan-Korea friction) – The nationalist regulatory agenda has manifested itself in multiple ways across the Tech value chain:
Tighter restrictions on US-listed Chinese tech companies.

Creeping scrutiny of US institutional investment in onshore Chinese listed securities.

"Splinternet" for tech applications, eg Tencent-affiliated company restrictions in the US.

Blocking off markets for hardware, eg Huawei mobile network equipment.

Restricted access for foundational hardware components, eg ARM chip designs.

Potential duplication of hardware supply chains, eg TSMC foundries or Hon Hai-Foxconn assembly plants).
3) Intensifying territorial friction between China and Taiwan (Province of China) and others around the 10-Dash line, which may spill-over into operational risks for the Taiwan Tech hardware sector (which, in turn, is central to the global hardware sector).
And valuation multiples have expanded massively
Valuation multiples have become much dearer in Tech; ie the entry-price to access albeit superior growth has cranked up.
Forward P/E for the FANG+, China Consumer Discretionary (mainly Tech apps), EM Tech Hardware (mainly Korea-Taiwan Tech) are c50%, c70%, c25% higher respectively (despite the September 2020 sell-off) than at the end of January 2020.

Trailing EV/Sales for Mercado Libre, Sea, and Yandex (the largest Tech stocks in small EM-FM) are c60%, c200% and c50% higher respectively, on the same timeframe.
Read all of our 2021 Global Themes here.
---