What are the most vulnerable markets in a second Taper Tantrum?


20 February 2021

Patrick Curran
Senior Economist @ Tellimer Research
20 February 2021
Concerns of a second Taper Tantrum are likely overblown, with EM assets holding up well amid rising US bond yields
External imbalances have moderated in systemic EM, with the 'Fragile Five' looking less vulnerable
We look at which countries could suffer this time around, if there is a Taper Tantrum 2.0


20 February 2021
Fears of a repeat of the 2013 Taper Tantrum have come to the fore this year as investors assess inflation risks on the back of President Biden's stimulus plans and prospects for a post-vaccine Covid recovery.
The so-called reflation trade has been a boost for risk assets in the near term, supported by the low for long view on rates, but tighter monetary conditions as a pre-emptive strike against inflation risk taking away the very foundations of the rally. US bond yields have risen by c40bps already this year and 80bps since the mid-2020 trough in response to these concerns. EM bonds may be right to brush this off, as the current situation differs in a few ways to 2013, but we look at who might be vulnerable to a repeat of the Taper Tantrum.
Version 2.0
In May 2013, Federal Reserve Chairman Ben Bernanke said during an appearance before Congress's Joint Economic Committee that the Fed could, at some point in the near future, "take a step down in our pace of purchases" under its quantitative easing (QE) asset purchase program. The statement caused US Treasury yields to spike, nearly doubling from 1.6% to 3% in the proceeding three and a half months.
EM assets sold off in what came to be known as the Taper Tantrum, with credit spreads widening and currencies weakening sharply, especially for those EMs that were perceived as displaying greater degrees of external vulnerability.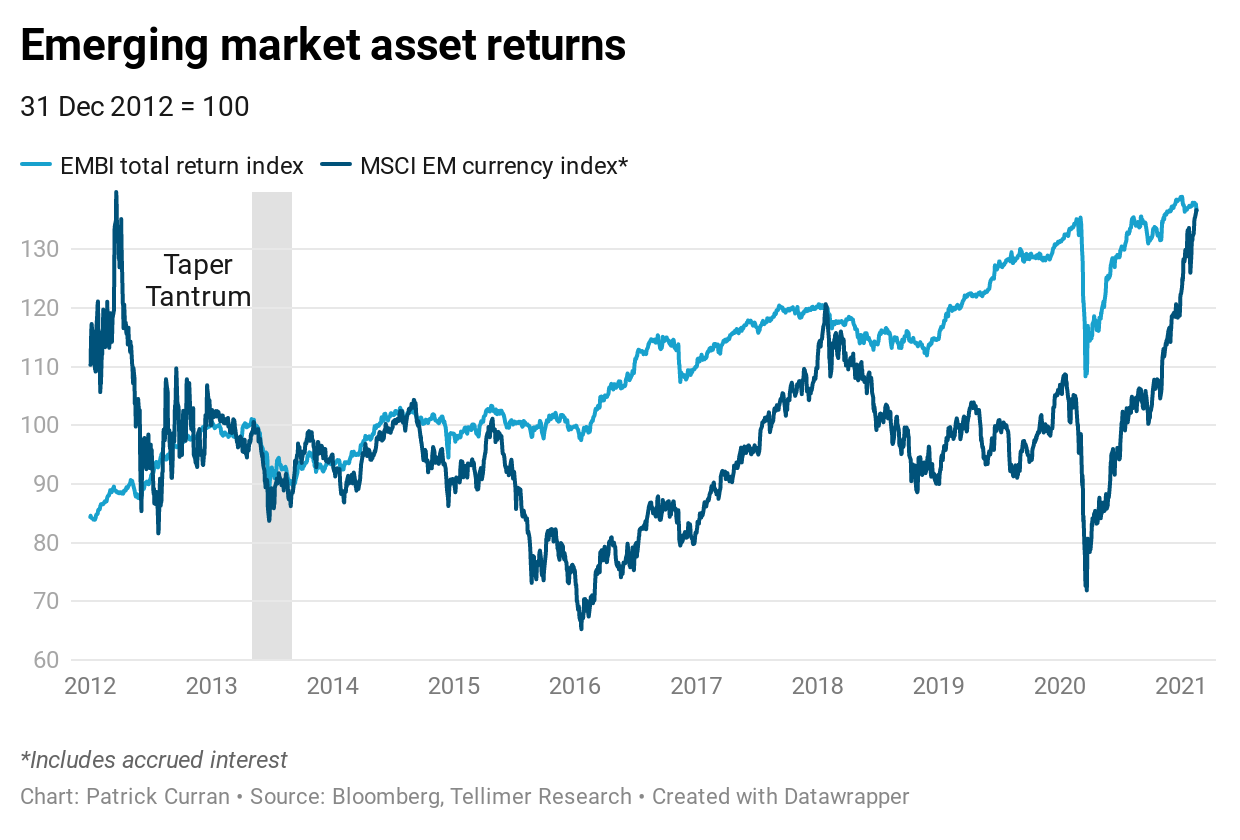 The currencies hardest hit included those of many of the large, liquid, high-beta countries, such as Brazil, Mexico, India, Turkey, South Africa and Russia. Meanwhile, the credits hardest hit included many higher-yielding names, like Belarus, Ukraine, Angola, Ghana, Sri Lanka and Nigeria.
As 2021 kicked off, fears of a 'Taper Tantrum 2.0' began to materialise. The prospect of a fresh round of fiscal stimulus in the US pushed up inflation expectations, causing many to worry that the Fed would have to backtrack on its low for long policy pledge by tapering its asset purchases or hiking interest rates sooner than initially expected, and thereby pushing up medium- and long-term Treasury yields.
In this in-depth report for Tellimer Insights Pro subscribers, we look at which countries are most vulnerable this time around, if there is a Version 2.0. Contact us to subscribe and read the full article.
---