The number of confirmed Covid-19 cases in Tanzania has been rapidly rising in recent days, and has now reached 254. East Africa neighbours Kenya, Rwanda and Uganda have taken significant measures to combat Covid-19, with the last two of those having apparently managed to flatten their curves. Tanzania, though, has not implemented curfews or lockdowns, or even tweaked monetary policy, with the president stating that Covid-19 should not stop the country from working as normal. 
Our view is that Tanzania is the highest-risk country in East Africa, and we expect the situation to worsen, with the current policy (or lack of it) proving counter-productive. We prefer Kenya as an investment destination, especially for banks - the feet-dragging on the Covid-19 response in Tanzania risks courting disaster. 
Google mobility data shows Tanzania slower to implement lockdown than regional rivals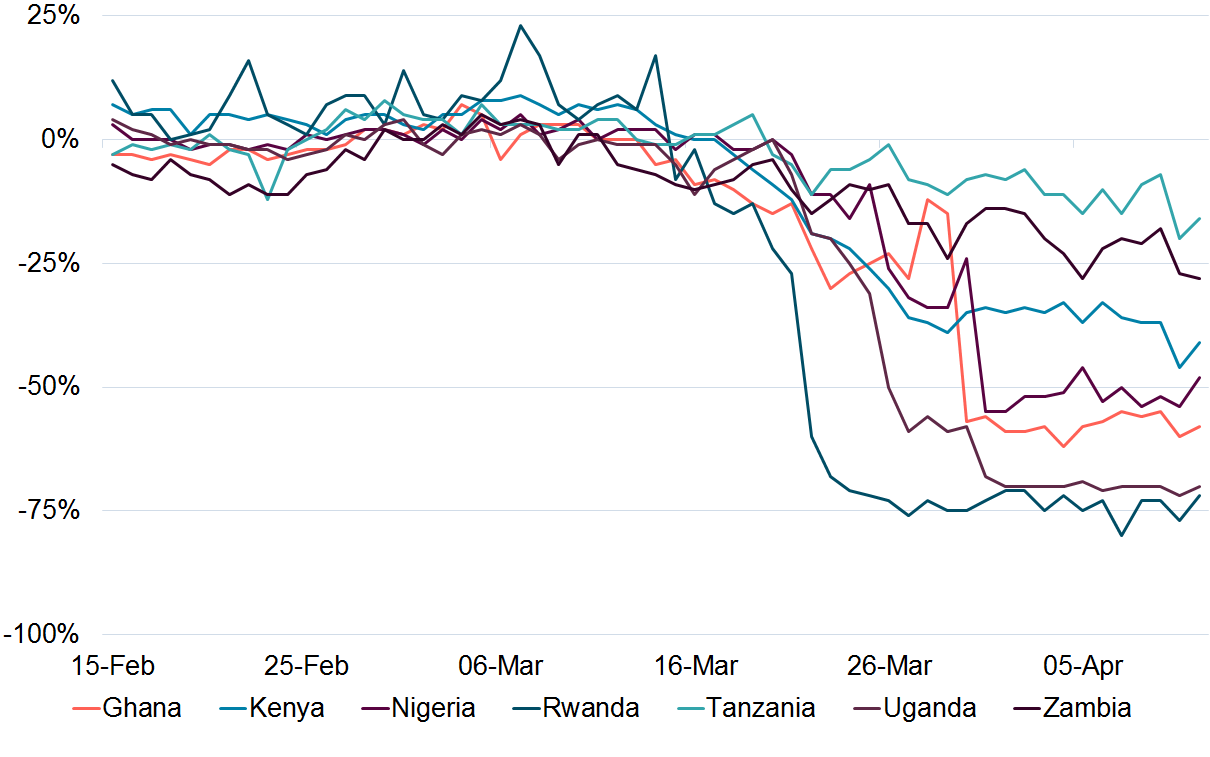 Source: Google mobility data, Tellimer Research
The World Bank's recently released World Economic Outlook expect's Tanzania's GDP to grow by 2.0% in 2020 and 4.6% in 2021. In our view, though, the recovery next year will be heavily dependent on the impact of Covid-19 on the economy and the subsequent election, which is due in H2. As it is, we expect asset quality to continue to worsen, the fiscal deficit to widen and low credit growth to continue this year. The lack of policy support from the regulator could exacerbate the situation. 
We believe Tanzania might be following the path trodden by the authorities in Spain and Italy, which implemented Covid-19 measures when the disease had already begun to ravage the countries. According to the World Bank, Tanzania has 0.7 hospital beds per 1,000 people, while Kenya, Uganda and Rwanda have 1.4, 0.5 and 1.6 beds per 1,000 people, respectively. In addition to this, Kenya has set up more than 100 Covid-19 specific hospital beds and has embarked on the production of ventilators, personal protective equipment and masks. Uganda has opted to extend its lockdown to May even though the country's curve has flattened. Rwanda, too, has extended its lockdown and has made the wearing of masks mandatory. 
Tanzania, for its part, has not indicated it will pursue any such measures, with the leadership seemingly holding out hope that the impact of the virus will not be significant. Kenya, for example, has not seen very many severe Covid-19 cases, but many countries have not been so fortunate.
Number of Covid-19 cases in East Africa