"Never let a good crisis go to waste"
UK Prime Minister Winston Churchill reportedly made this observation towards the end of World War II. He was referring to the Yalta Accord, which signaled an alliance between the UK, Russia and the US and presaged the creation of the UN. But investors may wish to lean on his words as they survey the carnage wreaked on markets by last week's Truss-Kwarteng mini-budget, particularly after recent Bank of England intervention has bought some breathing space in fixed income and FX.
UK exposure has been a key determinant of relative performance
Focusing on the equity market, one important recent differentiator of stock performance has been the extent to which UK-listed companies are reliant on the domestic economy to generate sales. The firms most exposed to the UK economy have fared worst in the recent rout.
This reflects growing concerns over the outlook for the UK economy, with higher risk premia and lower growth visibility pressuring asset values. Companies with a more geographically diverse revenue base can potentially dodge this bullet. But these firms' earnings should also benefit from GBP weakness (since foreign earnings would be worth more on conversion). Indeed, firms with exclusively foreign earnings but GBP listings should actually have appreciated in value as sterling got punished but, overall, negative investor sentiment appears to be outweighing such arguments currently.
Since the mini-budget was announced, the FTSE 100 has declined by a modest 4%. But the quartile of firms with the greatest exposure to the UK have substantially underperformed, with several seeing double-digit percentage point declines.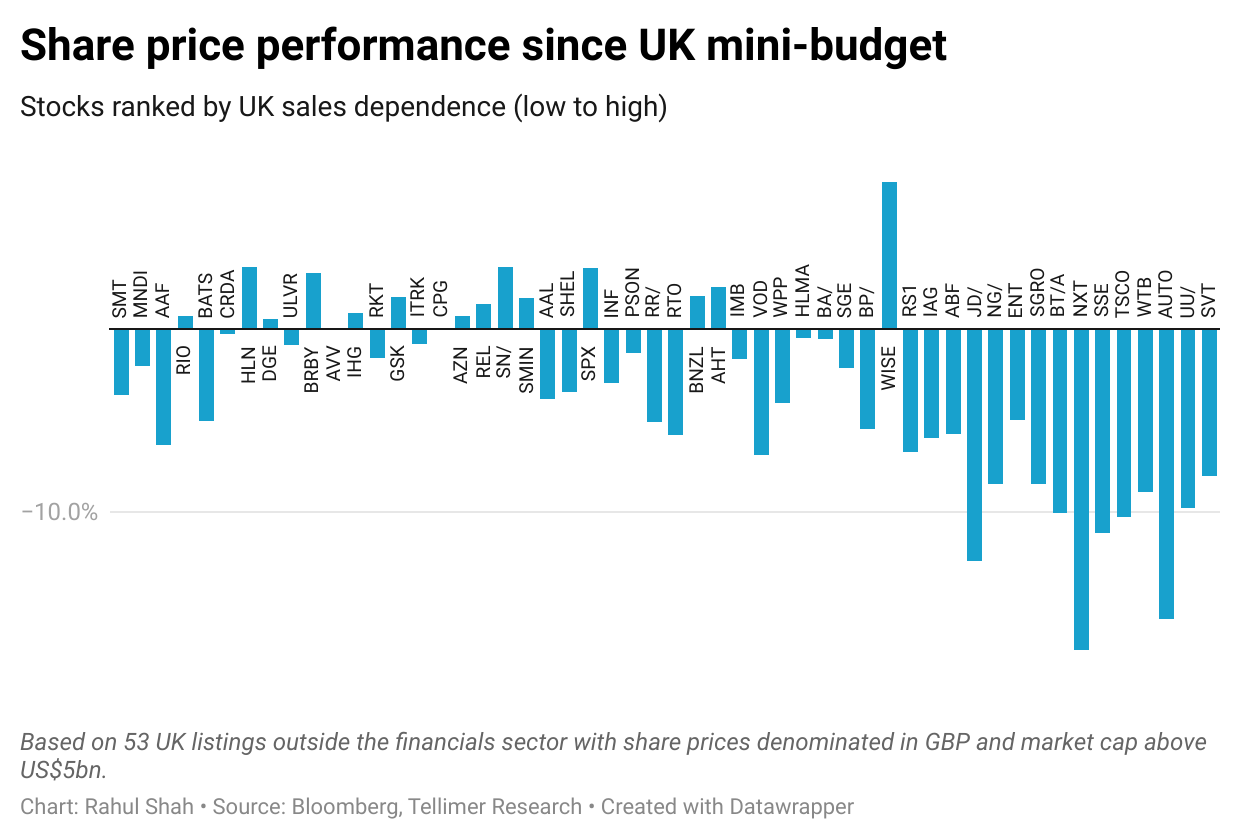 Identifying investment opportunities
Have these performance differentials opened up investment opportunities? To help answer this question, we have also considered stock performance since 12 September, which was when both GBP and the FTSE100 last peaked (albeit this strength was transitory). Regressing stock performance against UK revenue dependence across both periods has helped to identify the following outliers that could be worthy of further investigation.
The five names on the left have underperformed by an average of 7% since September 12; those on the left have outperformed by 13% (in both cases, after adjusting for UK sales exposure). A more discriminating approach by investors, as the dust from the macro fallout settles, could see this 20% relative performance gap close. Both groupings contain a mixture of names with both high and low direct exposure to the UK economy, as our approach highlights outliers after adjusting for geographic mix. 
Note: In performing this study we have considered 53 UK listings (outside the financials sector) with share prices denominated in GBP and market capitalisation >US$5bn.
Appendix: UK sales exposure