Russia's war in Ukraine will have lasting consequences for Europe's supranational institutions, as rebuilding the Ukrainian economy will absorb significant political and economic capital, possibly diverting resources from other pressing issues.
One long-term consequence of the reconstruction of Ukraine (CC/Negative) promises to be the country's admission to the European Union. The war is also accelerating Europe's transition away from fossil fuels, a shift in which Europe's supranational institutions are playing an important role.
However, the war is also exacerbating geopolitical tensions between the EU and US and Russia and China which may undermine efforts by multilateral development banks (MDBs), committed to serving their shareholder governments, to work together to meet the long-term objectives of the Paris Agreement and the UN's Sustainable Development Goals.
These tensions will have important implications for supranationals' operations, funding volumes and loan books. "Still, we expect the balance sheets of highly-rated entities to remain robust as indicated in our Stable Outlooks.
Russia's, China's and G7 countries' share of subscribed capital in selected MDBs
% of subscribed capital, latest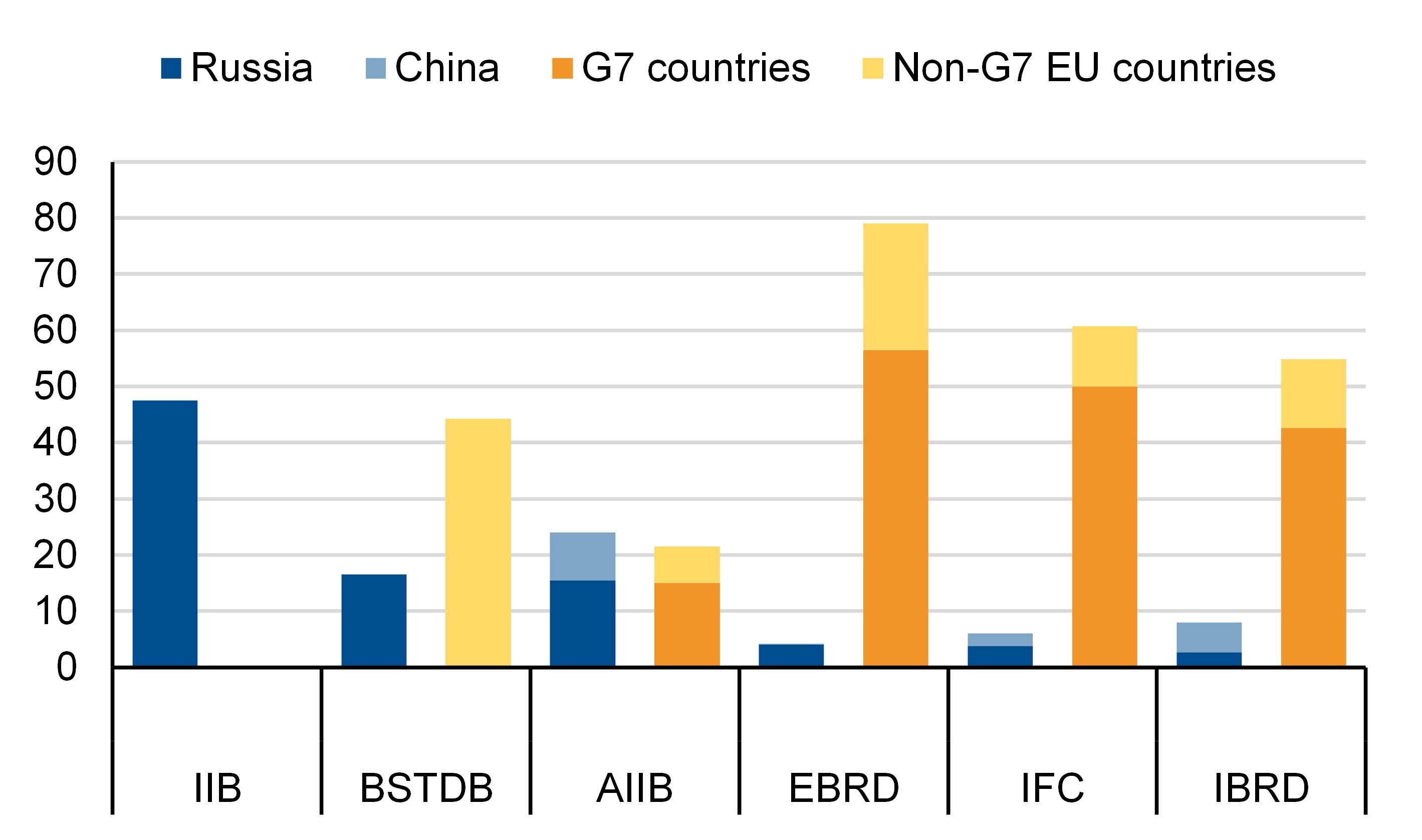 * International Investment Bank, Black Sea Trade and Development Bank (A-/Negative), Asian Infrastructure Investment Bank, European Bank for Reconstruction and Development (AAA/Stable), International Finance Corporation, International Bank for Reconstruction and Development (World Bank). Source: Issuers, Scope Ratings
EU institutions to tap bond markets to help finance Ukraine's reconstruction
Financing Ukraine's reconstruction presents a significant challenge for European institutions. The cost of Russia's invasion of Ukraine is expected to exceed EUR400bn with some estimates putting the cost as high as EUR 750bn.
A significant European contribution will most likely be provided by the European Commission (AAA/Stable), which has recently proposed a new support package for Ukraine of up to EUR 18bn to cover a share of the country's short-term funding needs for 2023. The expected engagement could lead to substantially higher euro bond issuance and further underpin the EU's presence in the capital markets. In addition, the EU could support Ukraine through guarantees to protect exposures of MDBs in Ukraine.
Climate-related risk embedded in MDBs' lending approaches
The alignment of supranationals' activities to the Paris Agreement is becoming the new standard. This has important implications given supranationals' pioneering role in setting industry standards built on engagement with investors and the private sector, with implications potentially for global supply chains.
Supranationals are developing tools to determine transition and physical risks in their portfolios. As methodologies evolve, minimum standards for assessing climate-related risks will emerge.
The EU is becoming the world's largest issuer of green and ESG-linked securities. The Next Generation EU programme is set to increase the supply of euro-denominated bonds – European safe assets – given its overall funding envelope of about EUR 800bn over coming years. The euro's leading role in funding green projects will likely continue in the absence of green US Treasurys.
Finally, the challenges of rebuilding Ukraine, supporting the post-pandemic, post-war economic recovery and the energy transition will test supranationals' capital adequacy.
G20 countries want to further leverage the resources of supranationals. Some headroom exists to increase MDB lending without affecting credit ratings, but the institutions need to be cautious in deploying additional resources without jeopardising credit-relevant metrics.