Sri Lanka's political crisis has worsened in recent days, with rising anger against the Rajapaksa family prompting Prime Minister Mahinda Rajapaksa to resign on Monday. Following his resignation, supporters attacked peaceful anti-government protestors in Colombo and violently dismantled their campsites, allegedly at the behest of Mahinda and his SLPP allies. This prompted a violent backlash from the anti-government protestors, who set fire to government vehicles and the homes of some ruling party officials and attacked people perceived as Rajapaksa cronies.
A state of emergency was declared on Friday and gave way to a nationwide curfew on Monday as the army was deployed to quell the violence in Colombo and police tried to disperse the crowds with water cannons and tear gas. The death toll from the violence reached 8 people on Tuesday afternoon, with at least 220 admitted to hospital with injuries, while the army has reportedly been ordered to shoot at anyone damaging property.
Mahinda's resignation is unlikely to placate protestors, who are calling for the entire family to step down. This includes President Gotabaya Rajapaksa, who holds the more powerful position of the two and remains in office. According to the law, Sri Lanka's cabinet is automatically dissolved when the PM resigns. Gotabaya hopes to placate his detractors by appointing opposition MPs to key roles, but the opposition has so far resisted calls to join a unity government and called on Gotabaya to step down.
In the meantime, the dissolution of the cabinet leaves Sri Lanka's IMF and debt negotiations in a state of uncertainty. The latest round of discussions was due to begin this week, spearheaded by CBSL Governor Nandalal Weerasinghe and Finance Minister Ali Sabry. But without more clarity on who will hold the finance portfolio in the coming months and without a stable government to negotiate with creditors and implement the necessary reforms, IMF talks will likely struggle to gain traction (a risk that we flagged last month).
In the near term, the key question will be how quickly a new cabinet can be appointed and whether Finance Minister Sabry will retain his position. If President Rajapaksa quickly reappoints Sabry, there could be a degree of continuity in the negotiations. However, if the opposition continues to resist the formation of a unity government and it seems likely the new cabinet will collapse for a third time, then the IMF and bondholders may not view them as credible interlocutors and may prefer to wait until a more durable solution to the crisis is reached before forging ahead, which could take quite some time.
In the meantime, Sri Lanka's economic crisis will continue to worsen. Inflation reached 30% yoy in April, LKR depreciation has reached 44.5% since it was devalued in March (with an additional 12% premium on the parallel market), and official reserves have fallen from US$1.9bn to US$1.8bn in April (versus US$1.9bn of external principal payments due over the next 2 months and equal to just 1 month of trailing goods imports). Further, Finance Minister Sabry said that "usable reserves" have declined to just US$50mn, with shortages of fuel, electricity, food and medicine likely to persist.
After a brief recovery, Sri Lankan eurobonds are now down c1-2pts across the curve since late April. With the ongoing political crisis likely to delay needed reforms and prevent meaningful progress on negotiations with the IMF and creditors, we continue to think that the process will drag out. While bonds are trading at the lower end of our estimated recovery value range, continued delays or increased social and political instability could lead to higher exit yields and lower recovery values.
We retain our Sell recommendation on the SRILAN 5 ⅞ 07/25/2022s at US$46.8 (562% YTM) and Hold recommendation on the rest of the curve at US$42 (62% YTM) for the SRILAN 6.85 03/14/2024 at cob on 10 May on Bloomberg.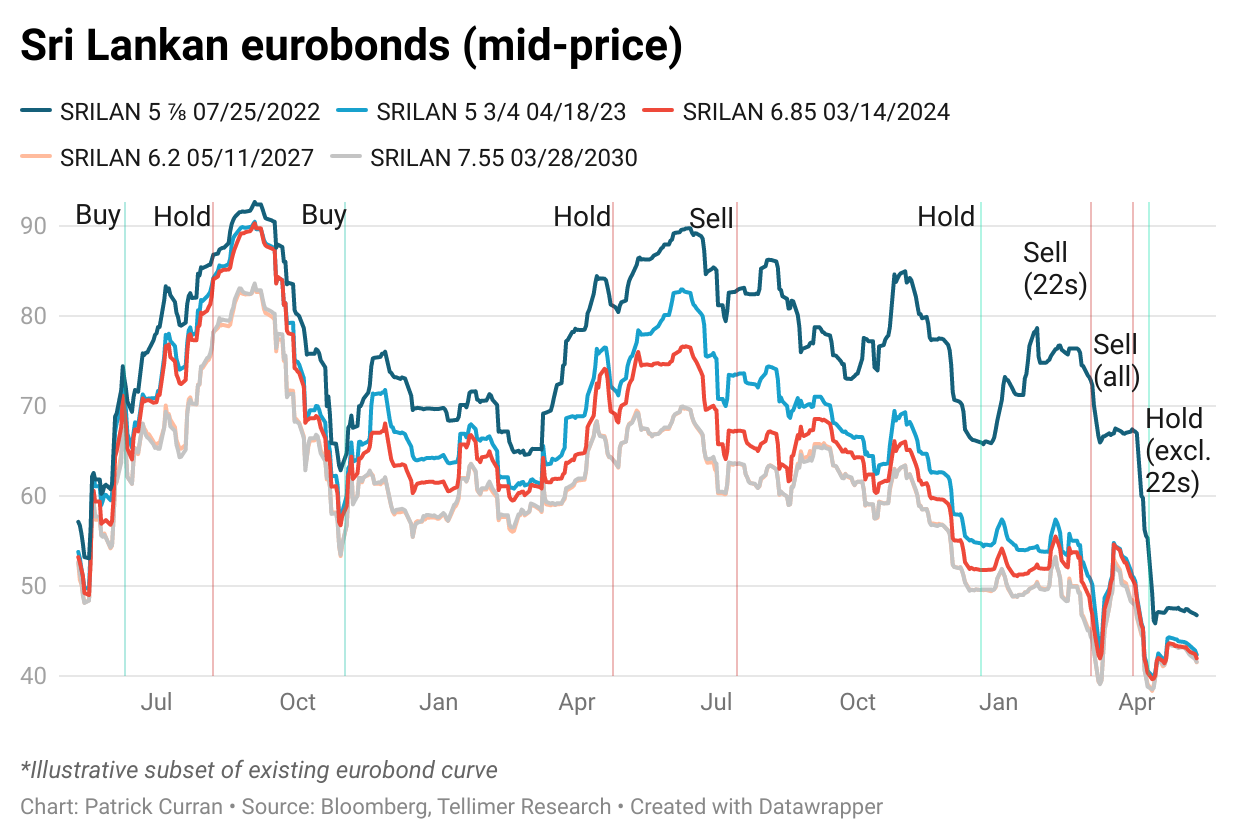 We also continue to treat Sri Lanka equities as off-limits for fresh foreign investment. While many of Sri Lanka's largest corporates have the balance sheet strength to withstand the current economic crisis, the obstacles to capital repatriation and the downside risks to the FX rate undermine the investment case. Equities, as usual, sit behind sovereign hard currency bonds in the queue in any ultimate recovery thesis.
Related reading
Reserves are approaching rock bottom in Ethiopia and Sri Lanka, May 2022
Sri Lanka: IMF talks mark beginning of long road, April 2022
Sri Lanka announced external debt restructuring, April 2022
Sri Lanka: New central bank chief hikes rates and confirms plans to restructure, April 2022
Sri Lanka: Market implications of political crisis, April 2022
Sri Lanka's state of emergency could make things worse, April 2022
Sri Lanka: IMF confirms our view on restructuring, March 2022
Sri Lanka finally turns to the IMF, March 2022
Sri Lanka: Recovery analysis puts bonds at fair value, March 2022
Sri Lanka: Devaluation is step in right direction but not enough, March 2022
Sri Lanka: Russia-Ukraine conflict raises risk of default, March 2022
Sri Lanka: Reserves plummet amid unsustainable debt payment Ponzi, February 2022
Sri Lanka set to pay eurobond next week but default inevitable from mid-2022, December 2021
Sri Lanka: Default is inevitable but bonds reach recovery value, December 2021
Sri Lankan Eurobonds nearing fair value; retain Sell, December 2021