The Sri Lankan Ministry of Finance released its Mid-Year Fiscal Position Report 2021 yesterday. When the government's 2021 budget was released in November, we had highlighted that overly optimistic revenue and macro assumptions meant that slippage was likely, a view that was affirmed by the revision of the 2021 deficit target from 8.8% to 9.5% of GDP due to lower revenue projections in the CBSL's mid-year review in May and by last week's announcement of 1.2% of GDP of additional spending measures.
While these previews on Sri Lanka's fiscal performance may reduce the new informational content of the mid-year report, it is still a good chance to take stock of budget performance so far this year and to get a sense of any potential underlying shifts in fiscal policy. Below, we provide a summary of our key takeaways.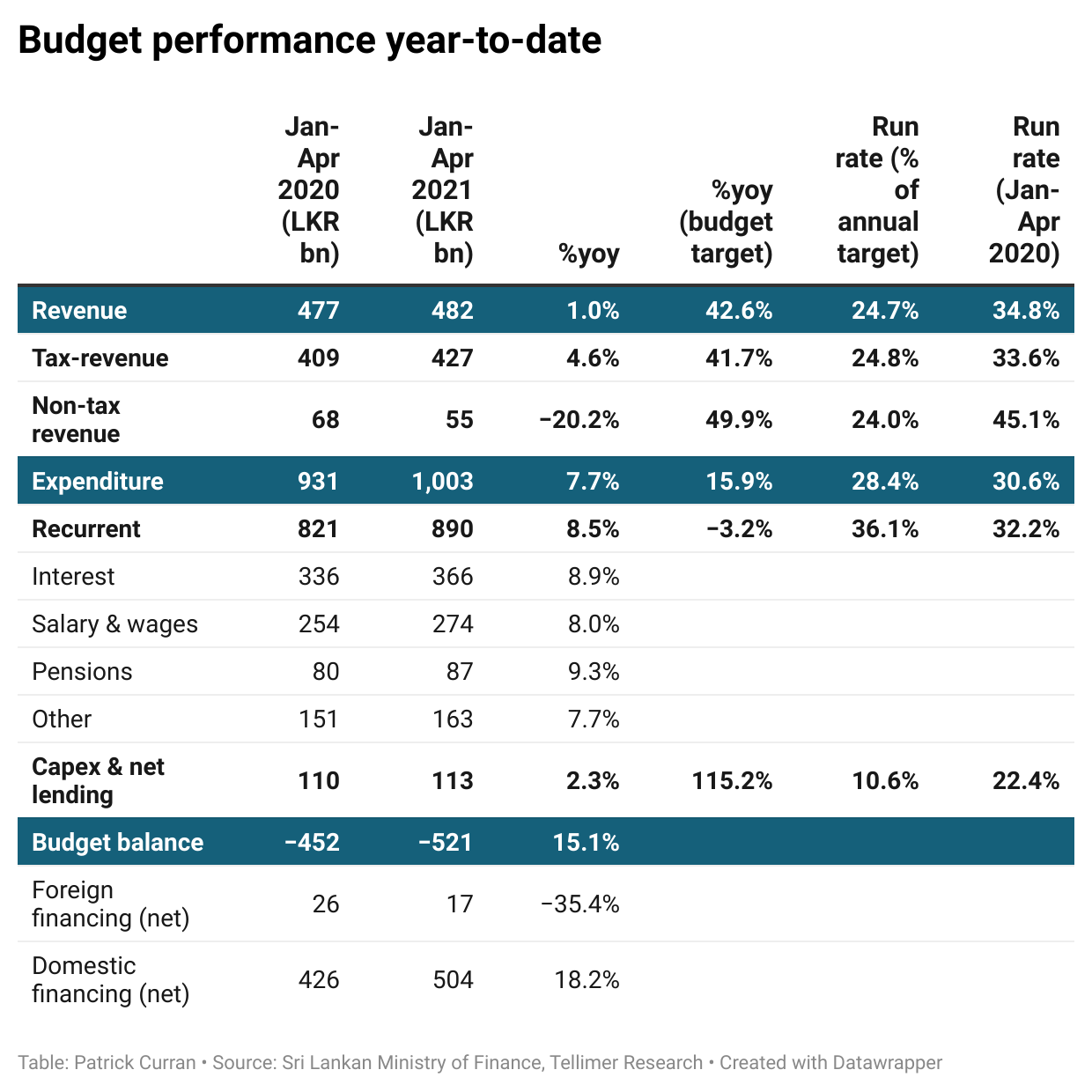 Through the first four months of the year, the budget deficit widened by 15% yoy to LKR521bn, with revenue up just 1% yoy (+5% tax revenue and -20% non-tax revenue) and spending up 8% to LKR1,003bn (+9% recurrent spending and +2% capex & net lending). As a result, the budget deficit widened to 3.1% of projected full-year GDP, from 2.8% over the same period last year. Rather than consolidating from 11.1% of GDP in 2020 to 9.5% of GDP in 2020, it looks like Sri Lanka's budget deficit is set to expand.
Sri Lanka's overly optimistic revenue projections are largely to blame. Its revised 2021 revenue targets call for an astronomical 43% yoy increase, but with no meaningful measures underlying that target, Sri Lanka has only managed a 1% yoy boost. Sri Lanka has reached a run rate of just 25% of its revised full-year revenue target, versus 35% at the same time last year, implying that slippage from its already downwardly revised revenue targets is likely.
On the spending front, total expenditure has risen just 8% yoy versus a targeted 16% rise, with a run rate broadly in line with last year. However, the composition has deteriorated with recurrent spending rising 9% yoy (-3% target) and capex & net lending rising just 2% yoy (+115% target). In addition, the additional LKR200bn announced last week (1.2% of GDP, roughly two-thirds of which is recurrent and one-third capex) will boost spending later in the year, meaning that spending will increase as the year progresses.
Lifting the hood, it is alarming that interest payments absorbed 76% of government revenue over the first four months of the year (from 71% during the same period last year). With salaries, wages, and pensions taking up another 75%, roughly 150% of government revenue is already accounted for by relatively sticky line items, leaving little room to manoeuvre. And with capex at just 11% of spending, the budget will not be very supportive of long-term growth and there isn't much low-hanging fruit for spending cuts on relatively more flexible line items like capex.    
While the Treasury highlights Sri Lanka's "unblemished record of debt servicing", this will only get increasingly difficult to maintain, especially after July when Sri Lanka's already low reserves (US$4.5bn, or 3.1 months of import) are drawn down to pay its US$1bn eurobond amortization. Through April, government external debt service has reached US$981mn (US$521mn principal, US$460mn interest), which leaves US$2,960mn remaining over the last eight months of the year (US$2,139mn principal, US$821mn interest), which will require new sources of financing to prevent further drawdown of reserves.
The report highlights swap facilities of US$250mn from Bangladesh Bank, US$400mn from the RBI, and another US$1bn from an "Indian counterpart" (it is not clear what the latter is referring to). In addition, the Treasury highlights the nearly US$800mn SDR allocation, plus the US$1.5bn swap line from the PBoC which is already in place but not yet drawn. However, the potential impact of the swap lines could be overstated. There may be stipulations on the use of funds, limiting use to specific items like imports or debt service to the issuing country, and there could also be other features such as minimum reserve levels or short payback periods that help insulate the lenders and could limit how much can actually be drawn down.
Overall, the Treasury's mid-year report affirms our expectations that further fiscal slippage is likely, pushing Sri Lanka ever closer to default. There is nothing in the report to suggest that the government has any intention to change course and consolidate its deficit, and there is no evidence that the government yet understands (or at least publicly acknowledges) how quickly they are running out of room to run such an expansionary policy. Without turning to the IMF for policy support and funding, we, therefore, have little confidence that Sri Lanka can put debt on a sustainable downward trajectory.
That said, there are suggestions that the government is increasingly warming to the idea of an IMF programme, alongside a potential leadership reshuffle at the Treasury. While any statements from the IMF or government officials that programme discussions have started in earnest could be a positive catalyst for eurobonds, we have yet to see any concrete evidence that the government has changed its tone and even if Sri Lanka requests a programme there is no guarantee that it will be able to close negotiations (it will first have to prove that it can set debt on a sustainable trajectory to satisfy the IMF's rule on lending into arrears, as it currently deems Sri Lanka's debt as unsustainable).
Maintain Hold on Sri Lanka bonds
Against this backdrop, we continue to think that risks are skewed to the downside but maintain our Hold recommendation on Sri Lanka 6.25% 21s given the low probability of default in July and on the 6.85% 24s with prices roughly in line with our target price of US$70 after the recent adjustment downwards.
Related reading
Sri Lanka's expansionary policy is creating major imbalances, June 2021
Chemical spill unlikely to alter weak tourism recovery, June 2021
Debt reclassification causes confusion, May 2021
Time to take profits as upside is priced in, April 2021
Chinese swap provides breathing room, March 2021
External pressure increases risk of debt default, February 2021
Sri Lankan budget aims for ambitious consolidation, November 2020
Back to Buy as the pessimism is excessive, November 2020
Attractive again, but risks remain; Retain hold, October 2020
Eurobonds collapse on lack of IMF urgency, September 2020
Bonds fairly valued after Rajapaksa landslide, August 2020