President Ranil Wickremesinghe presented Sri Lanka's 2022 Interim Budget to parliament yesterday. Alongside the planned IMF agreement and the 2023 Budget, both of which the government hopes to finalise by the end of November, the Interim Budget lays out the proposed framework for Sri Lanka's "Economic Stabilisation and Revival" plan.
President Wickremesinghe said in the speech that "Negotiations with the International Monetary Fund (IMF) have successfully reached its final stage" and that "Discussions on debt restructuring will be held with the main countries that provide loan assistance to our country." This comes amid the latest week-long IMF staff visit, which is due to wrap up tomorrow.
A statement by the Fund is also expected tomorrow, with Reuters reporting that the IMF and Sri Lanka have reached a staff-level agreement (SLA) on Sri Lanka's reform programme (likely aided by the policies announced in yesterday's Interim Budget – see below). That said, we will have to wait for tomorrow's statement for confirmation, and an SLA is simply the first step of the process.
In a recent presentation to creditors, the government said that an SLA would be followed by talks with creditors to secure financing assurances and delivery of prior policy actions, paving the way for Board approval by end-November and disbursal of funds by year-end. Indeed, a recent statement by the IMF emphasised that "Because Sri Lanka's public debt is assessed as unsustainable, approval by the IMF Executive Board of the EFF programme would require adequate assurances by Sri Lanka's creditors that debt sustainability will be restored."
President Wickremesinghe recently told Reuters that Sri Lanka had asked Japan to host a meeting of Sri Lanka's official creditors next month, adding that other key creditors like China and India would be invited and that talks with China had so far been positive (for reference, China holds 44% of Sri Lanka's bilateral debt versus 32% for Japan and 10% for India). However, the government's target of obtaining the necessary financing assurances for Board approval within the next 3 months seems ambitious, especially given the long delays we have seen in Ethiopia and Zambia getting China to the table.
Sri Lanka's restructuring process will likely be even more complicated given its wide creditor base, the apparent dissatisfaction of China with the decision to restructure, legal action initiated by a large private creditor over the exclusion of local law US$-denominated Sri Lanka Development Bonds (SLDBs) from the process, uncertainty over the treatment of LKR-denominated domestic debt and the government-guaranteed debt of SriLankan Airlines, and, more recently, geopolitical tensions between India and China sparked by the controversial visit of a Chinese military surveillance ship at the Hambantota Port.
There has been some clarity of late on how the government plans to treat domestic debt, with CBSL Governor Nandalal Weerasinghe saying that there are no plans to restructure domestic debt given the harmful impact it would have on the banking sector. While this is a reasonable course of action (given the inflation-induced haircut already imposed and limited capacity of the banking sector to absorb haircuts), it will require even more heavy lifting from external creditors. Overall, we think Sri Lanka's restructuring timeline is overly ambitious and likely to face serious delays.
That said, yesterday's Interim Budget is a step in the right direction. Taking place amid the IMF staff visit, its policy framework was likely endorsed by, if not designed in conjunction with, the Fund and provides a preliminary look at what Sri Lanka's reform plans may look like. The rest of this note will outline our key takeaways from the Interim Budget and unpack the implications for Sri Lanka's eurobonds, on which we maintain our Hold recommendation (which we have maintained since April on the whole curve beyond the '22s and more recently unified with an upgrade from Sell to Hold on the '22s earlier this month). 
Key takeaways from Interim Budget
The original 2022 budget targeted consolidation of the budget deficit to 8.8% of GDP in 2022, down from 11.1% of GDP in 2021 (which has since been revised to 11.6% of GDP). However, we argued at the time that the budget was built on unrealistic assumptions, which is even more true now given Sri Lanka's economic crisis and debt default. As such, the target has been revised to 9.8% in 2022, a 1pp difference relative to last November's budget but still 1.8pp inside the 2021 outturn. Meanwhile, the primary deficit target has been revised from 2.8% to 4% of GDP, 1.7pp lower than it was in 2021.
The revision was driven by revenue shortfalls and large spending increases, with revenue revised down by 6% in nominal terms and spending revised up by 15%. However, with rapid inflation causing a 28.5% revision to nominal GDP (Colombo CPI hit 64% yoy in July), the large nominal increase in spending actually translated to a 2.2pp cut relative to GDP, which was offset by a 3.2pp cut in revenue and grants and resulted in a more moderate revision of the deficit in % of GDP terms.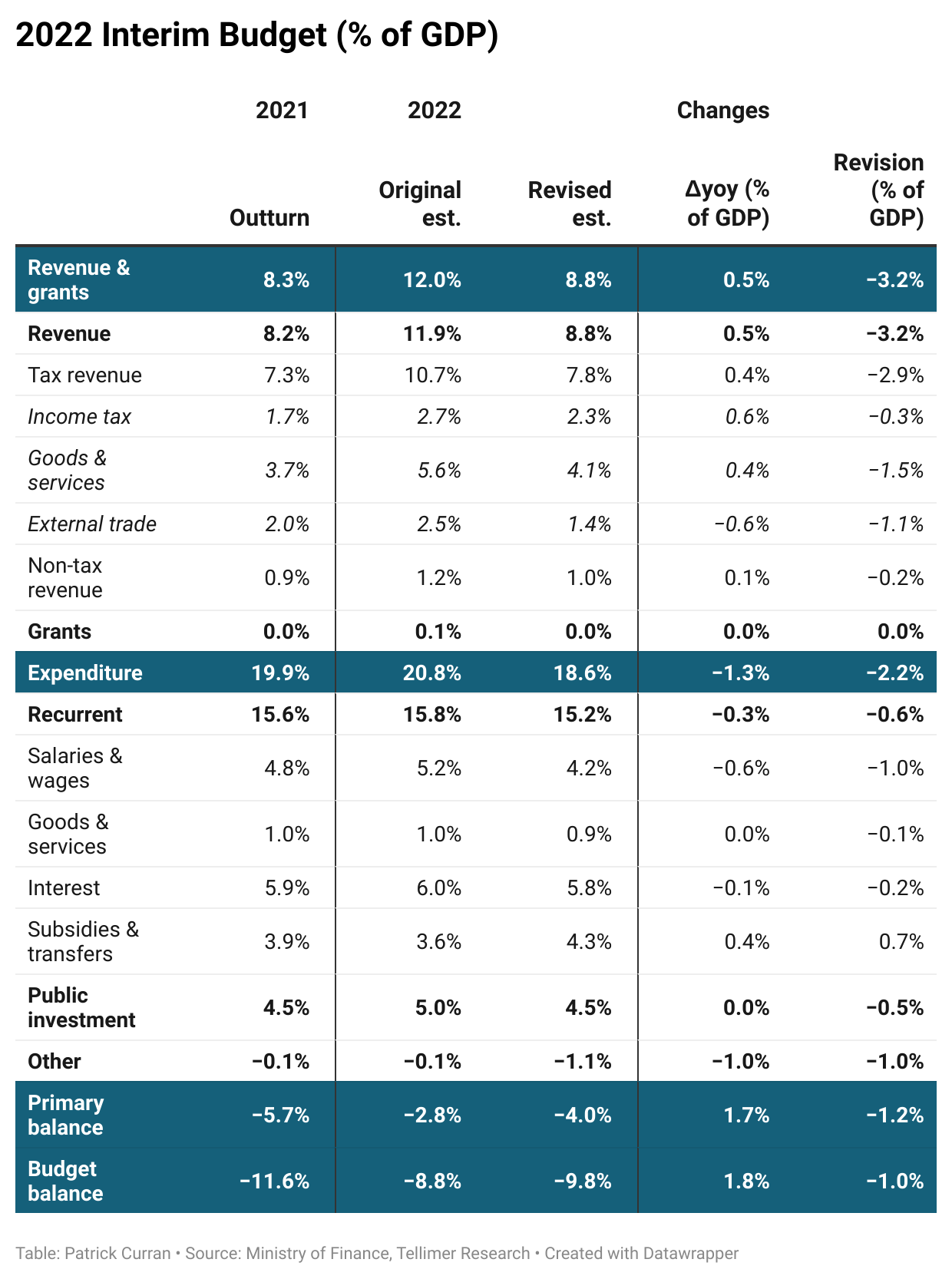 The key revenue measure is an increase of the VAT from 12% to 15% effective tomorrow. This follows the recent increase from 8% to 12%, which was accompanied by an increase in the telecom levy from 11.25% to 15% and corporate income tax from 24% to 30%, among several other revenue measures, most of which will come into effect at the beginning of October.
While the VAT and telecom levy hikes bring the rates respectively in line with and above where they were before the 2019 tax cuts (which Wickremesinghe has previously said cost LKR800bn, or 3.4% of projected 2022 GDP), more is needed to boost Sri Lanka's revenue collection to the 13.5-14% of GDP levels that prevailed before the tax cuts were implemented given the likely erosion of the tax base, with Wickremesinghe promising further revenue-enhancing measures in November's budget.
Indeed, revenue collection fell to a paltry 8.3% of GDP last year, with interest payments absorbing 72% of revenue and grants. Despite the cessation of external interest payments and a slight rise in revenue to 8.8% of GDP, interest is still expected to absorb 66% of revenue and grants in 2022 (though it is unclear how external interest payments are being factored into the headline figure in the Interim Budget). This leaves little room for pro-growth spending in the budget.
Meanwhile, the spending increases will be offset in part by LKR300bn of non-priority capex cuts, which will be reallocated to fund greater social spending, fertiliser subsidies, and imports of key goods to mitigate the effects of the ongoing economic crisis on the most vulnerable. There will also be a large increase in interest spending given the sharp rise in domestic interest rates, and further spending to pay for the Ceylon Electricity Board (CEB's) obligations to the Ceylon Petroleum Corp (CPC) and CPC's purchase of fuel using the Indian credit line (which will eventually be repaid to the Treasury).
On the financing front, the bulk will be financed domestically with non-bank/other borrowings, given limited access to foreign financing and the limited capacity of local banks to absorb more debt issuance (with the last two T-bill auctions undersubscribed by c1/3 even as the 12-month yield rose above 30%). We think this implies further monetisation of the budget deficit, with the CBSL's holdings of T-bills already rising by LKR 1.11tn (4.7% of projected full-year GDP) over the first 8 months of the year versus LKR1.22tn (6.9% of GDP) over the whole of 2021.
Other key policy measures announced in the interim budget include:
Rationalise the number of government employees, including reduction of the retirement age to 60 years;

Establish a "State-Owned Enterprise Restructuring Unit" to facilitate restructuring of SOEs, including the partial privatisation of SriLankan Airlines by selling a 49% minority stake;

A new Central Bank Act to outline an inflation targeting framework and prevent monetization of the budget deficit;

Allow employees and depositors of the state-owned Bank of Ceylon and People's Bank to take up to a 20% equity stake to recapitalize the banks;

Promote export-oriented FDI and domestic investment by phasing out trade tariffs and establishing a national agency for identifying PPP opportunities;

Pass a new legislation Public Finance Management Act that includes stronger fiscal rules and better parliamentary oversight of revenue and spending proposals; and

Introduce a new legal framework to strengthen governance and anti-corruption efforts.
The announced policy actions are a thrust in the right direction and will positively impact Sri Lanka's economic outlook if implemented in full. Limiting monetisation of the budget deficit and restructuring Sri Lanka's struggling SOEs will be particularly impactful. That said, most of the policy pronouncements are quite general, and many (especially SOE reform) will be difficult to implement, so we await further clarity in the months ahead on the specific modalities before turning too positive.
Beyond 2022, the Interim Budget outlines several medium-term objectives. These include:
Targeting a primary surplus of 2% by 2025 and even higher thereafter, from a projected 4% of GDP in 2022;

Boost revenue (excl. grants) to 15% of GDP by 2025 from 8.2% of GDP last year and a projected 8.7% in 2022;

Reduce public sector debt from around 114% of GDP in 2021 (or 117% at the current exchange rate and projected 2022 GDP level, on our estimates) to <100% of GDP in the medium-term; and

Implement growth-enhancing structural reforms to push growth to 5% over the medium-term.
While there is scant detail on the medium-term fiscal framework, we make a few observations. Firstly, the 2% primary surplus is aligned with what the IMF has previously expressed as a desirable medium-term target, and represents a convergence of targets after previous statements by Wickremesinghe that a 1% surplus is the limit of what is politically feasible.
While this is positive, it represents a mighty 6pp contraction from the projected 2022 outturn and nearly 8pp from the 2021 outturn, which will be a heavy fiscal lift and, alongside the ambitious 15% of GDP revenue target, is only credible if accompanied by a slew of concrete measures when the 2023 Budget is presented in November.
We know from recent statements by Cabinet spokesman and Minister of Information Bandula Gunawardena that the government is targeting a 6.8% of GDP budget deficit in 2023, which implies that 3pp (ie half) of the consolidation will be frontloaded in the first year. Again, while this would be positive, it is not yet clear if it is credible.
Secondly, the target of <100% of GDP for public debt does not seem very ambitious in the context of an IMF-backed restructuring. Pencilling in a 4% primary deficit for this year, 1% deficit by 2023, and 2% surplus by 2025 pushes debt from a projected 120% of GDP in 2022 to below 100% of GDP by 2030 (96% of GDP, to be exact) without any restructuring whatsoever.
While it is unclear if the 100% target strips out the effects of debt restructuring, if not then we think the IMF will require a much more ambitious debt reduction target. That said, it is unclear what level the IMF would aim for, with large nominal haircuts having a limited impact on the debt/GDP ratio if applied only to external debt (indeed, a c33% nominal haircut on external debt only reduces total public debt to 85% of GDP by 2030 versus the 96% baseline, per our calculations), with the Debt Sustainability Analysis (DSA) consequently likely to focus on measures other than a raw debt/GDP figure.
Investment implications
Overall, the 2022 Interim Budget represents a tentative step in the right direction, and likely had the blessing of the IMF given its coincidence with the latest staff visit. Indeed, markets seem to have cheered the speech, with the SRILAN 7.55 03/28/2030s rising by c3pts (c9.5%) since cob on Monday to US$33.4 (a 2-month high and up from the low of US$24.1 in mid-July). If Sri Lanka is able to secure an SLA from the IMF tomorrow, it would be a materially positive step on the path to restructuring.
That said, the medium-term targets outlined in the speech will require significant policy measures by the government, and the IMF is unlikely to grant Board approval for Sri Lanka's IMF programme without the completion of many difficult prior actions to ensure the targets can be achieved. As such, the 2023 Budget in November will be a necessary milestone to put some meat on the bones of the fiscal framework.
Board approval is also contingent on the receipt of "financing assurances" from Sri Lanka's official creditors, a process we think is likely to be lengthy and fraught with difficulties. As such, we think the government's target of finalising the IMF programme and embarking in earnest on negotiations with private creditors by year-end is unlikely to be met, and could drag well into 2023.
The perimeter of the restructuring and size and nature of the relief needed to place debt on a sustainable trajectory will only become clear once the IMF's DSA is completed, and it is difficult to back out a reasonable restructuring scenario without a better understanding of the IMF's desired sustainability thresholds and the government's medium-term fiscal framework.
As such, we eagerly await the 2023 Budget in November to provide a better idea of the macro and fiscal assumptions that may be used in the DSA (which likely will not be made public until Board level approval is finally reached, but may be shared with the financial advisors of the private sector creditor committee once it is fleshed out by the IMF and government and agreed upon by the official creditor committee).
In the meantime, we continue to think that Sri Lankan eurobonds are trading at the lower end of our recovery value range. If Sri Lanka secures the SLA with the IMF and there is evidence that the official creditor committee is ready to move expeditiously to provide the necessary financing assurances, then there could be some material upside to Sri Lanka's eurobonds.
However, if the process drags out as we expect, there is a risk that bonds give back their recent gains as markets price a more contentious restructuring process. Overall, we think the risks are relatively balanced and maintain our Hold recommendation across the curve at US$33.9 (30.2% YTM) for the SRILAN 7.55 03/28/2030s at the time of writing on 31 August on Bloomberg.
Related reading
Sri Lanka: Upgrade '22s to Hold on collapsed premium, August 2022
Sri Lanka banks: The severe effects of any domestic debt restructuring activity, August 2022
Sri Lanka: President hints at inclusion of local debt in restructuring, August 2022
Sri Lanka's presidential appointment is unlikely to placate protestors, July 2022
Sri Lanka: Public anger boils over as protestors storm presidential palace, July 2022
Sri Lanka rate hike is symbolic as fiscal dominance fuels money printing, July 2022
Sri Lanka's restructuring is off to a rocky start, July 2022
Sri Lanka: Worsening political crisis will delay restructuring, May 2022
Reserves are approaching rock bottom in Ethiopia and Sri Lanka, May 2022
Sri Lanka: IMF talks mark beginning of long road, April 2022
Sri Lanka announced external debt restructuring, April 2022
Sri Lanka: New central bank chief hikes rates and confirms plans to restructure, April 2022
Sri Lanka: Market implications of political crisis, April 2022
Sri Lanka's state of emergency could make things worse, April 2022
Sri Lanka: IMF confirms our view on restructuring, March 2022
Sri Lanka finally turns to the IMF, March 2022
Sri Lanka: Recovery analysis puts bonds at fair value, March 2022