In recent weeks, we have written that Sri Lanka's external and fiscal balances have been building to unsustainable levels (see here and here, as well as related reading). Without a sharp turn towards fiscal consolidation, and without an IMF programme to lend a degree of credibility to the adjustment and unlock external funding, we think Sri Lanka will be unable to avoid default beyond the next 6-12 months, unless it doubles down on even more heterodox (and equally unsustainable) policies.
However, the government has continued to express its strong commitment to honour its external obligations. State Minister for Money and Capital Markets Nivard Cabraal has repeatedly said that the government will pay the upcoming US$1bn eurobond maturity on 27 July out of reserves, which stood at just US$4bn (2.7 months of imports) at the end of June. The problem is, while this may provide some immediate relief for bondholders, it comes at the cost of weakening future repayment capacity, absent other net external inflows.  
In remarks this month, Cabraal said that "There is no question that we will not repay," dismissing investor concerns. Speaking to reporters, he added "They said we will not be able to pay in 2020. We paid it. Then they said it is 2021 that they will not be able to pay. Now we are paying in 2021. When we are paying in 2021 they are saying no it will be 2022 the problem will come. In 2022 also we will pay. Nobody needs to get excited, we will pay."
The CBSL also released a statement at the end of June in response to rising concerns, saying that the government "would continue to meet our debt service obligations and avoid further damage to the country's reputation and to investor confidence" and adding that "We have also observed that some segments of the Sri Lankan community motivated by political reasons have continued to fuel adverse speculation about the future path of the exchange rate and the ability of the Government to service its obligations. Such self-serving speculations are unwarranted and are harmful to the general public."
However, it is not Sri Lanka's willingness to pay that is in question. Cabraal was serving as central bank Governor when Sri Lanka began regularly issuing eurobonds in 2007, and has spearheaded the country's investor relations efforts, so he has a personal stake in preserving Sri Lanka's unblemished debt servicing record. Likewise, Prime Minister Mahinda Rajapaksa was President at the time, and has a personal stake in solidifying Sri Lanka's reputation as a responsible borrower as well.
Willingness to pay notwithstanding, Sri Lanka's ability to pay is rapidly deteriorating, and no amount of willpower from policymakers will be able to prevent default if it is not accompanied by an ambitious policy adjustment. Without access to external markets, Sri Lanka has relied on domestic banks and the central bank to finance its yawning budget deficit and on one-off bilateral swap lines to meets its external financing needs.
But with bank holdings of government debt already at record levels, there are limits to how much the domestic financial sector can continue to absorb such large deficits. Indeed, recent government debt auctions have been undersubscribed, pointing to severe domestic financing constraints. The government has responded by monetising increasingly large portions of the budget, which will eventually fuel inflation and currency depreciation and increase Sri Lanka's debt burden.
External imbalances likely to persist
Against this backdrop, the government has shown no intention to tighten its belt. Instead, it has relied on a patchwork of stopgap measures to prevent a BOP crisis, including import bans, mandatory conversion of export proceeds, restrictions on outgoing and incentives for incoming FX remittances, the suspension of restrictions on domestic banks' purchases of International Sovereign Bonds (ISBs), efforts to entice repatriation of ISB payments (c30% of upcoming maturities are held by residents), and effectively pegging the currency by preventing quotes above LKR200/US$.
However, these measures are temporary and fail to address the underlying imbalances. The import bans are likely to harm growth and are untenable over the long term for an import-dependent economy like Sri Lanka. Indeed, the government recently announced a fertilizer ban which it hopes will save US$400mn annually on fertilizer imports, but the ban is reportedly already causing shortages and hoarding, highlighting the imbalances and misallocation of resources that such policies encourage.
Meanwhile, the CBSL's attempts to peg the LKR are resulting in FX shortages, with exporters repatriating a bare minimum of profits due to the overvalued exchange rate and importers therefore unable to open lines of credit to access FX. The LKR is now trading around 225-230/US$ on the parallel market, and has reportedly reached as high as 240/US$ in recent weeks. The CBSL can crack down on exporters that are keeping money abroad to boost reserves, but this too is just a temporary stopgap.
Along those lines, the CBSL has announced plans to purchase up to US$700mn of FX a year via surrenders by banks that buy remittance and exporter dollars. However, so long as the exchange rate remains overvalued, exporters will continue to find ways to keep their money offshore and fresh portfolio flows are unlikely to materialise, meaning FX shortages will continue to hamper growth until the exchange rate is devalued.
Beyond import and capital controls, the government's plans to prevent a BOP crisis hinge on the ongoing provision of swap lines. The CBSL has highlighted a US$1.5bn swap from the PBoC, US$250mn from Bangladesh expected in July 2021, US$400mn from India under the SAARC Finance facility expected in August 2021, another US$1bn of financing on unspecified terms from the RBI, and US$800mn from the IMF's SDR allocation expected in August.
However, as we have previously highlighted, it is unclear if all these flows will materialise and what restrictions are included. India has previously said that any further funding will be contingent on an IMF programme, and there is still no confirmation from the RBI that the facilities cited have actually been finalised. In addition, while we understand that the SDR allocation is automatic, some investors have expressed concern that Sri Lanka has not officially requested it, potentially delaying the release of funds.
The government is also hoping that an uptick in FDI will help ease external imbalances, with some evidence of a pickup of Chinese investment into the Hambantota SEZ and the recent enactment of legislation on the Colombo Port City Commission expected to generate some inflows. However, FDI remains incredibly low (0.5% of GDP in the 12m through Q1), and FDI has a long lead time and won't result in a one-for-one increase in reserves given the likely high import content of most projects, so for all the government's rhetoric this is unlikely to materially change Sri Lanka's BOP dynamics.  
Against this backdrop, it is concerning to see Sri Lanka's trade deficit widening. Imports and exports are up 26% and 33% yoy, respectively, through May this year, widening the trade deficit by US$560mn relative to the same period last year. While the low base makes comparison difficult, imports are now running nearly 5% above pre-Covid (2019) levels through May, while exports are still nearly 2% below pre-Covid levels, pushing the trade deficit wider by US$380mn relative to the same period in 2019. The CBSL cites this as evidence that its import controls are not overly restrictive, but it also reflects the government's expansionary fiscal and monetary policy and points to worsening BOP constraints.   
The BOP has been supported by remittances, which rose 6% in 2020 and 18% over the first five months of the year, but it is unclear if the rise will be sustainable or if it will begin to normalise in the second half of the year. It is also unlikely that tourism picks up this year, with just US$21mn of earnings in H1 21 amid limited progress on vaccinations and a second wave of cases. Winter bookings in developed countries have already started, and we hear Sri Lanka is notably absent from most people's plans, so tourism is likely to pick up only in H2 22.
As such, reserves are likely to hit critical levels by the end of the year without fresh financing flows. We calculate public and private external debt amortizations of US$2bn in H2 21, including the US$1bn eurobond maturity that will be paid out of reserves this month. Prorating the IMF's estimated US$2bn current account deficit this year (which is likely an underestimate) and subtracting out projected FDI of US$300mn, this results in an external funding gap of US$2.7bn in H2 21.
This could push reserves to US$1.3bn by year-end absent new financing, or US$2.1bn once the IMF's SDR allocation is factored in. Reserves could be supported by up to US$3.15bn of swap lines, but this is unlikely to materialise in full (especially the unconfirmed US$1bn line from India) and will simply result in greater financing constraints down the road when they come due. While Sri Lanka could feasibly pay its upcoming US$1bn maturity out of reserves, and potentially even its US$500mn maturity in January, a fiscal policy-driven consolidation of the current account is necessary to unlock more durable sources of financing and prevent a BOP crisis by this time next year when the next US$1bn eurobond comes due.
An IMF program would be instrumental in this regard, providing direct funding and potentially unlocking new sources of bilateral or commercial financing. With Sri Lanka squandering any remnants of policy credibility over the past year, it is unimaginable that market access will be restored without IMF backing, effectively making Sri Lanka reliant on the continued generosity of China and India to meet its external funding needs.
IMF resistance is still staunch
Likewise, without IMF backing it seems extremely unlikely that Sri Lanka will be able to rein in its budget deficit to a sufficient degree to avoid default. Sri Lanka's budget deficit hit 11.1% of GDP last year and public debt reached 100.1% of GDP (excluding guarantees of 6.6% of GDP and non-guaranteed debt of 2.1% of GDP), and debt service absorbs over 75% of government revenue. Based on the run rate through April, we think the deficit will expand to 11.6% of GDP this year and debt will rise to c112% of GDP, resulting in a much more difficult starting point for Sri Lanka's consolidation efforts.
We calculate a debt-stabilising primary balance of just below 0% of GDP for Sri Lanka, which implies the need for a heavy fiscal adjustment of c4.5-5% of GDP when compared to a primary deficit of 4.6% in 2020 and a projected 5.1% deficit this year. With interest payments and wages collectively absorbing 150% of government revenue and capex already cut to the bone (at just 0.7% of GDP through April, comprising 11% of spending), consolidation will have to be driven by ambitious efforts to boost revenue (which fell to 9.6% of GDP last year and is on track to reach just 8.6% of GDP this year).  
While the government is unlikely to hike consumption taxes after the November 2019 VAT cut, it is reportedly looking at non-tax areas to boost revenue and will likely hike import and excise duties as a way to keep a lid on imports in a revenue-positive way as import controls are unwound in the second half of the year. The government also decided to hike fuel taxes by c11% on average last month, showing some commitment to rein in wasteful subsidy spending, and President Rajapaksa's pro-privatisation stance could result in some one-off revenue bumps and reduce contingent liabilities.
However, such a limited homegrown approach to policy tightening will likely fall woefully short of what is required, and there has been little to suggest that the government is willing to embark on a more ambitious programme. Without policy support from the IMF, the government is unlikely to succeed in meaningfully reducing its debt burden, and investors are unlikely to view fiscal targets as credible, keeping Sri Lanka locked out of markets and exacerbating its financing constraints as swap lines fail to paper over the cracks.
While IMF support appears increasingly necessary, the government has remained staunch in its resistance to an IMF programme. Minister Cabraal responded to opposition criticism of the government's anti-IMF stance by arguing that "A new deal with the IMF will only mean increasing interest rates, devaluing the rupee, cutting the number of state sector employees, and hiking taxes. All these mean imposing additional burden on the people at very challenging times like a pandemic…We don't need to go to the IMF." 
That said, President Gotabaya Rajapaksa swore in his brother Basil Rajapaksa as the new Finance Minister this month, replacing his other brother, Prime Minister Mahinda Rajapaksa, which could signal an imminent shift in Sri Lanka's fiscal policy and IMF stance but also further consolidates the Rajapaksa family's control over the policymaking process. While there has been little else to suggest that the government's tone on the Fund has softened, any such evidence could be a huge positive catalyst for Sri Lankan eurobonds. Indeed, the Sri Lanka 6.85% 24s rallied to above US$90 following the August elections when markets mistakenly thought that the Rajapaksa's would use their strengthened mandate to pursue an IMF programme, before subsequently collapsing below US$60 the following month when it became clear a programme was not on the cards, giving a sense of the potential IMF premium.
Debt sustainability has deteriorated sharply
Short of a massive and unexpected shift in Sri Lanka's fiscal policy plans, we think an IMF programme is the only way for Sri Lanka to avoid default beyond January 2022. However, a programme does not automatically mean Sri Lankan eurobonds are in the clear.
Firstly, even if the government requests a programme, designing it in a way that sets Sri Lanka's debt on a sustainable trajectory and is palatable to the government could be a protracted process, and it is not clear if the government will be willing and able to meet the necessary preconditions for Board approval. Then it will have to implement it, which will also likely prove difficult.  
We also know from Sri Lanka's failure to procure emergency RCF/RFI funding post-Covid that the IMF does not view Sri Lanka's debt as sustainable, meaning that Sri Lanka will need to demonstrate an ability to put debt on a sustainable trajectory to meet the IMF's lending requirements. While last year we thought this could be accomplished by cutting capex and reversing the 2019 tax cuts, the increased deficit and debt burden since then imply much more will be required, and it is unclear if the IMF will now be able to see a path to sustainability without a debt restructuring, and therefore some burden-sharing (PSI) from bondholders (who hold 38% of PED by currency). Alternatively, the IMF may be satisfied if Sri Lanka can get sufficient financing assurances from other key (bilateral) creditors, such as China and India.
As such, even if Sri Lanka requests a programme and is able to reach an agreement, there is a material risk that a debt restructuring will be a key part of that programme. Indeed, Sri Lanka's resistance to a programme could be explained in part by a fear that the IMF will force Sri Lanka to default on its eurobonds despite its desire to maintain an unblemished debt servicing record. Minister Cabraal implied as much in remarks this month, saying that an IMF programme will also impose costs on bondholders.
If Sri Lanka enters an IMF programme, the DSA will define whether a restructuring is required. Currently, Sri Lanka is in breach of all five debt sustainability indicators and will remain in breach through at least 2026 based on our own DSA using the IMF's April 2021 macro forecasts. Even in a "reform" scenario of a frontloaded consolidation of 5% of GDP from 2022-24, three of the five indicators remain in breach of their thresholds throughout the forecast horizon (although one of those is just barely in breach – see appendix). As such, it is possible that the IMF will conclude that restructuring is a necessary complement to reforms. 
To get a sense of what a restructuring might look like, we plot Sri Lanka's public debt/GDP ratio under three cases (detailed in the chart notes). Under the "bear" case (which admittedly seems more likely at the current trajectory), haircuts of 50% would be required to bring the PV of public debt to 70% of GDP over the forecast horizon (which we crudely assume will be the end goal). Under the "base" case, this number falls to nearly 40%, and under the "bull" case this falls to just over 30%.
On the liquidity front, a grace period would bring the two external debt service variables within their thresholds throughout the grace period, while a maturity extension would bring one of the debt service variables within its threshold, but the other three stock variables would remain in breach throughout the forecast horizon under the base case. As such, it is likely that a restructuring would include both nominal haircuts to address Sri Lanka's solvency problems and a maturity extension and/or grace period to address Sri Lanka's liquidity constraints.
Scenario and recovery analysis
For illustrative purposes, we model four possible scenarios for Sri Lanka (in descending order in terms of how favourable they would be for bondholders):
Government agrees to an IMF programme that sets debt on a sustainable path without the need for a eurobond restructuring.

Government muddles through and avoids default with exceptional financing (or other more heterodox measures) while homegrown reforms slowly gain traction.

Government agrees to an IMF programme but is forced to restructure alongside reforms to set debt on a sustainable path.

Government attempts to muddle through but ultimately fails and is forced into a hard default as reserve buffers dwindle.
For each of the above scenarios, we assign unique restructuring terms and exit yields to estimate the recovery value, and weight by probability to arrive at a valuation:
For the Sri Lanka 6.85% 24s (on which we have an outstanding Hold recommendation), it implies a fair value of US$60 versus a current mid-price of cUS$67. The recovery value in the event of a "soft" IMF-backed default is just above that, at cUS$61, while the upside and downside scenarios are more or less symmetrical, but the high likelihood of default (65%) skews the overall valuation to the downside. We therefore downgrade our recommendation from Hold to Sell on the Sri Lanka 24s at a mid-price of US$67.19 (mid-yield of 24.28%) on Bloomberg as of cob on 14 July.
That said, if you believe an IMF programme is imminent, we still think that the Sri Lanka 6.85% 24s offer the most attractive entry point, alongside the 25s and 26s, with bonds appearing even more overpriced in the 2022-23 and 2027-30 portions of the curve. We would reconsider our position if bonds drop closer to our target price of US$60 (a nearly 11% drop from current pricing), or if evidence emerges of a shift in policymakers' tone on fiscal consolidation and the IMF.
Meanwhile, we maintain our Hold on the 21s at a mid-price of US$99.07 (mid-yield of 36.03%) on Bloomberg as of cob on 14 July, continuing to believe that Sri Lanka will pay its US$1bn eurobond when it matures on 27 July. We are agnostic on the Sri Lanka 5.75% 22s that mature in January, given its relatively small size of US$500mn and potential for further financing to help stem the decline in reserves, but beyond that we believe that default is imminent without a major shift in policy, which will likely have to be accompanied by an IMF programme to unlock the necessary financing, and therefore assign a Sell recommendation to the rest of the Sri Lankan eurobond curve beyond the January 22s as well.
Appendix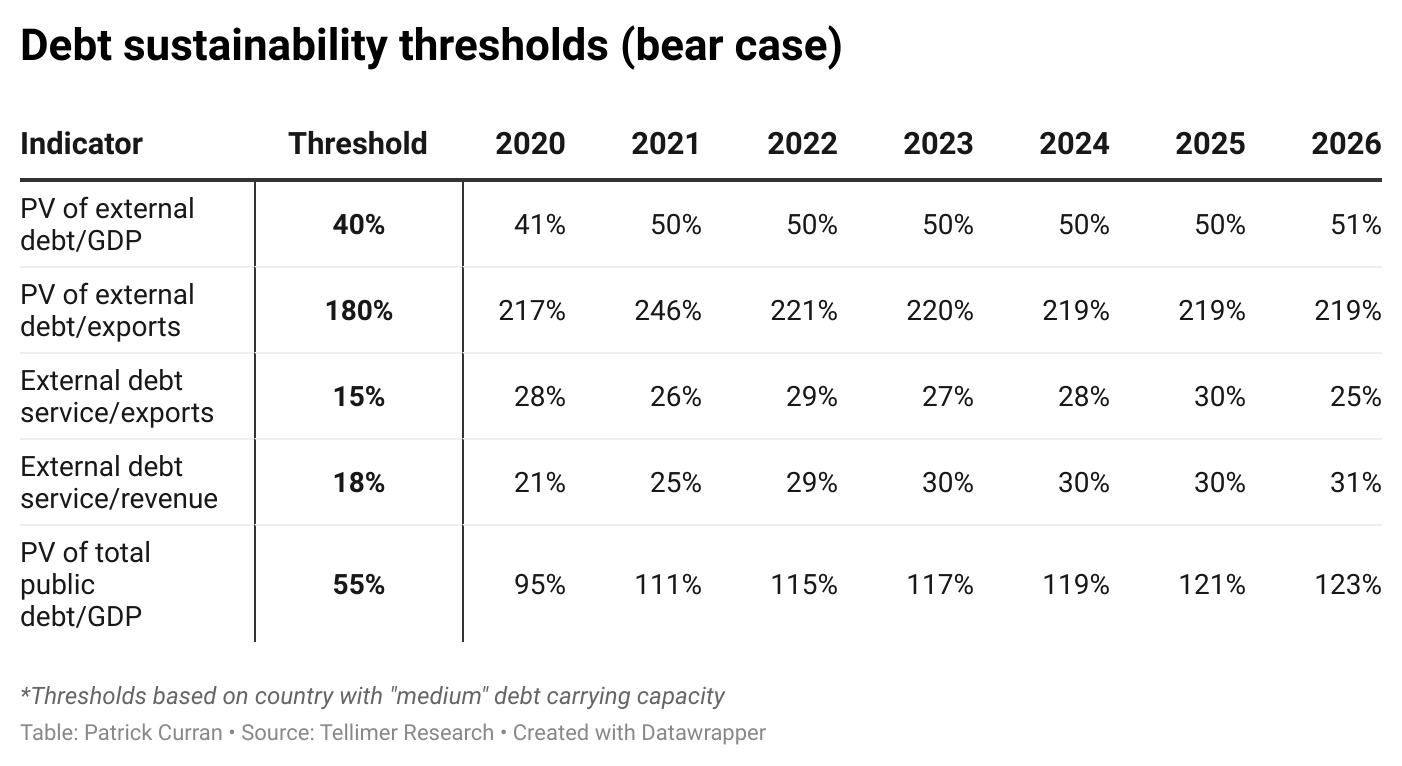 Related reading
Mid-year budget report points to further slippage, July 2021
Sri Lanka's expansionary policy is creating major imbalances, June 2021
Debt reclassification causes confusion, May 2021
Time to take profits as upside is priced in, April 2021
Chinese swap provides breathing room, March 2021
External pressure increases risk of debt default, February 2021
Sri Lankan budget aims for ambitious consolidation, November 2020
Back to Buy as the pessimism is excessive, November 2020
Attractive again, but risks remain; Retain hold, October 2020
Eurobonds collapse on lack of IMF urgency, September 2020
Bonds fairly valued after Rajapaksa landslide, August 2020