Last week we examined why Sri Lanka was one of the EMs hit hardest by Russia's war with Ukraine, pushing the country even closer to default and decreasing the likelihood that it can pay its US$1bn eurobond maturing at the end of July. And indeed, bond prices have continued to plummet since then, with the SRILAN 7.55 03/28/2030s dropping below US$40 yesterday.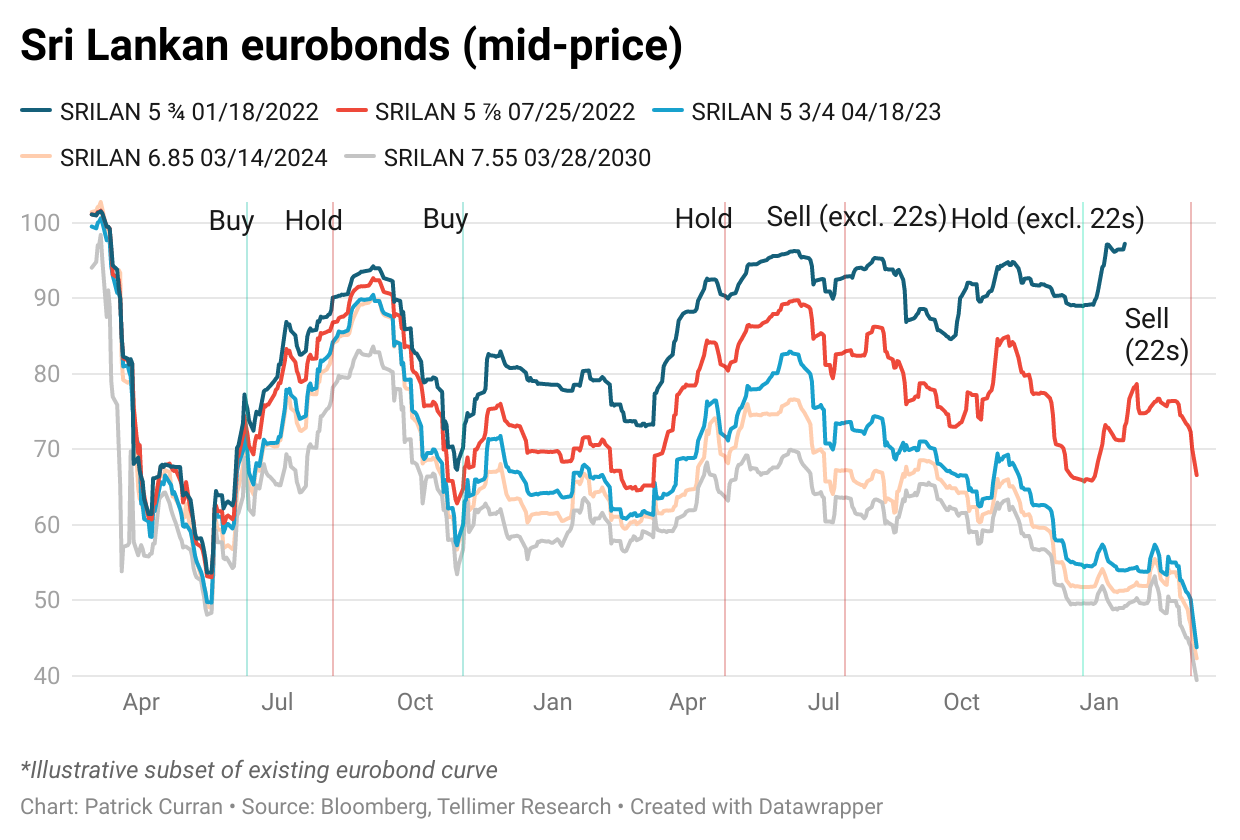 Sri Lanka's worsening crisis has finally started to wake the central bank (CBSL) from its slumber, with the CBSL hiking its lending rate by 100bps to 7.5% last Friday. However, with inflation running at c15-17% (depending on the measure) and T-bill yields already at much higher levels (with the 364-day T-bill yield rising by c140bps to 9.95% at last Wednesday's auction, which was still only two-thirds subscribed), the hike is largely symbolic and more aggressive rate hikes will likely be required in the months ahead.
More importantly, however, the CBSL announced yesterday that it would devalue the rupee from its soft peg of LKR 200/US$, saying that "Considering the severity of the external shocks…greater flexibility in the exchange rate will be allowed to the markets with immediate effect" but that "forex transactions would take place at levels which are not more than LKR 230 per US dollar," effectively constituting a new peg of LKR 230/US$.
The devaluation is a major step towards minimising Sri Lanka's balance of payments (BOP) crisis, but with the LKR currently trading at c255-260/US$ in the parallel market, it is not clear that it has gone far enough to restore balance in the FX market. Further, attempts to defend the new peg despite ballooning inflation will cause imbalances to build back up without more flexibility moving forward, even if yesterday's devaluation is able to clear the market.
While parallel exchange rates can often overshoot fair value, it is not clear what fair value for the LKR is. The IMF last assessed the LKR as being broadly in line with fair value in 2018, if not slightly overvalued (by 5-9% according to their models), and the LKR is largely flat in real effective terms since. In a press release last week following the conclusion of its Article IV consultations, the IMF recommended "a gradual return to a market-determined and flexible exchange rate" and "called on the authorities to gradually unwind capital flow management measures as conditions permit," but the staff report has not yet been released (and it is not clear yet if it will be).
The CBSL has also asked the government to delay capital projects, raise taxes and sell state assets to reduce the twin deficits and associated pressure on the currency. It has also requested that China and other bilateral partners accelerate the provision of loans and swaps that have been requested but not yet finalised. While the drop in FX reserves slowed in February (they fell from US$2.36bn to US$2.31bn during the month), we project an external funding gap of US$1.0-1.5bn in March (including US$450mn of maturing SLDB's, which are held locally and will be partly rolled over) and over US$600mn on average for the remainder of the year, meaning reserves will stay under intense pressure.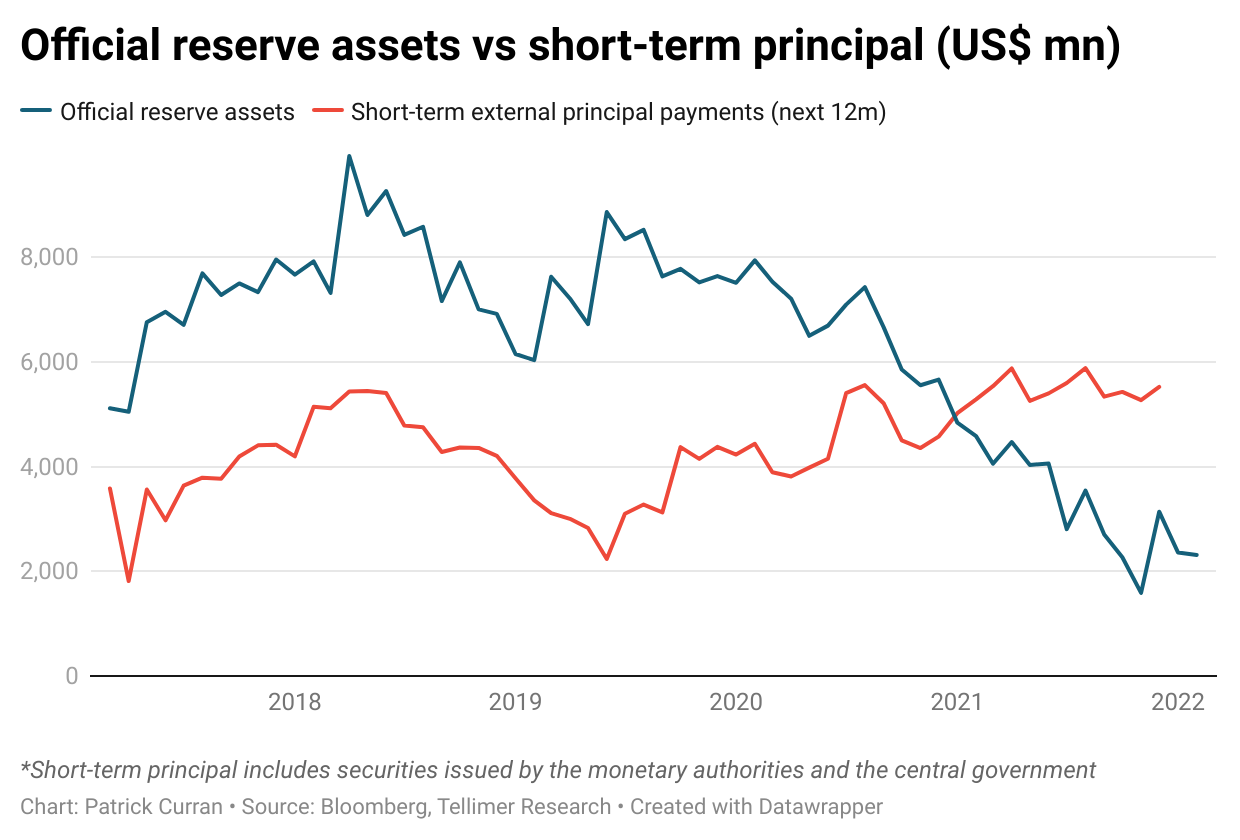 A broader policy shift by the government still seems unlikely, with key policymakers continuing to shun the IMF. Further, President Rajapaksa removed two cabinet ministers last week – Energy Minister Udaya Gammanpila and Industries Minister Wimal Weerawansa – who have recently been critical of the government's economic policies and called for an IMF programme. The ministers' parties comprise just 4 of the 145 seats that the ruling coalition holds in parliament and will have a limited impact on the political landscape, but their removal is indicative of a further retrenchment of anti-IMF ideology within the government.
While we welcome the recent rate hike and devaluation, much more is needed from the government to stem Sri Lanka's economic crisis. Against this backdrop, we retain our Sell recommendation on the SRILAN 5 ⅞ 07/25/2022s and Hold recommendation on the rest of the eurobond curve. With its eurobonds continuing to plummet, it is possible that prices have fallen below recovery value. However, a thorough debt sustainability analysis (DSA) and recovery analysis will be required before making a determination. The DSA recently conducted during IMF's Article IV consultations will serve as the starting point for any restructuring, which we still think is inevitable, and will now take place from a difficult starting point of a 119% of GDP public debt stock in 2021 (or 107% excluding guarantees).
Related reading
Sri Lanka: Russia-Ukraine conflict raises risk of default, March 2022
Sri Lanka: Reserves plummet amid unsustainable debt payment Ponzi, February 2022
Sri Lanka: Busy week fails to improve repayment prospects, January 2022
Sri Lanka set to pay eurobond next week but default inevitable from mid-2022, December 2021
Sri Lanka: Default is inevitable but bonds reach recovery value, December 2021
Sri Lanka is nearly broke as reserve crash continues, December 2021
Sri Lankan Eurobonds nearing fair value; retain Sell, December 2021
Sri Lankan budget falls flat (again), November 2021
Sri Lanka: Good and bad news for bonds, November 2021
Plummeting reserves push Sri Lanka closer to default, October 2021
Sri Lanka: Imbalances to remain despite policy shift, September 2021
Sri Lanka's food and currency "emergency", September 2021 (Malik)
Sri Lanka tightens monetary policy, but more is needed, August 2021
Sri Lanka: Downgrade 24s to Sell as outlook deteriorates, July 2021